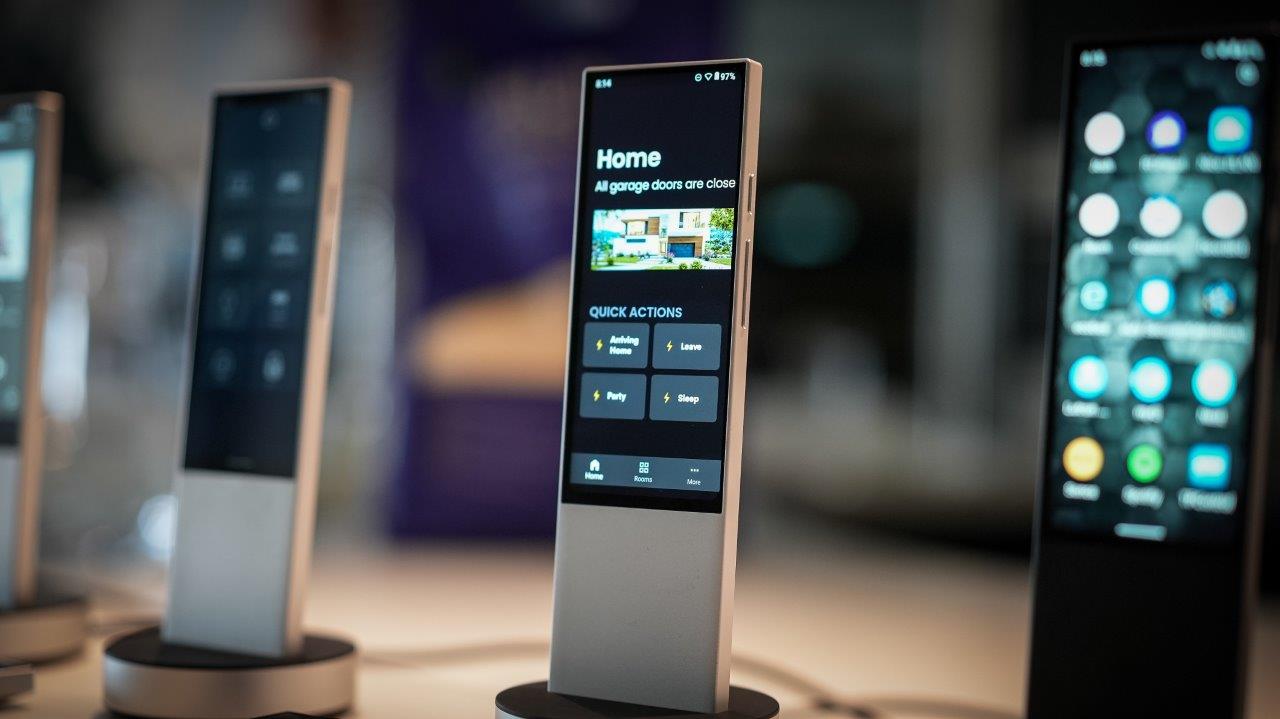 AVA is the revolutionary smart home and luxury AV remote control the industry has been waiting for and dealers are not only getting exclusive access to the range through Pulse Cinemas, but we are offering a fantastic introductory offer as well.
From September 1- to September 15 Pulse Cinemas dealers can purchase 2 x AVA remotes in black and get a silver model at half trade price! (MSRP is £999.00 exc VAT).
Product Details
If you are not fully familiar with AVA yet, this superbly designed ergonomic remote packs all the functionality end users need to control their whole home into a beautiful slim remote based on the Android operating system. Able to natively use any app available via Android, the unit can also be configured to be used a single app, say an RTI smart home system, if that makes more sense for the customer and for the project.
In short, AVA is world's first Google certified remote that offers you and your customers the full power of the Google Play Store as well as compatibility with the most popular smart home control platforms.
The high-density touch screen with ultra-narrow bezel, offers easy viewing and access to everything the customer needs to see and control and the cunningly integrated speaker and microphone, offer full voice activation, search and intercom functionality.
The robust, solid body is machined from of a single piece of aluminium, feels very comfortable in the hand and protects the screen perfectly should any accidents or drops occur.
AVA comes in two highly aesthetic finishes (Black and Silver), but AVA is not just a pretty face as the unit has all the power and speed today's market needs and users' demand.
AVA is powered by a 4-Core, 2Ghz processor, so no tasks are too heavy for the remote, simple commands or larger macro sequences are never a problem.
Install any of your customer's favourite smart home apps or platforms and installers will witness a game changing experience.
Power is also long lasting as the 2200mAh battery can last up to six days on one charge when not connected to the docking station and charger.
The magnetic dock assures the remote is always ready for action and offers a pleasingly substantial feeling unit to partner and support AVA.
Weighing a very generous 308 grams (11 ounces), the dock always stays put when users lift the remote. The innovative and neatly designed dock also hides the USB-C Plug completely offering further aesthetic advantages. Guiding magnets snap the remote into position with ease when it is time to return to the dock.
Our first batch of stock is going to go fast so make the positive step to bring AVA into the lives of your customers and put a smile on their faces when operating all their favourite smart home and AV experiences. Order yours today and claim this very special introductory offer.
AVA At A Glance: Installer FAQs
Battery life, charging what are the details?
An end user will typically get three-four days of battery life off of the charger.
Wi-Fi types, what is the unit compatible with?
2.4 and 5Ghz.
Can I bespoke create backgrounds or GUIs?
Yes.
What is the resolution of screen?
480 x 1170.
Can I adjust screen shut down times/s?
Yes. The default is 45 seconds.
Do the apps update automatically? Do I have to make sure they are up to date?
Apps update automatically.
Can AVA play video?
Yes. You can watch live camera feeds for example.
What about the controversy with Snap One, any issues for installers to worry about there?
None at all. Ask for more details if required.
What is the maker's warranty?
Two years.
Can I make the screen brighter or dimmer?
Yes. The remote can automatically adjust as well as it has a built-in light sensor (disabled by default).
How do I turn off the unwanted parts of Android? Or is that done already?
The included instructions go through the necessary steps in detail.
Can I find it if I lose it?
Yes. There is an FAQ on our dealer portal that explains the process. Ask about getting access.
Are there any battery care management features?
Yes. Every app is battery optimised by default. You can disable this feature app by app.
Do I need a Gmail account to set these up?
Yes. We recommend creating an account for the end user to keep their personal data as secure as possible.
Can I lock functionality down so users can mess with it?
Yes. You can use Kiosk mode to lock the remote to a single app or lock down the setting using the 'installer settings' feature on the remote.