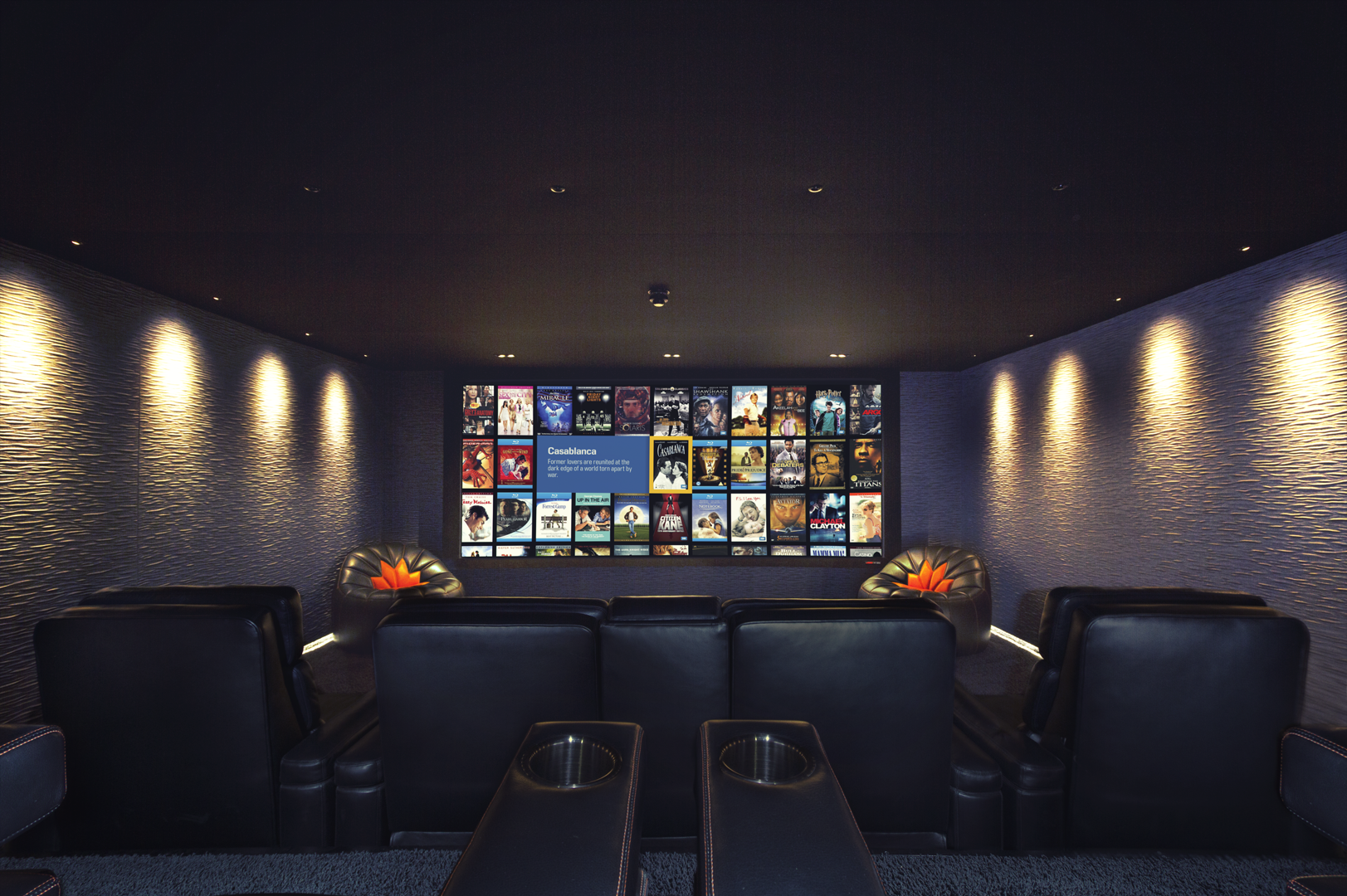 Pulse Cinemas are very proud to provide our install partners with the best ingredients available to allow installers to cook up a storm when creating home cinemas customers will love. A huge part of that process is supplying and supporting the best screen manufacturer on the planet, Screen Research.
The company has just updated its product guides and brochures, so the whole Pulse team thought it was high-time we delivered a reminder of just how comprehensive and high-performance this brand is.
Simon Schino, Brand Manager for Screen Research at Pulse Cinemas says, "Screen Research provides the most well-rounded and versatile family of screens on the market. As the demands on the screen sector increase with installers being asked to cope with a wider range of environments, from dedicated rooms to hidden cinemas in living spaces with high-ambient light, you need a brand that can cope with it all. Whatever the question, Screen Research always has the answer."
The Screen Research Story
The full range of Screen Research's products are hand-crafted in Europe and are engineered to meet even the most challenging design and installation requirements. As well as standard designs, the company offers an extensive choice of customised products, creating the perfect individual cinema experience for every project.
Acquired from the original French owners in 2010 by Adeo Group from Italy, all manufacturing activities were transferred by mid-2011 to a new facility in Poland, which boasts a building surface of 4,500 square metres in a highly-impressive facility packed with innovative technology and production tools. Additional and ongoing investment has resulted in higher quality products and by diversifying suppliers, shorter production lead times have also been achieved.
A rigorous programme of continuous development ensures that Screen Research stays ahead of the game, bringing the best fabric for any application. The company continues to work with the industry's leading certification bodies, like THX and ISF, to achieve reference performance into every aspect of the fabrics it produces.
A genuine innovator, Screen Research holds several international patents. These include the company's acoustically transparent
ClearPix woven fabrics, its unique masking system Décor Mask, (which offers the chance to hide the screen surface when not in use with imagery of the client's choosing) and the TFX floating tab-tensioning system. The maker also offers a wide range of screen surfaces that match every case scenario installers are likely to encounter. Whether it's coping with high-ambient light, or delivering the best in acoustic transparency, the company has an option for you. To assist distributors and installers alike in the specification and pricing of screens, Screen Research has one of the best configuration tools in the industry, which is available on the company's website. Check out the video here.
Screen Research Surface Options
ClearPix Ultimate White 0.75, ClearPix 4K White 1.0, ClearPix 2 White 1.0, MultiPix 5 White 1.6, FusionPix Grey 0.95, SolidPix White 1.0, LightStop White 1.0, DoubleFace White 0.8, Sonic White 0.9, SolidPix 2 Grey 0.9, SilverPix 3D Silver 2.5 and Sonic 2 Silver 2.4


Screen Research Product Highlights
X-Mask
Under the flagship Reference X-Mask range, Screen Research has developed a new generation of innovative and technically efficient fixed frame screens with four-way and two-way adjustable motorised masking systems, offering a variety of amazing features for the highest possible performance.
With the choice of these flat and curved top-of-the-line screens, the brand delivers products of unique value for the most demanding customers aiming for uncompromised quality and great style.
Just a few of the highlights here include an innovative glide masking system, equipped with new carts and wheels for high-performance bearings, providing very quiet and smooth movement. The range also boasts a frame structure with a smart stiffeners' anchoring system, ensuring stability and fast assembly.
There is a reduced gap between masking and fabric, resulting in no-shadow effect during projection, as well as delivering improved perceived image depth; ideal for projectors with anamorphic technology.
X4R3: Flat Fixed Frame Screen With Four-Way Masking System
This screen delivers optional full closure for screens up to 160in of image width. There is an option of a stylish leather housing finish from the finest Italian craftsmen, available up to the same size.
This variant can come in sizes of 80in to 260in in width and delivers native image ratios of 1.78 (16:9), 2.00 and 2.40. The technology delivers an achievable masked image ratio of 1.33 to 2.76.
XLR3: Flat Fixed Frame Screen with Two-Way Lateral Masking System
Another option in the fixed screen with masking class, this family also delivers full closure for screens up to 160in and the same leather housing finish as its cousin, the X4R3.
The XLR3 also delivers the increasingly popular option of a Décor Mask, which can be printed with any image the client chooses on a separate acoustic transparent roll down surface; so, while the screen is not in use, it can disappear behind a painting or favourite image. This feature is available in screens up to 160in image width. The XLR3 comes in standard sizes from 100in to 260in of image width, is available in standard native image ratios of 2.35 and 2.40. Achievable masked image ratios are from 1.33 to 2.35, respectively 2.40.
T-XLR3: Curved Fixed Frame Screen with Two-Way Lateral Masking System
Again, this product comes with optional full closure, for screens up to 160in of image width and is available in standard sizes from 80in to 260in of image width. Available standard native image ratios here are 2.35 and 2.40 and achievable masked image ratios go from 1.33 to 2.35, respectively 2.40.
XTR3: Flat Fixed Frame Screen with Two-Way Top-Bottom Masking System
This option comes with the optional leather housing finish for screens up to 160in of image width and is available in standard sizes from 100in to 200in of image width. Available standard native image ratio is 1.78 (16:9) and achievable masked image ratios go from 1.78 to 2.40.
FS3 Flat & T-FS3 Curved
Amongst the company's most popular fixed screen models, these options come with a black flock frame finish. They also offer an E-Grip fabric attachment system for constant tensioning of the projection surface. All of the company's surface families (ClearPix, SolidPix, MultiPix, FusionPix and SilverPix) are available with the FS3 and T-FS3 fixed frame screens. Standard sizes go from 80in to 280in image width and standard native image ratios delivered are 1.78 (16:9), 2.35 and 2.40.
MS2 On-Ceiling & MS3-IS In-Ceiling with Slot
These top selling motorised drop-down screen models boast the patented TFX floating tab-tensioning system delivering a smooth, quiet and durable operation with thermal overload protection. Both variants are fitted with high-performance Somfy motors. Surface options include ClearPix, FusionPix, MultiPix and SolidPix in standard sizes from 80in to 160in of image width. The available standard native image ratios are 1.78 (16:9) and 2.35 and standard screen drops are 10in with format 1.78 (16:9) and 20in with format 2.35. Longer screen drops are available as a bespoke option. A wall switch is included with every screen and different motor control system interfaces are available to drive the screens depending on the chosen technology: 12V trigger, RS232, low voltage relay, IR, radio frequency or IP. This really is the most versatile drop-down family you will find.
The new comprehensive Screen Research brochure is available right now!