Fantastic Fulham High-Performance Home Cinema
Prestige Audio Creates Ground-Breaking Cinema for a luxury development for the over 65s in the Fulham district of London. With the help of the Pulse Cinemas team this project is setting a totally new standard for systems in this type of development.
Joe Carri, Director at Prestige Audio explains, "In 2019 we were contacted by one of the founders of a company called Riverstone Living, the developer was working on a very special luxury commercial development for clients over 65. This customer's goal is to create the best retirement living in London. They launched in 2019 with a project called Riverstone Kensington, which is now open, the project involving this high-performance cinema is called Riverstone Fulham, opened at the end of 2022. Riverstone Living approached us based on a recommendation and after examining our track record brought us into deliver something that the UK has never seen before!"
Opening with a big splash and launch party, the Riverstone Kensington development went on to win the Best Retirement Development Award at the Evening Standard New Home Awards 2022. "I have never fallen in love with a place so fast as coming through the doors of Riverstone," said Dame Joanna Lumley, special guest at the launch party.
Joe says, "They are definitely achieving their ambitions of delivering the best in class, so the pressure was on to help them maintain this momentum into their next project. Our original role was to consult and design a solution for all the amenity spaces; restaurant, cinema, swimming pool, bar, and lounge for the initial site in Kensington and also develop a solution that we could duplicate on other sites in the future. With this second site at Fulham, we really got to show what could be achieved for this customer and client group in terms of the cinema. There is definitely big potential for growth in the luxury MDU sector. There have been systems aimed at this client group before, but the level of performance required here is new, it's up to us as an industry to show developers that the investment is worth it and this is starting to happen."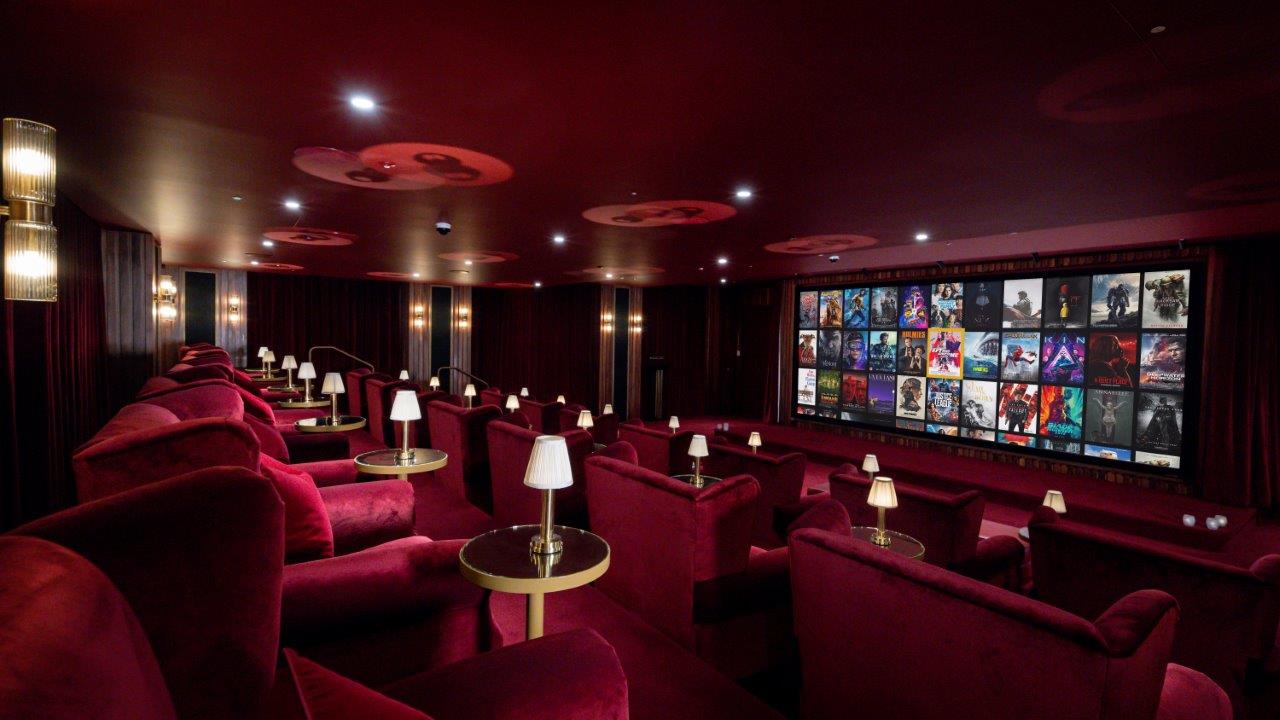 As part of the design process, we invited the Riverstone team to demonstrations at Pulse Cinemas to help them understand the different performance levels at various price points. Joe comments, "These demonstrations were hugely helpful to them and us, allowing all parties to narrow down on a performance specification. We had several challenges on the first site at Kensington as we were not involved early in the structural design of the cinema room, and some of the seating positions were compromised. On the Fulham project we were able to deliver room dimension templates early on (based on the number of seats required) and their architects have also taken these for future projects as well."
Joe explains, "Getting involved early meant this cinema was going to face very few compromises and could include a separate 'projection room' to house the equipment, improve performance and of course give us ease of physical access. Our design meant that speakers could be positioned correctly, doors would not be placed in areas that would compromise performance and the height of the room allowed for unobstructed views of the screen in any seat."
"We had already worked on modelling subwoofer positions and nodal issues before delivering the templates using REW software. This size of room required quite a particular speaker layout (7.6.4) with six subwoofers to deliver a great bass response to all the seats. The customer was very clear that they wanted very high performance when it came to the picture and a large screen to boot so we landed on a Barco Balder Cinemascope Laser Projector and a 5M Screen Research fixed acoustically transparent 2.37:1 projection screen."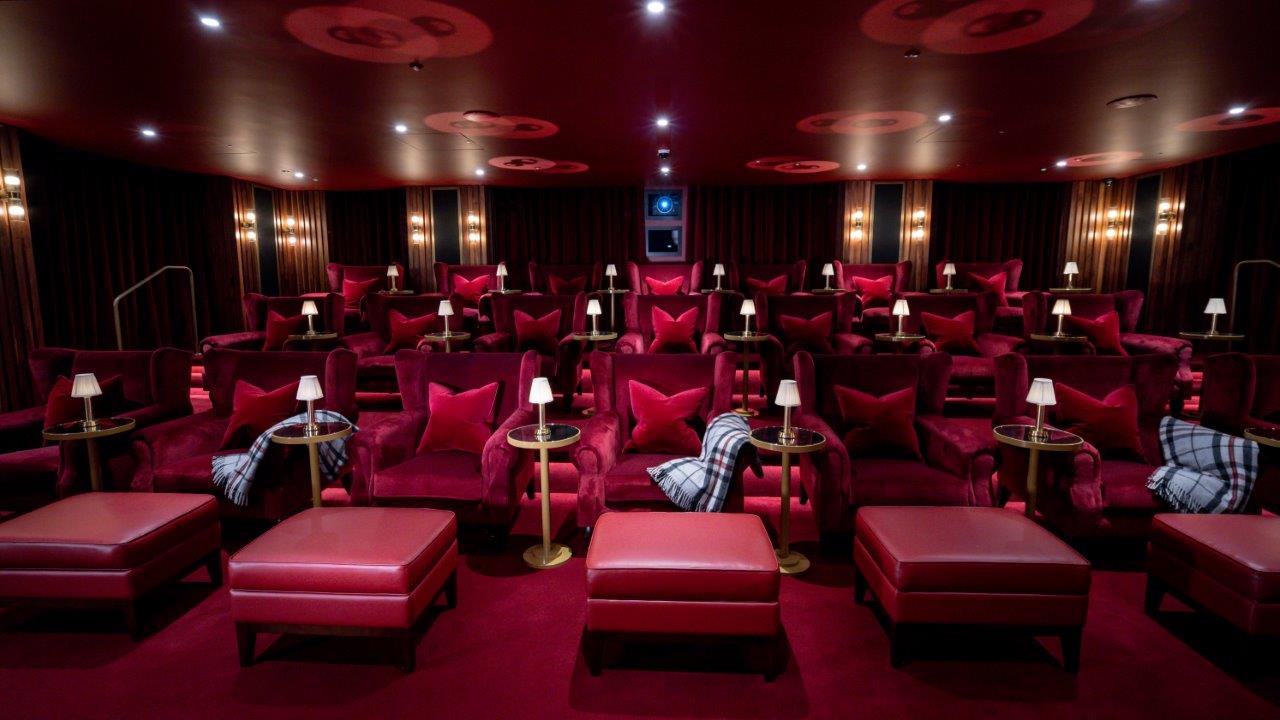 A sound basis
Joe explains, "Some sound proofing had already been done on the space before our installation began in earnest, and because of the apartments above, we were told we would be restricted to 83db in the room. We were able to easily demonstrate that this level would not be enough. We used a sound level metre and just by whistling showed we could reach that level and it would not be sufficient. However, we were able to show that with further sound proofing we could get to 95db and with further demonstration it was agreed that this would be the optimum level for the cinema. The system can go higher to give us headroom, but for the client group this level is optimal. We also used curtains and thick carpet in the room to help control the sound and also guided the structure of the room towards all wood instead of using any metal stud work construction techniques which can cause vibration. There are also Vicoustic treatments in key spots around the room such as behind the screen."
Because image quality and consistency were very important the team used a Lumagen 4K Video Scaler which in real time scales any image to 4K so there are never any delays in image delivery or drops in quality when transitioning between different sources or when residents are watching a cable broadcast from Sky. Sports like F1 and Golf are popular, so the system had to deliver really good quality for these types of broadcasts so when the broadcast cuts to advertising there is no jarring loss of picture or quality as the system tries to readjust to a different picture format, everything is at 4K all the time.
Other sources in the room include Sky and there is also a Panasonic 4K HDR Blu-Ray player so residents can bring their own content to enjoy in the cinema. However, for the best in performance, the system also enjoys access to a Kaleidescape Strato 4K Media Player 6TB. The cinema provides options for residents to choose from and the building's managers download and playback the required content. There is also a games console and a laptop input to deliver presentations to residents.
Joe explains, "Control of the cinema is delivered by an Anthem MRX 1120, giving us 11 channels of amplification to play with. However, to deliver more dynamics into the room we furnished the front three channels with extra amplification in the form of an Anthem MCA325 three channel amp. Due to the size of the room, we also doubled up in the number of side speakers and added four overhead channels too.
"Bass was always going to be a challenge in this room, part of this issue was solved by using six Paradigm Defiance x 10s in optimal positions, but at slightly different heights, however we also used some DSP DDRC-24's so we could control the performance of the subs separately from the 1120. These magic little boxes allow us to separately EQ and time align each of the subs to improve the performance even further. The rest of the speaker array was rounded out from the excellent Paradigm CI Pro range giving us a really superb audio performance for the whole room."
Bearing in mind the customer group there were some other special modifications and additions the team needed to implement. A few of the residents have hearing issues and so Prestige Audio employed a Sennheiser system that allows viewers to use their smart devices to access a special audio track they can listen to on their own headphones. This feed promotes clear dialogue and presents an experience tuned to those living with hearing loss. The room also has a full Shure Microphone and transmitter system which allows the space to be used as a lecture theatre as well as a cinema.
Joe adds, "We have also built in a full remote access system onto the backend. If any technical assistance is needed, we can jump on from wherever we are and make any adjustments or perhaps reboot parts of the system and make sure we are always at optimum performance."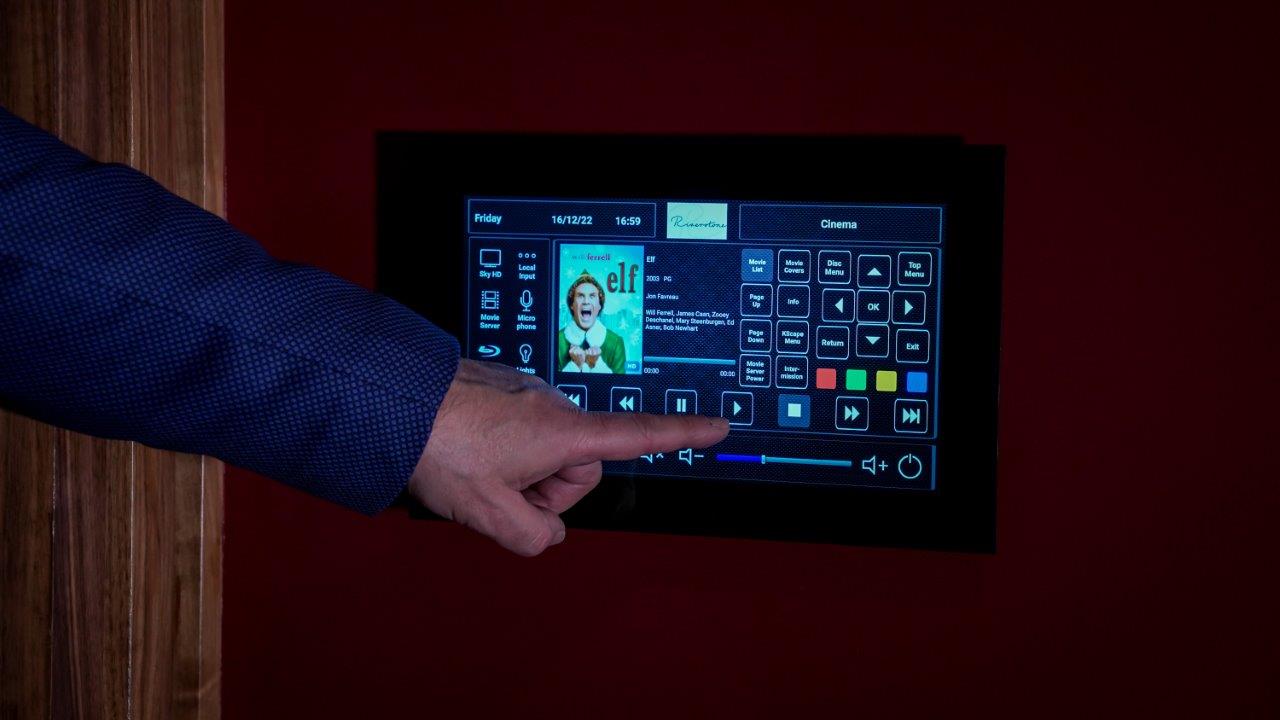 Building access
Access in another way is delivered by the 'projection room' behind the main cinema room. The space has two portholes to allow for the projector to do its work and for the person setting the system up to play can see what is going on. The whole space is controlled with RTI set up to be easy to use for staff. The room is automated using RTI to respond accordingly during pauses or beginning of playback altering the lighting and bring all the systems on-line.
Joe underlines, "Our relationship with Pulse Cinemas has really paid dividends here, the support, the brands and products that we needed, made sure this really challenging project really delivered what the client wanted and more.
"Special mention also has to go to the interior design company on the project, Bowler James Brindley. They really were a joy to work with and we formed a really good partnership making sure the project got where it needed to be in the performance and aesthetic ambition for the space. For us in many ways this project marks an interesting waypoint as our sector expands and other trades understand and appreciate more what we are bringing. This system is most uncompromised cinema we have produced in a long time, maybe even ever."
Kapes Patel, Pulse Cinemas COO, adds, "Congratulations to Joe and the team, this cinema really is something special ands sets new standards for the sector that it has been created for. We are proud we were able to support Prestige Audio in delivering such a fantastic result."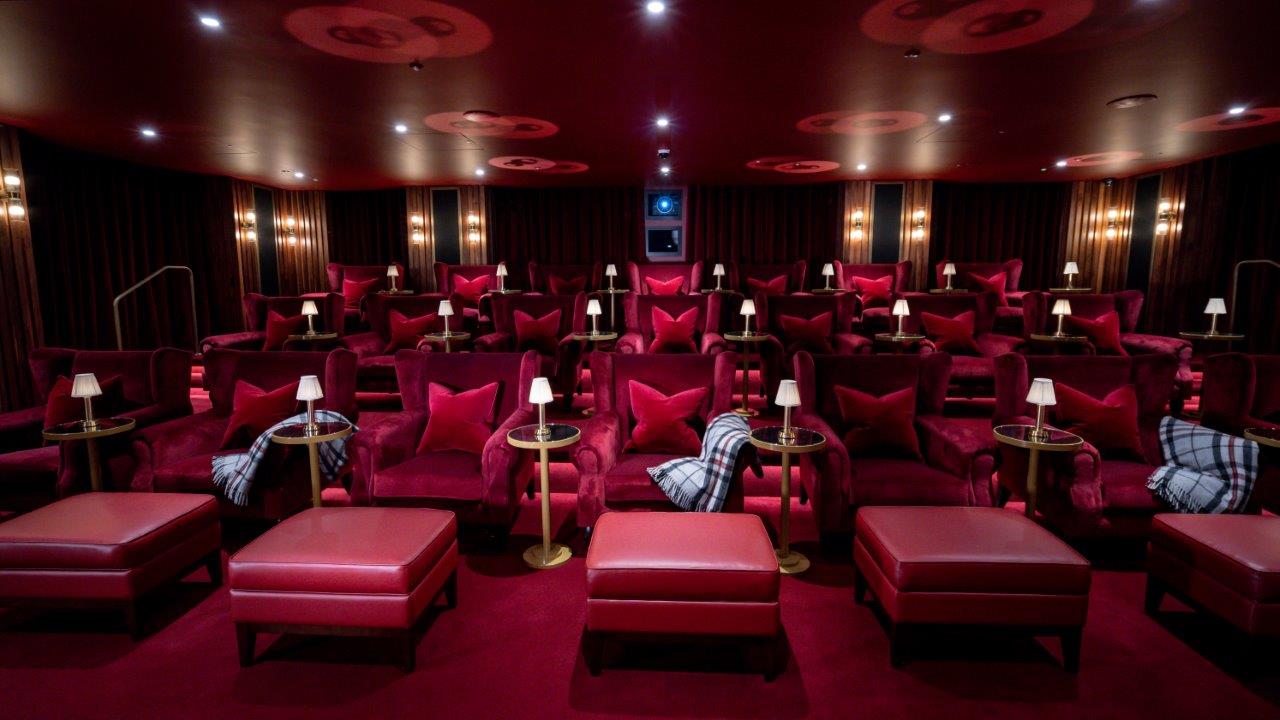 Equipment List
Screen: Screen Research Fixed Acoustically Transparent 2.37:1 Projection Screen
Sources: Kaleidescape Strato 4K Media Player 6TB (Kaleidescape Strato 4K Media Player Rack Kit)
Amplification/Processing: Anthem; Integrated 11.2 Ch Dolby Atmos AV Receiver MRX1120 (MRX1120 Rack Kit), 3 Channel Power Amplifier (Front Speakers)
Speakers: Paradigm; CI Pro (Fronts) P5 x 3, Paradigm CI Pro (Surrounds) P1 x 6, Paradigm CI Pro (Heights) P80-R x 4, Paradigm Subwoofers Defiance X10 x 6
Acoustic Treatment: Vicoustic; Diffusion Panels 600 x 600 (Box of 6) DC2, Absorption Panels 600 x 600 (Box of 8) Cinema Round Premium x 4
Control: RTI; XP Series Control Processor, XP Series Control Expansion Module, 11in In-Wall Touch Panel (Cinema Room), 11in In-Wall Touch Panel Backbox, KX2 Colour Touch Panel (Projection Room) and KX2 In-Wall Touch Panel Backbox