The Moorings Sets Sail With Home Cinema
John Brimage, Technical Director at Sensible Technology, gives the tour of this impressive home cinema project featuring Pulse Cinemas ingredients and support.
Since 2003 Sensible has been delivering technology focused solutions for high-specification homes and commercial premises in Guernsey in the Channel Islands.
The business started by delivering multi-room audio systems, lighting control systems and high quality light fittings. In May 2016 under new ownership, Matt Guille (Director) and John Brimage, Sensible now provides significantly more 'Smart Home' products and services including home automation, Lutron lighting control systems and structured cabling (data & Wi-Fi networks).
Underlining this more recent expansion of operations, John explains, "We regularly work with architects, builders and interior designers and are often involved early on in the design stage. Having worked with Architect Tom Bourgaize of architectural service providers The Drawing Room before, we were again invited to specify the technology part of this stunning East Coast home on Guernsey.
"The job was not won by competitive tender. We had not worked with the client before, so it was important to discuss with them their lifestyle and important technology they enjoy in the home. One of the requests was a no compromise home cinema and easy to use technology. We agreed a brief from the start and very little changed throughout."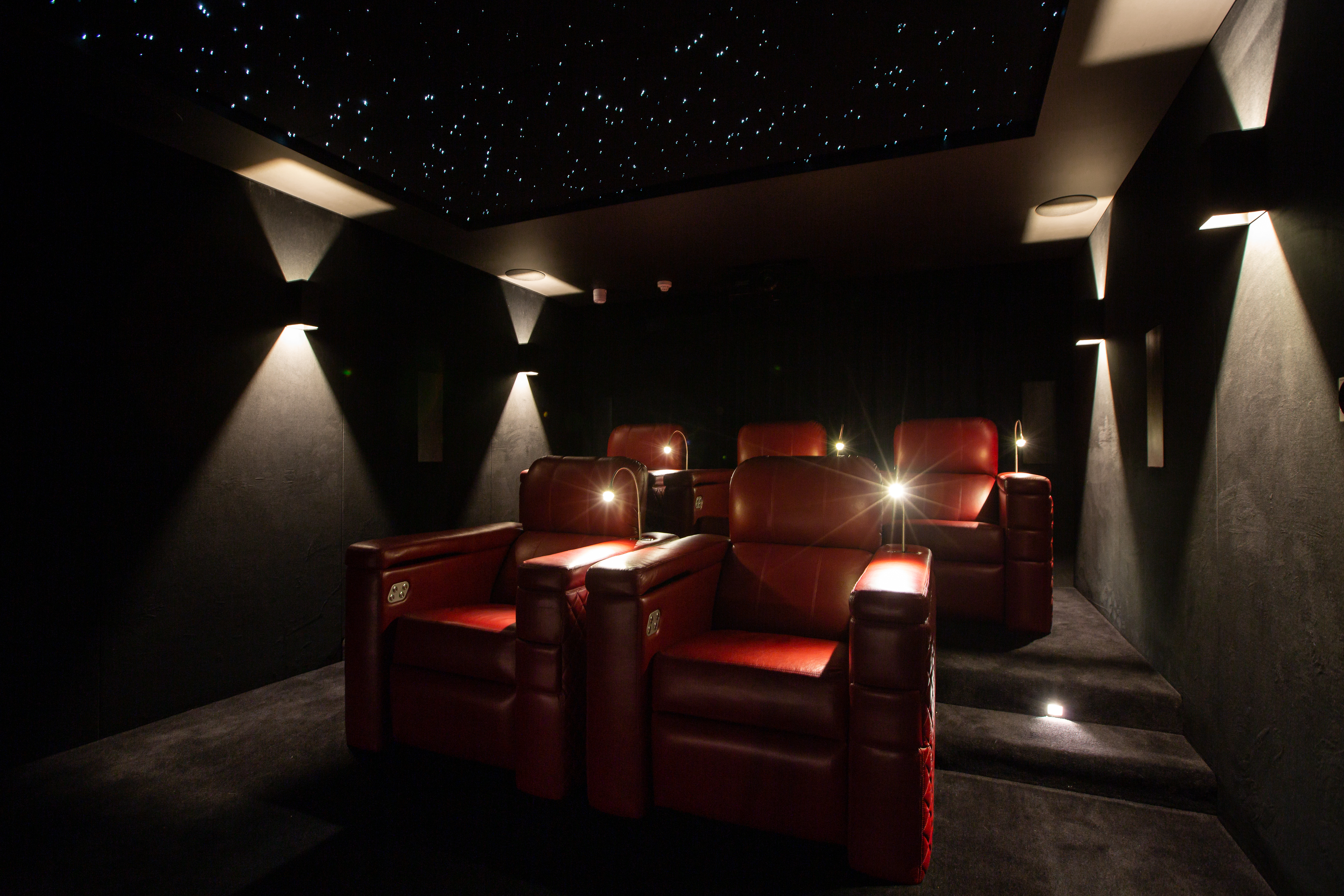 John explains, "We immediately got in touch with Pulse Cinemas and following a video call they put their team of designers to work on three different specification for the space we had to work with. Pulse Cinemas specified suitable speakers and amplification for the room size from Paradigm and Anthem, a motorised screen from Screen Research and projector from Sim2. The room was small in size with a low ceiling height which meant we had to get creative with the seating layout to enable access to the back seats. Premium leather Fortress Seating with retractable tables, reading lights and cup holders were supplied by Pulse Cinemas. We also fitted a Buttkicker (Haptic Transducer) in each seat for that extra impact when watching action movies and a star ceiling from Starscape."
The cinema had a big impact on the customer and the installer too. John says, "I think we all agree our favourite part is the cinema. As a business we had installed cinemas before, but not as astounding as this room turned out to be."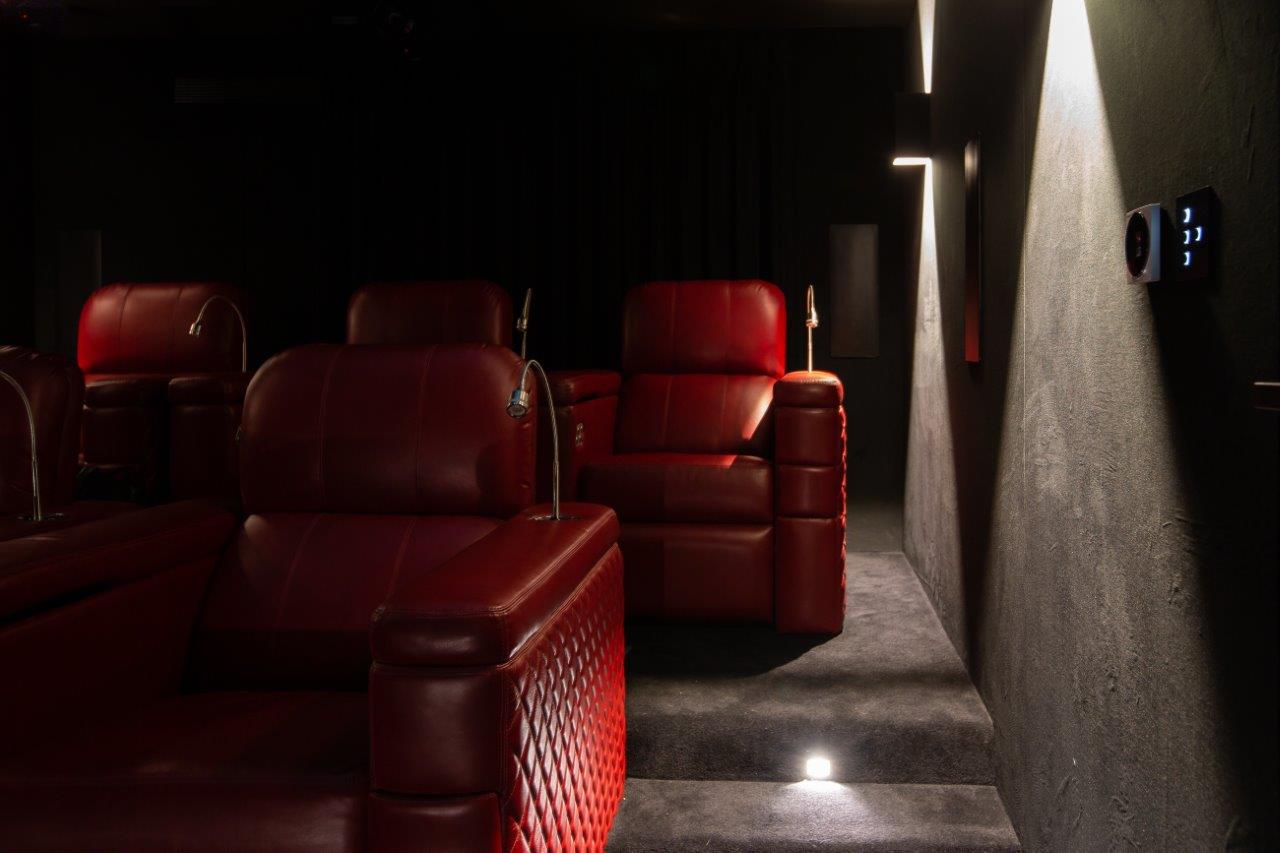 The room was finished with acoustic wall treatments supplied and fitted by a regular partner of Sensible Technology Ace Contracts.
Explaining some of the other product choices for the space, John says, "Naturally we chose Lutron Homeworks QSX for lighting control with the tried and tested International seeTouch keypads. During the first fix part of the project Lutron released the elegant and versatile Alisse keypads which was an immediate hit with our clients so we replaced the original specification.
"Ceiling coffers were a feature designed by the architect in most rooms of the property, so we illuminated these by installing 3000k linear LED linked to the Lutron DALI system. For areas where downlights were required we used Orluna lighting, we have been using Orluna on our projects since 2013."
John adds, "For shading solutions, we always work with our partners Ace Contracts so we immediately asked them to take the lead with this. The clients were introduced to the team at Ace who specified a wide range of solutions also from Lutron."
As far as technical challenges go, John says, "We had to integrate Velux motorised skylights, shutters and blinds so they could be controlled via the Lutron keypads and individually via a Control4 Touch screen, this was integrated using a Lutron contact closure interface and Velux's io-homecontrol interface. Also due to the location of the property (on the cliffs) the 4G mobile signal was terrible so Stella Doradus equipment was installed to boost the signal."
Equipment list
Projector: Sim2 Crystal4 SH 4K Laser Projector (Black)
Processing: Anthem MRX1140 AVR
Speakers: Paradigm 4 x CI PRO P1 LCR, 3 x CI PRO P3 LCR, 4 x CI-PRO P80-R and 2 x Defiance X10 Subwoofer
Screen: Screen Research 110in Lateral E-Mask Screen - Ultimate Cleapix
Seating: Fortress Seating 5 x Nova Style, Corinne Pomegranate Premium Leather Seating with front access cup holders - stainless steel, goose neck reading lamp, first class tray table in standard Black
Lighting: Lutron Homeworks QSX, Alisse Keypads, Sivoia QS Roller Blinds, Roman Blinds & Curtains