Enter The Fast Lane With Pulse Simulations
This very special case study represents a UK first as we reveal a brand-new company and concept to the Pulse Group. Pulse Simulations (a separate company to Pulse Cinemas) offers a turnkey solution for the creation of the best driving simulators in the world. Of course, as shown here, these cutting-edge simulators can be combined with lots of other fantastic propositions from the Pulse Cinemas side of the track.
This case study is a great example of how a project with a relatively modest beginning can accelerate into something very special if the client is given access to the right information, demonstrations and support. This customer had the notion that he wanted some AV in his new home, maybe a home cinema, but was not clear on what that might look like. He also happens to be a massive racing fan, likes a game of pool and enjoys relaxing with friends over a drink or two. Impossible to fit all of that into one room, right? Not with the power of the Pulse Group and especially our new offering Pulse Simulations.
First up a quick word about this new concept, we will be releasing more detailed information soon, but in brief this is a one call solution for the very best in home driving simulators you can buy. Have a client that wants one of these? Then get in touch and we will do everything from ordering to fitting the system and handing it over to your and the client. Different levels of performance are available; Amateur, Sport and Pro, with the very highest level achieving something no other simulator can, actual simulated g-force so the drive feels as close to the real thing as possible. The system can offer a myriad of different race-tracks and options to keep any racing fan happy. Whether a casual fan or someone who is serious about their driving, all can enjoy hours of enjoyment with these cutting edge machines. A full demonstration has been fitted at Pulse Cinemas HQ, home of our new arm Pulse Simulators. This was the catalyst for this fantastic room design.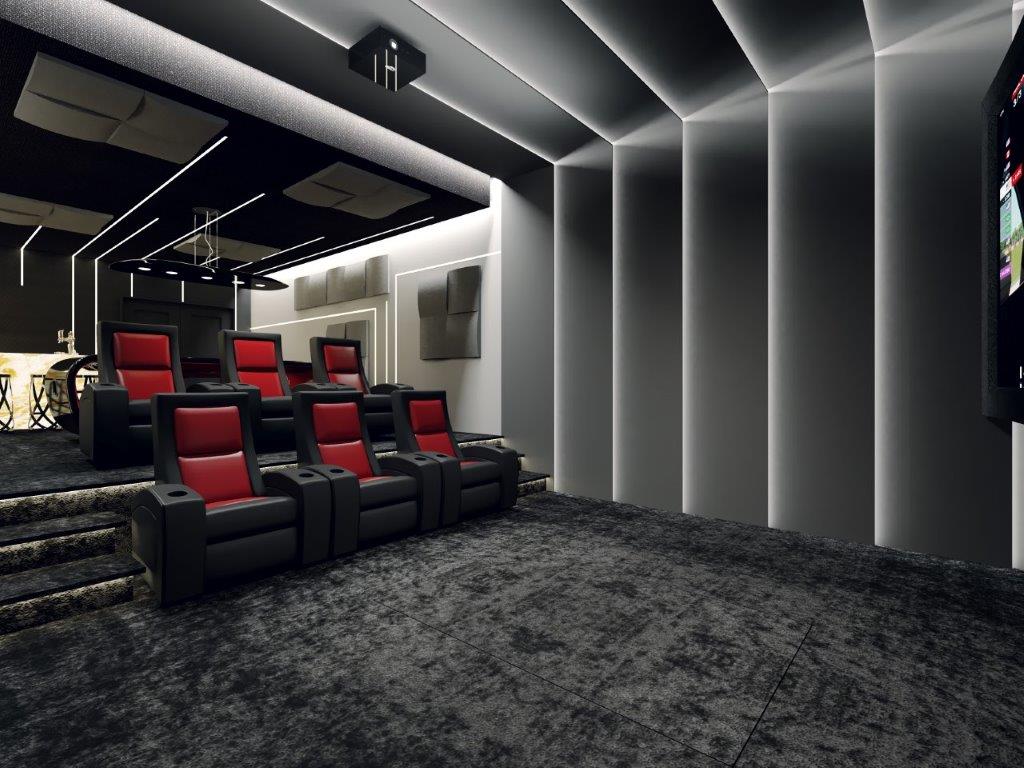 Creating a genuine multi-use space
A home cinema should never feel cluttered; the room should flow just as well as any other space in the home, making sure the user never feels crowded, but also gains access to all the playtime goodies that they desire. This customer, as soon as they saw how good the simulator was, wanted one, but was sceptical that we could design a room that could accommodate it as well a pool table, bar and fully stocked home cinema system. Fortunately, the customer had seen one of our other case studies, where a pool table remains hidden in the floor until needed, creating the perfect solution for movie time and play time.
Consequently, we were able to explain that the same approach could be taken with the racing sim, hiding the fully loaded machine under the floor and raising it up when it was time to race. The Pulse Simulators concept can come with its own three screens attached to the unit delivering a full wrap-around effect, but this customer wanted to enjoy the experience on a full-sized movie screen, so this is the option we went for here.
The rest of the room needed to be just as high performance so a Screen Research EI 1C fixed screen unit was chosen to handle the double job of traditional content and the racing simulation. Fast response times and stunning images were of course vital, so the Sim2 Crystal SH projector is also employed which has access to a Kaleidescape Strato 6TB movie and content system for the best on-line and locally stored options available anywhere.
This dual-purpose room of course needs killer sound, if you have not experienced a racing simulator in immersive audio, then you haven't really experienced a full racing sim. The collection of Paradigm speakers from the Ci Elite range gets the job done, with plenty of high quality bass performance to make sure the sim gets to where it needs to be. Paradigm and Anthem combine to deliver the precise processing and amplification that a dual use set up like this needs and a full complement of Vicoustic acoustic treatments are installed to focus the sound in the room and also give the space its cool, clean lines.
The right atmosphere for the different uses of this room was vital so our design team included the Lutron Homeworks QS platform to make sure that if it's movie night, race mode or party time, the right lighting is easily selected or happens automatically when a particular setting is chosen. Powering all of the options in this room, including the racing simulator reveal, the lighting and the AV is the RTI automation and control platform. The system has been programmed to take everything this exciting room can do and place it in the palm of the hand of anyone who uses the room, and also take care of all the automated talks happening in the background, to add a level of luxury that delivers the chequered flag to this superb room. If you want to find out more about Pulse Simulations, visit the brand-new website, right here.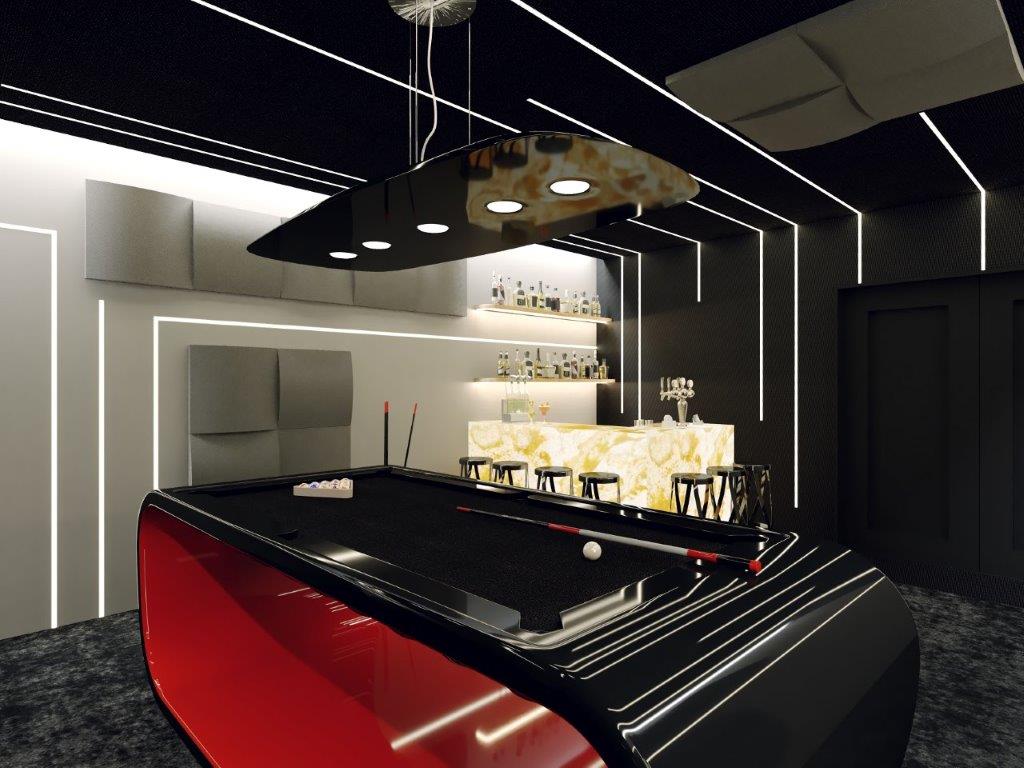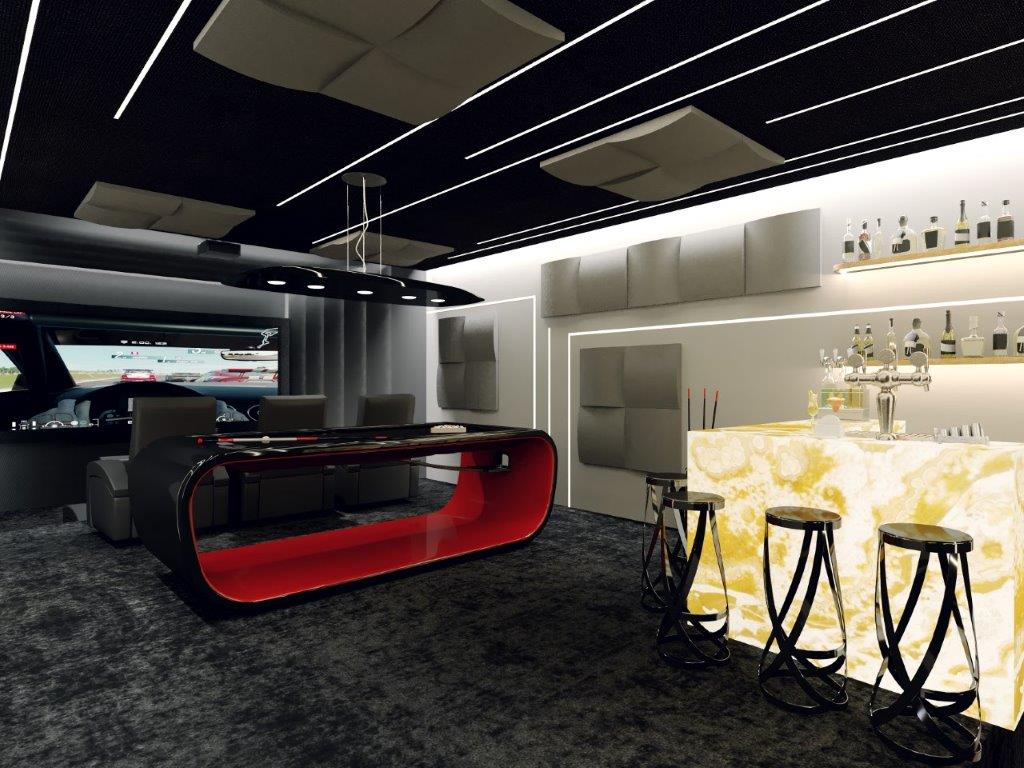 EQUIPMENT LIST
Speakers: Paradigm Ci Elite E5, CI Elite E3, Ci Elite E80 R. Subs; Seismic 110, RVC12SQ, BX-12SQ
Amplification/Processing: Paradigm X850, Anthem AVM70 + MCA525
Video Source: Kaleidescape Strato 6TB
Lighting: Lutron Homeworks QS
Automation/Control: RTI
Acoustic Treatment: Vicoustic VMT
Projector: Sim2 Crystal SH
Screen: Screen Research El1C-130-235-UWB