Pulse Cinemas and Minotti London: Merging Panache and Performance
This fantastic showpiece for what is possible when you combine the most sophisticated of modern interiors with cutting edge home cinema technology is now open for business. Book your appointment today!
Partnering with other like-minded companies with similar goals and standards of customer care has always been part of the Pulse Cinemas approach. This method has reached its zenith with a relationship between Minotti London which has redefined how a technology company and an interiors and furniture specialist can collaborate to demonstrate the ultimate in sophisticated, fully integrated home cinema. The concept of a dedicated home cinema space is still a strong one, many people like the look, feel and performance of a dedicated space aesthetically created to look like a 'cinema'. However, what about the growing trend for those that want a high-performance cinema, but want it intertwined with their living space?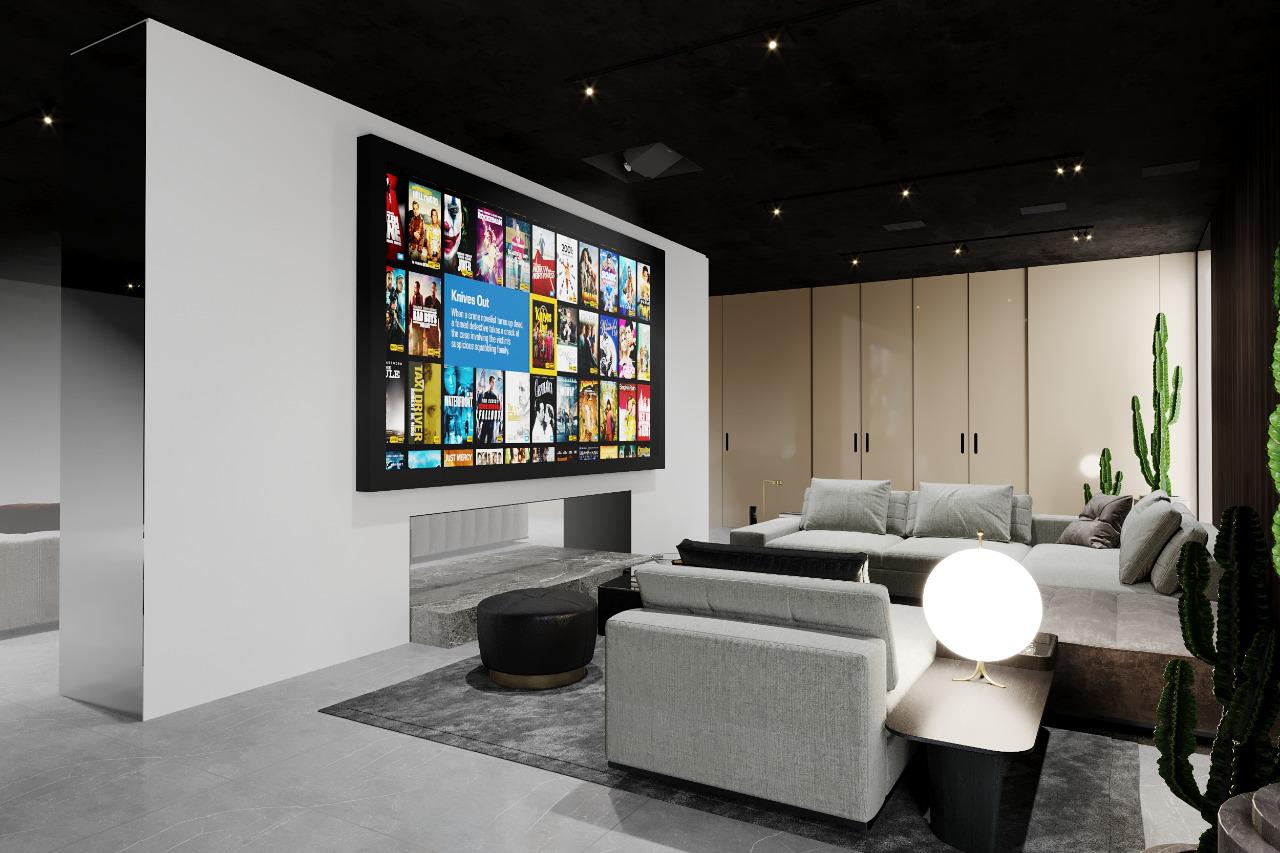 Beautifully integrated cinema
Minotti London is the UK showroom for the Minotti brand of Italian hand made furniture and furnishings, one of the most respected contemporary furniture design companies in existence. Established in 1948 and born out of the drive and intuition of company founder Alberto Minotti, the brand is a global operator present in 64 countries, through a network of 41 flagship stores. Mike Beatty, Pulse Cinemas, MD, says, "We are delighted to able to work with a brand like Minotti, it is simply the best at what is does and the company's ethos of excellence in production as well as customer care is a fantastic fit for us. Minotti London is one of the most prestigious furniture showrooms in the capital, a fantastic platform for us to showcase the best in home cinema. To learn more about the culture of Minotti, watch the interview our own Sales Manager, Simon Schino did with Anke Summerhill, MD and creative director of Minotti London, as Anke reveals what makes the brand special.
To create this fully integrated home cinema experience, our installation team used the depth and quality of the Pulse Cinemas brand line up to create something very special working hand in hand with the showroom team to create a space we know your customers are going to love.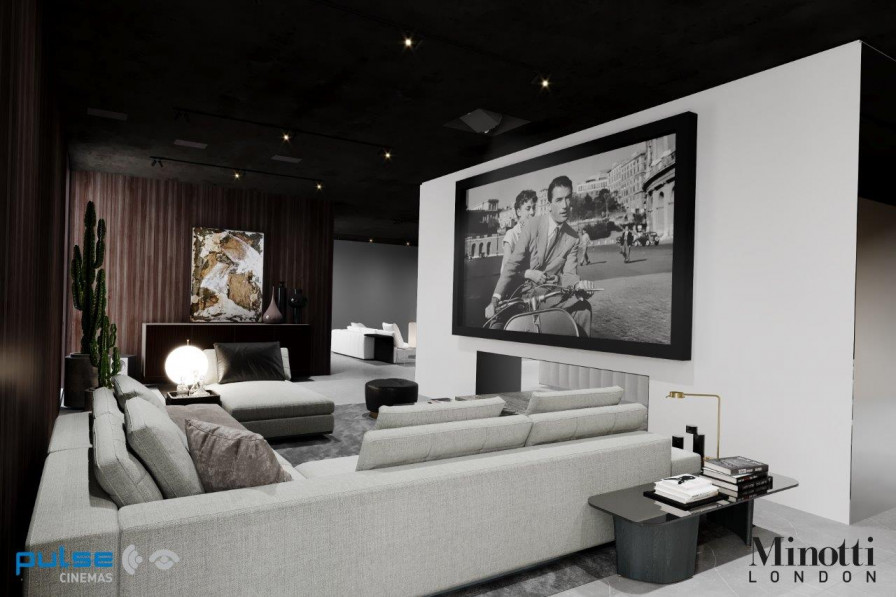 The perfect product line up
Sim2 has always offered high-quality products, but in recent years the brand has taken this to a new level with the best imaging available, within a highly flexible range. An expression of the desire for flexibility is the company's xTV concept. Used to great affect here, hidden in the ceiling just in front of the projector screen, the cinema gets high-performance 4K images, but with little or no impact on the look of space. With the latest laser illumination technology, 4K SIM2 xTV delivers high brightness, 20.000 hours of viewing and stunning colour accuracy. Its innovative ultra-short throw lens copes with ease delivering the pictures onto the Screen Research 96in Deco Mask 1.78 screen specified for this project. Sim2 xTV can also be hidden within furniture and cabinetry below the screen and can also be on-show due to its superior styling. An Italian brand with an eye for detail just like Minotti, Sim2 is perfect fit here.
Also a perfect fit is the Screen Research DécorMask screen, supplied with a stylish and metropolitan image to match with its surroundings when the cinema is at rest. The screen of course comes to life and delivers the wonderful palette of colours and excitement offered by its projection partner Sim2. Screen Research's two-way laterally-masked Reference X-Mask technology also allows the screen to adjust to different image formats providing the maximum flexibility when switching between different sources and imaging requirements.
Also hidden behind the screen are an array of Vicoustic MD55 acoustic treatment panels, a really cost-effective solution for any space that needs acoustic absorption treatment and one that deals here with the audio challenges thrown up by the showroom.
Hidden away but powering this sophisticated home cinema is the Anthem MRX1140. Armed with the latest version of ARC Genesis room correction, the installation team have used all this muscular product's abilities to deliver an impressive level of performance. With integrated streaming support, object-oriented audio codecs and support for up to 15.2 channels, driven at 140 watts per channel, the cinema has all the power and headroom it needs to meet any expectation potential customers might have.
This most sophisticated of home cinema concepts was a great chance to showcase the abilities of the Paradigm CI PRO series, designed to deliver next level performance combined with a bezel-free micro-perf grille with an incredibly discreet aesthetic, perfect for this space. Hidden behind the Screen Research screen are three Paradigm Millenia LP XLs delivering the LCR channels. Offering a very thin (1-3/4 in / 4.4 cm) form factor, these drivers still offer all the detail and punch needed from these important parts of the Dolby Atmos audio experience. The space also includes two Paradigm PRO-80As for surround channels and two Paradigm PRO-80Rs for the Atmos height channels. Delivering the bass grunt are two Paradigm Defiance V10s, these extremely popular no-nonsense enclosures just get on with delivering the bass the cinema needs whilst being discretely woven into the fabric of the room, just like the rest of the Paradigm speakers.
A home cinema needs a source right, so there was only every going to be one choice for Minotti London, step forward the Kaleidescape Strato S. Strato S delivers its hallmark of all the colour and detail you could want delivered in true 4K Ultra HD & HDR. With its fast start, high-performance and intuitive user interface, customers will understand just how good it is as soon as they begin to interact with it.
All of this power needs to be controlled of course and this space also provides an excellent opportunity to show the ability and ease of use offered by RTI. Our install team here called on the RTI CCK32 Kit (XP3 processor + T2X Remote) to deliver the ultimate in a single room control package. RTI can of course control a whole home and this is a great way of introducing customers to the concept, but for this single zone space, the RTI system brings everything together and places it in the palm of the hand.
The final piece of infrastructure needed to make this wonderful space tick are a complement of Pixelgen PXLGLASS Max 4K Hybrid HDMI cables. These long-reach full bandwidth Ultra HD interconnect cables are capable of delivering 100% uncompressed 4K signals up to 50m. A fantastic option when everything must remain completely hidden and there can be no compromise on performance.
The final aspect to highlight about this high-performance hidden home cinema, is that is it open for business! Located in central London, this new initiative from Minotti London and Pulse Cinemas really is the ultimate in fully integrated home cinema creations, make your appointment today.