Super Cool Home Cinema
Home cinemas come in all shapes and sizes, some reflect a relaxed living room style and offer multi-purpose use scenarios, whilst others go for the full dedicated cinema approach, bringing all the excitement and performance curves of the very best commercial cinemas into the home.


We are often asked if home cinemas are as good as commercial cinemas, we say no, they are way better. In this type of larger dedicated room, we can bring to bear all the design flare of our installation partners along with some of the best AV and cinema equipment in the world, to deliver a result that your eyes and ears simply won't believe.
The owner of this cinema wanted high-performance combined with a cool contemporary look and room to seat 12 people in perfect comfort.
Anthem amplification and processing technology provides the backbone to deliver a fully immersive Dolby Atmos home cinema experience, delivered via an array of Paradigm drivers.
The Screen Research XLR-3 fixed frame masking screen allows the screen size to adjust to whatever picture format is most effective for the content being played. From super wide screen for movies shot in that format, to 16:9 if watching broadcast sport content, this cinema provides the perfect environment to enjoy all types of viewing experiences.
Delivering the images is the powerful Sim2 NERO 4S Dual Stack; this set up uses two projectors to deliver new imaging technology High Dynamic Range (HDR) to its absolute pinnacle.
HDR content offers a much wider and more natural colour pallet offering film and content makers the chance to create imaging more lifelike than ever before.
This set up delivers every ounce of this new approach by using one projector to deliver the brighter colours in an image and the other to deliver the darker colours, the result is an image of exquisite clarity with an immersive quality never seen before.
A Kaleidescape Strato movie server provides all the content the owner could ever need in high-quality uncompressed 4K. IsoTek products are woven into the AV complement to protect all the high-performance equipment and provide a clean power supplier to ensure everything can reach its full potential performance wise.
Completing the look of the room are a complement of Vicoustic acoustic treatment panels, which not only help reinforce the sharp design cues in the room, but also focus the audio and ensure the immersive Dolby Atmos experience is the very best it can be.
Fortress Seating provides 12 of one of its most popular classic cinema chairs, the Kensington, sporting a very cool blue livery reflected in other parts of the cinema design.
When it comes to large dedicated home cinema rooms, this design delivers on every level; comfort, style and performance in one perfect package.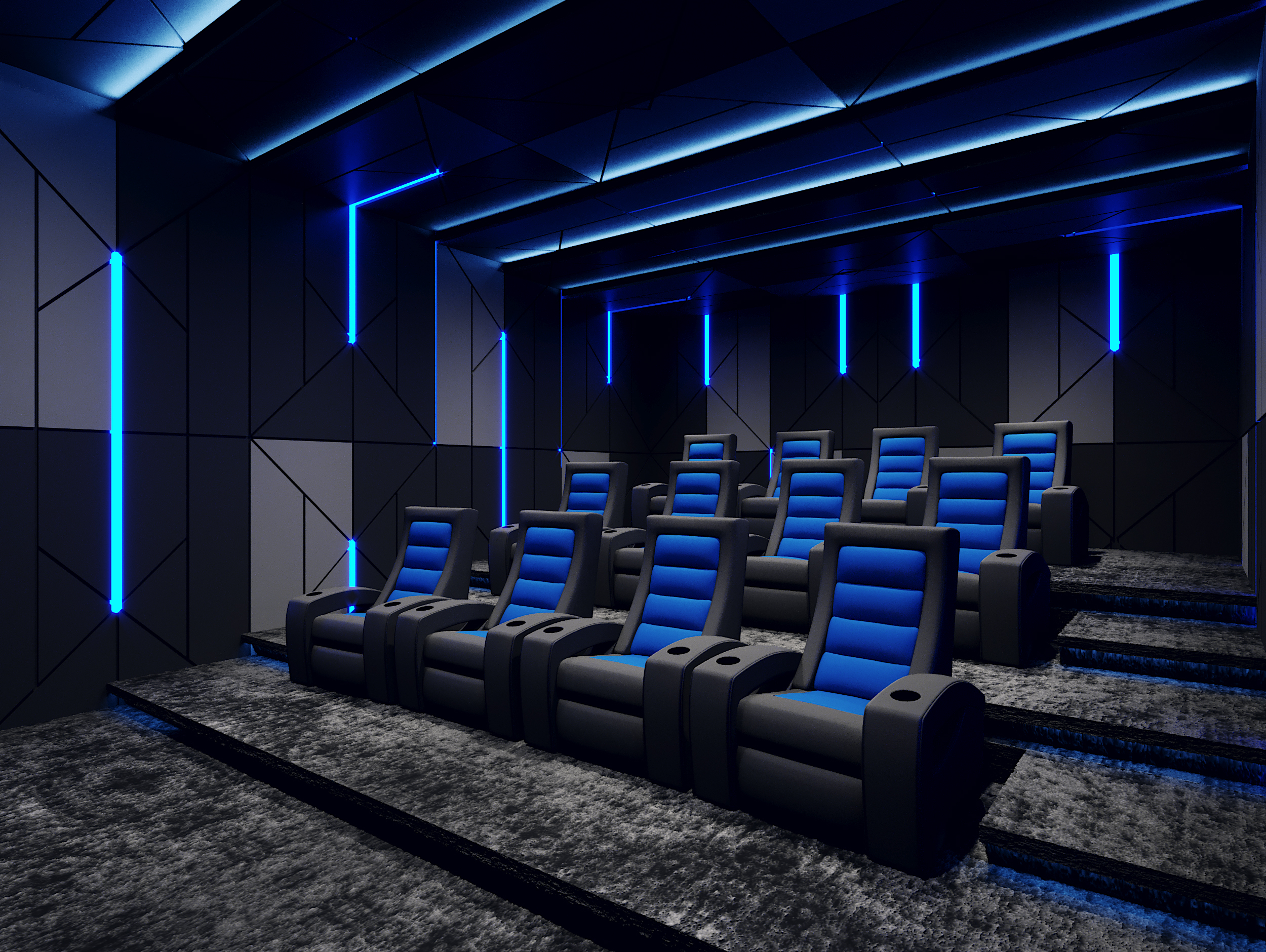 Suggest Equipment List: Super Cool Home Cinema
Screen – Screen Research fixed frame masking screen (180")
Projector – Sim2 Nero 4S Dual
Speakers – LCRs

–

Paradigm Custom Reference, Front Wides – Paradigm Ci Elite E7, Surround & Surround Backs – Paradigm Ci Elite E7, Atmos – Paradigm Ci Elite E80-R
Subwoofers – Paradigm Prestige Sub 2000's
Processor – Anthem MRX1140
Amplifiers – StormAudio PA8 Ultra MK2 & PA16 MK2
Power conditioning - IsoTek
Acoustic Treatment – Vicoustic absorption, diffusion and bass management package
Seating – Fortress Seating Premium leather Kensington Cinema Seats
Control System – RTI control system programmed via APEX software
Video Distribution – Pulse-Eight video matrix
Lighting System – Lutron Homeworks QS
COMPLETE COST OF KIT USED IN THIS PROJECT: £247,631.69