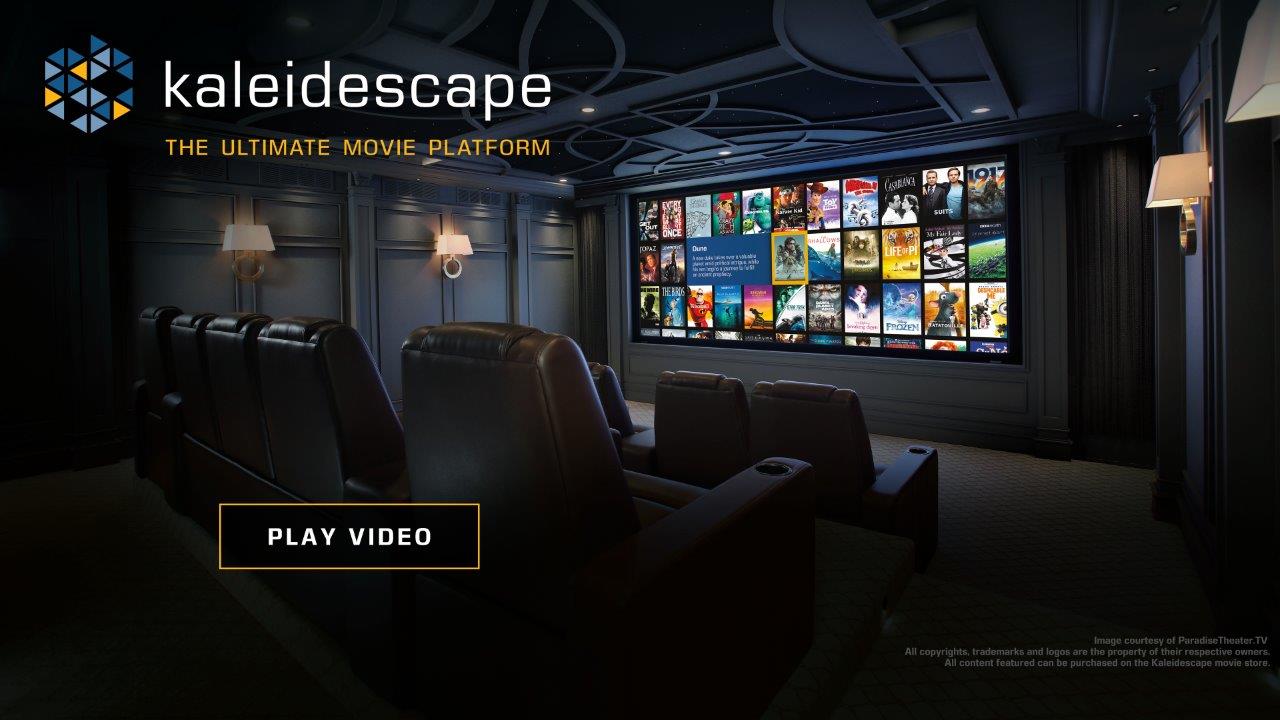 A new promotional video gives installers a powerful marketing tool to showcase the power of Kaleidescape, the best movie server.
Kaleidescape has created a special video that can be tailored to include dealers' own contact and marketing details. The video is a tour de force, demonstrating how the Kaleidescape platform takes content delivery to a new level for any type of home cinema or media room project.
Demonstration is, of course, a key part of selling a high-performance home cinema. However, having extra promotional support during initial or final sales negotiations is a great ally, and Kaleidescape has produced a fantastic video that introduces the wider world to the exciting universe of Kaleidescape home cinema.
Not only does the video do an excellent job of introducing and selling the system, but dealers can also apply to have their version created, complete with logos, contacts, and related details, to use on their websites and in promotional campaigns and communications. The only criteria needed to qualify is the ability to physically demonstrate the Kaleidescape system. Dealers that can already do so can be immediately included, and those that don't yet have a Kaleidescape demo as part of their set up, get in touch!
Pulse Cinemas has kicked off this UK initiative by creating an example with our own logos and contacts to show how the program will work. If you want one created for your company, get in touch, and let's tell your customers about Kaleidescape!
Video Contents
Kaleidescape is the best movie server, used by Hollywood's elite. Kaleidescape elevates every component of any media system with lossless audio and reference quality video. Every subtle sound and rumble draws viewers deeper into the story, while the projector or TV looks pixel-perfect without compression artifacts. Kaleidescape's metadata automatically controls screen masking, room lighting, and seating to create ambiance. The titles available from the movie store are downloaded, not streamed, ensuring no buffering or degradation.
We invite installers to watch this video that elegantly tells the Kaleidescape story with beautiful imagery and clear dialogue. The video highlights what makes Kaleidescape the gold standard in the industry and why consumers will never need to compromise on quality when watching their favorite movies, TV series, and concerts. Choose Kaleidescape for the ultimate entertainment experience.
Kaleidescape: Advancing the Digital Landscape
Featured as one of Residential Systems 2023 companies to watch, Kaleidescape's award-winning product line of Strato C movie players and Terra movie servers meets a wide range of customer needs in the 4K UHD era while maintaining the unrivaled quality, faster download speeds, and seamless playback experience that defines Kaleidescape.
Kaleidescape has built a content delivery solution for high-quality experiences used in the world's most discerning home cinemas. The playback platform can deliver content, from major motion picture studio movie releases to beloved concerts and music documentaries, to a dynamic array of popular TV series.
By providing lossless audio and preserving video fidelity, Kaleidescape remains unchallenged as the highest-quality viewing experience at home. Kaleidescape movies are offered in 4K Ultra HD, many with high dynamic range and lossless spatial audio formats, including Dolby Atmos and DTS:X.
Kaleidescape: Then and Now
Kaleidescape founded in 2001, to elevate the movie-watching experience at home, has built a wealth of technical expertise delivering industry firsts now considered best practices used by the digital media and entertainment market today.
This includes an award-winning user interface and its iconic cover art on-screen display, a server-based system with access to personalised movie libraries in any room, and a product robust enough to digitally trigger the cues normally carried out by a projectionist.
The dimming of the lights, the automated screen masking, the roar of the sound, and the flickering of the motion picture—all replicating the magic of a movie theater experience. As a result, Kaleidescape has consistently remained on the cutting edge by innovating and iterating new ways to interact and enjoy entertainment.
More information
Testimonials: https://www.kaleidescape.com/testimonials/
Youtube: https://www.youtube.com/c/kaleidescapeinc
Twitter: https://twitter.com/kaleidescape
Facebook: https://www.facebook.com/kaleidescapeinc/
Instagram: https://www.instagram.com/kaleidescapeinc/