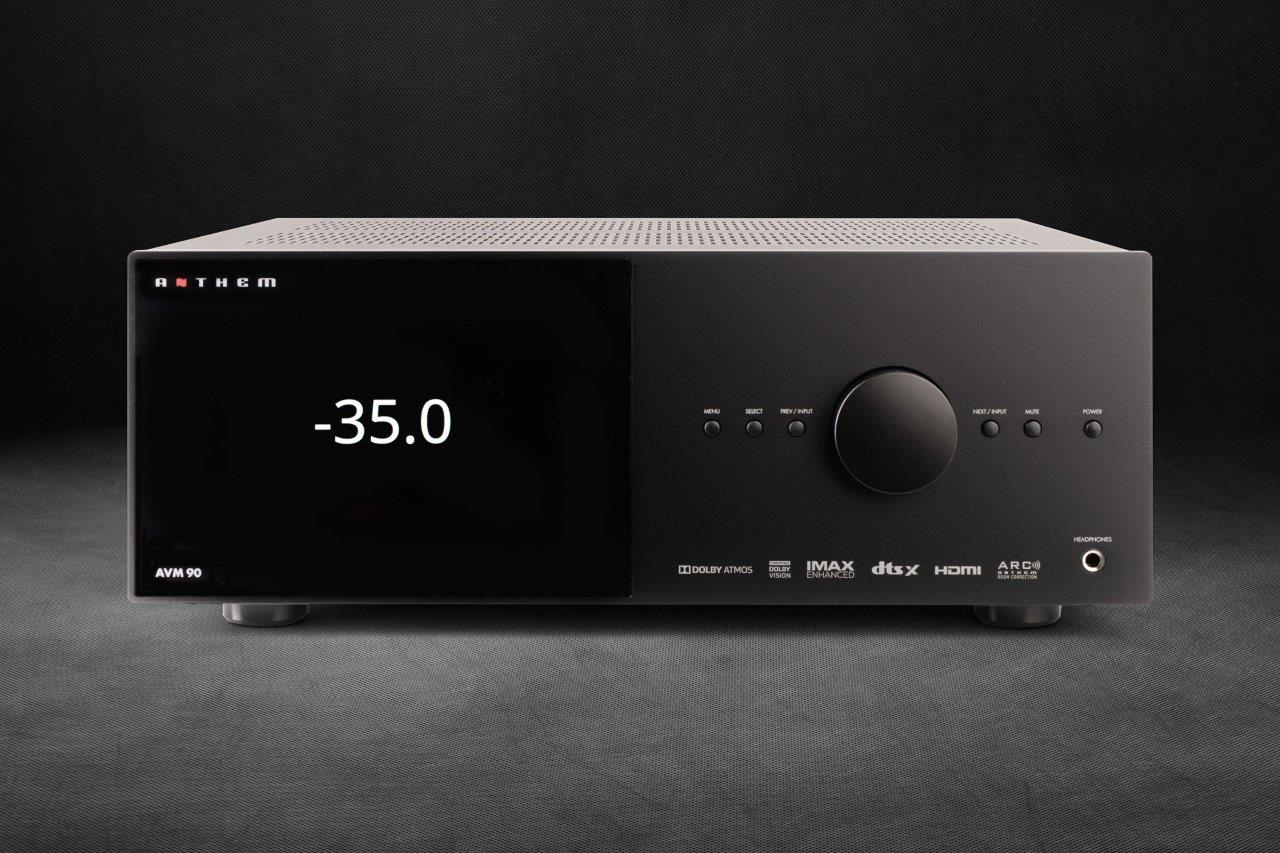 Reproduced here under licence is the recent and stunningly positive assessment from Home Cinema Choice on the Anthem AVM 90 earning Reference and Best Buy status.
Steve Withers has an object-audio ball with Anthem's most sophisticated AV processor yet.
Anthem's AVM 90 has been a long time coming, but it heralds the completion of the Canadian manufacturer's upgraded AV lineup. And while first announced in October 2020, the delayed arrival of this top-of-the-range processor hasn't seemed to harm it. Rather, it means Anthem has been able to offer HDMI 2.1 compatibility out of the box, certainly a demanded feature when a product sells for a cool £6,749.
This new flagship processor joins the previously released AVM 70 (HCC #326), and a trio of AV receivers: the MRX 1140; the mid-range MRX 740 (HCC #321); and the entry-level MRX 540. While the receivers have their own built-in grunt, the processors can be partnered with Anthem's matching power amps: the two-channel MCA 225, the three-channel MCA 325, and the five-channel MCA 525.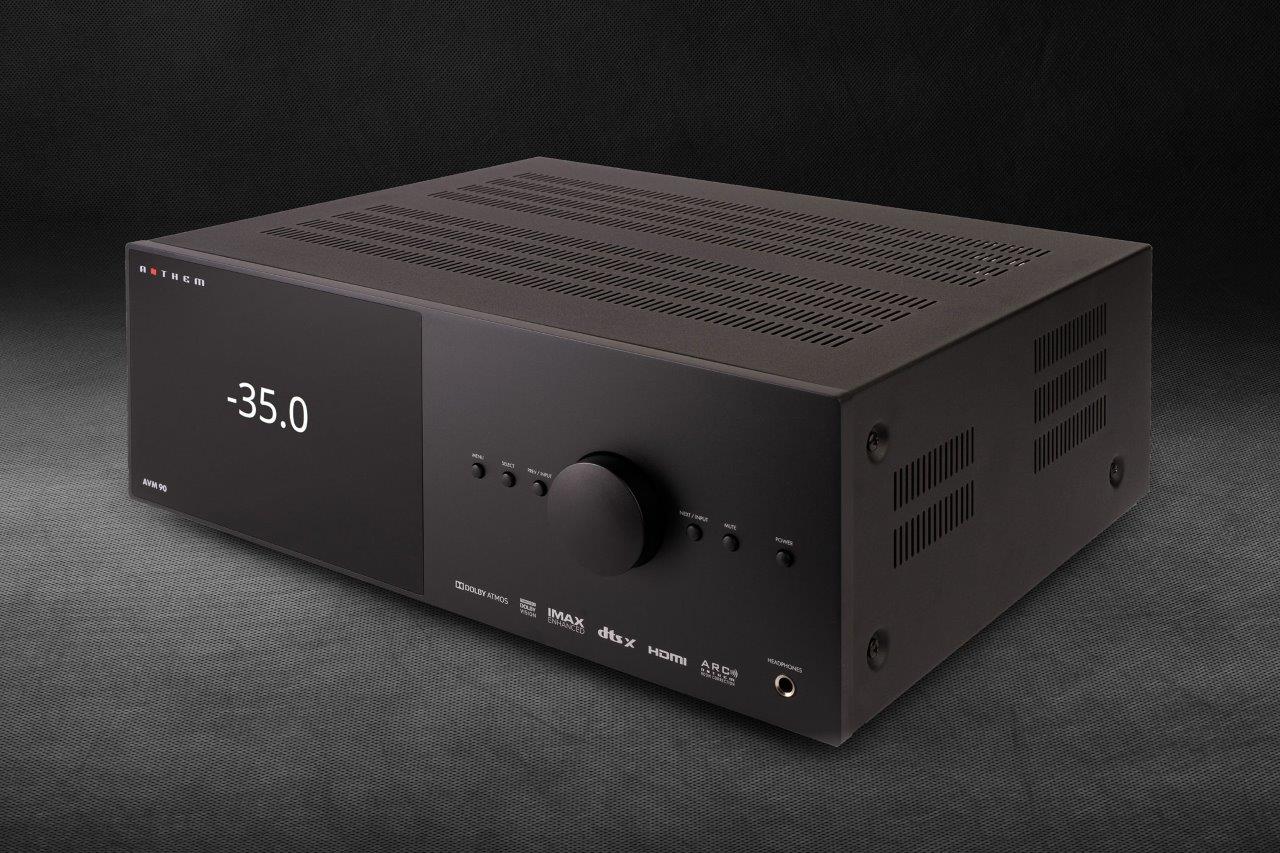 No stone left unturned
Now, the AVM 90's asking price is admittedly a sizable chunk of cheddar, but backing it up is an uncompromising approach, with a discrete 15.4-channel experience – Dolby Atmos, DTS:X, and IMAX Enhanced – on the menu. At this point you might be thinking, should I instead look to the AVM 70 and save myself three grand? Well you could, but there are a number of important differences between these two models.
First of all, while both support the main object-based audio formats, the AVM 90 decodes and processes them using a total of 19 channels with four independent subwoofers. If that sounds like overkill, I'll explain why four subs are a useful addition later in the review. But basically, it means you can run a fully discrete and insanely immersive 9.4.6-channel system. The AVM 90 also features a comprehensively overhauled interior, and one that Anthem believes represents the 'culmination of everything we know'.
A new 32-bit/768kHz ESS Sabre DAC stage applies conversion to all 19 channels, while an 'oversized, high-efficiency' toroidal power supply is employed to help isolate 'high power signals' from the critical audio circuits.
Anthem further states the processor's entire signal path has been upgraded, with op-amps and resistors chosen for their distortion limiting capabilities. It also says that as the 'complexity and density' of its design grew, it required the use of new isolated circuit boards. All this under-the bonnet soldering and fettling 'allowed our engineers the freedom to ensure every channel has a unique, low cross-talk and pristine signal path.' Finally, the AVM 90 gets a 1.6GHz dual-core DSP platform, featuring a 32-bit floating-point audio data path and 64-bit floating-point computation and double precision filter states. If all that techno-babble is a bit of a mouthful, it basically means the AVM 90 will be able to get the most out of Anthem's superb ARC Genesis room correction software.
HDR in all flavours
Connectivity has also been upgraded. Ranged along the top of the processor's rear panel are seven HDMI 2.1 inputs and three corresponding outputs. This not only means the AVM 90 supports eARC, HDCP 2.3 and 8K/60 video, it also passes HDR10, HLG, HDR10+ and Dolby Vision, which I'd argue is essential for a unit at this price. Meanwhile, hardcore gamers can geek out on the support for 4K/120, ALLM, QFT, QMS, and VRR. In fairness, Anthem's new HDMI 2.1 board will also be offered as an upgrade for the AVM 70 (and Anthem's AV receivers) later this year, although the exact pricing and timing has yet to be announced.
From the outside the AVM 90 looks identical to all the other products in Anthem's refreshed line-up, with the same minimalist styling and two-tone finish. On the glossy side you'll find the TFT display, while the matte side houses some basic controls and a 6.3mm headphone jack.
Things are also very similar at the rear, although the AVM 90 obviously has two more sub outputs compared to the AVM 70. As a result, you get 15.4-channel balanced XLR outputs, along with matching (and unbalanced) RCA outputs for those who'd rather use phono connectors.
HDMI ports aside, the other physical connections are identical with five analogue inputs (including a phono stage for any vinyl freaks), three optical digital inputs, and a pair of coaxial digital inputs. In addition, there's an IR input and 12V triggers, along with RS232 and IP control capabilities.
Wireless connectivity is also the same, with stable Wi-Fi and Bluetooth thanks to a pair of large antenna. You also get support for Apple AirPlay 2, Google Chromecast, and Spotify Connect. Roon Ready status is due soon. Anthem's standard backlit remote is great for day-today control, but the excellent web user interface is my preferred choice for initial setup because it lays everything out in a comprehensive and intuitive fashion. Custom installers will also be glad to learn there's support for all the third-party control solutions.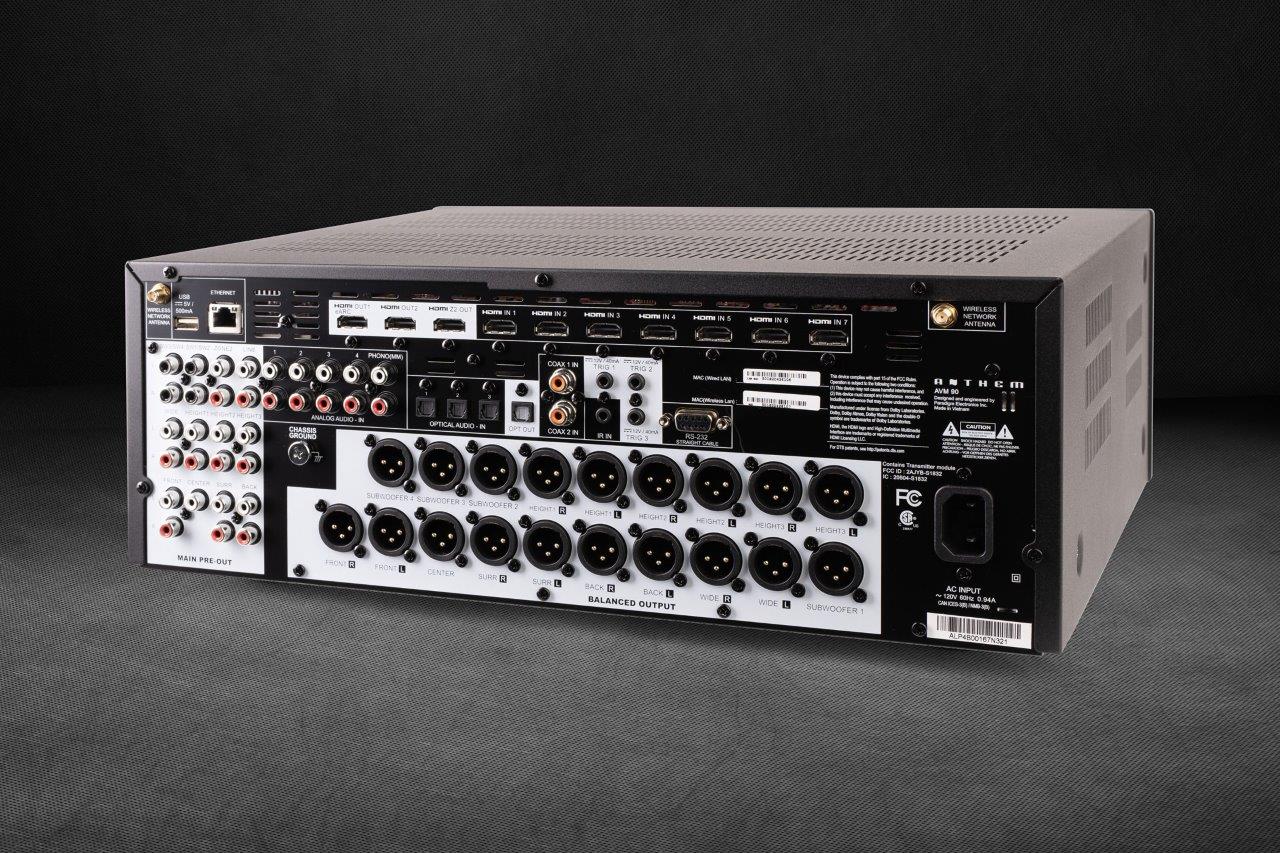 Easy installation
Considering its inherent sophistication, the AVM 90 is surprisingly easy to install, with the main setup decisions relating to the speaker layout and the number of overall channels. This brings us to one of the AVM 90's main selling points – four independent subs.
Contrary to popular opinion, the use of more than one subwoofer doesn't mean overwhelming bass. Instead you get a more balanced infrasonic response, because the multiple subs help smooth out peaks and dips caused by standing waves in the room. As a general rule of thumb, the best results will be achieved by putting a sub in each room corner, and while this approach will make a big difference, the AVM 90 also has the ability to use ARC Genesis to correct all four subwoofers individually for their frequency response, time alignment, and phase alignment. The result ought to be a supremely coherent bass delivery around the entire soundstage.
Anthem Room Correction (ARC) remains a fantastic in-room acoustic measurement and optimisation tool that allows you to engineer the sonic environment to create a tonally balanced system that can steer sounds seamlessly from channel to channel. ARC runs on Windows or Mac, and Anthem includes a calibrated microphone and stand, making room correction a doddle.
For the purposes of this review, I ran a 9.2.6-channel system driven by a StormAudio PA16 MK2 16-channel power amplifier, but sadly I'm limited to two independent subs at the front because architects have an annoying habit of putting doors in the corners of rooms.
Class performer
While I wasn't able to enjoy the full benefits of a four-subwoofer config, the AVM 90's sonic prowess was immediately obvious. This is a class performer right out of the gate, and running through my usual object-based palette cleansers revealed a wonderfully tight and controlled sound-field. Midway (4K BD) sounded especially good, particularly during the climactic battle. This is a dense and complex Atmos soundtrack, but the Anthem picked out the individual audio objects with unerring accuracy. Whether it was flak exploding overhead, tracer fire ripping across the room, or planes flying right through you, each sound effect was precisely, thrillingly defined. The overall mix never once collapsed into an acoustic mush.
Joining this sense of clean detail is the three-dimensionality of the AVM 90's delivery. It completely immerses you within the soundstage, objects moving with incredible fluidity and the various channels perfectly defined. Dialogue and score have exceptional clarity.
While I only had my notes and memory to rely on, the AVM 90's orchestration of Midway's dynamic soundtrack felt superior to that of its already impressive sibling, the AVM 70. Everything snapped a little more into focus. Monster Hunter (4K BD) uses deep bass to devastating effect, and this processor not only served up subterranean infrasonic moments in a controlled, balanced and precise manner, but integrated them flawlessly with the other speakers in the array. The result was that low-end effects felt reinforced, regardless of where they were positioned around the room. Whenever a monster appears, which is fairly regularly, the lows kick in and often drop well below 20Hz. This sounded stunning – bass you can literally feel in your chest, without bloom or blur.
Turn to a more inventive sound-mix, such as the DTS:X soundtrack of Crimson Peak (Blu-ray) and the AVM 90 doesn't falter, bringing the environment of Allerdale Hall vividly to life. The house is full of subtle sonic cues, and the sound team uses audio objects to move these around a hemisphere of sound. The Anthem's steering was so precise, and the channels so distinct, that I could follow noises moving within this sonic bubble, such as the water flowing constantly through the heating pipes.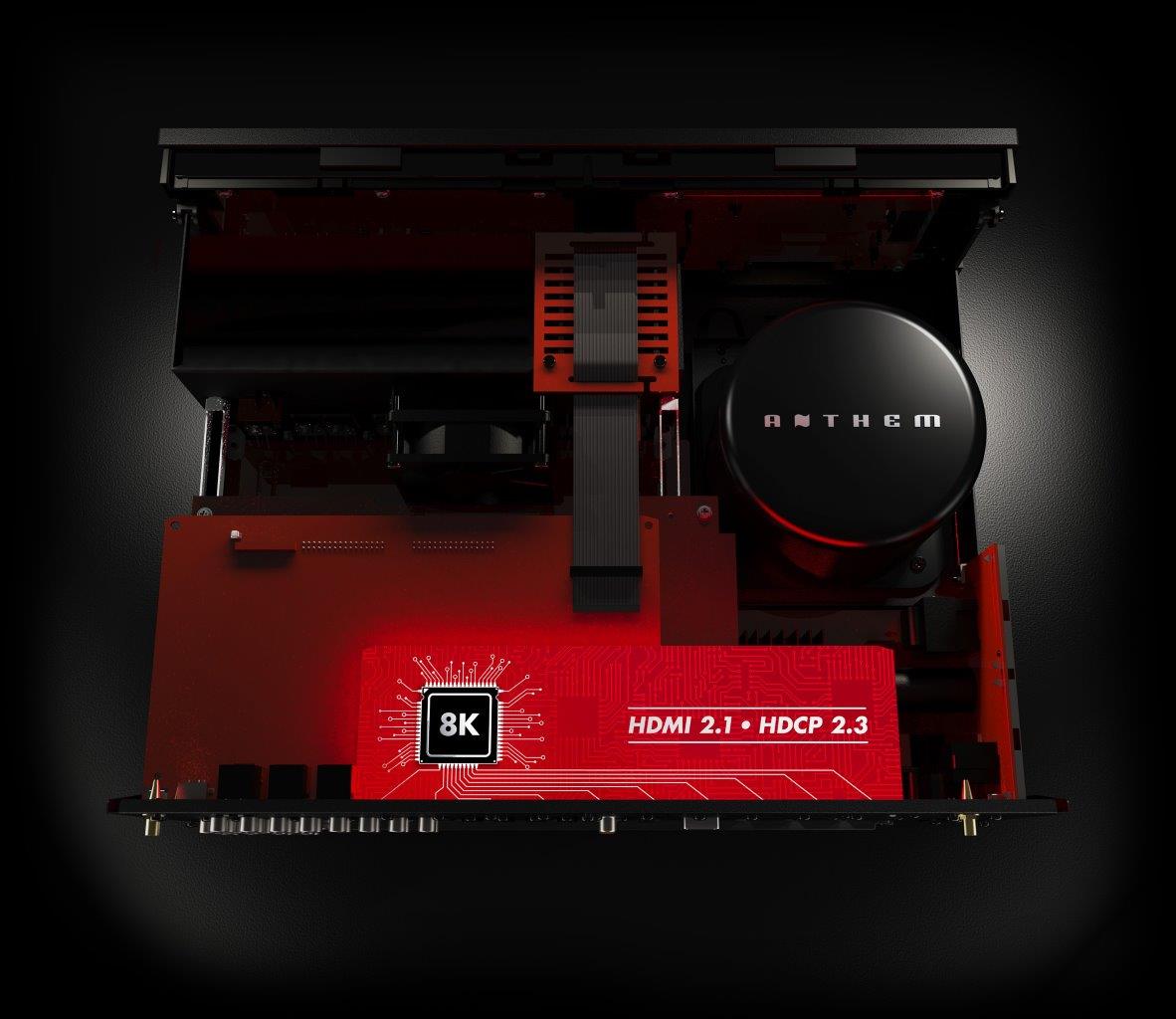 Raising the bar
Anthem's AVM 90 is an undoubted audio triumph. In fact, the performance is so good it comes close to matching ultra-high-end processors costing twice as much. The addition of HDMI 2.1 is welcome, and Auro-3D decoding appears to be about the only thing missing from this otherwise feature-rich processor. This doesn't just elevate the sound quality of any system it's included in, it also raises the bar of what's possible at this price.
The Verdict: Anthem AVM 90
We say: Anthem's high-end processor has a fulsome feature list – including HDMI 2.1 and ARC Genesis calibration – and delivers a state-of-the-art performance. Simply brilliant.
Specifications
DOLBY ATMOS: Yes. DTS :X: Yes. IMAX Enhanced: Yes. Multichannel Input: No. Multichannel Pre-Out: Yes. 15.4 XLR and phono Multiroom: Yes. Zone 2 AV Inputs: 5 x digital audio (3 x optical and 2 x coaxial); 5 x analogue stereo.
HDMI: 7 x inputs and 3 x outputs. Video Upscaling: No. DIMENSIONS: 432(w) x 364(d) x 152(h)mm WEIGHT: 10.1kg
FEATURES
Built-in Wi-Fi and Bluetooth; Chromecast and AirPlay 2; Spotify Connect; Roon support; web-based user interface; ARC (Anthem Room Correction) Genesis; calibrated microphone and stand; IR input; 12V triggers; Ethernet; USB port (service only); RS232 serial connector; third party integration and IP control; ESS Sabre 32-bit/768kHz DAC; HDMI 2.1 with support for eARC, HDCP 2.3, 8K/60, 4K/120, VRR, ALLM, QFT, QMS, HDR10, HLG, HDR10+ and Dolby Vision.