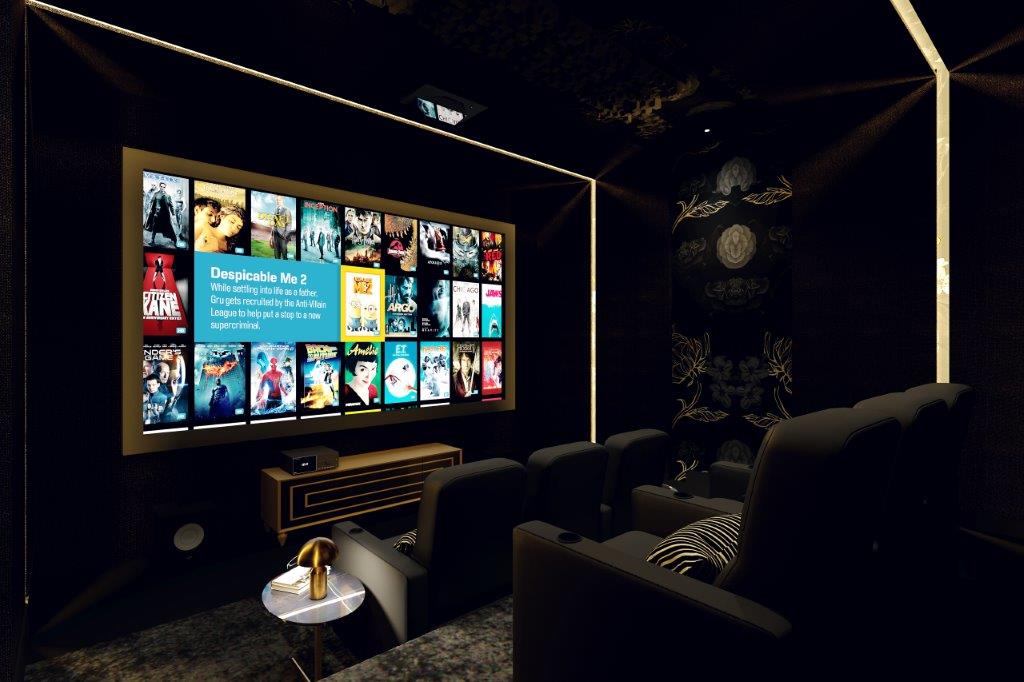 Director Of Sales And Marketing at Pulse Cinemas, Simon Schino explains how Screen Research and Sim2 are the best way to deliver 'big screen' true home cinema and media room experiences.
In recent times some major manufacturers and a few niche ones have introduced various takes on 'super-sized' TVs, offering 100in screens and promising to deliver media room and home cinema solutions.
At Pulse Cinemas, however, we firmly believe that pound for pound, the best way to get an easy to install big screen experience is the combination of a projector screen and a projector. Not from just any projector and screen of course, we have the best in the business in Sim2 and Screen Research. Combining the huge range available from Screen Research and the abilities of Sim2's short-throw projectors provides better performance and a stronger price point than the 'super-sized' TV options.
Right off the bat we can give you just one example from a myriad of possibilities that demonstrate the strength of our proposition here.
A package drawn from the Pulse Cinemas' line up could include a FDM-110-1.78-UWB Screen Research unit with Décor Mask technology, using UWB ClearPix Ultimate White material, presented in 1.78 Widescreen TV (16:9) native aspect. Couple this with the latest innovation from Sim2 with its breakthrough Domino DTV S short throw model and you have an authentic big screen experience for around 13K end user price. This compares very well price point wise with the 'high-quality' super-size TV market and it delivers the full functionality and aesthetic advantages of Screen Research and its Décor Mask tech. For those unfamiliar with Décor Mask, this offers a fantastic opportunity for the customer to have any artwork of their choice on a cover that slides into place over the screen when not in use. The quality of the printing available here is phenomenal, so the product can add to the aesthetic value of the room.
Super-sized TVs simply cannot compete when it comes to this type of class, yes some can display art-work and other idling technologies, but we can do that with a projector too if needed and a living room system deserves the chance to offer something that feels more organic and luxurious. Add to this the black flock finish for the frame itself and a Screen Research Décor Mask screen is a luxury item in a way a TV can never be and of course when it's showtime the combination of Sim2 and Screen Research will out-class any super-sized TV on the market.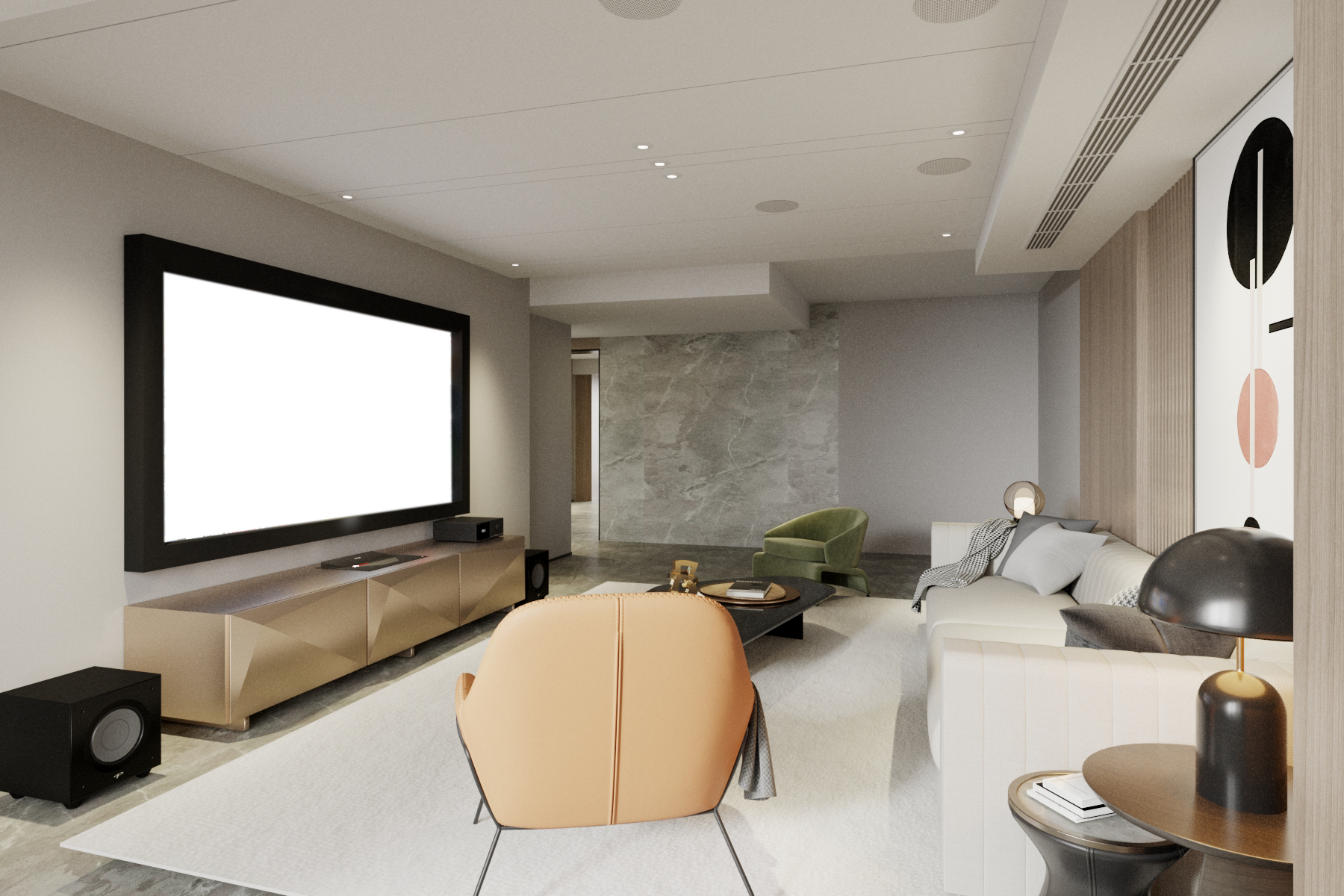 Sensational Sim2
The second part of this equation deserves some detail. Sim2 has developed a new concept for the short-throw projector sector hitting an impressive end-user price point of £6,995 inc VAT with the Domino DTV S. The system is easy to fit and is available to Pulse dealers right now in time for the peak buying season. Most consumers obviously know what a TV is, simply buying a really big one might feel a bit special, but its nowhere near as special as introducing a product like this with Sim2's ability in delivering beautiful imagery and with its short-throw capabilities, the chance to integrate it fully into the living space. This projector has the advantages of being powered by a pure laser system (RGB lasers not hybrid) delivering high brightness, vivid colours and a huge colour space that exceeds REC 2020. For installation adaptability, the DTV S delivers a motorised focus adjustment, variable screen size up to an impresive120in, easily enough to match the super-sized TV offering and you are delivering superior quality, for much less money. Digital keystone adjustment and eight-point warping processing to adjust the projected image in case of a non-regular surface are also on board.
The Domino DTV S is great for a living room system as it operates at a very low acoustic noise (as low as 27dB). As you would expect from a Sim2 product, this projector looks great, so if it needs to be on show, it can be and not adversely impact the space. It can of course be concealed in cabinetry if that is the approach required. This is also true of the Domino's cousin with the SIM2 XTV which offers the same approach, but with a step up in terms of performance with its 4K-UHD, laser light source. This product can be witnessed in action at Minotti London, where we have created a showcase of wonderful Italian furniture and design coupled with living room entertainment.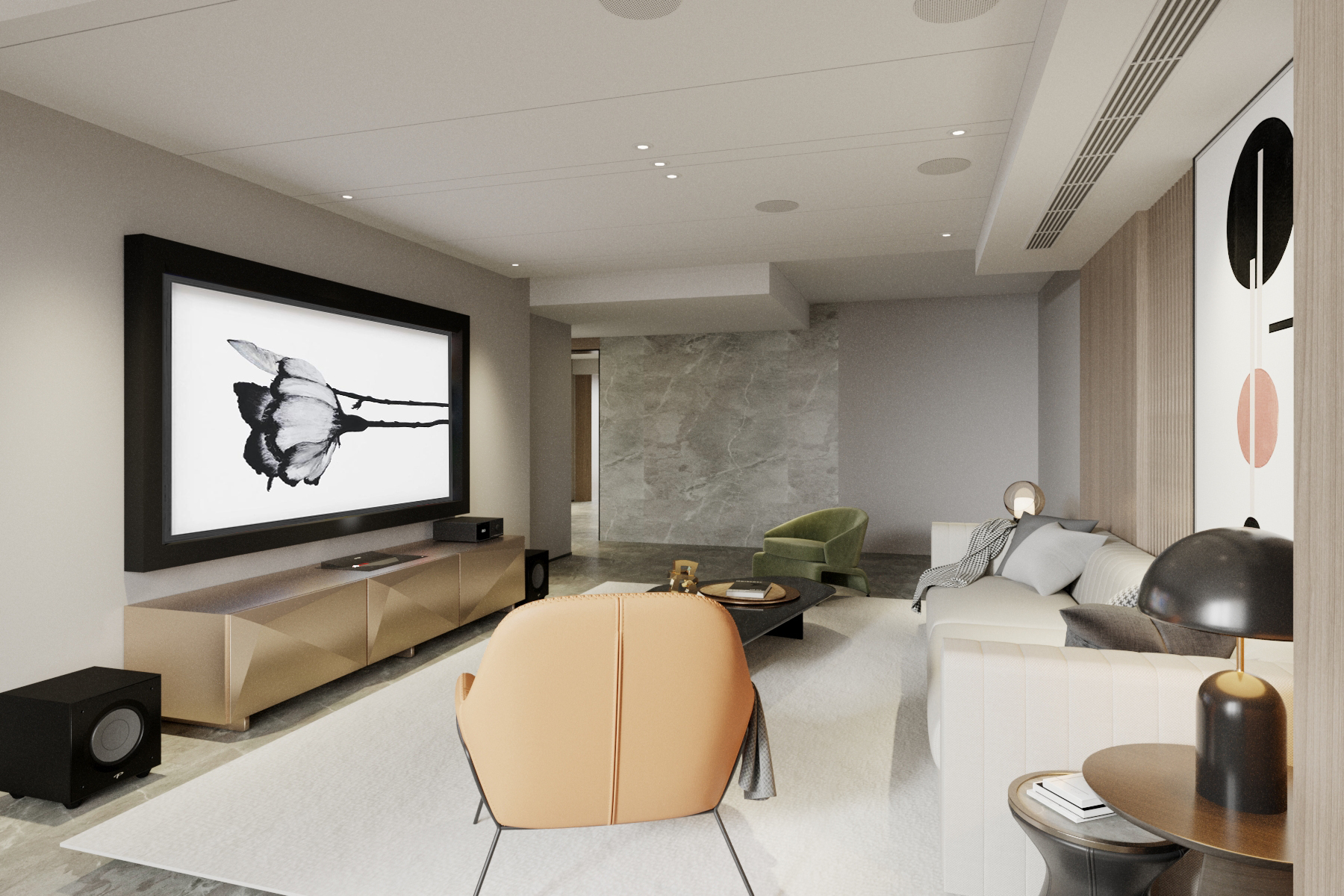 Reach Further With Screen Research
Sometimes installers could be forgiven for thinking all projector screen brands are pretty much the same, they do basically the same job right? In our case, we are aware that some in the industry regard Screen Research as only appropriate for the higher end projects, but if you delve a little further into the Screen Research story, you get a rather different picture.
To start with, the range from the company is huge, and we have many items in stock all year round. From the more entry level systems right up to the top end, there is a Screen Research product for each project. Coming to us and Screen Research means you don't have to compromise, if you want the best, you can have the best. The demands on the humble screen have never been wider, the market wants screens that can function in multi-use living spaces as well as working in the dedicated spaces the industry has been more used to. Home cinema is evolving, and Screen Research has not just kept pace with that, it has driven the evolution from the front with new technologies and abilities that cover all the bases. It is also important to remember the Screen Research screen configurator service, it's the best and easiest way to establish exactly what screen you need for each project.
Now at this point we do have to introduce a bit of housekeeping. There will be some price increases across the Screen Research range before Christmas, these are due to forces beyond our and the maker's control and are firmly in the court of the world-wide shortage in components and increased shipping costs. Contact us direct for more detail on all of that. We remain confident that the brand represents the best value available.
So, if you have clients asking about super-sized TVs or are tempted to go down that route for 'home cinema', think price, think performance, and then think Sim2 and Screen Research.