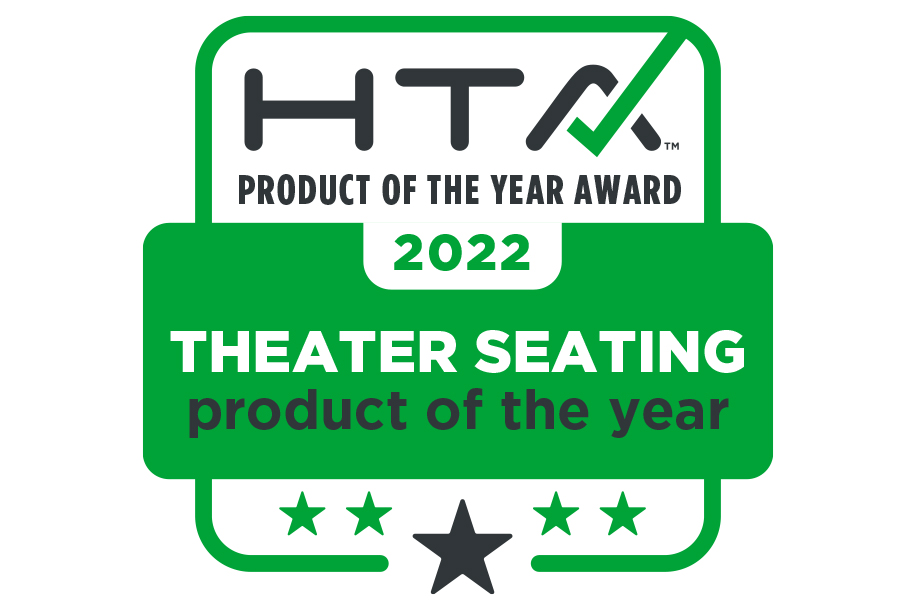 The whole Pulse Cinemas team are delighted to announce that U.S trade association HTA has recognised Fortress Seating with the Theater Seating Product of the Year award at its inaugural trade honours initiative.
The Home Technology Association (HTA) was set up to help U.S homeowners and home design and building professionals find highly qualified home technology installation companies for their projects by creating its own industry standards.
The HTA says its system is the first and only industry standard of excellence for home technology installation companies for the U.S market. In an industry that has no barriers to entry, the HTA says it has created a rigorous set of standards for home technology companies to adhere to. To qualify, integration firms have to meet 60+ points of evaluation criteria to be granted certification status. Once HTA Certified, companies must commit to maintaining the high standards of HTA Certification or risk losing certification.
Once a business passes the certification, the company's information is published on the HTA website to empower consumers and design/build professionals to find the very best companies in their area.
The certification system is built around three pillars:
1 - Technical Competency
We believe that only technically-skilled companies have the ability to deliver a great home technology experience. We certify only the companies with a stellar history of technical expertise.
2 - Aftercare Service
Technology is not perfect and is ever-changing. We believe homeowners need a responsive company to work with for ongoing customer service and support.
3 - Reputation
A strong track record of being fair and honest is vital. We believe every HTA Certified company should inspire trust and confidence.
A team of veteran industry professionals came together to create the HTA Certification standards. The HTA underlines its Board of Advisors have vast experience in working with homeowners, the design and build trades, and with the home technology dealer industry. They have distilled their experience into a set of time-tested company metrics that historically lead to successful projects.
HTA Product of the Year Awards
Last year the HTA announced it was launching an awards initiative so that its members could vote for their favourite companies and products rewarding the same levels of excellence the members themselves must maintain.
The results for these inaugural HTA Product of the Year awards have just been announced with Fortress Seating picking up the Theater Seating Product of the year gong for the Nova chair.
The awards are chosen by HTA Certified integrators, 'the most qualified and professional home technology integrators in the United States and Canada having passed HTA's unbiased, third-party certification program', so this is a highly significant recognition for the company.
Josh Christian, CEO of the Home Technology Association, says, "We are excited to bring an industry awards program where the winners are selected by integrators. The HTA Product of the Year Awards are chosen by HTA Certified home technology integrators who have extensive hands-on experience with these products and brands.
"We believe other integrators and even end users will benefit from this knowledge, which comes direct to you from the experienced installers on the front lines of the home technology industry."
The HTA's Product of the Year Awards are open to manufacturers and service providers who are HTA Supporting Brand members. These vendors stand behind the HTA's mission of bringing integrators and architects, interior designers, and builders together early for collaborative, mutually beneficial relationships. HTA Supporting Brand members submitted products in predefined categories and HTA integrators voted on their favourites.
Mike Beatty, Pulse Cinemas CEO, comments, "We are delighted for Fortress Seating. No company in the industry has the same attention to detail and ability to deliver customised high-quality in everything that it does. The Nova is a fantastic product and one of the most popular from the company. This win from the HTA further underlines its reputation as the best home cinema seating brand on the planet."