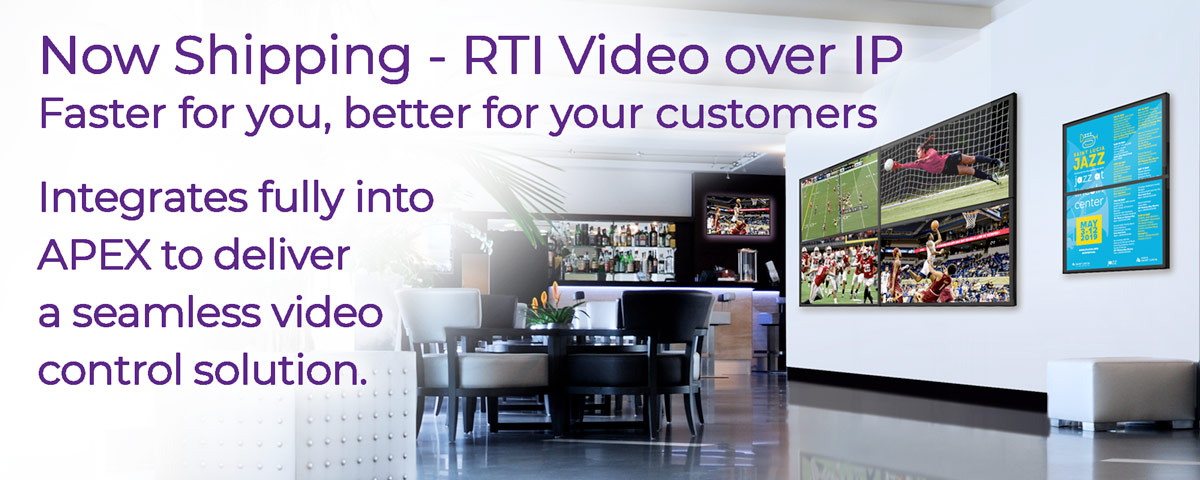 Seamless integration and management within APEX
APEX lets you automatically discover and configure RTI VIP transmitters and receivers, saving you time and money while delivering an intuitive experience for your customers.
Perfect for the new resimercial
The future-ready 4K UHD Video over IP is ideal for hospitality, corporate, hotels, sports venues, digital signage, large homes, and media walls.



The NEW RTI Video over IP (VIP) platform enables distribution of 4K video over a 1Gb network switch to virtually unlimited endpoints. The result is an exceptionally flexible and scalable system that can be installed in minutes and controlled natively within the RTI control environment. Key benefits include:
4K UHD with HDR for stunning picture quality with 4K resolution.
APEX Integration for fast system configuration.
Infinite Scalability to virtually any number of transmitters and receivers.
4K @ 60Hz eliminates blurred fast motions in action movies.
Long Distance 4K video can be transmitted over category cable up to 100m.
HDCP 2.2 to avoid copy-protected 'black screens' when connecting an HDMI source.
Built in Scaling lets each screen display its full resolution.
Video Wall function enables combining multiple displays into a video wall.
Fast Switching class-leading switching time.