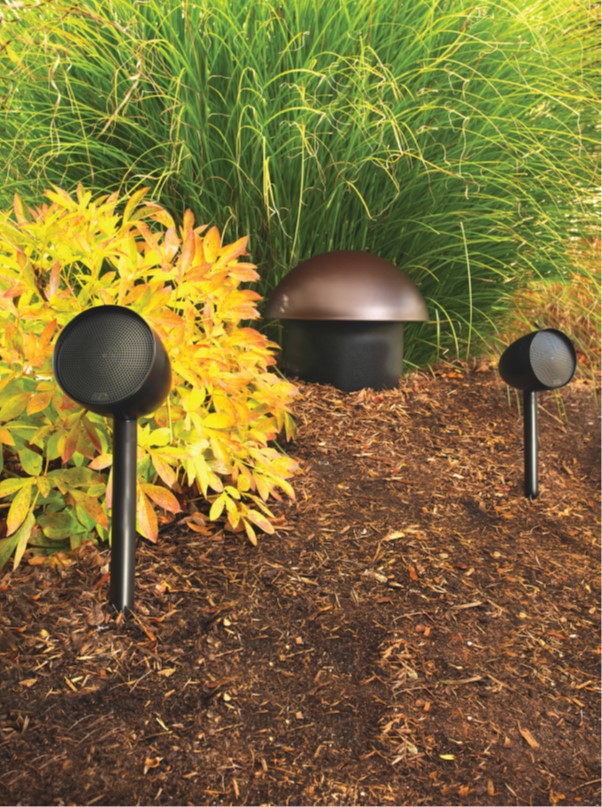 Make your customer's exterior AV desires a reality this summer by creating your very own audio oasis courtesy of Pulse Cinemas and the Paradigm Garden Oasis Essentials Music System.
Installers are of course always trying to find new ways to impress and delight clients with experiences they simply cannot get anywhere else. A growing phenomenon in recent years has been the popularity of exterior AV as homeowners learn to use their outside spaces more creatively and spend more time in well appointed, well designed gardens, patios and other spaces.
The sales of items such as high-quality exterior cooking equipment, seating, heating options such as fire pits show that people in the UK have a serious desire to spend time outside, even if the weather is not always what we might hope for, but hey its northern Europe, we adapt and make it our own.
This is exactly what has happened with exterior speakers in the UK. Originally designed for warmer areas like the Californian market, exterior speakers systems have been around for some time, but have accelerated in terms of sales and development as makers acknowledge that demand right around the world (including the UK) is high. Applying the same meticulous attention to detail and the same desire to create something unique and high-performance, Paradigm created its Garden Oasis Essentials Music System, a concept that takes the idea of exterior audio and enables the installer to easily and reliably plant a high-quality audio system in every customer's outside space.

Create your own Oasis
The Garden Oasis Essentials Music System has been created to deliver audiophile performance outdoors and uses many proved Paradigm technologies and techniques to achieve it. Any customer who recognises the quality of Paradigm inside, is going to love what this system can do for their outside spaces as well.
Some of the proven and patented technologies used to build the system include Reduced Edge Diffraction (RED), created by Paradigm's in-house engineers to deliver cleaner and more powerful midrange sound thanks to its unique tweeter housing, which rather appropriately looks like a flower. With its irregular edges and an off-centre placement, standing wave artifacts that reduce performance in traditional designs are removed and you are left with high levels of clarity and room for the audio to really sing.
Installation is straight-forward as the Garden Oasis Essentials Music System is designed as a single box concept with everything you need to execute and complete the install. Inside the box installers will find eight speakers and ground stakes, one in-ground subwoofer and 20 waterproof wire connectors for easy installation, all you need to complete the installation is speaker wire and your choice of amplification. Once completed, the system is powerful enough to service an area of 3,000 square feet.
For the amplification aspect, an AV receiver with second zone capability will be able to run the system, so you can deliver a full garden audio system through a customer's legacy AV system, but of course with Pulse we always have options for you. Paradigm's stable mate Anthem has a range of options here, so speak to us about what the most appropriate amplification solution is going to be for your next exterior audio project. The satellite speakers can be installed without special tools; however, the subwoofer needs to be buried to deliver the bass to your garden audio system.
So, what if the customer has neighbours close by and is worried about disturbing them? Well Paradigm has this covered also as the Garden Oasis System delivers very balanced and focused presentation, another recognised Paradigm trait, so the system can fill any outdoor space without audio bleeding into areas you don't want it to. Very even coverage also means customers do not have to turn up the volume to enjoy music at comfortable levels with no hotspots or dead zones.
When it comes to audio, do not stop at the inside of the property, the Garden Oasis Essentials Music System by Paradigm represents high-quality repeatable business for a wide range of gardens and exterior spaces, get in touch and find out more.