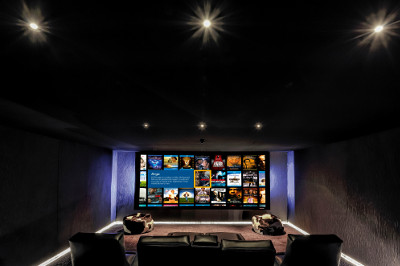 By Daniel J Sait for CE Pro
---
The Encore line also includes the Kaleidescape Alto Movie Player, a new movie server named Terra and a disc server that makes it easy to select and play DVDs and Blu-ray discs on a Strato or Alto movie player.
Kaleidescape says Strato is designed to provide an immersive home-cinema experience, with playback quality that matches or surpasses that of commercial theatres.
Each movie is downloaded and stored on a local hard drive, either on a Strato, or on a Terra Movie Server.
Strato plays back the movie in full 4K Ultra HD, at up to 60 frames per second, without start-up delays, buffering messages, or quality drops, says Kaleidescape
Strato also supports lossless multichannel audio and is capable of playing HDR content on televisions and projectors that can process open standard 10-bit HDMI 2.0a HDR.
The Strato on-screen user interface is also displayed in full 4K Ultra HD, at 60 frames per second, resulting in a strong visual impact for the user.
Strato can be purchased with or without an internal 6 TB hard drive that can store up to 100 4K Ultra HD movies, 150 Blu-ray quality movies, or 900 DVD quality movies.
Strato equipped with an internal hard drive can be used standalone or in a system comprised of other Encore components. The Strato without internal storage plays back from a movie server.
The company also announced two new models of the Kaleidescape Alto Movie Player. One comes with a 6 TB internal hard drive; the other has no internal movie storage and plays back from a movie server.
Alto plays Blu-ray and DVD quality movies downloaded from the Kaleidescape Movie Store. It can also play Blu-ray discs and DVDs via its built-in Blu-ray drive or from a Kaleidescape Disc Server.
The Kaleidescape Terra Movie Server stores movies and serves them to players on the home network. Terra also provides computing and caching services that enhance the performance of Strato and Alto movie players and enables system configurations with up to 50 players.
The Terra Movie Server can simultaneously stream 4K movies to up to seven Strato players, or Blu-ray quality movies to up to 15 players (Strato or Alto).
Kaleidescape's take on the current situation of delivery looks to highlight the current limitations of direct streaming, especially for high quality content.
---
We are very proud to introduce our new Encore line of movie players and servers, which provides the industry's finest sound and picture quality, and the most entertaining and convenient way to experience your movies at home
---
"Our new Strato movie player provides the most authentic home-cinema experience. Our new Terra product is Kaleidescape's third-generation movie server; it incorporates everything we learned from the first two generations.
"These new products are supported by the release of our new movie store, which is more attractive and easier to navigate than ever before. To date, Kaleidescape has licensed over 11,000 movies and 1,500 television seasons for our movie store. We also provide a way for you to seamlessly integrate your DVDs and Blu-ray discs with the content you download from our movie store."
Kaleidescape also announced that it has entered into a license agreement with Sony Pictures Home Entertainment to offer 4K Ultra HD films for download from the Kaleidescape Movie Store.
The Strato Movie Player will include five downloadable movies of the customer's choice from a list of Sony Pictures Home Entertainment 4K Ultra HD titles.
Kaleidescape says Alto and the Kaleidescape Disc Server are available now, with Terra available in November.
Kaleidescape Strato is available in the U.K. in early Q1, 2016 from Pulse Cinemas.
---
PUBLISHED ON CE-PRO.EU