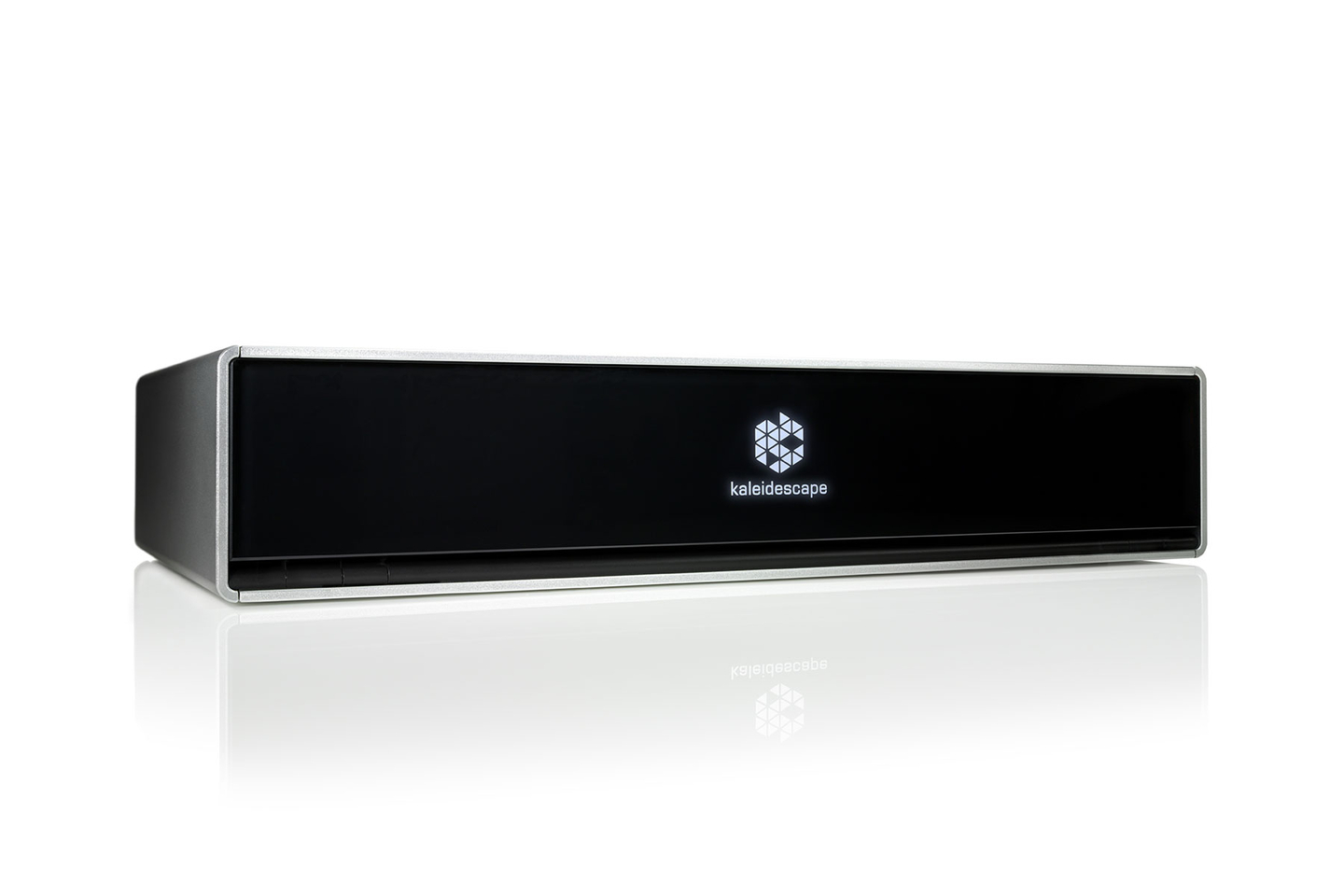 Already the dominant force in high-quality home movie management, Kaleidescape now offers even more reasons for installers to invest. The company has just launched its most advanced movie servers yet, has revealed new native compatibility with Lutron HomeWorks and created an up-grade path that covers the entire range of products!
Available to order now, the new Kaleidescape Terra 72 delivers 4K Ultra HD, HDR and lossless audio and with a massive 50% increase on capacity from previous models, users can benefit from over 1,000 high fidelity 4K Ultra HD movies stored locally. Naturally title capacity increases if the user is storing a mixture of 4K, Blu-ray and standard DVDs. For those users not ready or not in need of that much capacity, Terra is also available with 48TB, or 24TB of capacity and multiple Terras can be combined for more storage. Superb upscaling of Blu-ray and DVD quality content to 4K resolution is also part of the package.
Kaleidescape Terra forms the cutting-edge core of a multi-zone advanced home cinema system and adds storage to existing systems giving a home to high-quality content on an array of enterprise-quality hard drives. In addition to storing movies, Terra provides high-quality caching, staging, and computing services that improve player performance, enable scaling to many players and improves significantly the quality of experience for the end user. This powerful new platform has been created for customers keen to move from disc to digital or to increase their collection through the Kaleidescape movie store.
The high-powered, multi-function Terra movie server can support any number of Strato C players and can serve up to an impressive 10 simultaneous 4K Ultra HD playbacks. Kaleidescape Terra with Strato C players provides the best 4K Ultra HD performance and the most flexibility for future expansion keeping customers happy as their needs change over time.
For ultimate flexibility Terra can simultaneously serve movies over a standard residential Gigabit Ethernet network to Strato S and Strato C players anywhere in the home. Once a movie is downloaded and stored on Terra, it can be enjoyed immediately from any player, anywhere within the system. For extra peace of mind, Terra has been created to continue operating even in the unlikely event of hard drive fail. Movies will automatically be restored from the cloud after the drive has been replaced as all content is mirrored in the cloud.
A very important point here is that Kaleidescape's proprietary kOS operating system enables Terra to provide the advanced content protection required by Hollywood motion picture studios for their highest-fidelity movies protecting end users' investment and also providing the opportunity to take advantage of more commercial/in-home simultaneous releases should that occur.
Another important point here Terra is fast, downloading at up to 800 Mbps, a 4K Ultra HD movie is completed and ready to play in 10 to 12 minutes. For rack storage convenience, custom rack ears with faceplates are also available. RRP is available on request.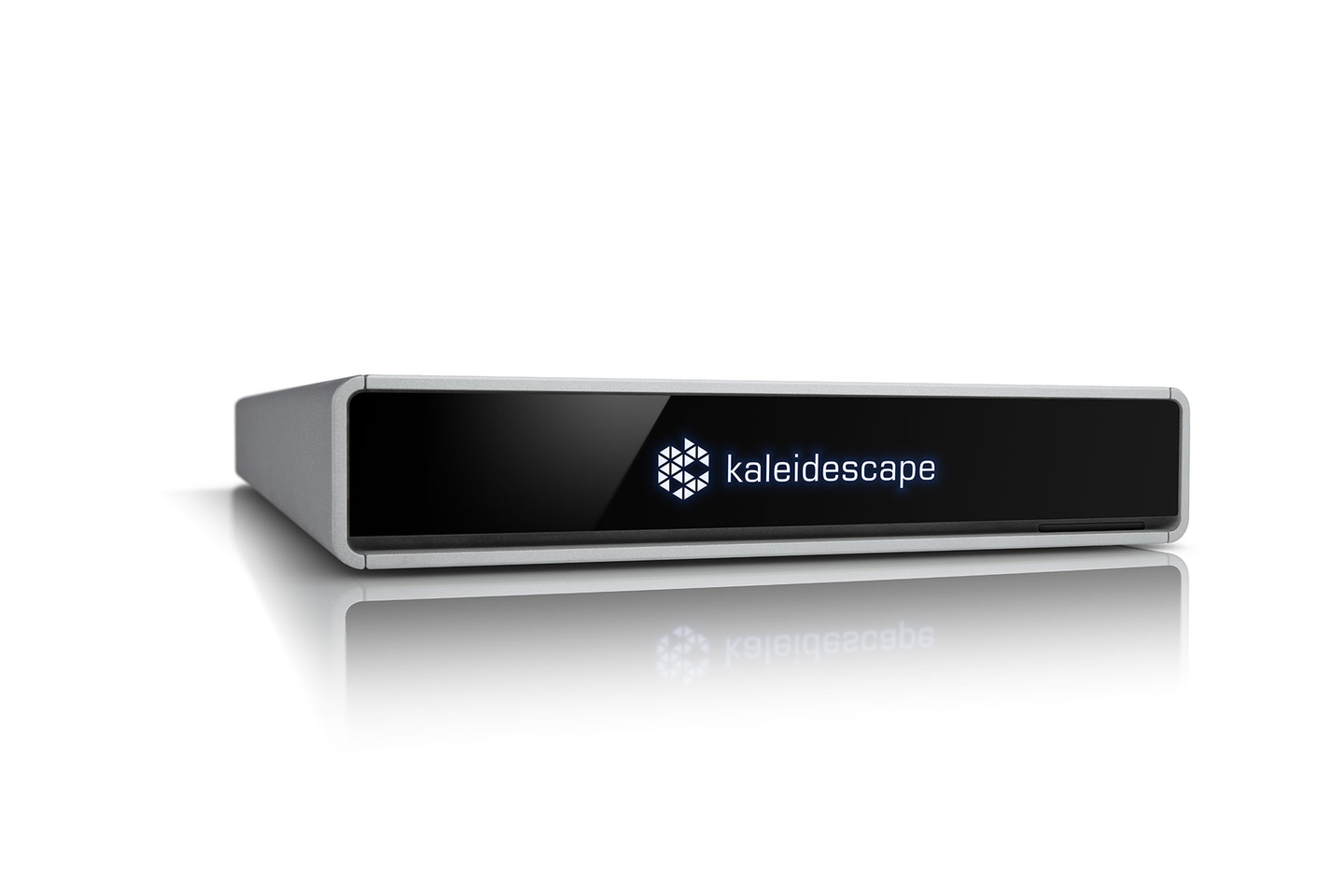 The Compact Terra
This more compact cousin to the Terra 72, has been designed for customers eager to invest in the Kaleidescape experience but not ready to commit to a larger movie server. However, this does not mean that owners miss out on the other abilities offered on the Terra 72. Compact Terra has the power to download feature-length 4K movies in 10 minutes and provides customers the same experience as the larger servers, allowing the flexibility to add playback zones and grow movie collections over time by adding additional Terra servers. Compact Terra also offers the same up scaling of titles.
Compact Terra can support any number of Strato C players and serve up to five simultaneous 4K Ultra HD playbacks, and two simultaneous playbacks for Strato S. It also has the ability to play back and download movies at the same time (with Strato C), which is something the Strato S cannot do. The Compact Terra (7.87in × 1.52in × 14.33in W × H × D) can be mounted beside a Strato C in a 1U rack space, using Kaleidescape's custom rack mount, saving additional space. Combined with a Strato C, the Compact Terra will provide customers with powerful performance and flexibility for future expansion. The compact Kaleidescape Terra is available with
12TB of storage and up to four units can be combined in a single system for more storage. A single Compact Terra is capable of storing 180 to 360 movies with a typical mix of 4K Ultra HD, Blu-ray quality and DVD quality titles and provides the same advanced content protection features for storage of 4K Ultra HD movies as its larger cousin. RRP is available by contacting us.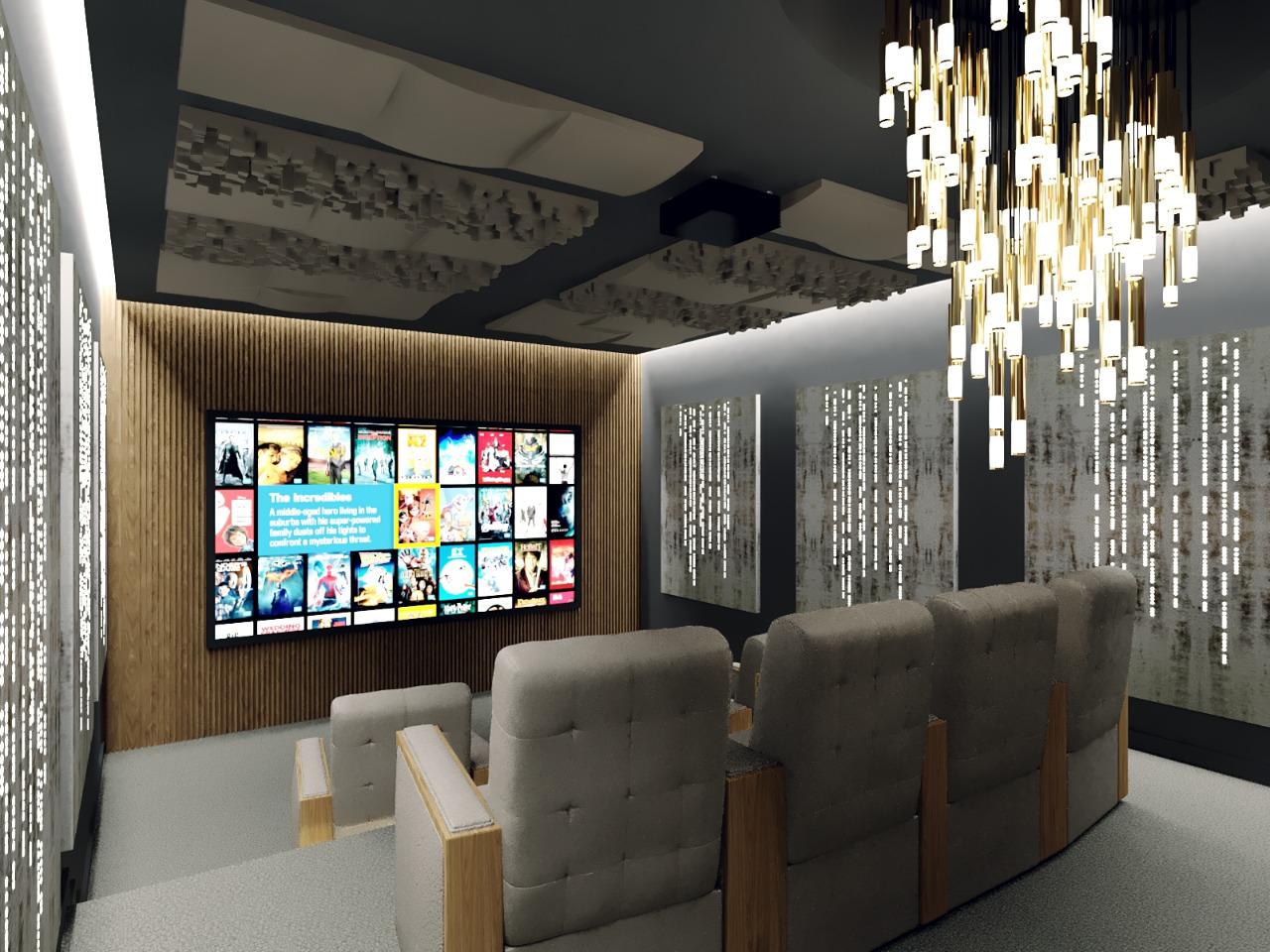 Lutron HomeWorks compatibility
A further exciting announcement, especially relevant for Pulse Cinemas dealers as we support both these fantastic brands, is new compatibility between Kaleidescape and Lutron HomeWorks. This new development will offer lighting control directly integrated with Kaleidescape's Strato players to offer seamless interaction between lighting and playback.
This is made possible because Kaleidescape is designed from the ground up for the custom integration channel and is the only company that encodes integrative cues into its movies using proprietary metadata. This is what enables the precise control of lights and shades managed by Lutron's HomeWorks system. By pressing play, Kaleidescape sends information about the movie to the control system to seamlessly adjust screen masking and lens shift in the projector, in the same sequence, lighting triggers close the shades and dim the lights, and intermission cues transition viewers in and out of the story when a break is needed. When credits roll, lights return gradually to ease viewers back into the real world. By eliminating outside distractions, these mood-defining capabilities captivate viewers through the transportive power of automation.
Oliver Deakin-Faux, Brand Ambassador for Lutron at Pulse Cinemas, says, "Great lighting combined with playback has always been a big part of creating a great home cinema experience, and now with this new initiative it happens seamlessly and natively offering yet another reason to combine these high-performance brands. Get in touch and find out more about this seamless new way to create movie magic."
Comprehensive Upgrade Program
Announced in June of this year, Kaleidescape revealed a revamp of its trade-up program which was formerly restricted to the Premiere line. This comprehensive new approach offers dealers and end users the opportunity to upgrade any working products to a new unit from the entire range with discounts of up to 25%! The program is operated from one easy-to-use system, controlled and administered via Kaleidescape's dealer extranet site. The process is straightforward, so tasks like executing each upgrade, creating quotes and setting up logistics for moving the products around is all handled from within the site. Within the dealer extranet site dealers can see exactly what products are in the program and what products can be traded up for. The extranet can also be used to live browse customer's Kaleidescape systems and see what possible upgrades might be appropriate for each system. To qualify products must be in good cosmetic condition and be working. These units are fed into the remanufacture program and become part of the stock that can be accessed when a customer wants to upgrade to a remanufactured system rather than a brand new one. Return packaging is provided free of charge for every customer. Kaleidescape is also running a service where clients upgrading from one digital storage product to another can have all their existing content transferred onto their new or remanufactured product. It all adds up to a simple but powerful way to enable logical upgrade paths for all your Kaleidescape customers.
Simon Gibbs, Technical Support Manager, concludes, "Kaleidescape was already far and away the best high-performance content and movie delivery system available. With these recent product announcements, integration initiatives and the new upgrade programme, the best is now even better. Contact us to find out how this fantastic brand can take your next project to a whole new level."