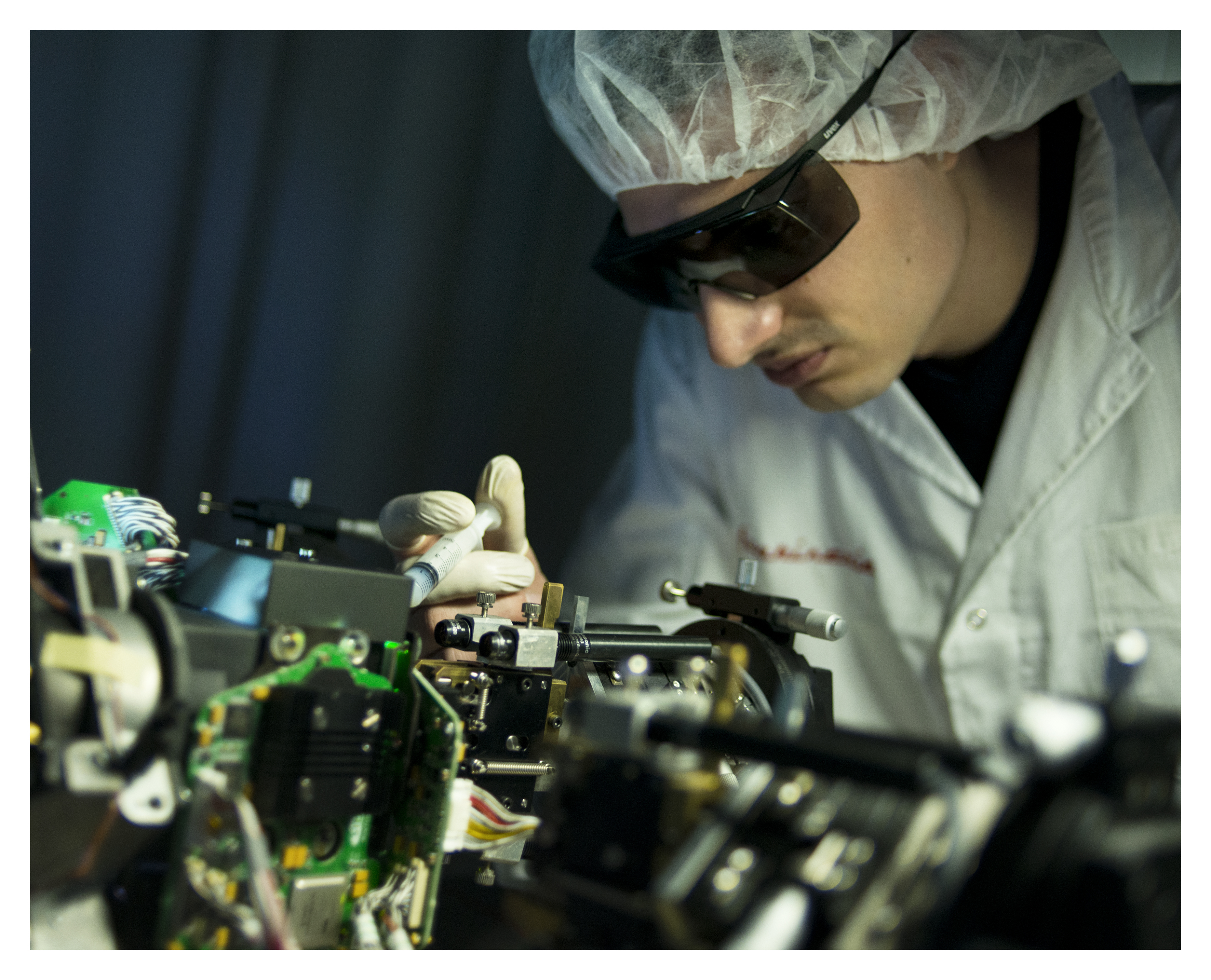 Worldwide SIM2 partner premiere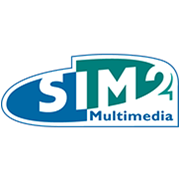 The new SIM2 NERO 4S Gold is a product built on the already excellent NERO4S technology, taking some demanding extra steps to meet the requirements of home cinema purists, whether they are image gurus or cinephiles seeking the ultimate immersive experience.
There are few projectors that can approach the targets SIM2 defined for its top-class product in 4K UHD HDR. There are only a few pieces - all numbered - involved in the whole production process.
All those 'best-in-class' are fitted with selected parts to improve lens quality, colourimetry, focus and the HDR performance curves: if the NERO 4S has been considered 'best in class', the new SIM2 NERO 4S Gold Series will shock you with its next level performance.

Unique features
• Special selection of the optical components for further focus performance improvement
• Extended colourimetry, DCI
• Greatly improved HDR features
• Carefully developed HDR processing curves, taking real advantage in true image reproduction from the technology
• Including new LCC 5 (Live Colour Calibration) software, exclusive to the NERO 4S Gold Series
• Total black livery
• Golden 'S' on the front and Golden 'Nero 4S Gold series' text on the sides
• Brightness over 6000 ANSI lumens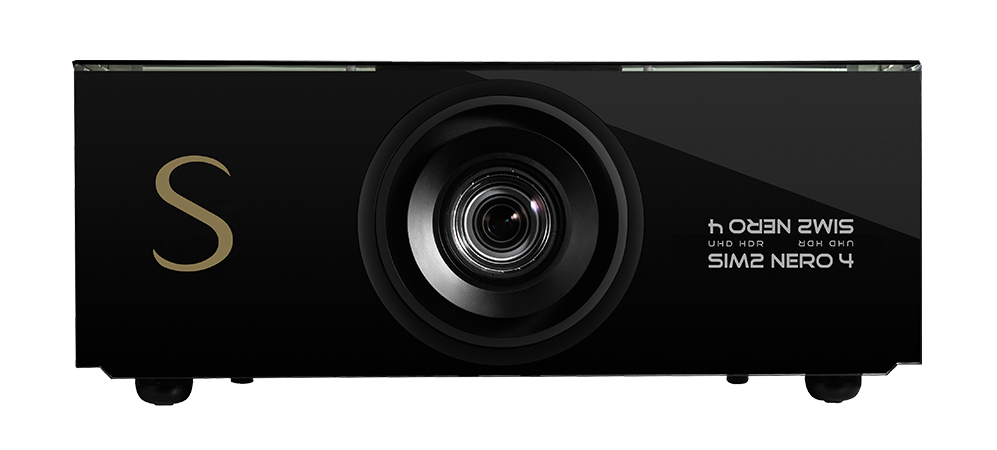 Key features
THE HIGH VALUE of «THE NERO 4S Gold Series» for most demanding customers
• Very limited quantities for the entire world
• Each unit produced for each specific customer
• Special production process
• Very accurate tuning made by the factory according to the installation details (if provided)
KEY TECH FEATURES of «THE NERO 4S Gold Series»
• Overall image well harmonized. Cinema like experience
• High brightness: dramatically impresses viewers
• Best HDR: details visible to consumers
• Luxurious style with crystal glass cabinet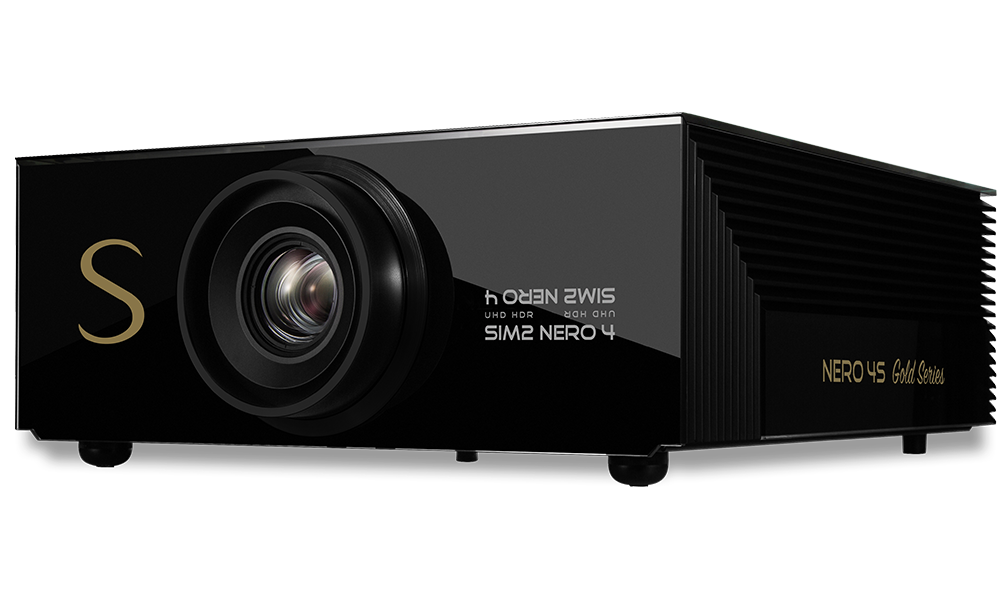 Technical specifications
• Projection Type
Digital Light Processing (DLP Type 0.66 in.)
1-CHIP 3840x2160
• Projection Lens
New lens NERO 4 platform:
High-quality glass 1.36 ÷ 2.68 ± 5%
Zoom range (ratio): 1.96x
Throw Distance 2,5m ÷ 9m for focus range, optimized@2.98m
Focal Length (f) (mm) 19.975(Wide) ~ 39.811 @ 2.98m
F Number 1.71(Wide) ~ 2.59 (Tele) @ 2.98m
• Image Resolution
4K UHD (support to 3840x2160@60Hz, 4096x2160@60Hz) 1
• Dynamic Range
4K UHD (support to 3840x2160@60Hz, 4096x2160@60Hz) 1
• Colour Gamut
DCI-P3.
Any NERO 4S GS is factory adjusted to reach the DCI-P3 standard.
Selecting the LCC-DCI colour gamut.
• Lens shift
Manual
Horizontal: ± 30% offset, ± 5%
Vertically: ± 75% offset, ± 5%
• Perfect-Fit
Setup zoom focus and digital lens shift (H, V) values with ten different screen format memories.
• Light Source
465W lamp (dimmable) > 6.000 Ansi Lumens