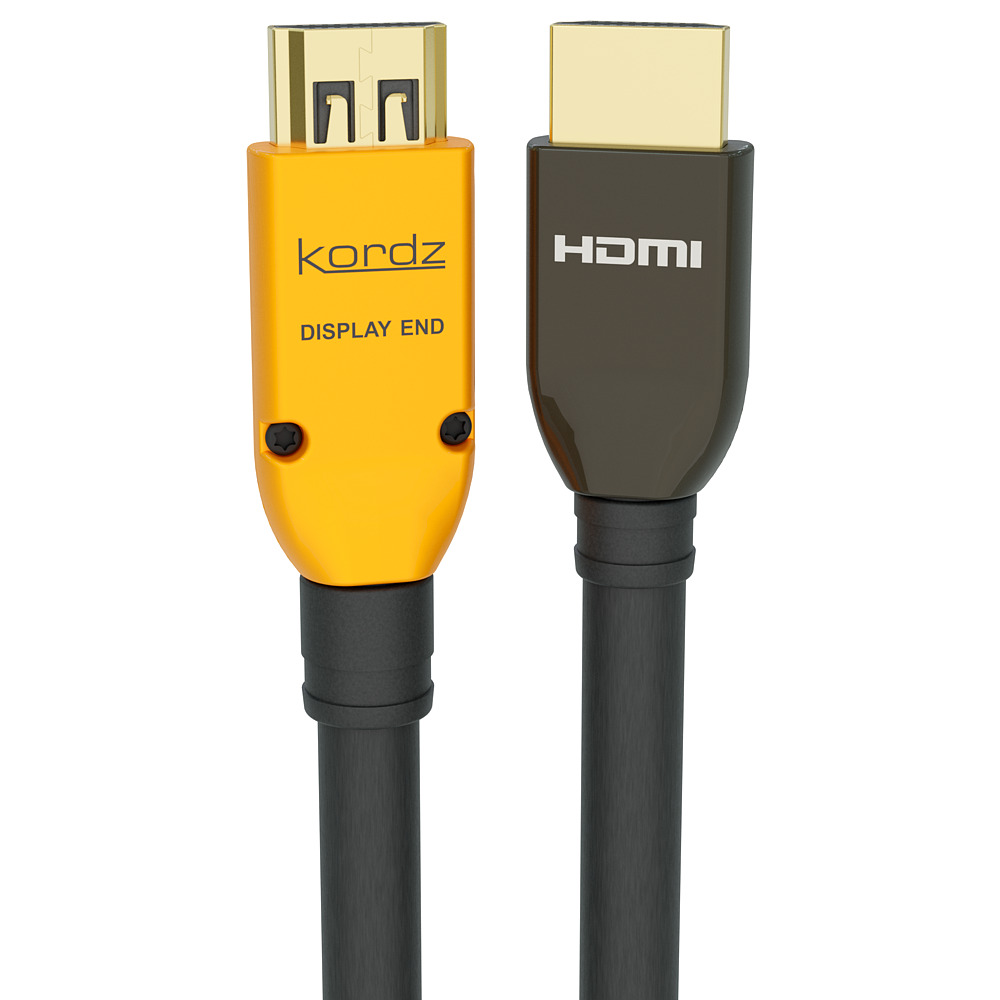 The high-impact, high-quality, high-speed abilities of Kordz cable products are now available via the Pulse Cinemas on-line store as we add this fantastic brand to our line-up.
Perhaps not the most high-profile part of an install, nonetheless, installers know that without good cabling, the job will not live up to performance expectations, deliver longevity and lock-in the reliability everyone is looking for. It is for these reasons that the whole Pulse Cinemas team is delighted to be able to welcome on-board the Kordz brand.
Kordz is known around the world for producing multi-award-winning cables that adhere to the highest commitment in delivering a high standard of practical, graceful design and manufacturing. A key concept for the company is 'Predictable Reliability', delivering its distributors and installers peace of mind, whatever the application.
This is delivered by ensuring that all Kordz products are engineered with higher-grade materials and processes that safeguard high-performance, reliability and flexibility, whilst meeting and exceeding all relevant industry standards. Kordz cables are also made to be easy to install and keep the pace of each install where companies need it to be. Backing all this up is the fact that every single Kordz product is tested before it reaches your project and is supported by a lifetime warranty.
Keeping HDMI Happy
Some key products available right now on the Pulse on-line store include for HDMI, the R.3 range which offers increased conductor shielding, but never at the expense of inflexibility. This cable delivers High Speed with Ethernet performance to 18Gbps and is fully DPL Certified. The lightweight construction, compact size, shallow mounting depth, 2Kg retention force and commercial grade shielding all add to the quality of the offering. The R.3 range is available in lengths from 0.3m-3.0m in 0.3m increments, and from 3.6m-5.4m in 0.6m increments, offering 16 cable lengths in total. This family also offers induction soldered terminals to promote maximum performance, longevity and virtual immunity to dry joints. A dual foil wrap and 90% coverage copper braid are included to mitigate EMI/RFI/crosstalk for bundling and use in racks. Built for maximum signal integrity, up to 18 billion bits of data per second can pass through the cables in real time at up to 3GHz. The cables also offer maximum bandwidth with minimal system wide jitter. Kordz has been an HDMI Adopter since 2005, 100% of the products are tested and DPL4K Certified, so compliance is assured.
Gathering all these abilities, Kordz delivers a unique combination of advanced features to provide unrivalled installation performance and reliability for critical AV applications, particularly in racks and marine applications.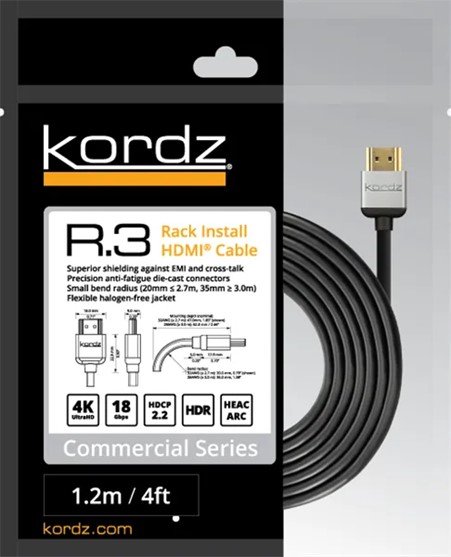 Touching base
For HDBaseT, both the PRO Cat6 and PRS Cat6A Slim Profile range of Patch Cords are offered in eight colours and 16 lengths from as small as 15cms (0.15m) up to 30.0m. The PRO Cat6 Patch Cords (Patent Pending) 28AWG U/UTP unshielded cords, are built for the real world and boast virtually unbreakable RJ45 Connector latches (over 2000 bend cycles), and the smallest RJ45 form factor in the market today. Both these features prepare the cable for life in often congested rack installations offering ease of install and space saving.
The PRS Cat6A Patch Cords (also Patent Pending) 28AWG U/FTP Shielded Cords, are ISO/IEC Component Certified and are supplied with an individual downloadable test report and serial no. which is printed on each cord and accessed via QR on the product packaging, that provides 100% standards and 10Gig transmission performance.
For field termination, the exacting Kordz manufacturing processes ensures that the Kordz RJ45 Push Through Field Crimp Cat6 Termination System of connector and strain relief, used with the high accuracy Crimp Tool, ensures optimal performance and reliability is achieved first time, every time.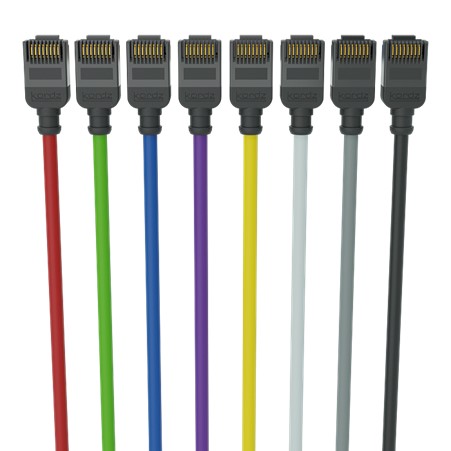 Kevan Sproston, International Sales Manager, Kordz Cables, explains, "We are delighted to be building a new relationship with Pulse Cinemas. We share the same values of high-performance and a commitment to customer service. Attending the recent Pulse Cinemas Open Days, I am confident this is a partnership that will deliver very positive outcomes for all involved."
Kapes Patel, Pulse Cinemas Technical Director, adds, "When you select a cable for a project, you just want to have confidence that it is going work, and give longevity, and Kordz delivers both those. However, the brand goes further and has designed its products for the real world, offering many features that make the life on an installer easier, with faster, easier, more reliable installations. Get in touch and find out more!"