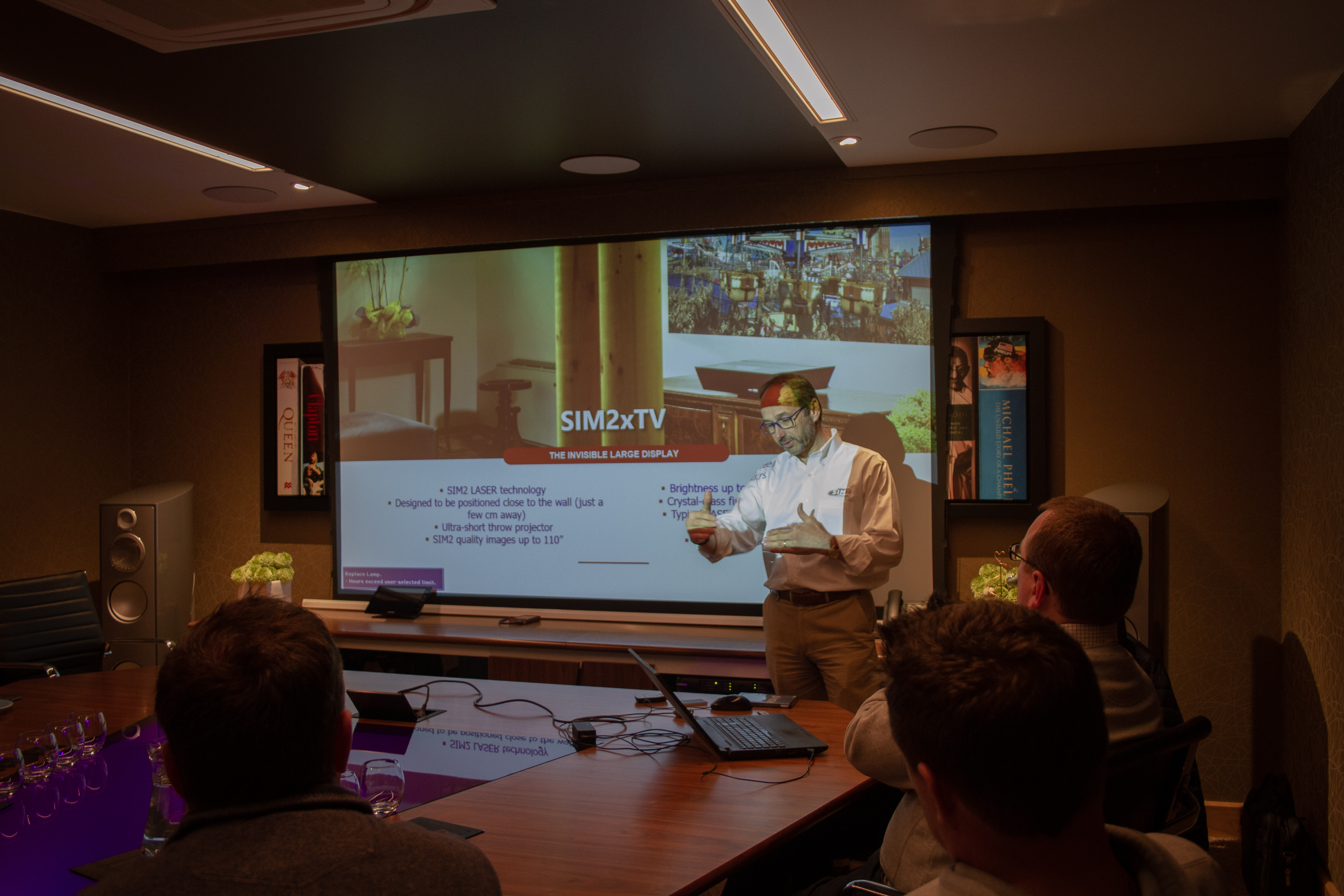 As part of our team's continual outreach and education programme, an event was recently held at our wonderful Stansted HQ, to introduce dealers to one of our latest additions to the brand line up; SIM2. This highly respected and accomplished projector brand brings its talents to Pulse Cinemas at a time when our brand family has never been stronger, adding its power, precision and lifelike colours to our offering.
As well as the Pulse Cinemas team, we were delighted to welcome Massimo Zecchin and Domenico Toffoli from SIM2, to help installers understand the strengths of the products.
Attracting 20 dealers keen to learn more, the group gathered to bring dealers up to date with the varied SIM2 product range, focusing mostly on the powerful and cutting edge 4K models. Those in attendance enjoyed a mixture of sales and technical training. On the technical side, there was particular emphasis on the benefits of HDR and on the abilities and advantages of anamorphic lenses to achieve 2.40:1 ratios on screen.
These two areas are vitally important to get the best from modern projection and screen systems. 4K power really is of limited use without the focus and lifelike images that HDR delivers. Unless used wisely, more pixels do not deliver the step-change and new experience that HDR delivers to the audience. The other part of the presentation focused on the adaptability of an anamorphic lens working with SIM2 delivering 2.40:1 ratios, allowing a greater and more cinematic performance.
Simon Schino, Pulse Cinemas Internal Sales Manager, who hosted the event, explains, "We were really pleased with the event, and we had a selection of great supportive dealers who wanted to gain further knowledge and experience with SIM2. It's really important for us to get time with dealers and not just show them why we feel the products are so good and how to use them, but also offer our support now and into the future to make sure we are adding value at every stage. Explaining how technologies work, and how to get the best of them, is a huge part of that."
Simon adds, "The event was also a great chance to show the dealers some upgrades and new additions to our demonstration areas. Quite a few had not experienced our new Moroccan-themed media room, which hides two wonderful home cinemas within its plush interior design, created by our own in-house designer, Stephen Clasper."
---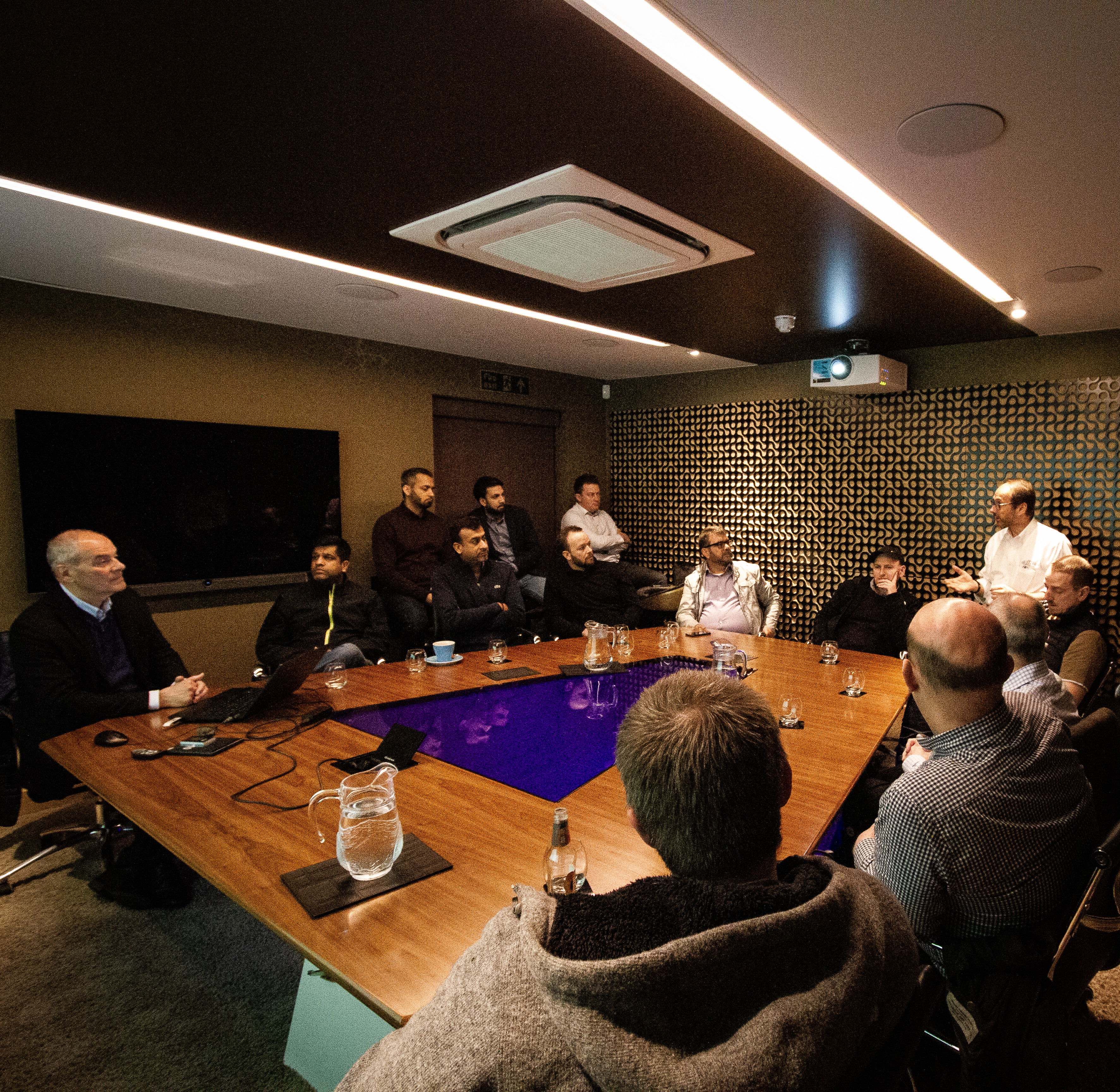 ---
Delivering the detail
The main presentation focused on how to achieve proper High Dynamic Range (HDR) with a projection system.
If you have not properly looked into the advantages of HDR as yet, its real bonus is the ability to deliver a wider range of colours in a closer way to how the human eye perceives light in the real world. Our eyes adjust continually to adapt to the wide range of luminance present in the real world.
The brain calculates and interprets this constantly changing information, so that humans can see in a wide range of light conditions.
HDR's trick is that it can mimic those changes in luminance levels so images look more lifelike, so whether it's bright sunlight, shade, or darker scenes, the images feel more 'natural'. SIM2 has always had a strong reputation for vibrant imaging and strong colours, so has built on this by being one of the manufacturers to really embrace HDR and deliver what the technology was created for.
The presentation also covered how to create different aspect ratios via digital and optical methods. Pulse Cinemas has access to the Prismasonic range of anamorphic lenses, so can take full advantage of the 2.40:1 Cinemascope format that many motion pictures are created in. However, the clever people at SIM2 have also created a feature they call Perfect Fit, a lens zoom feature which can produce similar results.
In basic terms, the SIM2 feature uses zoom, focus and lens shift adjustments to fill the screen for different formats; and these can then be stored and recalled. Simon was keen to explore the pros and cons of these different methods. Like many of these types of choices, it's going to come down to the client and what their expectations are.
Perfect Fit's plus points include the ability to manage more aspect ratios without the cost of an anamorphic lens, which is handy if budget constraints are an issue. The 'without lens' approach also has aesthetic advantages if those are a concern and, of course, it takes up less space.
However, there are issues to consider when using Perfect Fit. The throw range is limited when in this mode, and not all of the pixels are used for delivering the image. Also, the expanded image can sometimes be visible overlapping the screen if the walls are not dark enough. Another disadvantage, of course, is that there is no margin to be had on the lens.
Simon also went over the pros for using the anamorphic approach, which include delivering the full brightness of the projector, all of the pixels delivered are used in the active image and the throw range is greater. There is also the extra margin to be had when selling a system of this type.
Disadvantages of the lens approach include an aesthetic impact on the projector and room, it can manage less aspects than the digital zoom function and it requires space in front of the projector.
Which method is most appropriate is going to vary from job to job, but we at Pulse Cinemas are determined that our install partners should have the information and knowledge to make informed choices, which is the reason for holding these events.
Simon explains that the SIM2 event was just one of many more initiatives to deliver cinema knowledge live and in the digital domain. He says, "For those dealers fully engaging with Pulse Cinemas, one of the advantages will be access to a range of bite size presentations on key elements of cinema design that dealers can access from this fantastic new website. Everything from technical stuff covering calculations, to making sure your cinemas meet all the recommended ratios, or ways of selling experience to the end user, an expanse of subjects will be covered."