When we first announced that Pulse Cinemas was going to support and distribute the RTI automation platform back in May of 2019, there were several key reasons for the move. These included the affordability of the system, ease of install and the level of functionality achievable with less effort than other systems. The APEX programming engine behind the system really is simple to use, fast to learn and delivers a great level of personalisation for each client.
The other aspect we felt was strong was the openness and flexibility of the system. This final note worthy point feeds into this latest announcement as RTI has added a powerful and useful new weapon in the battle to offer an ever more all-encompassing system. Underlining the useability and relevance the new release represents for the high-quality home cinema and distributed AV market, we are using this product right now in a major overhaul of our own HQ and cinema demonstration spaces. Visitors (when permitted) will be able to see first-hand just how powerful and useful this set up can be. For now, feast your eyes on the impressive functionality delivered by RTI's own Video over IP platform, or VIP for short.
Elevating the user experience
So, the headline is that the VIP platform enables distribution of 4K video over a 1Gb network switch to virtually unlimited endpoints. The result is an exceptionally flexible and scalable system that can be installed in minutes and controlled natively within the RTI control environment.
Ease of control is paramount here so with VIP, the video preview images show on any touch-panel, remote, or mobile device connected to the system putting the user in total control of what media is playing on which display anywhere in the system. Using the same interface, users can control content right across a home or the system is spot on for multiple screen businesses.
Naturally being an RTI product, VIP is compatible with the APEX programming system with the VIP transmitters and receivers appearing automatically within the system, reducing installation time and connection headaches. Also, important to note here is that installers can now deliver Video over IP without needing to have an in-depth knowledge of the inner workings of the technology itself. No need to manually assign IP addresses for example.
Great for the home, but as briefly mentioned above, this product is great for the 'Resimercial' area suitable for hospitality, corporate, hotels, sports venues, digital signage and media walls.
Some of the key take-aways in terms of performance; 4K UHD with HDR for impressive picture quality with 4K resolution, 4K @ 60Hz eliminates blurred fast motions in action movies, long distance 4K video can be transmitted over category cable up to 100m. The system is also compatible with HDCP 2.2 to avoid copy-protected 'black screens' when connecting an HDMI source and has built in scaling which lets each screen display its full resolution. There is also a built-in video wall function and the system also delivers fast class-leading switching time.
VIP Products
VIP-UHD-CTRL Video over IP Control Module
The VIP-UHD-CTRL Control Module allows advanced control from any RTI control processor using TCP/IP, RS232 and IR and features a web interface module for easy configuration of the system. The Control Module eliminates the need for a deep understanding of complex network infrastructures, yet it is powerful enough to allow independent routing of IR, RS232, USB / KVM, audio and video.
The product ships with the box itself and an IR Control Cable, six-pin phoenix connector and a mounting kit.
The product can work with many of the market's leading network switches for easy integration. These include the Luxul AMS/XMS, Cisco SG350/SG550, Ubiquiti Edge, Araknis AN-210/AN-310 and the Pakedge PK-SX. PoE powered, the VIP-UHD-CTRL keeps the rack clean and reduces the need for extra power cords.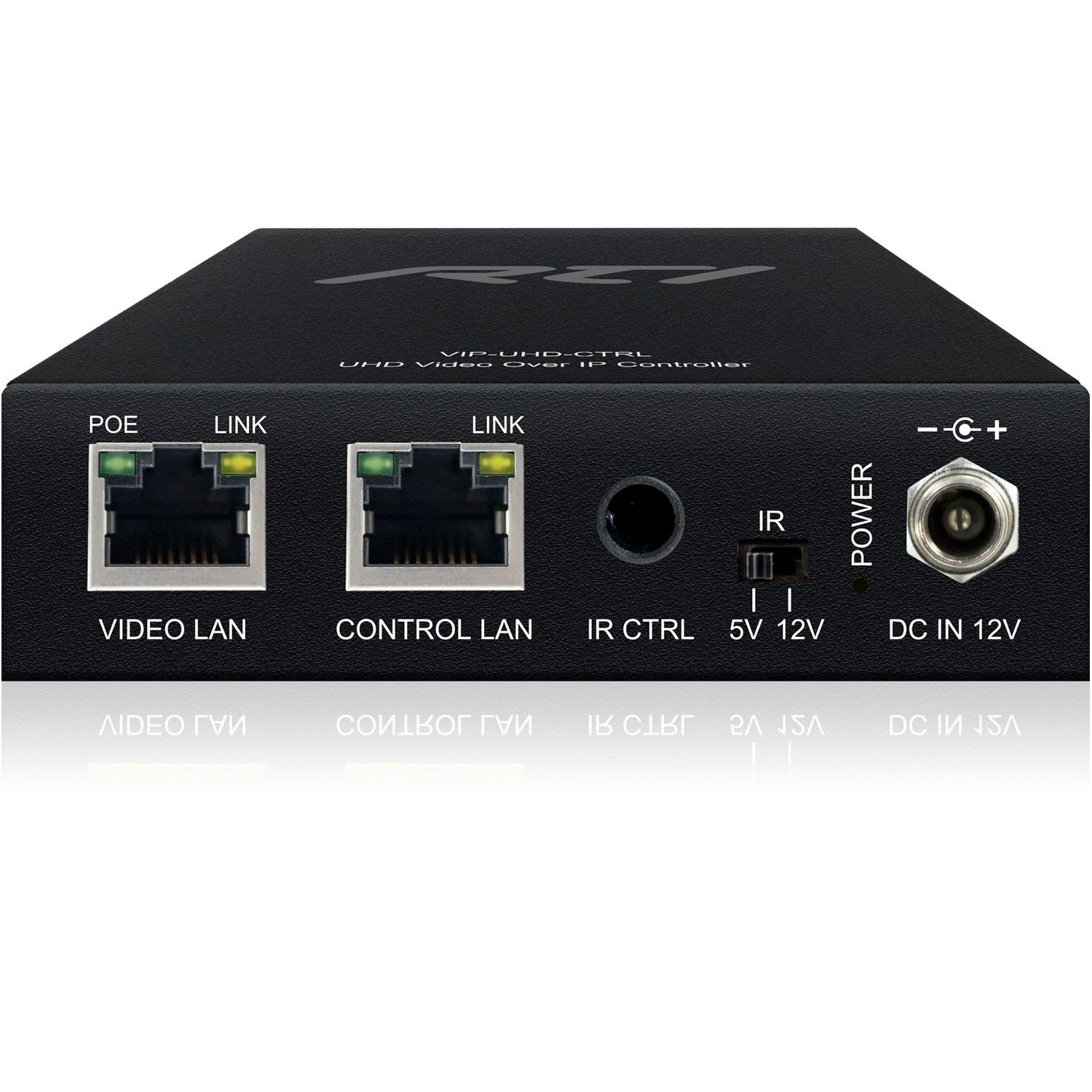 VIP-UHD-TX 4K Video over IP Transmitter
The VIP-UHD-TX is a powerful 4K HDCP 2.2 HDMI transmitter using visually lossless compression technology to deliver HDMI, Bi-directional IR, RS232 & USB/KVM up to lengths of 100m over standard network architecture. The VIP-UHD-TX can be powered via PoE from the Network switch or locally should the switch not support PoE. With multiple configuration options available, the VIP solution is ideal for both commercial and residential installations.
Note: When passing an IR signal from the control processor to the VIP-UHD-TX the IRC-SM12V is required. Sold separately.
The transmitter comes with an IR receiver, an IR transmitter, serial 3-pin phoenix connector and its own mounting kit.
Get in touch and find out more about this very useful new offering from RTI and Pulse Cinemas.