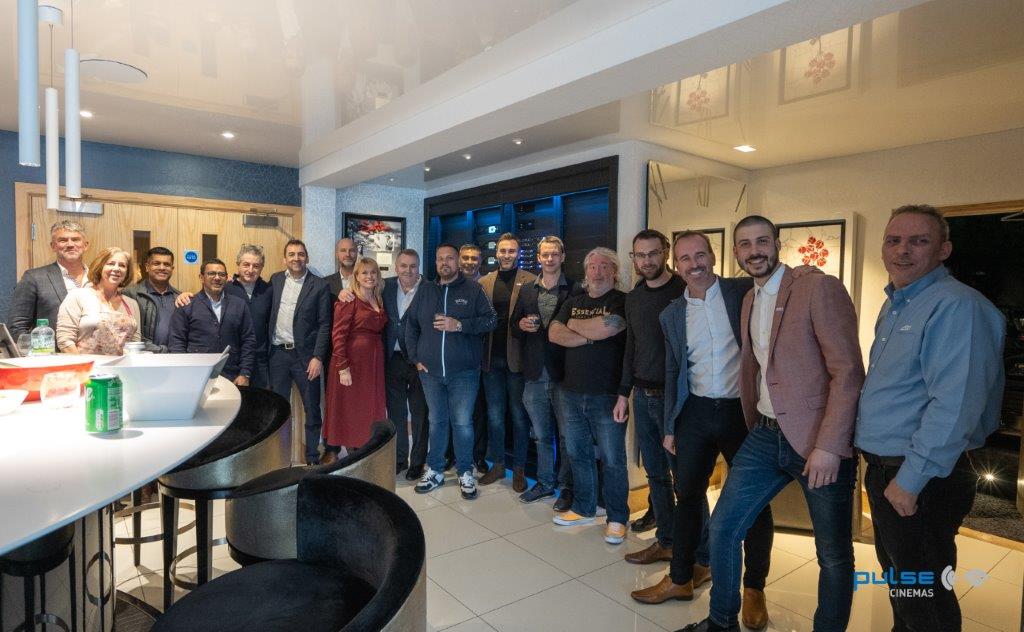 Pulse Cinemas Open Days are scheduled for March 16, March 23, April 6 and April 20. Choose a date and your session here (Morning or Afternoon) and begin a new journey into the cutting-edge execution of the very best in AV, automation and home cinema.
A unique chance to elevate and evolve your offering is at hand with these new series of Pulse Cinema Open Days. Created to connect you to the very latest in what is possible within the home cinema, media room and automation sectors and introduce you to all of Pulse Cinemas expert in-house support, these events offer genuine insight into where our industry is going next and how you can be part of it.
Every aspect of these events has been meticulously planned to offer each visitor a top-quality experience. Whether you have been to Pulse Cinemas HQ before or not, there are a huge range of areas, equipment and support services to explore to ensure the day is a success.
Right from the off visitors will be greeted and received in our luxurious reception area with a chance to relax after the journey here. Our fully stocked kitchen means whatever your choice of refreshment, we have it covered. Coffee and tea lovers can take their pick or if it's a cold drink you are after, just choose from a huge selection, no need to 'grab' a motorway coffee on the way to this experience.
Whether you choose the morning or afternoon session, all visitors will also be served a delicious lunch created in our own kitchen by experienced chefs. Again, no need to make do with 'on the road' takeaways, everyone gets a fantastic home cooked lunch courtesy of Pulse Cinemas.
A great reception
The first piece of AV to admire is the new Screen Research and Sim2 XTV demonstration, also located in the Reception Area. This in-ceiling and on-wall combo of Sim2 technology and a Screen Research Decor Mask screen shows just how good these brands are at delivering a 'big TV' concept with better performance and a keener price than super sized TVs. Coping ably with ambient light and able to be installed in a huge variety of buildings, this fully integrated new addition really underlines the power and poise of in-ceiling short-throw projection.
A new kind of journey
Once each group has had a chance to chat, make new friends, greet old ones and meet the whole of the Pulse Cinemas team, the first part of this journey begins with a demonstration of our new and exclusive Virtual Reality Cinema Creator experience. Visitors have the chance to try out this exclusive software package which takes customers and installers inside the home cinema design process. It will not only show how the room will look and feel, but how it will work.
Piloted and guided by one of our software experts, the VR Cinema Creator allows the user to move around inside a fully three-dimensional space and see how a cinema is put together. Customers will be able to understand why screen size and distance from the seating is so important and experience in real time different settings and screen sizes so the cinema can be fine-tuned to their exact requirements.
The system can also show how audio behaves in a given room allowing each user to 'see' standing waves and other audio phenomenon to understand why the cinema is designed in the way it is and why acoustics are so vital.
As users watch and listen to content in real-time, they will fully understand the mechanics of what is happening and how their project will be taken to the cutting-edge of home cinema performance.
Whilst the use of VR in home cinema design is not totally new, this system finally harnesses the true potential of this technology to unlock the magic of what can be built for each customer, driving desire to purchase and adding another impressive piece to the armoury of each Pulse Cinemas installation partner.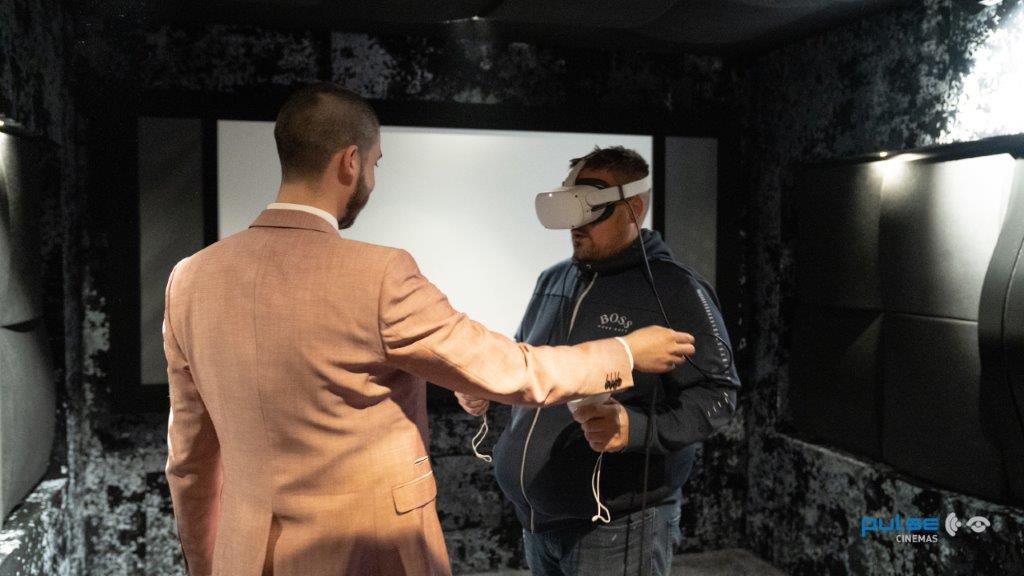 A new approach
After experiencing the inner workings of home cinema design, it is time to experience the real thing in our Reference Cinema. Designed from the ground up to represent and include every aspect of modern home cinema design, this space brings together form and function like never before.
Working in concert with our in-house interior designer, the space underlines the fact that by using Vicoustic's unique approach to acoustic treatment, we cannot just create a room that performs well, but offers the interior design community a completely new palate to create on.
No longer will installers and design professionals need to compromise on how each of their professions and aims are delivered, they are now one and the same when Vicoustic treats the room and offers a myriad of aesthetic possibility for design professionals to work their magic. Instead of being seen as a 'problem' by the design community, home cinema is now a new fantastic opportunity to express themselves and deliver the customer something truly unique.
Performance wise, if you are involved in home cinema you need to experience this room. Alcons Audio in alliance with its unique in-house Sentinel10 intelligent amplifiers, has finally bought the performance of the very best commercial cinema into the home. The audio in this room reaches new levels of precision and power, but is never mechanical, a genuinely unique musical experience awaits, one that can find the very best in any content and deliver it as its creators intended.
A Screen Research Décor Mask screen with a striking image displayed when at rest is partnered with Sim2's HDR DUAL NERO 4S projection system. If any install professionals have been waiting to be genuinely impressed by HDR, then you need to see these two systems in harmony together. Just a delightful riot of natural colours and immersive beauty.
Special mention also must go to the Fortress Seating in this very special room. The back row consists of the Fortress Nova theatre chair with D-BOX functionality and fully adjustable feet and head rests. This row is finished in Luxtan taupe premium leather. For the front row, the Fortress West End theatre chair is used with two full length loungers all finished in Serengeti premium suede effect fabric. This cinema impresses as soon as you sit down.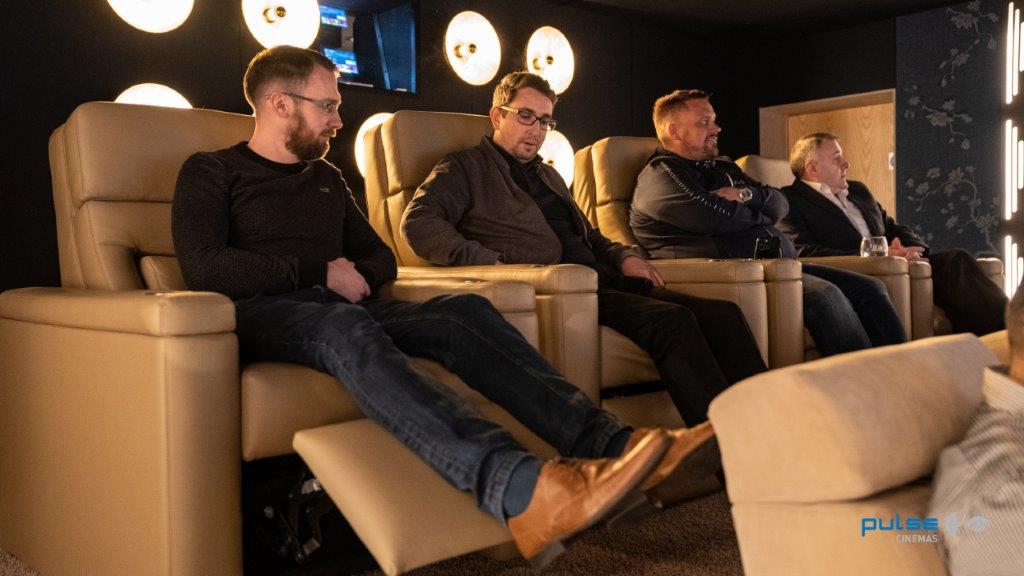 The Media Room
A true growth area in home cinema in recent years has been the merging of multi-use living spaces with truly integrated AV equipment. Our Media Room takes visitors inside that world and shows just how good it can be. This Media Room gives Anthem and Paradigm a chance to show what they can do and this space has so many surprises up its sleeve it will fuel ideas for projects for years to come.
Hiding two full blooded home cinema systems, people who experience this space truly understand that they can have it all, the interior design scheme and furnishings they want, with the best AV equipment also woven into the space. The Media Room was created from the ground-up by Pulse Cinemas interior design services, from the furniture to the finest small detail, the space is optimised to offer opulence, comfort and a kick ass home cinema experience whenever the owner requires.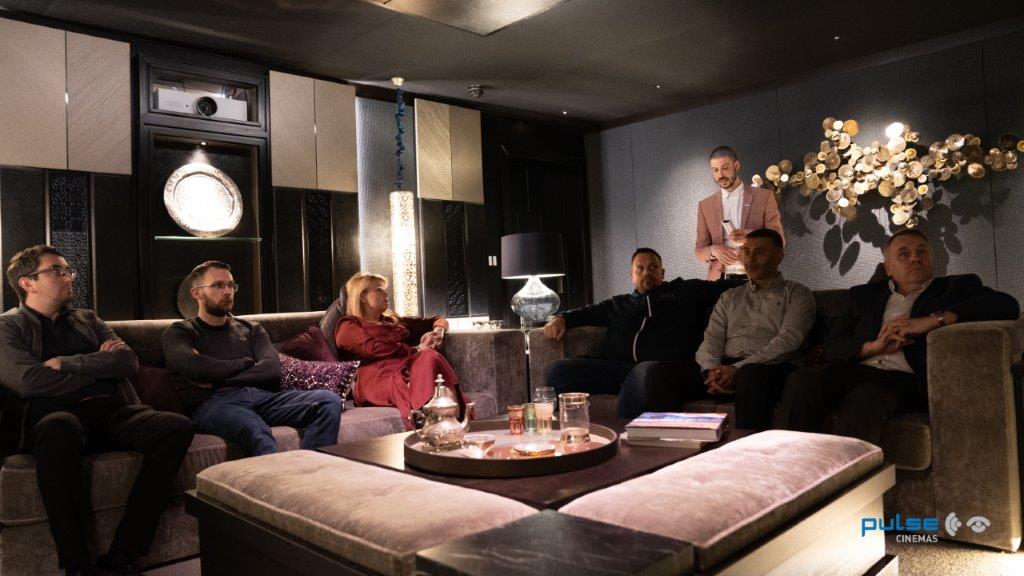 Once the demonstrations have ended its back down to reception where there is another chance to chat further with the Pulse Cinemas team, discuss what you have seen, start planning your next project or take another look at part of the demonstration.
By the end of your session, we are confident your perception of the market will have evolved and we can begin a wonderful new journey together making customer's dreams come true.
We look forward to welcoming you to these very special Pulse Cinemas Open Days!