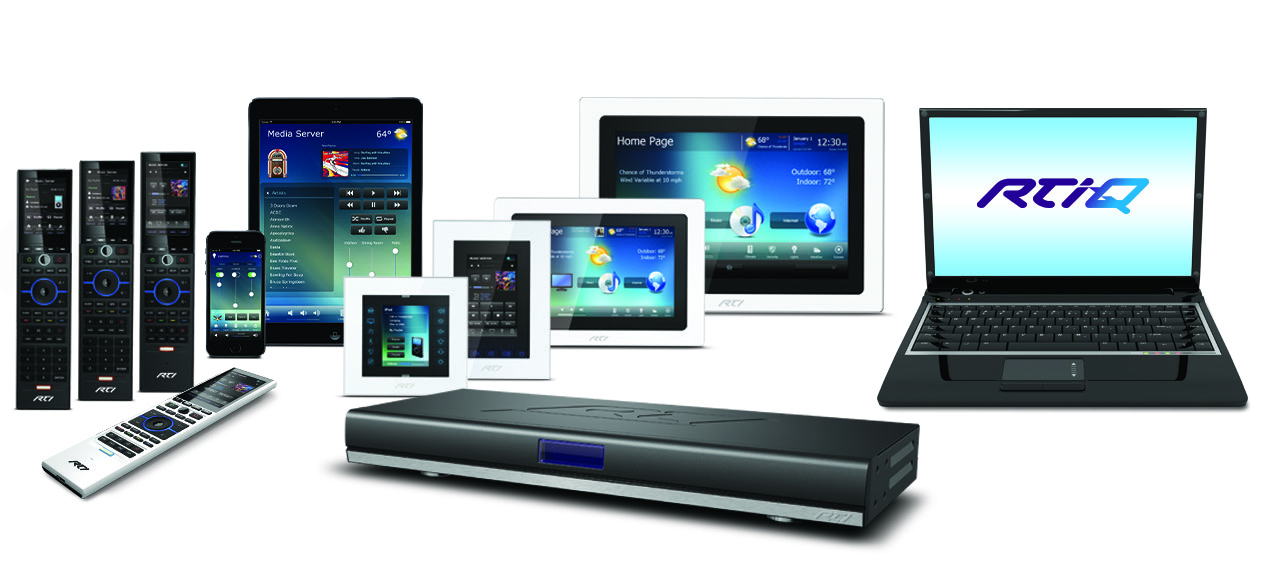 Breaking news at the recent EI Live! event included that Pulse Cinemas is now the proud distributor for the RTI automation platform.
This latest addition means our customers can now provide a complete one call solution for the whole market, from AV through to automation.
Kapes Patel, Technical Director of Pulse Cinemas, explains, "We really like the affordability of the RTI platform, coupled to the level of functionality available and its ease of install. The programming is very simple, just a one-day course (which will be held at Pulse Cinemas HQ) and you are up and running. RTI really can control everything.
"Another strong aspect of the system is that it is very 'open', and so RTI and its suppliers can create drivers for almost anything, making the system very adaptable."
RTI has a large family of award-winning handheld and in-wall universal controllers, central processors and accessories, alongside powerful customisable software. They also offer RTiQ, the cloud-based remote management solution, which delivers many benefits including faster troubleshooting without the need of a site visit. RTiQ allows dealers to be the first to know when a client's devices fail, or a system is experiencing a problem. With real-time notifications and a quick-reference dashboard, installers can address issues and restore service without the client ever knowing there was an issue.
All RTI solutions are programmed using Integration Designer APEX. This software allows integrators to design a completely custom user interface for intuitive command in residential and commercial environments.
---
Constant development
This feature rich and fully developed automation environment include some new ways to control the system, like the T4X flagship remote control. Due to arrive this summer, this controller offers a customisable interface via a high-res capacitive LCD touchscreen, and also has the option of hard button control. Made to be ergonomic and intuitive, the T4X also has dual-RF and Wi-Fi, grip sensors and an 'instant on' accelerometer.

Other new controllers include the KA8 or KA11 for whole house control from 8in and 11in screens respectively. The KA8 and KA11 provide simple, intuitive control and combine vivid widescreen LCD displays with integrated capacitive touchscreens to allow fast-touch response and gesture control. Featuring sleek, edge to edge glass design, the KA8 and KA11 are available with white or black frames, and their optional stand allows them to be mounted on a conference room table or countertop. In addition, they can be programmed in portrait or landscape mode to allow horizontal or vertical on-wall mounting.
---
A winner in three important ways
Simon Schino will be the brand manager for RTI, and the platform will receive technical support from Kapes and Simon Gibbs.
Simon's thoughts on the advantages of the system? "It is very fast and easy to programme. It's easy to work your way through a project, creating different zones and the other building blocks needed. But just because it is fast, that does not mean you don't get an attractive fully customised end result. It's definitely the best of both worlds with RTI."
Simon adds, "The other thing to factor in is the price point. For great functionality and ease of programming, you still get a product that is very competitive. So RTI really scores a hattrick of all the things installers could ask for in an automation system."
Another insight from Simon is that because of the ease of programming, it's a swift job to set up some graphics/images showing what the final interface might look like ahead of a sales meeting. That could include colour schemes you know match the clients' home or style; or logos, if the project is for a commercial client. All helps with the sales push.
Simon enthuses, "The good stuff does not end there, however. The training is excellent, and a new one-day course, to be held at Pulse Cinemas HQ, is being added this year. The online training portal is also very good, with different stages taking technical and sales staff through what they need to know in digestible bite sized sessions. There are also 3D renders of the products which provide a lot of detail."
Another aspect of the RTI platform worth noting is the access to special pricing if a dealer wants to include the system in their showroom set up. If you want more details on that, just get in touch.
All in all, we believe RTI is the automation platform for the next stage of development of the home automation market. Its strong performance in the three key areas of ease of use, performance and price point, make it a very compelling proposition.