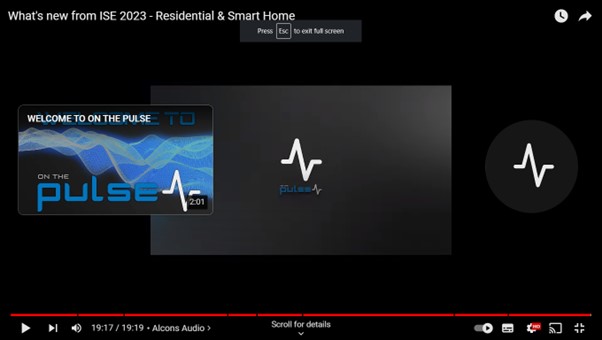 The Pulse Cinemas team were out in force supporting dealers and taking in everything this year's hugely busy ISE show could offer.
As well as supporting dealers in making sure they connected with all the crucial people, products and events, a special round-up video was created taking in all the highlights from the Pulse Cinemas family of brands at the show. If you didn't manage to get to the show, or even if you did, check out this informative run through of the highlights.
Tyba was showcasing ergonomic and beautiful control with Turn 2, Lutron experts discussed cutting-edge shading, Kordz' 'cable Kev' introduced something revolutionary, D-Tools revealed new functionality, RTI showcased a 'fantastic' new device, Screen Research underlined its ability to offer bespoke solutions, new brand in the Pulse family luhk-ee explained its place in the CI market, and rounding of the video, find out what makes Alcons Audio unique.