A Reel High Performance Home Cinema Space
Using many Pulse Cinemas ingredients, Mark Robertson, Director, Reel Home Cinema, explains how he has created his dream demo space to wow customers, win business and cement his company's place in the home cinema sector.


Established in 2010 'Reel Home Cinema' has been combining a highly professional approach combined with strong personal relationships with customers to deliver experiences beyond people's expectations.
The story however begins way back when Mark, already a keen AV enthusiast, walked into his local Bang & Olufsen showroom and asked for a Saturday job. Mark says, "Even before that I had always tinkered with car stereos and other AV, and really it has just snowballed from there. I have never really wanted to do anything else as it is one of those industries where if you are enthusiastic about film and music, you can combine your passion with work, and then it stops being work at all! I get a huge amount of satisfaction when you see the look on the face of a customer after a project is completed, and they can enjoy content as it is meant to be enjoyed, to me that is really satisfying and worth all the effort that has gone into the project. For us it is not just about creating a great system, but creating a relationship with a customer that will last a long time and we can continue helping them enjoy their favourite content as its creators intended."
Mark continues, "Experiencing the home cinemas we create should feel like an occasion, it's exciting even before the movie starts playing, but then the combination of lights, sound, the images, not forgetting very comfortable seating, should all combine to deliver something that customers want to experience again and again. Often in this industry we say the cinema becomes the favourite room in the home, that is our aim with every project we begin."
Mark explains that this is not the first demo space the company has created, "We began modestly at home using a single garage conversion. It was a decent start and of course nice for the family too, but the ambition was always to create a high-end demonstration space. There are very few places locally where a true home cinema can be experienced so we wanted this project to be our statement on what 'Reel' home cinema should be like. So when the opportunity came along to create this space, the timing and everything was perfect so it was too good of a chance to miss."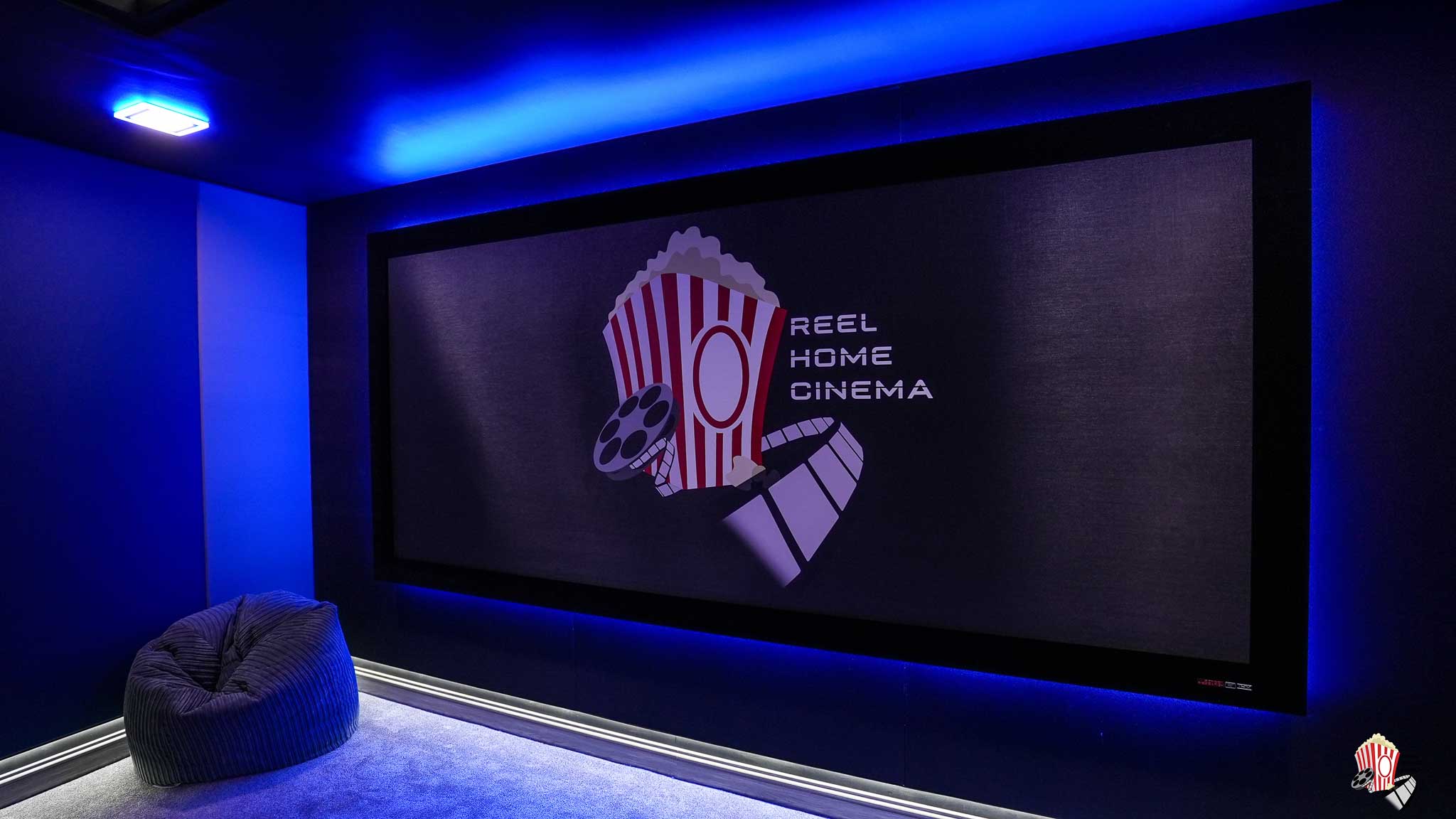 The Showroom
Mark explains, "We wanted to create a real wow factor here, so everyone who wants to experience movies, sports and gaming in the best possible scenario can see it here in action. Not everyone has the space and the budget to be able to execute a true high-performance home cinema room, so we decided to create two spaces, a media room system and a full blooded home cinema space as well.
"The media wall/living room type of environment was created because we got tired of seeing so called media walls on social media that amounted to little more than a TV, a fireplace and sometimes a modest looking soundbar underneath, now to us of course, that is not a media room!
"So ours has a full 5.2 surround sound system, and also uses a stretch fabric system to give the space a really attractive and tidy finish hiding all the equipment and speakers away. With this project it is really easy for visitors to imagine how their living room can be transformed into this space. There are many projects out there to be had where customers may not have the budget currently for the full home cinema experience, so we wanted to provide a system for those customers so they can still have an amazing experience and who knows, one day they will be graduating to a dedicated home cinema room like our main demonstration area."
With the main cinema, the approach was to spare no expense and create a space that really shows what the company can achieve.
Mark explains, "I have always liked the Anthem/Paradigm combination, so that was an obvious, but very pleasing choice to be able to make with this room. Having the confidence in these two brands that the performance is going to be top notch is such a boost as you begin a project, they are created to work together, and it shows."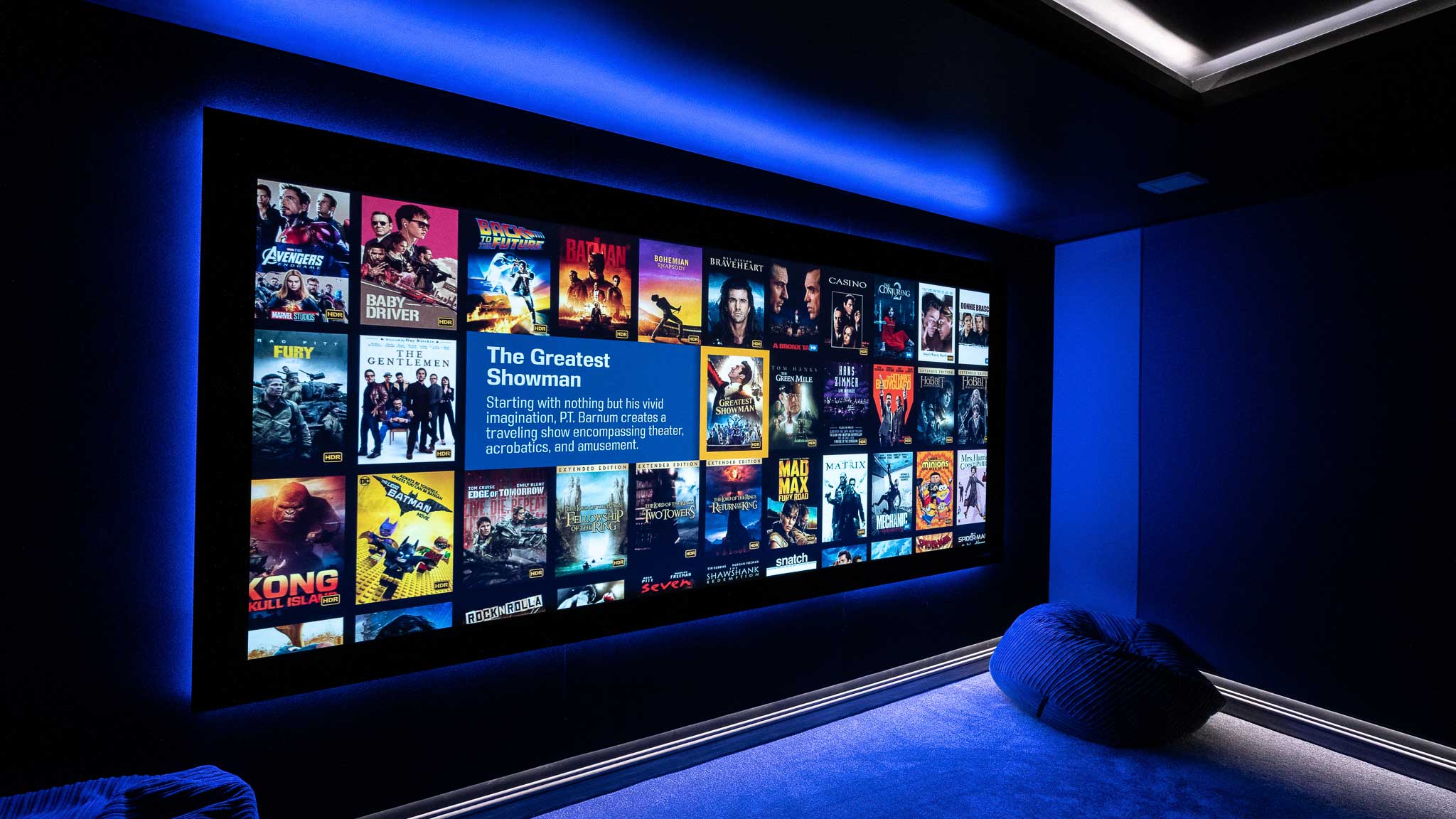 In more detail, the cinema delivers a Dolby Atmos system in a 7.4.4 configuration using Paradigm CI-Pro Series throughout partnering an Anthem MRX-1140 AVR. Mark says, "With the four subs, four overheads and the rest of the surround channels, it does sound really impressive in here, we are really proud of what has been achieved in this room."
It was important to the team that the room impressed right from the off, so the design and aesthetics is really important. A big part of that is the DecorMask screen by Screen Research.
Mark enthuses, "The room needs to be impressive as soon as people enter and so the screen with its slick attractive cover, is a big help with this and of course people love the reveal when the cover slides back and the system springs to life. Right now, it has our logo on there, but of course, it can have any design on there the customer wants elevating the room to another level. The screen is also of course, extremely impressive in performance bringing true 2.40:1 big screen entertainment into the space."
Pulse Cinemas ingredients in the room also includes a Kaleidescape Strato-S 6Tb Movie Server. Mark says, "When it comes to ultimate home cinema performance, there is no other system that can match Kaleidescape. The system really does give the content creators vision the chance to be realised as nothing in the visuals or audio is lost. When people experience it, you can see the difference it makes, again, it is just going up that extra level and providing something people might not have experienced before."
The Partnership
Working with Pulse Cinemas on the build was not a hard choice for Mark. "Because I have known the team at Pulse Cinemas for so long, it was the natural choice to work with them on this project. The assistance I got from everybody was exactly what we needed, even right down to helping us create our new logo, as well as website design, it was a very pleasant and effective way to create this new chapter in our history. I wanted everyone who comes in here to be wowed and create a space that is better than a commercial cinema, that people could picture being in their own home. I feel we have delivered on our vision, and then some, so we are delighted with how this has turned out."
Check out the live interview version of this article, right here on the Pulse YouTube channel.
Equipment List
Screen: Screen Research FDM DecorMask 2.40:1 Screen
Processing: Anthem MRX-1140 AVR
Speakers: Paradigm CI-Pro-P3 LCR's, CI-Pro-P1 Sides & Backs, CI-Pro P80-R x 4 Heights, RVC-12SQ In-Wall Subwoofers x 4
Amplification: Paradigm X-850 Amp x 2 (for subs)
Source: Kaleidescape Strato-S 6Tb Movie Server