Modus Vivendi - High-Quality Kent Cinema
High-Quality Kent Cinema
This attractive home cinema was achieved via an effective partnership between Pulse Cinemas and the highly skilled team at install company Modus Vivendi. All the performance the client wanted was achieved after being inspired by a visit to Pulse Cinema's demonstration facilities.
Well established expert install company Modus Vivendi has been in business since 2005, delivering some of the best whole house automation systems and cinemas around. The company works directly with clients to understand their needs and provide simple and reliable integrated systems that delight and deliver tangible benefits to home owners across London and the South East.
Modus Vivendi understands and appreciates that the personal touch is required to make a house a home, so the team goes to great lengths to meet our client's needs. The company's residential portfolio consists of single room cinema installations, to whole house integrated systems, and includes; country mansions, town houses in Chelsea, Knightsbridge and Mayfair, as well as a remote country estate in Ireland.
Modus Vivendi were recommended to the client and contract administrator to provide a whole house audio visual, control and integration system, part of which included a dedicated cinema room on the second floor of the house. The project was being carried out in three phases, with the cinema room forming part of the second phase.
Using many Pulse Cinemas ingredients and with help from the company's demo facilities, Modus Vivendi delivered this attractive and high-performance cinema.
Luke Emmott, MD for Modus Vivendi, explains, "An initial budget was provided by the client as part of our original costings, but once it came to decide on exactly what should go in to the room, the clients were invited to Pulse Cinemas' demonstration facility to experience what was possible. They both very much liked the large cinema room at Pulse HQ and wanted to achieve a similar level of system that was scaled to suit their room size and shape."
With the challenge laid down by the client, the expert team at Modus Vivendi set about delivering the client's theatre dreams.
Luke explains, "Due to room restrictions; separate entry (front of room) and exit doors (rear of room), shape and size of room, along with the amount of seating required, a frameless projector screen was chosen to maximise the projected image. The projector was positioned behind the rear wall along with the cinema AV rack. Again, due to the size of room and projected image, seating positions were critical to ensure all eight seats could be comfortably accommodated, as well as the screen being viewable from each of the seats once populated."
Despite these technical challenges, the team delivered a cinema that offers all the performance and comfort the client could ever want.
IsoTek power conditioning products were also called on to protect the equipment and provide solid power delivery from which to work.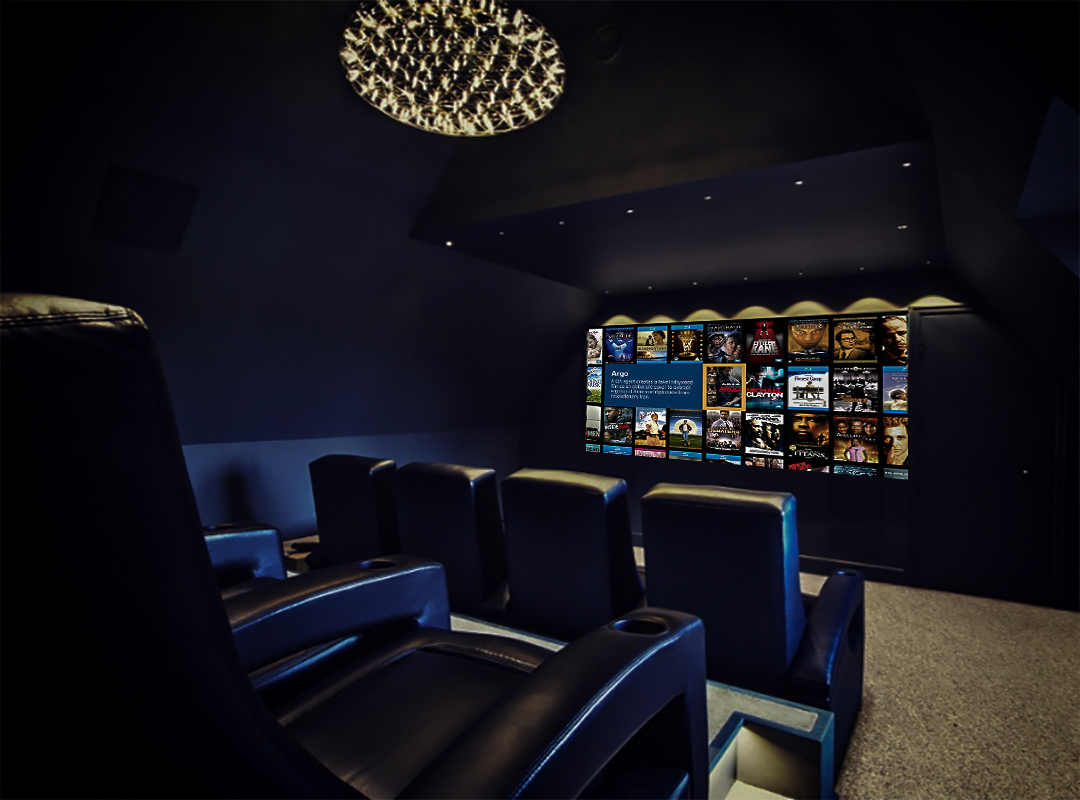 Pulse Recommended Products For This Room
High Quality Immersive Audio
Storm Audio - ISP 3D.16 Elite (16 channel AV processor)
Storm Audio - PA16 Elite (16 channel power amplifier)
James Loudspeaker - 806BE (x3)
James Loudspeaker - 660W (x4)
James Loudspeaker - QX620R (x4)
James Loudspeaker - M152 (x2)
James Loudspeaker - M1000 (x2)
IsoTek - Power conditioning
World Class Projection & Screen Combination
Screen Research - FI3 borderless acoustically transparent screen
Digital Projection - Evison 4K
Prismasonic - Anamorphic lens
Perfect mix of high performance and high luxury environment
Kaleidescape - Strato 4K player
Fortress Seating - Lux Tan Black Kensingtons (x8)
Lutron -Triathlon Blinds
Vicoustic - Acoustic treatment package