Prestige Audio - Basement Cinema
Prestige Audio - Basement Cinema
Created by one of Pulse Cinemas' valued installation partners, Prestige Audio, this basement cinema delivers bags of style and high-performance, making sure this attractive space offers its owners a memorable experience every time it's used.
Situated in the basement of this home, this high-performance cinema is able to take advantage of its position away from the main living spaces of the home and its lack of natural sunlight, to offer its owners a really transformational experience.
The owners wanted the very best the industry has to offer, so Prestige Audio created a full Dolby Atmos enabled cinema able to deliver the very latest in audio experiences, which are designed to mimic the way sound works out in the real world, making sure that whatever the content, the experience feels as real as possible.
Making this happen is a StormAudio ISP 3D.16 Elite processor, delivering all the power and control needed for the range of James Loudspeaker designs which are installed around the room. The install team chose these two brands as they complement each other perfectly, enabling the owners to explore every inch of the audio in their content from the loudest explosions to the most intimate dialogue.
Delivering the world-class imaging is a combination of a Screen Research FS3 acoustically transparent screen and a Digital Projection Hermes 4K Projector. Both leaders in their fields, this partnership delivers eye-pleasing images that deliver detail and vibrant life-like colours in equal measure.
Providing the content is a Kaleidescape Strato movie and content system, making sure that whatever takes the owner's fancy – movies, sport or music – it can be enjoyed easily and in the highest quality possible.
Bespoke seating brand, Fortress Seating, also played its part, delivering eight super comfortable and stylish chairs with useful accessories such as drink holders.
A package of Vicoustic acoustic wall panels are also included behind the cinema's attractively decorated walls to tune the cinema a little further, making sure the audio performs exactly as it should.
Lutron intelligent lighting was also included, adding to the aesthetics of the room as well as offering a smooth transition to get the cinema ready to use.
The cinema also uses a Pulse-Eight video distribution system for stability and high-quality delivery and IsoTek power conditioning products keep the power clean and surge free so the equipment can perform at its best.
The entire room is controlled by an RTI control system via T3x Remote Control which offers automatic or manual control over everything in the room, delivering the ultimate luxury experience.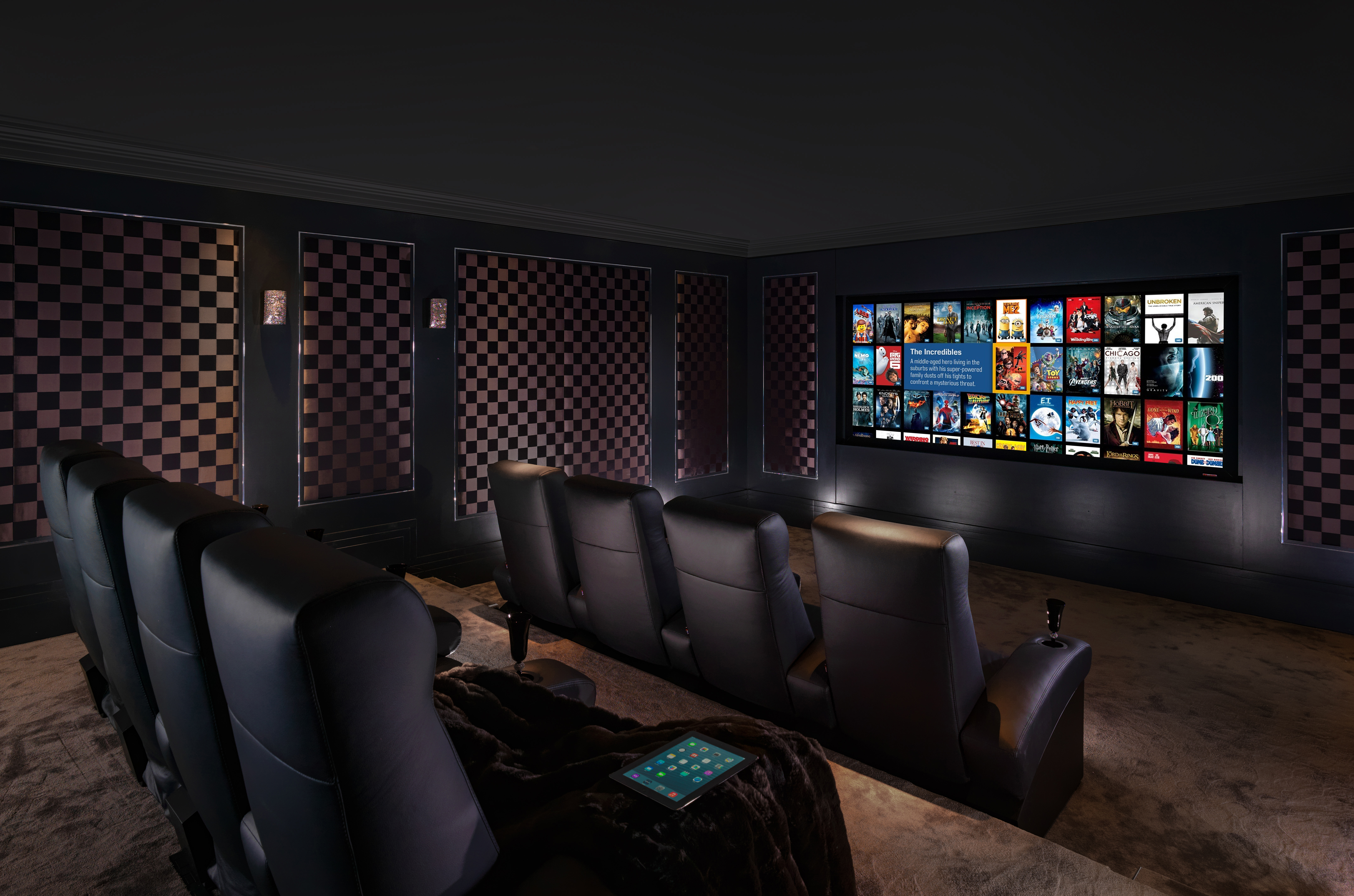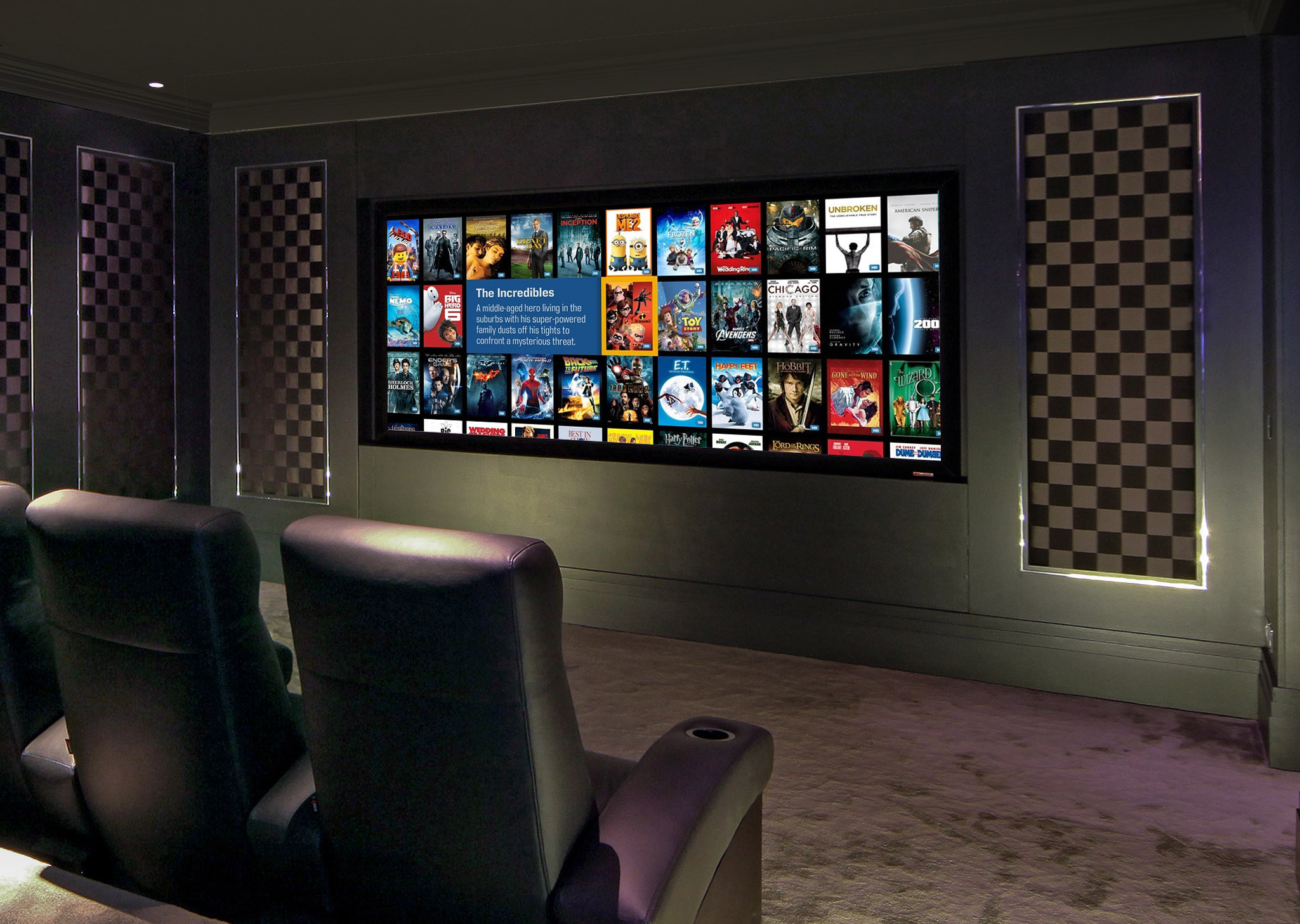 BASEMENT CINEMA SUGGESTED EQUIPMENT LIST
High Quality Immersive Audio
Storm Audio - ISP 3D.16 Elite
James Loudspeaker - QX808BE (x3)
James Loudspeaker - QX806BE (x4)
James Loudspeaker - QX820R (x4)
James Loudspeaker - M213
James Loudspeaker - M152 (x3)
James Loudspeaker - M1000 (x4)
IsoTek - Power Conditioning
World Class Projection & Screen Combination
Screen Research - FS3 acoustically transparent screen
Digital Projection - Hermes 4K Projector
Perfect mix of high performance and high luxury environment
Kaleidescape Strato
Lutron QS System
RTI Control System T3x Remote Control
Pulse-Eight Video distribution system
Vicoustic Acoustic treatment package