Prestige Audio - Starlight Cinema
Prestige Audio - Starlight Cinema
Creating the impactful cinema that the owner is looking for is not just about the performance of the products – it is also about getting them to marry to an aesthetically pleasing room design which adds to the experience, creating an atmosphere of excitement and luxury.
This cinema by Prestige Audio is a great example of form meeting function, as the Pulse Cinema products work perfectly with the room's design to create a special space for the owners to relax and enjoy their favourite content.
Taking care of the world-class, fully Dolby Atmos enabled audio – which envelopes the owners in a wonderful world of realistic sound – is an Anthem AVM60 Processor, two Anthem MCA325 3ch amps and an Anthem MCA525 5ch amp. All of this precision and power drives a collection of top-quality Paradigm speakers which are able to deliver detailed and powerful audio imaging, whatever the content.
Handling the images in this striking cinema is a powerful Digital Projection Atlas 1 4K projector, which partners with a Screen Research XLR3 acoustically transparent screen with lateral masking. The acoustically transparent qualities of the screen mean the left, right and centre speakers can be placed directly behind the screen for maximum audio realism, and the masking allows the screen to automatically adjust to the format size of the content to be played.
Finding a really world-class content provider to go with a cinema of this quality is not easy, so there was only really one candidate: a Kaleidescape Strato movie and content delivery system which offers all the family's favourite titles in 4K quality. A compact and comfortable bank of four Fortress Seating chairs are provided, to literally place the owners in the lap of luxury, and a choice of Vicoustic acoustic treatment panels are provided to further increase audio performance.
Dramatic lighting is particularly important in this cinema, and the Lutron QS system comes to life, making the cinema look and feel very special. The entire cinema is controlled via an RTI control system via a T4x Remote Control which automatically lowers the lights and brings all the AV equipment into play when it's movie time. However, the owners can also manually control everything in the cinema via the same system with an easy to use, intuitive interface.
This cinema also receives the benefits of clean surge free power delivered by the IsoTek power conditioning range and uses a Pulse-Eight video distribution system to provide stability and high-quality imaging.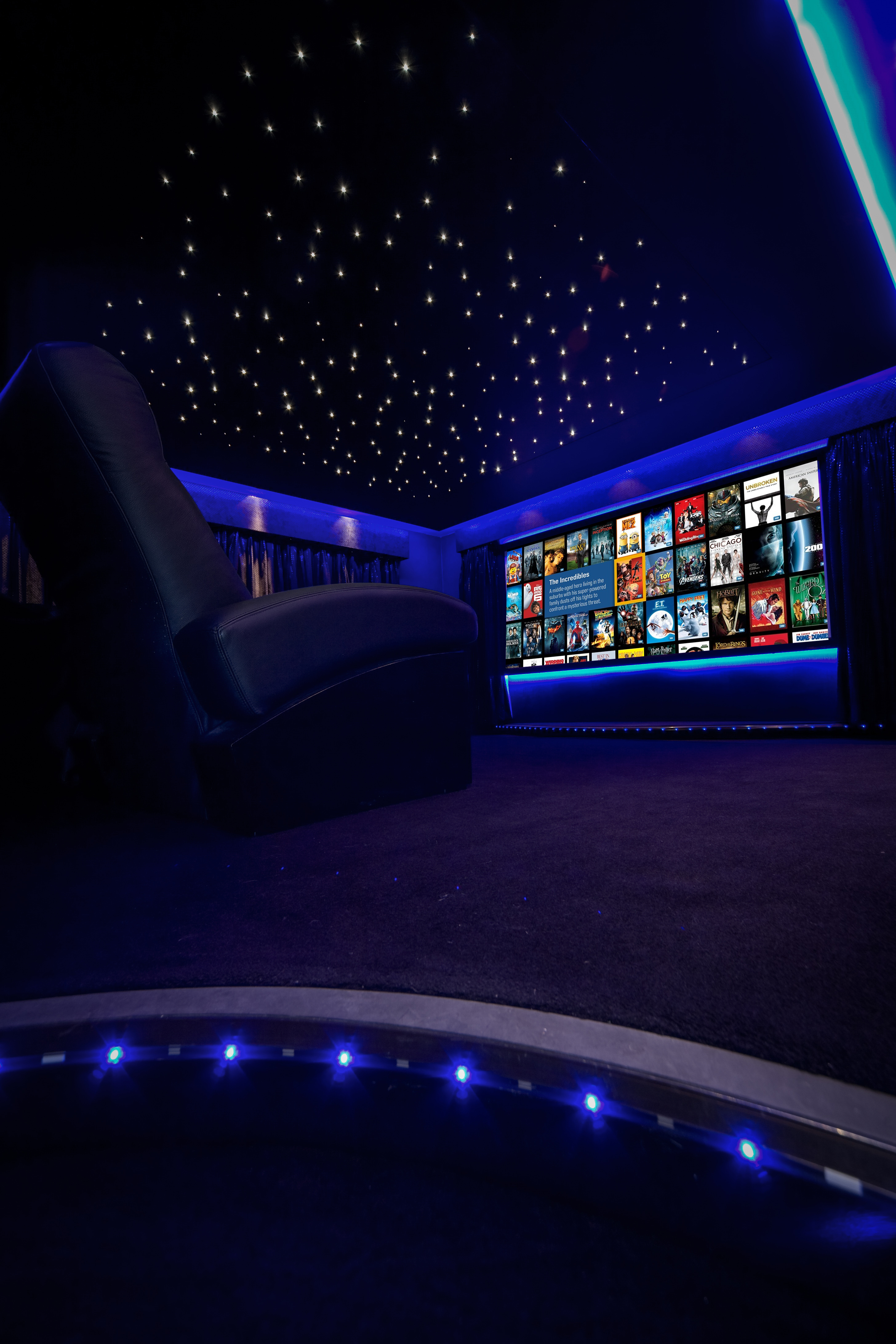 STARLIGHT CINEMA SUGGEST EQUIPMENT LIST:
High Quality Immersive Audio
Anthem - AVM60 Processor
Anthem - MCA325 (x2)
Anthem - MCA525
Paradigm - CI Elite E7 (x3)
Paradigm - CI Elite E3 (x4)
Paradigm - CI Elite E80-R (x4)
Paradigm - RVC12-SQ (x4)
Paradigm - X850 (x2)
IsoTek - Power Conditioning
World Class Projection & Screen Combination
Screen Research - XLR3 Acoustically Transparent Screen with Lateral Masking
Digital Projection - Atlas 1 4K Projector
Perfect mix of high performance and high luxury environment
Kaleidescape Strato
Fortress Seating Kensington (x4)
Lutron QS System
RTI Control System T4x Remote Control
Pulse-Eight Video distribution system
Vicoustic Acoustic treatment package