Taking Home Cinema To Different Levels
This three-tiered home cinema fits firmly within our new DécorCinema concept offering the very best performance mixed with stunning visuals all created in-house using Pulse Cinemas design and project execution support.
A dedicated cinema room that would offer exceptional sound quality, crystal-clear images, and ultimate comfort was the aim for this design. Always looking to exceed expectations, this DécorCinema combines some of the very best products and brands from the stable, plus all of our in-house interior design and planning expertise.
On the processing side, an Anthem AVM90 (8K Ready) processor can handle any type of content with aplomb, and further specialist amplification support is on-hand for specific parts of the system, also from Anthem. Created to work in concert with Anthem control and amplification, a collection of Paradigm fully integrated speakers grace this cinema with their power and precision. For imaging, a partnership between the mighty Sim2 Crystal 4 SH 4K laser projector and a Screen Research FDM-130, 1.78 DecorMask 130in screen was conceived for the ultimate in image clarity and ease of use. Control is delivered via the agile combination of an RTI XP-6s Control Processor and a T4x 2.4in colour touch screen remote.
As well as the ultimate in control, this home cinema also has comfort in abundance with no less that three tiers of luxury created by Fortress Seating.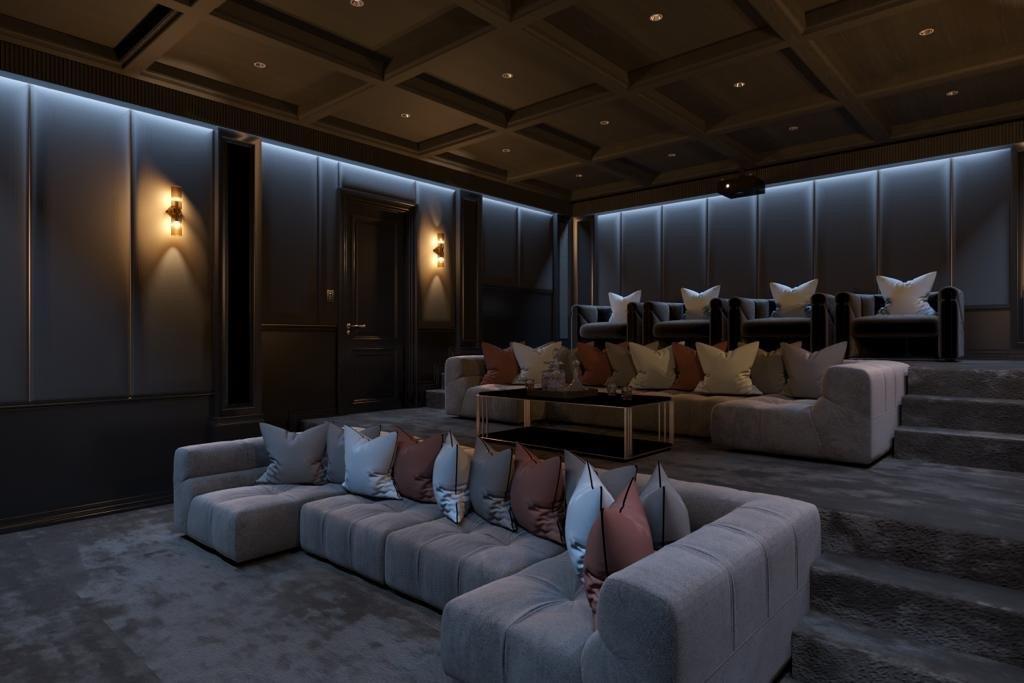 The seating is not just hugely comfortable, but also helps set the aesthetic tone in the cinema which uses subtle tones of blues and greys reflected on the walls and the acoustic treatment panels from Vicoustic, perfectly matching the elegant way this cinema delivers the ultimate immersive experience. Sensitive automated lighting from Lutron adds to the drama and this customer has chosen a beautiful work of art to cover the screen when not in use which naturally reflects the colour scheme in the room pulling the whole ensemble together.
If you want to learn more about the new way to create unforgettable experiences for customers, increase profitability with each project, ask our team about DécorCinema.
Equipment List
Processing: Anthem AVM90 AVM 90 (8K Ready)
Amplification: Anthem M1.PA12 Single channel (monaural) power amplifier, MCA 525 GEN 2 x 2, MCA 225 Gen 2
Speakers: Paradigm CI-ELITE-E7-LCR-V2 x 9, CI-ELITE-E80-R-V2 x 6, XR13 x 4.
Projector: Sim2 Crystal 4 SH 4K laser
Screen: Screen Research FDM-130, 1.78 Fixed Frame Decormask, 130in
Control/Automation: RTI XP-6S XP Based Central Processor,
T4x 2.4in colour touch screen remote control
Acoustic Treatment: Vicoustic MD55 panels
Lighting: Lutron HomeWorks