Canadian audio masters, Paradigm have announced the expansion of popular multi-purpose amplifier family with the introduction of the X-500.
Paradigm has just announced the addition of the X-500 Multi-Purpose Amplifier to its outstanding array of custom solutions. The Paradigm X-500 amplifier has been created to perfectly complement the brand's Home, Pro and Elite Series of in-wall and in-ceiling speakers, the DCS-208FR3 and DCS-208IW3 in-wall subwoofers, the Stylus, Rock Monitor, Garden Oasis and Essentials outdoor solutions. A true allrounder, installers can think of this product as their go-to 'Swiss army knife' amp for every occasion.
This versatile product is configurable as either a two-channel stereo (2 x 140-watts into 8 ohms) or as a bridged single-channel Mono amplifier (1 x 500-watts), the X-500's slim form-factor, input flexibility and user-selectable DSP pre-sets make this one of Paradigm's most versatile, affordable and flexible amplifier solutions to date.
Slim Form Factor
With a form factor of 1U high and a just a half-rack in width, the X-500 allows four high power channels in a single rack space. In addition, the X-500 includes both rack mount ears and traditional feet to support both types on installations for added flexibility. For units mounted side by side, an additional rack kit accessory (X500CB) can be purchased to accommodate this.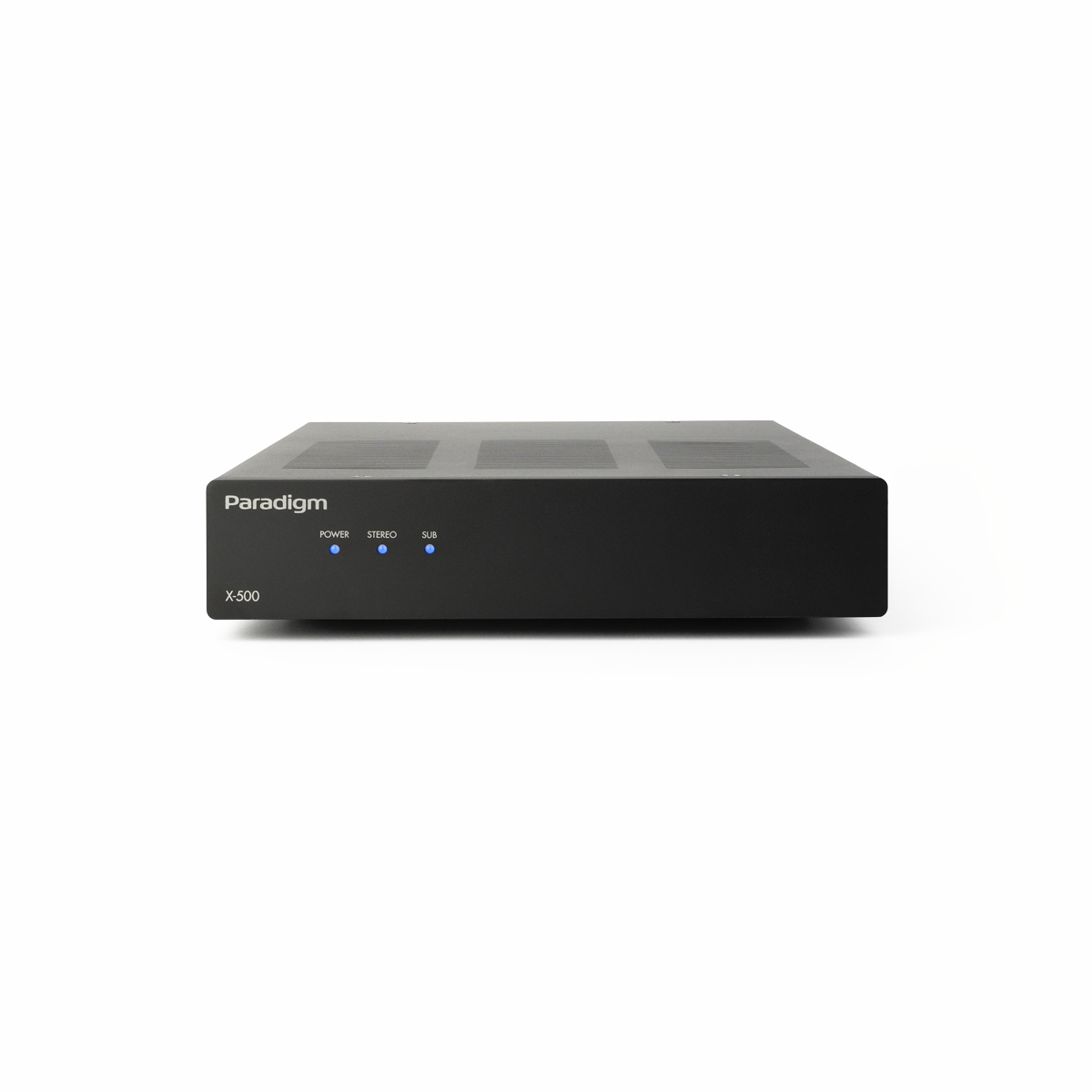 Input Flexibility
The Paradigm X-500 features a host of inputs, including stereo RCA and selectable digital coax or digital optical. This provides plenty of flexibility to connect the customer's favourite source as a stand-alone system or off a second zone output for distributed audio and even effects channel preamp output for object based systems. A dedicated Subwoofer (LFE) Input is also available, making it incredibly easy to power up to two of our custom subwoofers, the DCS208IW3 and DCS208FR3. A dedicated Subwoofer (LFE) Input is also available, making it incredibly easy to power up to two of our custom subwoofers, the DCS208IW3 and DCS208FR3.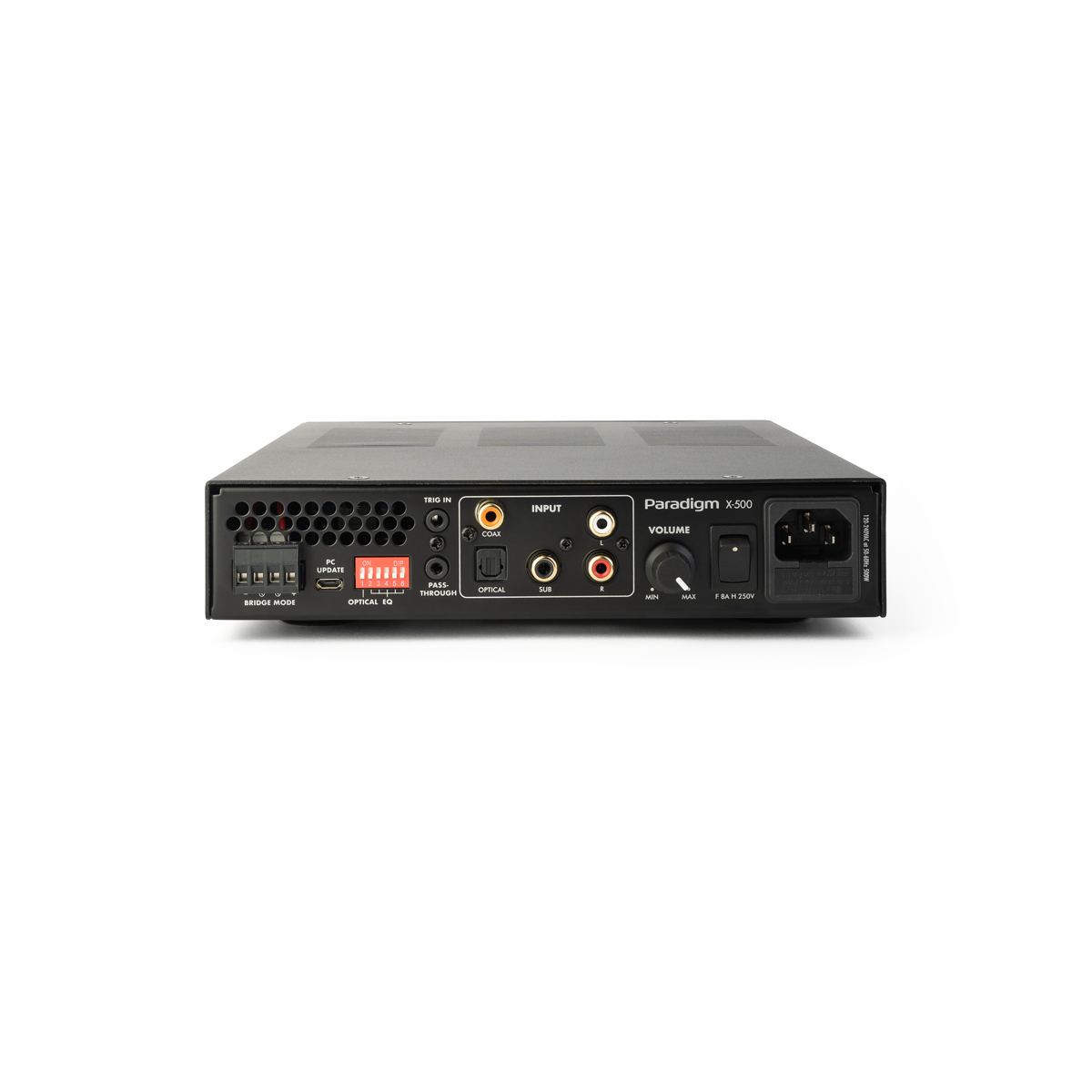 DSP Pre-sets
User-selectable DSP pre-sets unlock the true potential of all our custom installation subwoofers and outdoor products by ensuring optimal performance and operation conditions. Paradigm Defiance Custom Subwoofers have several DSP pre-set options available, allowing for different system configurations, multiple subs, and low pass filter options. Additional features include a 12-volt trigger (in and out), rear volume control, detachable power cord and phoenix style speaker connectors for up to 12-gauge wire for ease of installation.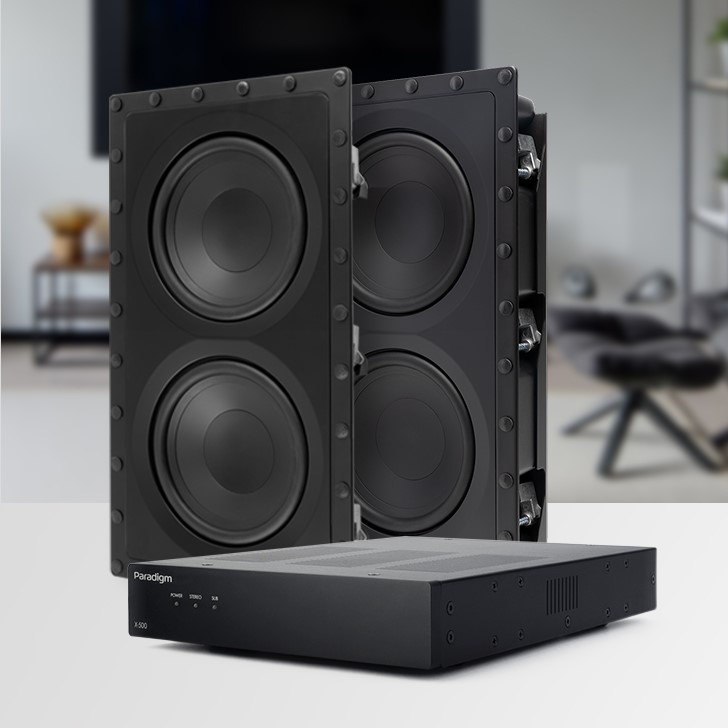 Additional abilities
Dynamic Fan-Cooling engages with zero intervention ensuring long-term performance reliability with minimal noise under the most demanding playback conditions.
Using multiple subwoofers provides more even bass coverage across the room so that every seat receives smoother and more consistent bass; this ensures there are no 'bad seats'. Another benefit of raising the potential maximum output level is it adds plenty of 'room to spare' in the system to allow for those dynamic movie explosions or dramatic musical passages.
Available soon!
Orders can be placed for this fantastic platform right now and shipping will begin at the end of September.
Corey Hall, Norther Sales Manager, Pulse Cinemas, says, "This is a really useful addition to the Paradigm family. For example, if you are using one of the MRX or AVM processors from sister brand Anthem, the X-500 is a very neat and affordable option for adding support for a second zone, or extra height channels in a home cinema or media room project. There are loads of scenarios where this clever little amp can get involved and deliver exactly what is needed and as systems grow more complex and the ambition of installers to truly deliver bespoke system expands, the X 500 stands ready to deliver."
Note that the existing X-300 and X-850 will still continue for the foreseeable future. For the RVC-12SQ subwoofer, the X-300 or X-850 should be the amplifier of choice. The X-300 or X-850 for use with one RVC and the X-850 when two RVC-12SQs are required. For the PCS-82SQ and PCS-80R, continue to use the X-300.
Get in touch if you require more information.
X-500 Technical Specifications
Design
Ultra-Class-D™ multi-purpose two-channel power amplifier
AMPLIFIER
Up to 500 Watts (when Bridged)
STANDBY POWER
< 0.05%
AMPLIFIER FREQUENCY RANGE
20Hz-20kHz +1/-3dB
INPUTS
Stereo RCA, Sub RCA, 12V Trigger, Digital Optical, Digital Coax, MIcro USB (Firmware Updates)
OUTPUT
12V Trigger Passthrough
INCLUDED ACCESSORIES
Power Cord, Rack Mount Ears, Hardware Pack
DIMENSIONS
(h x w x d) 2.2" × 8.5" × 12.5" (5.6cm × 21.6cm × 31.75cm) WEIGHT 7.22 lbs (3.27 kg)