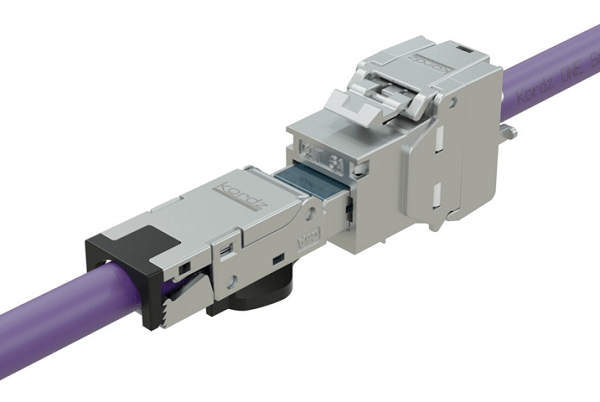 The newest addition to our brand line-up and part of this year's Pulse Cinemas ISE Tour, Kordz had lots to reveal at this year's returning ISE show.
Components Range
Kordz used the show to launch an end-to-end solution for Category Cabling with its new Components Range. The launch comes as use of networked devices increases year on year, and so does the requirement for AV integrators to deliver a reliable network infrastructure as the backbone for AV products. Networks, HDBaseT and PoE devices all require a Category Cabling infrastructure. The range includes a tool-less Kordz PRS Cat6A Keystone RJ45 Socket and a Field Termination Cat6A RJ45 Plug to give installers a full Kordz engineered ecosystem which delivers on the Kordz promise of 'Connectivity Assured'.
The Kordz PRS Keystone RJ45 Socket and Kordz PRS Field Termination RJ45 Plug are made with a robust shielded metal construction and engineered to work perfectly with Kordz ONE Series Cat6A F/UTP Cables. Kordz is also launching the PRO Keystone RJ45 Socket designed for use with the Cat6 UTP Cable for unshielded applications. In addition to the new components, Kordz has extended its range of accessories with the new Kordz PRO Hook and Loop Cable Tie to help installers manage cables in racks and installations.
"Communication over structured cabling has become the fourth utility in the home," said Kordz Managing Director, James Chen. "To access the full features and benefits of this technology, and to gain the maximum performance between hardware devices, consumers need reliable infrastructure. We have a proven track record of helping AV professionals to deliver on promises to their customers, so adding these components to our range strengthens our ability to deliver connectivity assurance for any device that communicates using CAT Cables. We now offer a full end-to-end solution that complements our unique and ever popular Kordz PRO Series Cat6 and Kordz PRS Series Cat6A patch cords."
The Kordz Components Range features the high-level quality and finish that AV professionals have come to expect from Kordz and it is manufactured using safe materials and advanced manufacturing methods.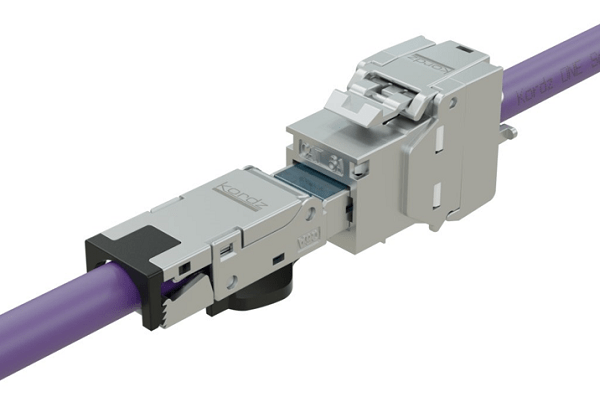 Stay active
Also revealed at the show, Professional Grade PRO3 Long Length Active HDMI Cables. Kordz launched range extensions to its professional grade PRO3 HDMI Passive Cable Range, with new PRO3 Long Length Active HDMI.
This ultra-reliable range of cables features 18Gbps 4K resolution performance support and uses Active HDMI technology whilst remaining easy to install. The product of decades of experience, and manufactured with a focus on usability, Kordz PRO3 HDMI Cables are suitable for professional grade installations requiring dependable high-quality signal distribution in HDR/3D/4K/UHD/High frame rates.
James Chen, commented, "The Kordz PRO3 HDMI Cable range delivers on our commitment to 'Connectivity Assured'. With this cable, we wanted to simplify one-time HDMI installations and provide a high-quality solution that delivers on both performance and affordability, without sacrifice to materials and quality. HDMI cabling is a vital component of AV installs, and we are committed to ensuring that every product delivers on the high standards that integrators and end users have come to expect from Kordz."
Integrators will appreciate the Kordz PRO3 Long Length Active HDMI Cable's 1kg retention connector, which makes cable installation a one-time job and helps prevent the cable from becoming stuck or dislodged, leading to costly and time-consuming reconnection work.
Additionally, integration is simplified, as the cable doesn't require the additional power an extender would. With reinforced internals, the product offers superior flexibility and pull strength.
Kordz PRO3 Long Length Active HDMI Cables feature a slim profile, with a high-quality shielded ABS connector shell measuring just 18mm wide and are available in a range of sizes to suit a variety of installations. The Active Copper cables are available in 7.5/10/12.5m while the Active Optical Cables are available in 10/15/20m. The Kordz PRO3 HDMI Cable's 18Gbps certification from DPL Laboratories ensures that the product delivers on its performance promise with each cable individually performance tested prior to packaging.
Kordz Launches 48Gbps PRS4 HDMI Cable
This introduction offers a robust, compact and easy to use professional grade choice to connect high performance commercial and residential AV. With the increased use of larger 8K displays and projectors, this Ultra High Speed certified PRS4 HDMI Cable range delivers a certified cabling solution that meets the demanding requirements of professional AV integrators. The new range of HDMI cables combines Kordz' signature reliability with the full features and benefits of the latest HDMI standards across the whole range. It also fully supports eARC for immersive audio.
Kordz PRS4 HDMI Cables address historical market issues caused by uncertified and unreliable HDMI products that claim - yet fail - to meet the exacting Ultra High-Speed HDMI Cable standards. Reliable 48Gbps capable HDMI cables are becoming one of the more frequently requested products by distributors and their customers. Kordz' advanced manufacturing processes have enabled greater product reliability without sacrificing performance in a cable product that delivers a stable video signal further.
"Achieving 48Gbps support up to 20m without external power is amazing," said James. "For immersive audio, it is now mandatory to fully support eARC in HDMI cables, so we have beefed everything up whilst maximising flexibility, robustness and using compact connectors that fit firmly. This is all consistent with our belief at Kordz that professional integrators should be able to work faster, while offering flexible solutions in a more effective product that's robust enough to stay in the wall for years."
The Kordz PRS4 HDMI Cable range features the high-level finish and quality that AV professionals have come to expect from Kordz. They are manufactured using safe materials and every cable is individually performance tested to ensure absolute confidence in the Kordz two-year guarantee for long length active optical cables and lifetime warranty for PRS4 passive cables.
Each Kordz PRS4 HDMI Cable is engineered and constructed to assure integrators of installation success and ease. Featuring precision engineered diecast perfect fit connectors and robust materials to ensure reliable connectivity. Kordz PRS4 HDMI Cables are available in installer friendly lengths of 0.5m, 1m, 1.5m, 2m, 3m, 4m, 5m, 10m, 15m and 20m, all supporting 4K HFR and 8K devices plus dynamic HDR.
Simon Gibbs, Pulse Cinemas Technical Sales Director, comments, "This range of new releases from Kordz just underlines why we were so keen to add this brand to our product family. Always looking to drive the highest standards and innovate, the brand truly understands what installers need to complete every type of job. Just get in touch if you have any questions on the range and the applications available."