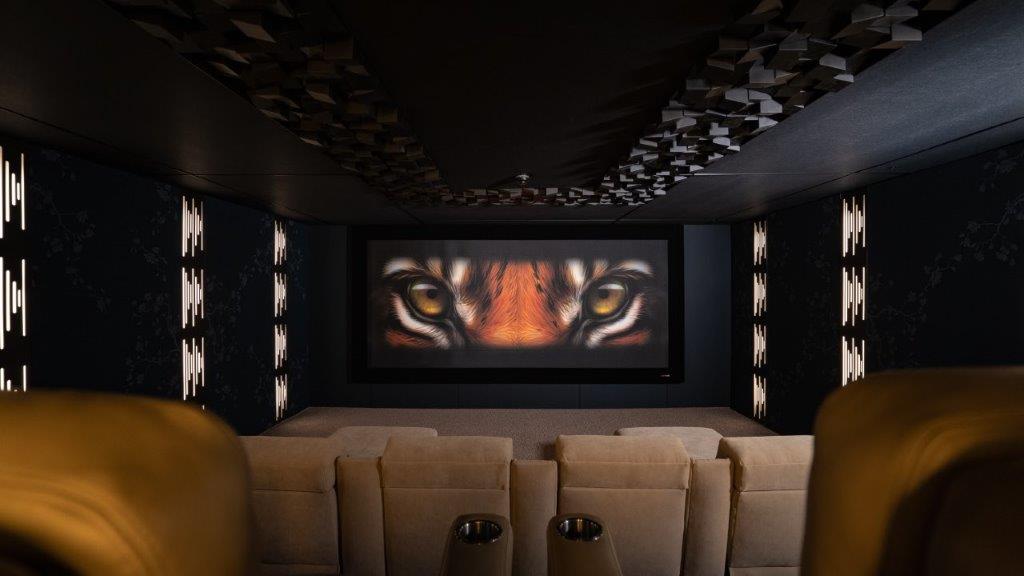 Working in partnership with the experts at Vicoustic, Pulse Cinemas has created an entirely new way to approach high-performance home cinema when building our new Reference Cinema. Book now and witness it for yourself. Simon Schino, Director of Sales and Marketing explains.
Still using fabric wrap to hide speakers and 'finish off' your home cinema rooms? Then you need to come and see how our Reference Cinema demonstration space has been created.
For too long installers, interior designers and end users have had to settle for a fabric wrap finish to their home cinemas to create a tidy look and make the project feel 'finished'. For a time, this may have been acceptable, but like all new innovations, once you get a taste of the future, you never want to go back, and you see clearly how compromised the old ways of doing things were.
The fabric wrap approach was 'ok', it hid a multitude of aesthetic issues including 'ugly' acoustic treatments and surround sound speakers, but what if you could build a cinema genuinely wedded to the principles of form meeting function and not have to compromise on performance or looks at all? What if we could treat the space so the audio is tuned to perfection but use those same treatment panels to provide a canvas onto which any interior design vision for the space could be realised.
This is what you get with Vicoustic, the best treatment of the audio, but also a product that delivers a myriad of possibilities from a design and aesthetic point of view. In the Reference Cinema our in-house interior design team have gone with a classic, timeless floral design, but the construction process from Vicoustic is so flexible that you can make any vision a reality. The company has experts designing its products and systems so installers do not need to learn all the extremely complex issues that arise when dealing with acoustics. Simply work with us and the team at Vicoustic and we can together create a scheme that is designed specifically for your space.
Other Vicoustic presence in the room is represented by the audio diffusers which frame the room's walls at regular intervals. Again, form meets function here as these panels provide a home to the Lutron lighting that delivers the usual practical and aesthetic advantages of this world leading lighting system. These diffusers also serve to hide the Alcons Audio surround sound drivers positioned exactly where they need to be to deliver maximum audio performance. The Vicoustic arrangements here are exquisitely precise.
Moving onto the ceiling and Vicoustic is again in action with a beautifully sculptural diffuser adorning the space. This obviously has a performance function, but if you did not know this, you would simply believe a beautiful sculpture had been fitted to the ceiling to add drama and a stunning contemporary feel to the room.
Just a note here on acoustic treatment in general. Vicoustic has experience creating audio solutions for just about any type of space. This means that beautiful Vicoustic creations can be present in media room installations, but also dining rooms and home offices, in fact any area where audio needs to be controlled to create a more pleasant relaxing space or a more engaging workspace. They have done the maths, so you don't have to. Consider acoustic treatment for every space in your customer's home not just where there is AV.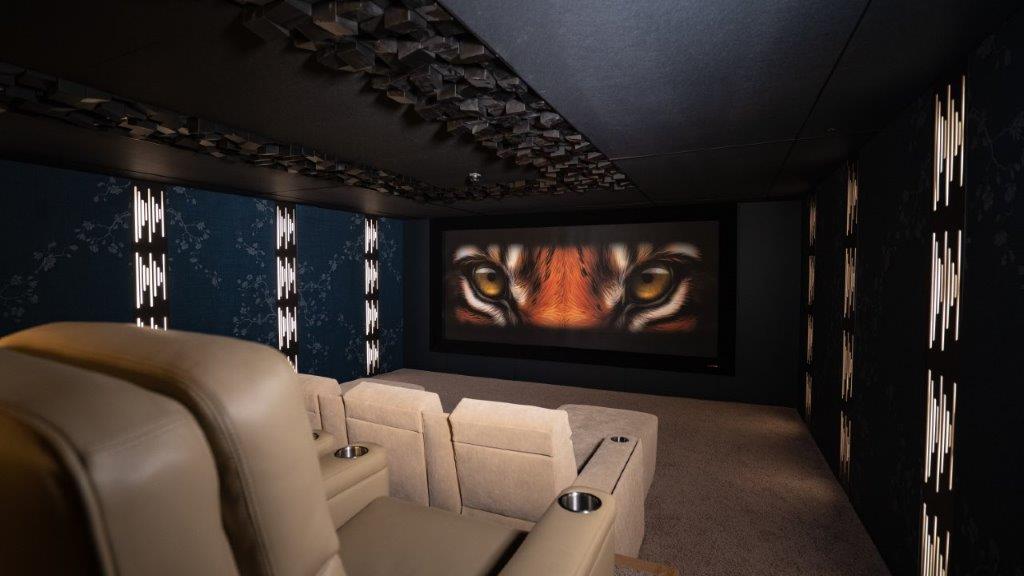 The AV Elements
The rest of the equipment in our Reference Cinema reads like a who's, who of the best of the best in the home cinema world. Our expert team has spent months getting this space exactly right and have married all of the hardware together, so it sings like no other space in the UK, maybe even the whole of Europe.
The Alcons Audio CRMS-Series is a huge part of this. This company is the first to truly translate world-class commercial cinema performance into the home. The brand with its intelligent amplifiers and world-class speakers, bristles with technology to make any space a jaw-dropping experience. There is a musical and organic quality to the audio in this cinema that is very hard to beat. Yes, you can get systems that move air and are precise, but are they musical? Do they go beyond reference performance to deliver character? This system does and we can help you recreate it.
This cinema also boasts the Sim2 Dual Stack Nero 4S which combines two projectors to deliver the true potential of 21st century imaging including harvesting the very best that HDR has to offer. We are delighted to announce that the system also includes a Trinnov Altitude 32 Processor. The Trinnov here is lovingly partnering with the Alcons Audio, a very strong combination, promoting the most expansive, precise and ambitious audio set up available for the space.
Kaleidescape is also included providing the content and a Décor Mask Screen Research installation shows how even at rest the cinema can add to the aesthetics of a home. Controlling the whole space is RTI, placing the power of this wonderful amalgamation of home cinema expertise into the palm of your hand.
Special mention also has to go to the Fortress Seating in this space. Using the West End model as a base, various iterations have been created to show the comfort and versatility of this world-leading brand.
Ultimately, what our new Reference Cinema represents is a goodbye to compromise and a welcome hello to truly holistic home cinema creation that provides freedom of expression for everyone involved. Book now to witness this new evolution of the home cinema concept.