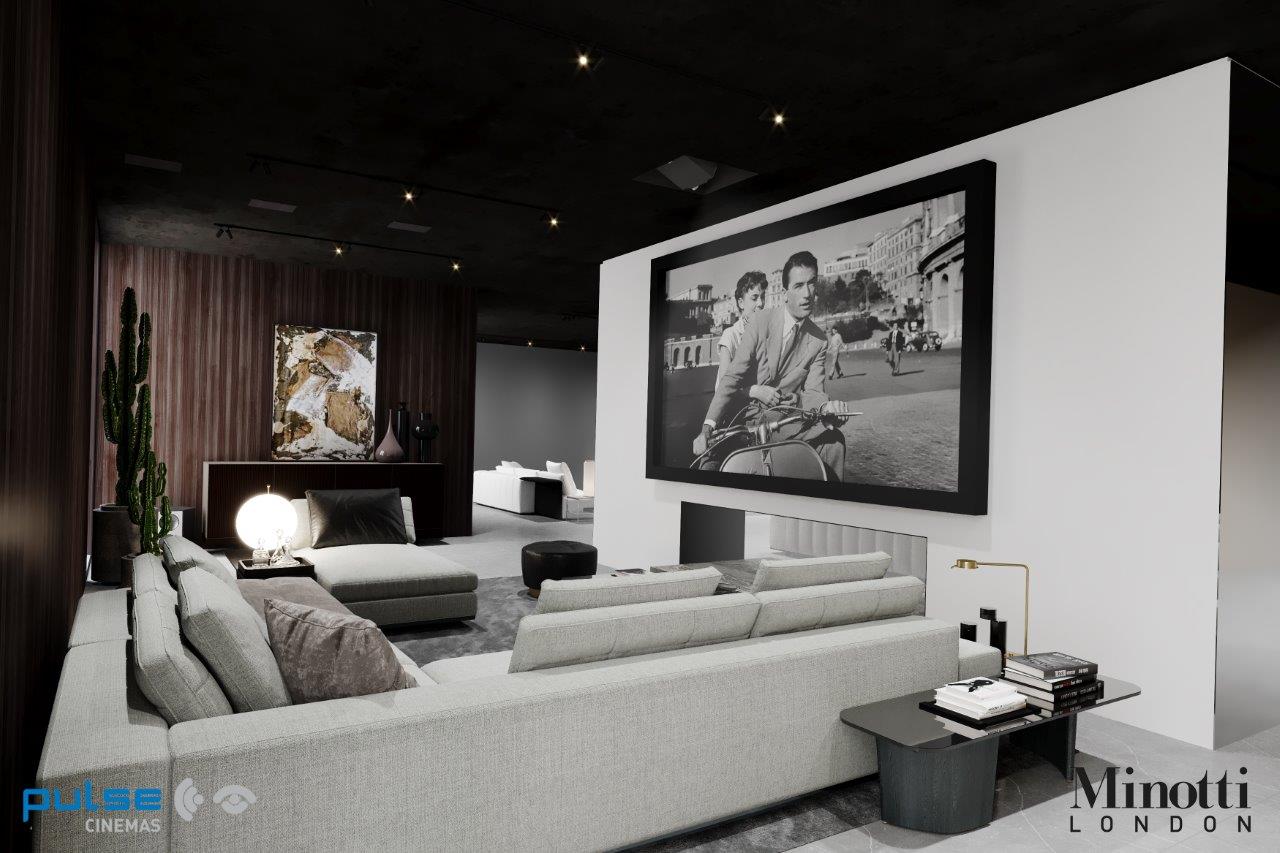 Our news section recently introduced a great new partnership with Minotti London and Exclusively Connect, a group of like-minded companies that Pulse Cinemas has been involved with since its inception nearly a decade ago. What's unique about Exclusively Connect is that all the companies involved are committed to delivering the very best experience and products within their given field and work together to help promote and expand the reach of each other's brands.
Minotti, an Italian furniture company with a base in central London, produce beautiful furniture that is the perfect expression of what 'made in Italy' really means. Offering high-quality furniture to match a 'classic-modern' aesthetic for residential or hospitality spaces, Minotti's flare and knowhow make them a wonderful partner for Pulse Cinemas.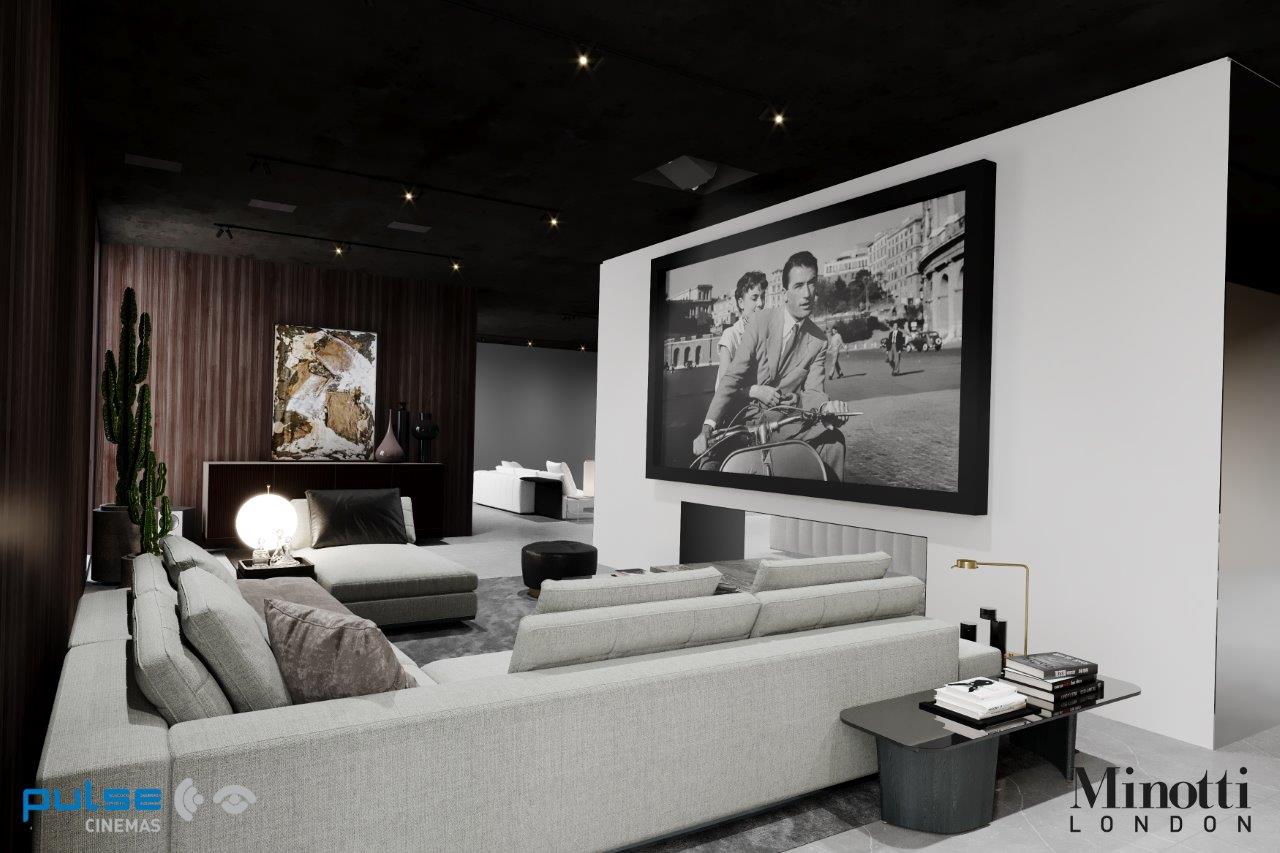 With one room set already installed for a special event at Minotti London, the brand's home in the capital, the Pulse Cinemas team have set about creating a more permanent display woven into the very fabric of the showroom, so visitors will experience first hand how technology and stylish living really are the best of bed fellows. The installation will act as a great opportunity to introduce the uninitiated to how pleasing a properly fitted AV system can be, but will also deliver a fantastic space for dealers to take clients and show them first hand what is possible and inspire them to want a similar experience in their own homes.
The plans are now well underway with high-quality renders showing how the space will look when completed, (we can create exactly these same images and plans for your projects too, just ask about the service). The kit list has also now been finalised.
Pulling on the world-class brands that Pulse Cinemas offers, we will be able to deliver a fantastic experience mixing a Screen Research screen complete with its Décor Masking technology so not only is the brand able to deliver stunning images when being used, but also when it is not via art work of the customer's choice.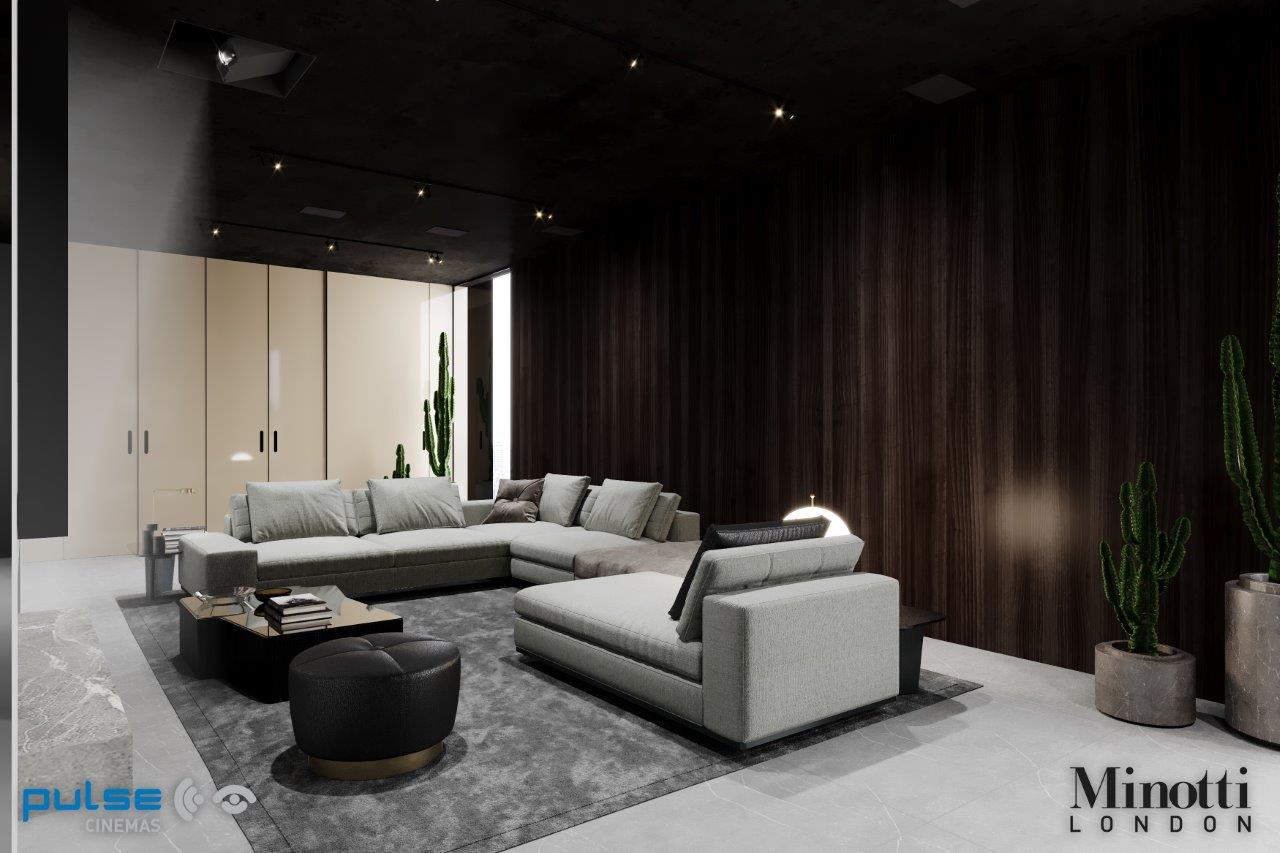 A cunningly installed short-throw XTV projector from Sim2 will help keep the installation extremely discrete, but fully ready for today's 4K content. A full array of Paradigm speakers and Anthem processing and amplification will deliver the full Dolby Atmos experience the space needs and bring the whole experience together, RTI will be serving up intuitive control to all who visit.
Once completed later this year, the whole Pulse Cinemas team is looking forward to welcoming dealers and customers to this fantastic space. It really will be the perfect opportunity to underline how technology can be just another part of any stylish home; a desirable proposition, in-tune with customer's tastes and priorities.
Kit List
Screen Research FDM-140-178-UWB
Sim2 XTV 4k (in-ceiling)
Paradigm Elite C5 LCR
Paradigm Elite E80-A (Surrounds and Backs)
Paradigm Elite E80-A Atmos
Paradigm Persona Sub
Anthem AVM60 Processor
Anthem MCA 525 & MCA325 Amplifiers
RTI – XP6 Control Processor
RTI -T4X Handheld remote
RTI KA8 8in Wall-Mounted Controller
Kaleidescape content delivery system