Fully-Loaded Modern Basement Cinema
Fully-Loaded Modern Basement Cinema
This classic dedicated home cinema calls on many Pulse Cinemas ingredients and the skills of our install partners, to deliver a true purpose-built cinema that takes performance and comfort to the max.
Having a dedicated cinema space is many people's ideal scenario, often using an unloved or underused space to realise their home cinema dreams. One of the most popular areas where this can be achieved is in a basement space where the lack of ambient light and dislocation from the rest of the house, often gives our dealer partners the perfect pallet on which to work their magic.
This modern basement cinema is the perfect example of what can be achieved when this type of opportunity presents itself, with every art at the skilled cinema installers' disposal included in this statement dedicated cinema.
Anthem is one of the high-quality brands that Pulse Cinemas makes available to power and control a cinema of this type, making a true immersive cinema possible by partnering with another of our high-quality brands, Paradigm speakers, in a full Dolby Atmos surround sound set up. To ensure that the performance is absolutely top notch, this cinema also employs products from IsoTek, a UK maker which specialists in cleaning the power before it ever reaches the components, giving a solid base from which to work as well as protecting the components, should there be a power spike.
Creating the world class images to go with the audio in this cinema is a partnership between a Screen Research - XLR3 Lateral Masking Screen and a SIM2 - Nero 4S projector. The intelligent masking screen adjusts to which ever picture format is optimal for the content being watched, so whether it's movies or sport, the image is always the perfect size for maximum enjoyment. The SIM2 projector fills the screen with vibrant beautiful and lifelike images, delivering all of the latest image enhancing technologies such as 4K and HDR.
For content, the cinema can call on the world's best entertainment delivery system in a Kaleidescape – Strato, which offers access to a whole world of stored and on-line content that covers every type and mood imaginable.
Adding practical and aesthetic appeal, a Lutron QS intelligent lighting system shows people to their seats and adds drama to the space, from the spectacular star ceiling to the walls and accent lighting at ground level. A series of acoustic panels from Vicoustic pulls the whole room together, focusing the audio and taking this audio visual experience to the next level.
The addition of 2 rows of Fortress Seating ensures that first class comfort is guaranteed, whether the visit is a few minutes or a few hours.
The room also has in place power conditioning and cleaning courtesy of IsoTek power conditioning products and also enjoys the support of a Pulse-Eight video distribution system.
Finally, an RTI Control system with 10 inch touch panel KX3 with T2x remote control makes controlling the cinema and enjoying every aspect of it a walk in the park.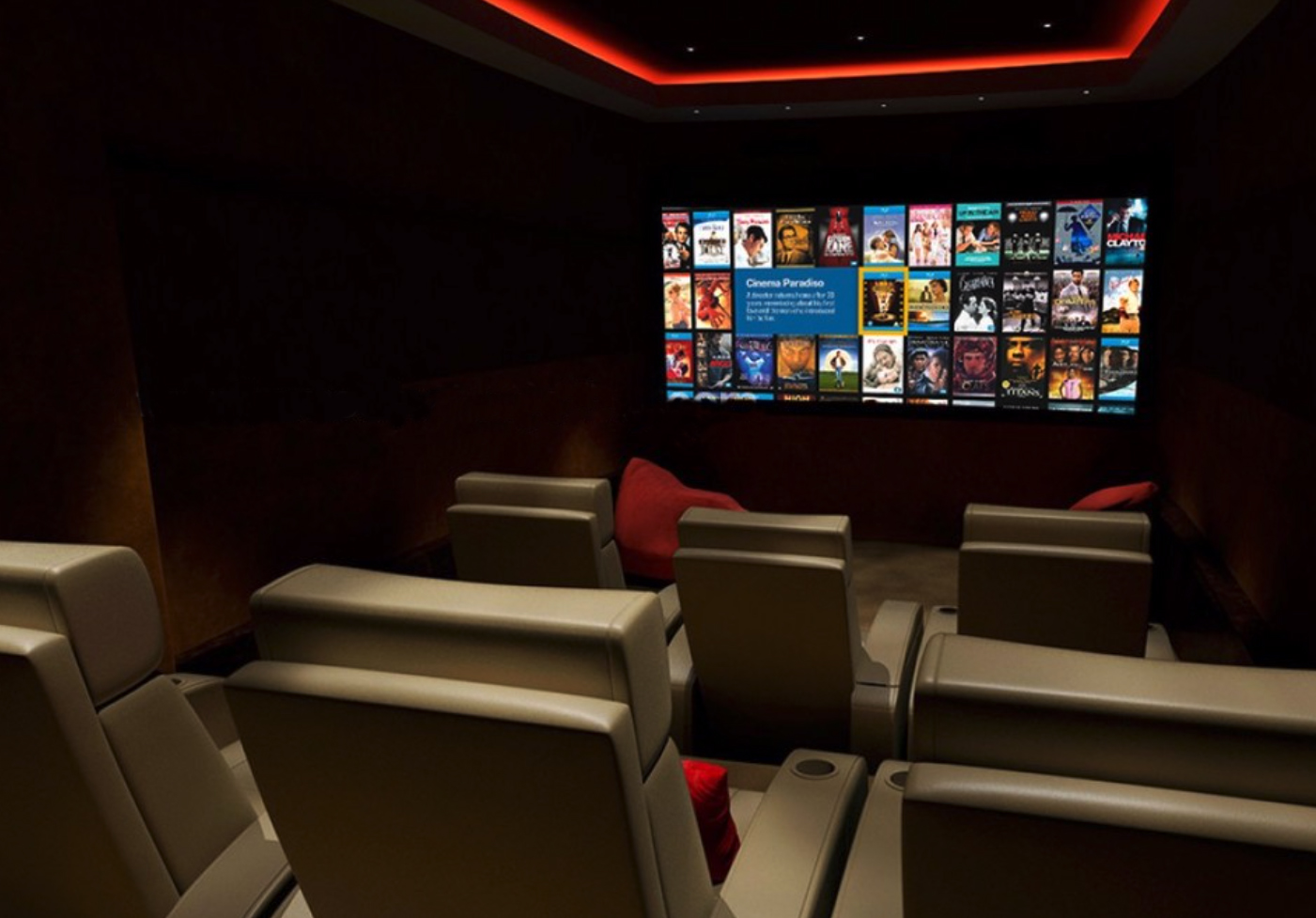 Suggested Equipment List: Fully Loaded Modern Basement Home Cinema
Speakers - LCR -

Paradigm - CI Elite E7, Surounds -

Paradigm - CI Elite E3, Atmos - CI Elite E80-R
Subwoofers -

Paradigm - Defiance X15

Processor - Anthem AVM70
Amplification - Anthem MCA 525 5
Power Conditioning - IsoTek - Power conditioning
Screen - Screen Research XLR3 Lateral Masking Screen
Projector - SIM2 - Nero 4S
Movie Playback - Kaleidescape Strato
Seating - Fortress Seating Valenti (x6)
Lighting/Blinds - Lutron QS System
Control System - RTI Control system with 10 inch touch panel KX3 with T2x Remote Control
Video Distribution - Pulse-Eight Video distribution system
Acoustic Treatment - Vicoustic Acoustic treatment package
COMPLETE COST OF KIT USED IN THIS PROJECT: £153,304.87