Gibson Integration Home Cinema Bliss
Gibson Integration has created a cinema that combines many Pulse Cinemas ingredients to deliver cinematic bliss!
Gibson Integration was formed in 2011 and is led by company Owners and Directors Colin Scrivener and Kevin Dawkins, who between them have a combined industry knowledge of 48 years.
The company is a specialist in Home Automation, Systems Integration and Home Cinema.
For this particular project, Colin explains, "We were recommended to our clients by an M&E Consultant that we had worked with on a previous project which had included a large cinema we had designed and installed. We arranged for our new clients to visit the recently completed cinema at the previous project for a demonstration, after which we were instructed to design and install a cinema for them."
The original brief was reasonably straightforward. Our clients had requested that the cinema should seat nine, sound great and look amazing. Working alongside the client's building contractor, we set to work designing the layout of the cinema - Colin Scrivener, Director, Gibson Integration
"We produced a full suite of working drawings detailing tiered floor design, screen wall construction details, panelled wall layout including acoustic room treatments, ceiling and wall lighting design and audio-visual wiring requirement. During the construction of the cinema room, we arranged to meet with the client's chosen interior designer, along with our client, to discuss colour scheme, acoustic fabrics and floor covering."
In order to produce the performance the customer desired, the install team needed to carefully choose the right products and build the home cinema exactly to industry standards.
Colin says, "As mentioned previously, our clients had requested that the cinema should sound great and look amazing. Having installed Paradigm speakers on a number of previous projects, including the cinema that we had recently demonstrated to our client, we naturally followed suit and employed a 7.1 all Paradigm configuration. The left, centre and right channels consisting of three Paradigm Ci Pro P3-LCR, along with a Paradigm RVC-12SQ subwoofer, were mounted in the screen wall behind the acoustically transparent Screen Research screen.
"Four Paradigm Ci Pro 80 speakers providing the side and back channels were flush mounted into the ceiling. We selected an Anthem 720 MRX AV receiver/amplifier to comfortably drive all seven speaker channels and installed a Paradigm X-850 amp for the subwoofer."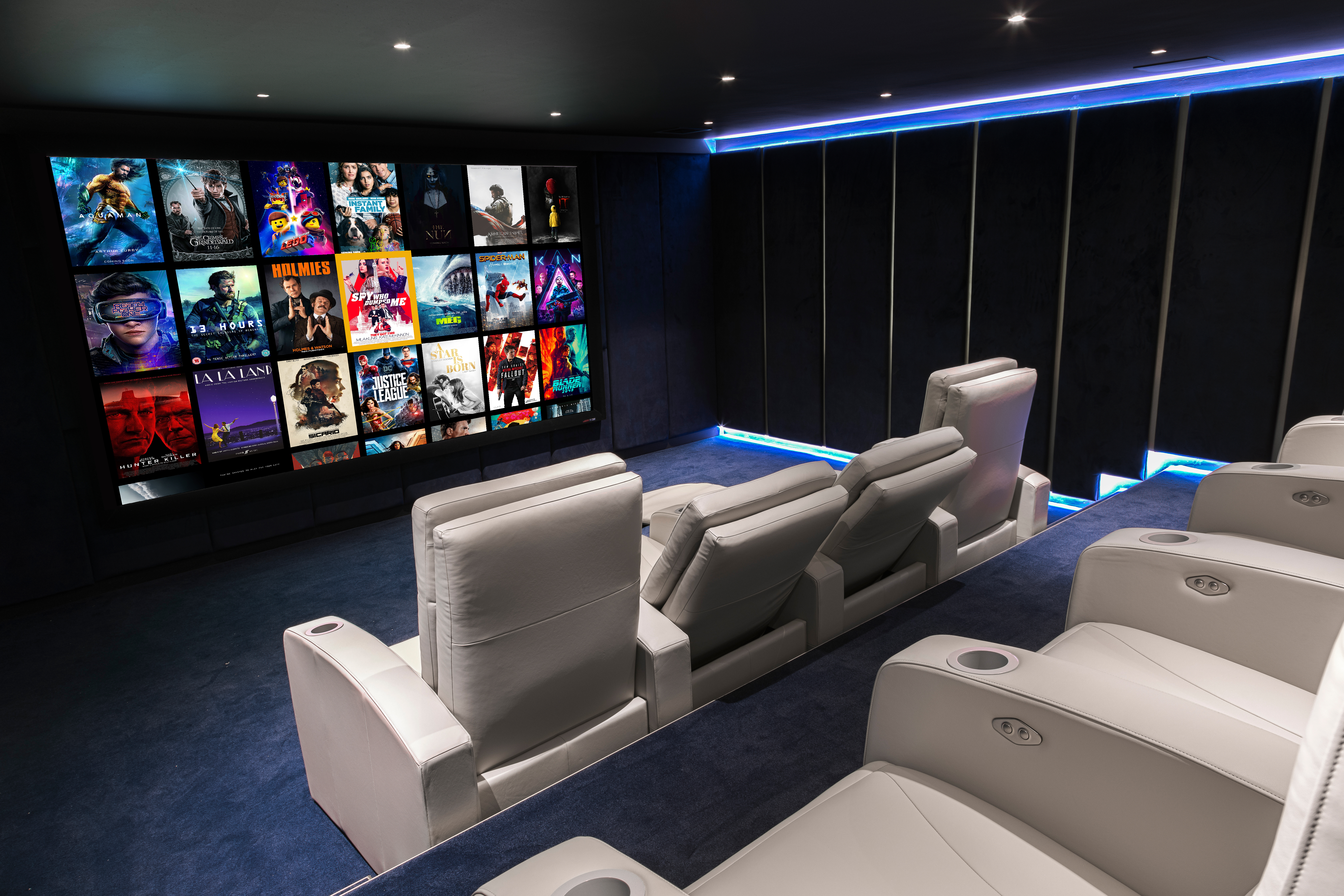 Colin adds, "Having been present in several demonstrations at Pulse Cinemas, we decided on a BenQ 4K HDR lamp projector. We mounted the projector on the ceiling at the rear of the cinema and set to work on carrying out the relevant adjustments to calibrate the projector to produce an image onto the 120in wide 1:78:1 (16/9) Screen Research screen. Although this was our first outing with a BenQ product, we were incredibly impressed with the clarity of the picture and colour range produced by this single chip unit.
"We selected Crestron as our control interface due to the fact that we had used Crestron throughout the rest of the house to provide integrated control of all systems. Crestron lighting control was employed in the cinema to create a number of lighting scenes which were selectable via the Crestron TSR310 handset and in wall keypad."
Creating seriously high performance home cinemas usually delivers at least some technical challenges that need to be overcome of course.
Colin explains, "The cinema room was located in a recently constructed basement and ceiling height within the room had been set. The ceiling height presented our Technical Systems Specialist Kit Radmore with the challenge of ensuring that all nine seating positions in the room had a clear view of the entire screen.
"Screen height, screen size, tiered floor level and head clearance were carefully calculated to the last millimetre. We even went to the lengths of instructing the custom seat manufacturer to increase the seat pan height of the rear row of five seats by 80mm in order to successfully complete the complex equation. Our efforts were duly rewarded as final testing confirmed a clear view for all!
So now it's up and running, is there a favourite feature of the home cinema from the customer's point of view?
Colin says, "It's difficult to single out our favourite part of the Cinema, due to the fact that in this particular case one component perfectly complements the next, however if you ask me what my client's favourite part of the cinema is, I can confidently tell you that they are thrilled with the clarity of the image and the dramatic sound quality; they have commented that they have already spent many an hour lost in cinematic bliss.
As well as designing world class cinemas Gibson Integration delivers a full range of other AV and integration services including; Design Consultancy, Cinema Design & Installation, (including Turnkey Room Solutions, Lighting Control (Lutron/Crestron), Climate Control, Multi Room Audio, External Audio, HDMI Distribution (4K), Data Distribution, Wi-Fi, Telephony, CCTV, Video Door Entry/Access Control, Window Treatments (Blinds & Curtains) Supply, Installation & Control, Security, Fire Detection and full Aftercare packages.
Suggested Equipment List
BenQ PCW 50KH Single Chip DLP HDR Projector
Future Automation PM-UNI Projector Mount
Screen Research FS3-120-1.78-4WB
Anthem MRX 720 AV Receiver
Paradigm Ci Pro P3-LCR (Front Left, Centre & Right Channels)
Paradigm Ci Pro 80 (Surround Left & Right Channels & Back Channels)
Paradigm RVC-12SQ Subwoofer
Paradigm X-850 Sub Amp
Kaleidescape - Strato 6tb