High Quality High Rise Home Cinema
The wide range of high-performance products that Pulse Cinemas has on offer means we can create a suitable home cinema system for almost any environment including this high-rise apartment multi-use living space.
Having a dedicated home cinema space is one way to make a customer's home cinema expectations come true, but what if they want a system that exists within their normal living space, that not only offers the performance they want, but matches the aesthetics of their home too? That was the challenge when creating this stylish looking system for this on-trend apartment, met ably by a selection of products from the Pulse Cinemas portfolio.
The construction of the apartment, size of space available and high-ambient light conditions meant a large screen TV was chosen as the best viewing approach for this particular space. Delivering content to the screen is a Kaleidescape Strato 6TB system that offers the famous Kaleidescape UI, the most intuitive and beautiful way to search for content in the business. The Kaleidescape has for a long time been the best delivery system for high-performance home cinema with 4K/HDR at up to 100 Mbps and 60 frames per second, without any start-up delay. Unlike streaming services, each movie is downloaded and stored on its internal hard drive for the highest quality playback. The Strato will also play downloaded Blu-ray and DVD quality movies in 4K using advanced upscaling algorithms. What is more, the best just got better as users can now not just buy movies but rent them too with the Strato system. Enjoying content is not much fun without audio and this system benefits from some serious speaker solutions hewn from the rock face of the Paradigm Persona Series. The company's flagship speaker, Persona showcases Paradigm's most advanced technologies as well as a huge choice of personalisation options to ensure the aesthetics of the speakers deliver just as much to the project as the audio itself does.
One of the secrets to the success of the Persona is the use of Beryllium; a material that has extreme abilities in the creation of the best diaphragm material. Specially formulated to be exponentially stiffer and significantly lighter than other premium diaphragm materials, Persona benefits from superior transient response, virtually transparent performance and very low coloration. Even in its most basic form, the Persona is already a beautiful object, however, add in the Persona Custom service, where the speaker can be created to match the colour scheme of any interior, and a whole new level of aesthetic value is reached. Customers will enjoy the speakers, even whilst they are at rest. There are 18 cabinet colours, two different selections for the metal work and three fabric choices for the grille covers, which can be offered in any combination, ensuring every customer's personality can be reflected in their audio system.
Delivering power and precision into this system is the brand spanking new MRX 540 receiver from Anthem. We recently received our first completely sold-out shipments of these products, but there are more on the way, so speak to us if you need to order. Building on the feature set of previous models, the MRX 540 offers the very latest version of ARC Genesis Room correction, a handy feature for this space with plenty of hard surfaces to deal with. Also featured is a new Anthem Web User Interface, integrated streaming and a new electronics platform, up to 15.2 channels and up to 140W per channel. Ultra HD signals are passed through unaltered up to 18.2 Gbps with Dolby Vision, HDR and Hybrid Log-Gamma support all included. There is also a new networking platform with web-based setup and over-the-air updates and a reinvented modernized design with high-resolution front panel display, meaning the product can be rack mounted or shown off to great effect.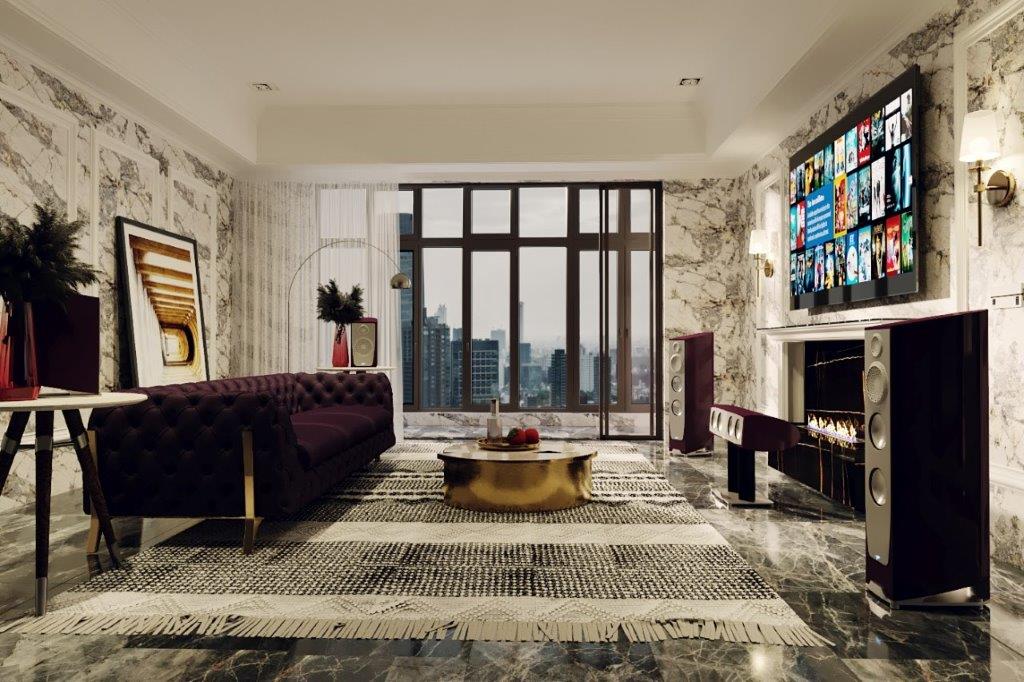 Light fantastic
Even if this stylish room did not boast a high-performance home cinema, it would need an intelligent lighting scheme to manage different times of day, moods or special occasions. Luckily the space enjoys a fully programmed and intelligent Lutron Homeworks QS system ready to match any needs the room has for managing mood or different use case scenarios. Lutron has recently updated its offering here to include new processor options and fresh wall controllers, find out more right here. Further precise control of the space is offered by the RTI automation platform woven into the fabric of the system which can trigger complex macros automatically to bring the system and the room to life ready for movie night, but also provides any user ease of access to all the system's functions for real time fine tuning and playback control. Completing this room is a full Vicoustic VMT acoustic treatment package which helps control the audio in this challenging space, but also adds to the style of the room. This home cinema set up is proof positive that no matter where a dwelling is located or the layout and style of its interior, a successful home cinema is just a call away.
Equipment List
Speakers: 2x Persona 9H, 1x Persona C, 2x Persona B
Amplification/Processing: Anthem MRX540
Video Source: Kaleidescape Strato 6TB
Lighting: Lutron Homeworks QS
Automation/Control: RTI
Acoustic Treatment: Vicoustic VMT