Showroom Showcase Delivered By Cinema@Home
Using the extensive product portfolio and support offered by Pulse Cinemas, Cinema@Home has created this stunning new showroom designed to deliver the wow factor to all who enter.
Cinema@Home is based in Market Harborough, Leicestershire and specialises in feature home cinema rooms. Although Cinema@Home is a relatively new business, this husband-and-wife team of Ben and Thanya Hobbs already have extensive experience having run a home cinema and smart home company in Phuket, Thailand for 17 years building cinemas, audio and lighting systems into luxury villas and properties throughout Thailand and SE Asia.
Ben and Thanya moved back to the UK in February 2020 to open a company specialising in home cinema - just as the Covid pandemic got serious. All the plans for the new business had to be put on hold. However, as things started opening again - the hunt was on for premises and an old barn in the middle of Market Harborough was identified which looked ideal. Unbeknown at the time the lease was taken out, the property turned out to have an eerily compelling and complimentary history.
The barn was part of an old cinema complex almost exactly a century ago and the name 'The Oriental Cinema' designed in an Oriental style, with dragons & scrolls, and painted panels in the auditorium depicting palm trees and oasis scenes, was a wonderful piece of history and synchronicity for the building's new lease of life.
Company MD, Ben, explains, "The original plan was to build a demo room/workshop in the open area of the barn. However, it was cold, damp and too large and irregular to be able to control the sound as we wanted. We needed to be able to demonstrate the cinema at reference levels, during the day, without upsetting the neighbours, so it made sense to build something completely from scratch that would make this possible."
Luckily, Ben's brother Chris, also works in this family business and is an expert carpenter, so the team got to work and created their plans for constructing a 'building within a building' to deliver the demonstration space needed.
Ben adds, "Conceptual plans were drawn up showing what we wanted to accomplish, we knew we wanted a star-filled ceiling, an office area, big solid double doors and the space needed to be isolated and soundproofed as much as possible."
The early planning went hand in hand with a blossoming relationship with the Pulse Cinemas team. Sales Manager, Simon Schino explains, "Following an on-line meeting Ben visited Pulse Cinemas HQ and took the full tour of our demo premises. Ben made it clear he wanted to create a very special demonstration space and we were able to build up a picture of exactly what was needed product wise once we established the performance objectives Cinema@Home wanted to reach."

Creating a room within a room
Starting from the ground up - 6x2 boards were used to frame out the 8mx4m floor, with a gap of 40cm between joists. Noggins were spaced every metre to give the floor rigidity.
Ben explains, "We needed to make sure the floor was completely flat. Laser measurements were taken across the floor and piers were put in every metre. The floor has over 240 piers holding it up ensuring it is flat and even. Rockwool was placed between the floor joists to trap sound waves and deaden vibrations. The rockwool also helps insulate the room from the cold concrete floor. A bitumen layer was also laid between the joists and floorboards to help decouple them."
The walls studs are 4x2 timber and framed with OSB or MDF, which are of different in thickness each side, to help tame resonance. The walls were built in sections and then lifted into place and lined with rockwool. The ceiling joists are 8x2 timber. Each piece of timber for the entire build was screwed instead of nailed wherever possible – Chris being very aware of how nails can potentially squeak and creek.
Acoustics & Interior
Vicoustic acoustic treatment has been used throughout the interior as well as rockwool based mounted acoustic panels in grey and white for the adjoining office. To limit sound coming in as well as out of the cinema room, acoustic seals were fitted to the door and Koldlok grommets were used for the cable entry points.
Ben adds some detail, "The acoustic seals for the door included Batwings, an L shaped seal that is attached to the surface of the door frame. The edge of the door meets the seal upon closure so that gaps around the door are minimised and sound is kept out and in. This also helps give the cinema room a low ambient noise level. It's easier to hear what's happening in films and the speakers don't need to be pushed to their limits."
A CinemaBuild Systems Fabric tracking system was utilised to mount a black velvet surround to the screen and front stage whilst the same tracking system mounts acoustically transparent fabric walls either side of the cinema. A plush, charcoal colour, flecked carpet was laid throughout and kicked up one foot around the edges of the cinema room.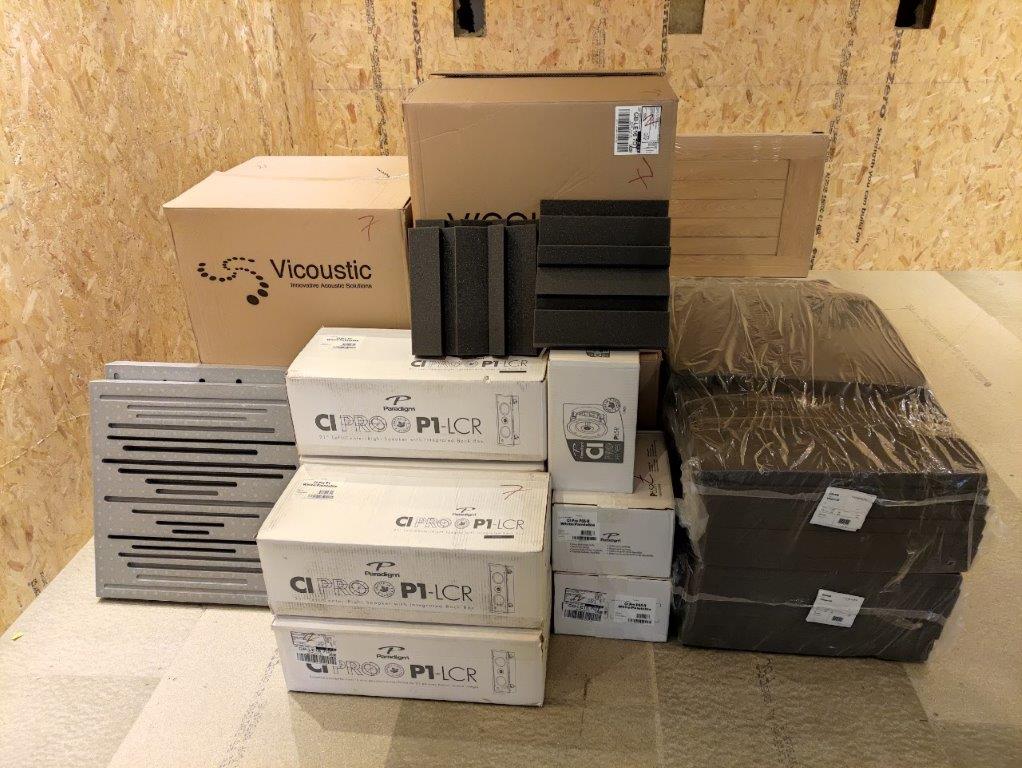 The Pulse Cinemas AV line-up
Knowing the importance of strong partnerships with suppliers Ben had started a relationship with the Pulse Cinemas team very early, in fact even before the move back to the UK, to ensure being able to hit the ground running. By the time it came to build out the cinema, the Cinema@Home team had a firm idea of the equipment they wanted to showcase thanks to the demo visit to Pulse with Simon.
Ben says, "Engineering the room for performance and value was important. Two things were taken into consideration, there would be no weak links and no superfluous equipment."
Paradigm speakers were chosen with the Paradigm Pro P1 for the front stage Left, Centre, Right and Surround speakers. Paradigm Pro IC-6.5 are used for the four Atmos overhead speakers and two Paradigm X12 subs drive the bass in a 5.2.4 Dolby Atmos configuration. The Paradigm speakers really hit the price/performance ratio that Ben was looking for.
The speakers are powered expertly by an Anthem MRX 1140 and Ben loves the way Anthem's room correction technology (ARC) works seamlessly between the amp and the Paradigm speakers taking the audio to the next level.
A Kaleidescape Strato S 4K Ultra HD Movie Player feeds into the Anthem as the main source for critical viewing with an Nvidia shield providing Netflix, Disney+ and other TV Services.
The projection system features the superb 4K Sim2 Domino projector and a Screen Research acoustically transparent screen at 127in.
Ben adds, "A cinema just isn't a cinema without great seats. Here maximum comfort is provided by Fortress Seating motorised leather recliners in Black/McLaren Orange, which just happen to our company colours. There are also a few orange dashes of colour around the demo room and office that help tie the aesthetics together."
Simon explains, "Fully engaging with us on a regular basis is always worthwhile, the seats in the cinema were formally used in the Reference Cinema demo space at Pulse HQ. Ben was able to benefit from the generous demonstration pricing that Pulse offers its dealers when setting up showroom spaces around the UK. It always pays to stay in touch and for any special requirements, just tell the team what you need."
For control and automation, RTI's T4x remote control and XP3 control system handle the whole area. Ben chose the T4x specifically because it had fewer physical buttons on the remote than rivals and more real estate is given over to the 4.0in high-resolution capacitive LCD touchscreen. All the equipment is mounted into a 27U rack which fits snugly in an alcove, cooled by a near silent trickle fan. Mood lighting with a StarScape fibre optic star-ceiling in a 3x3m configuration are also in place. The star ceiling is tied into the lighting with a simple Zigbee power switch.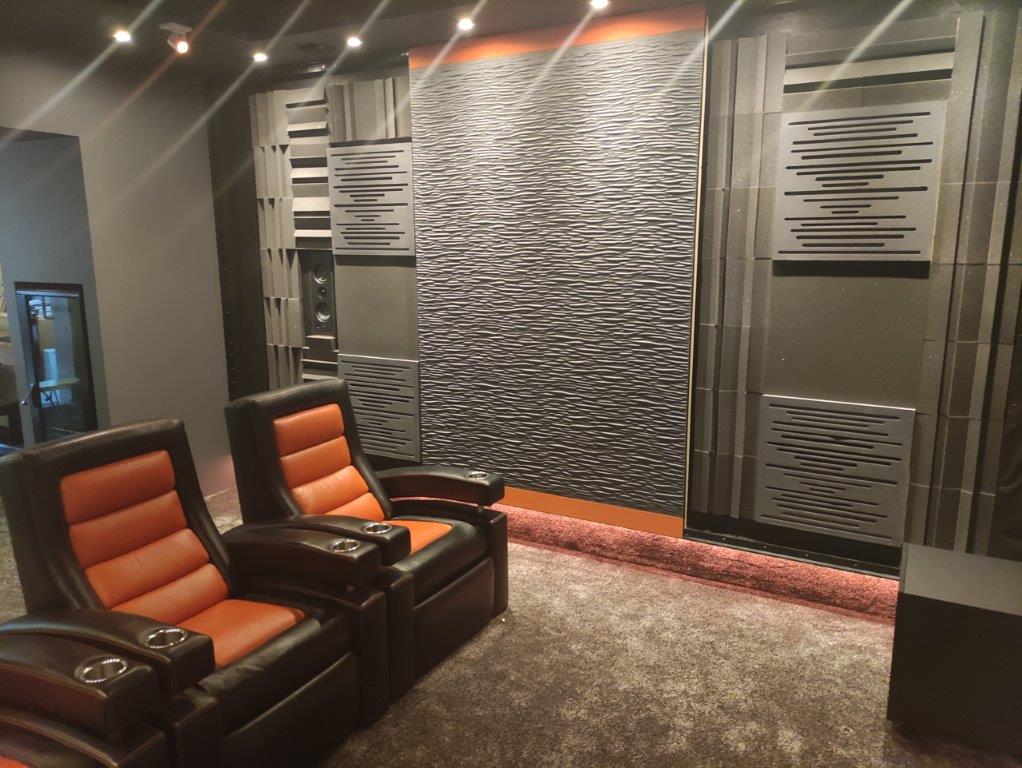 Challenges of construction
Ben explains, "Essentially the room is a rectangular wooden box, not so different from a giant speaker. With Two X12 Defiance Paradigm subwoofers the bass is amazing, but it took some taming, which was challenging and more time consuming than initially considered.
"First up was adding isolation feet to the Subs, this stopped transference of resonance to the floor and out to the walls, tightening up the bass nicely. Rattles and buzzes were chased down and solved, one by one. One particularly persistent buzz which was hard to identify was eventually traced and fixed by bracing the walls with additional timber near the front corners where the subwoofers sat."
Final thoughts
Ben enthuses, "We are really happy with how the space has turned out and have a list of customers already keen to experience the cinema space. The focus was always on performance products that offer value and everything ties together perfectly with well-matched audio and video systems. The room feels exceptional and watching a movie looks and sounds incredible. The best part is the overall balance, from the screen size, picture quality, sound levels and acoustics, it all meshes together to form a cohesive environment that feels amazing to experience."
Simon concludes, "We are delighted to be able to provide Ben and his team the highest level of support that Pulse Cinemas offers, this level of engagement with our services delivers real benefits for everyone concerned, not just in terms of project performance, but building more business together for the future."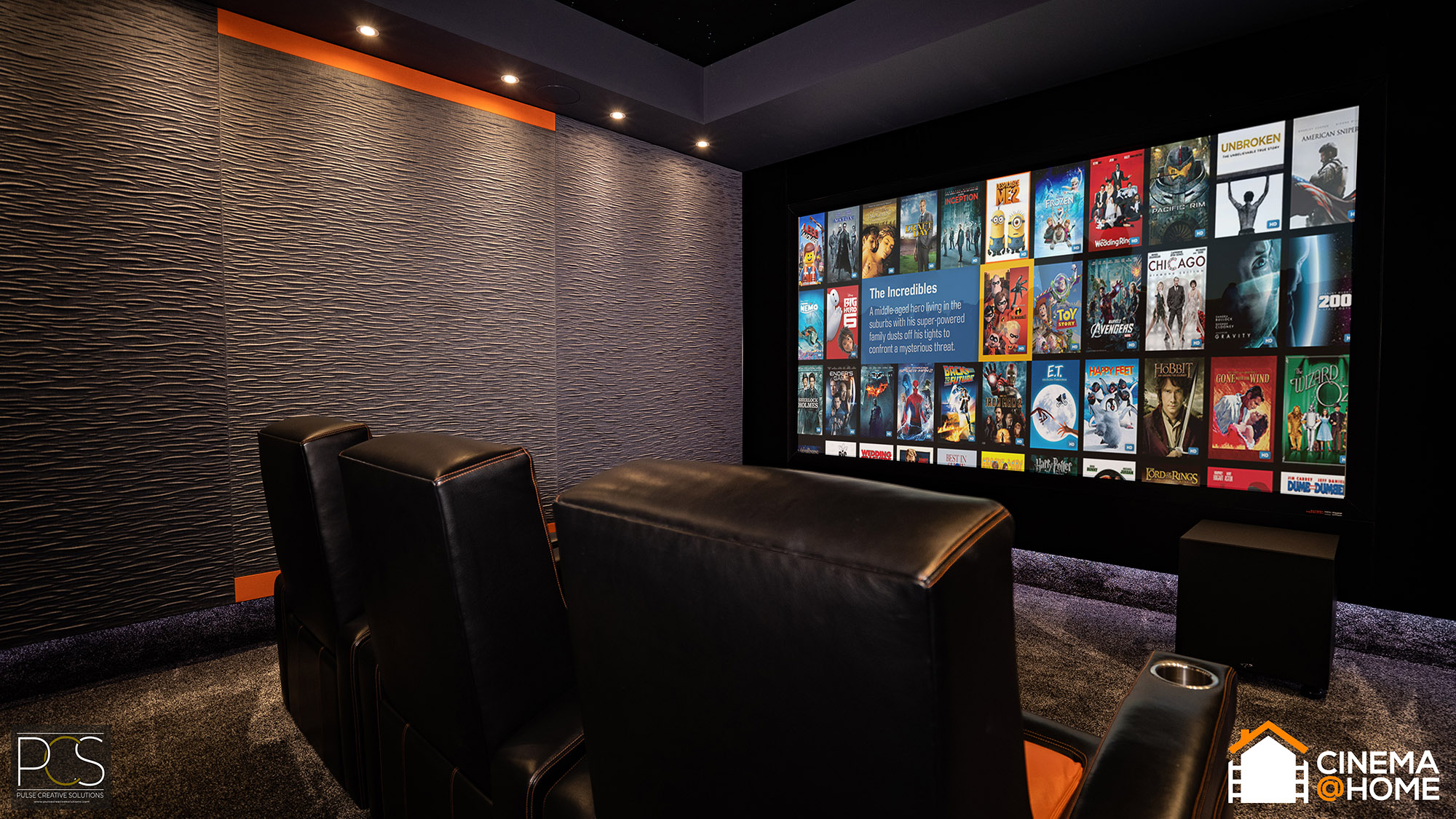 Equipment list
Speakers - Paradigm In-Wall Pro P1 3 x Left, Right, Centre. 2 x Left Surround, Right Surround. 4 x Paradigm In-Ceiling Pro P65 - Dolby Atmos. 2 x Paradigm Defiance X12 Subwoofer.
Amplification/Processing - Anthem MRX 1140 – Surround Receiver
Video Source - Kaleidescape Strato S 4K Ultra HD Movie Player - 6 TB
Screen: Screen Research 127in Classic Line Fixed Frame 16:9 ClearPix 2
Projector - Sim2 DOMINO 4K Projector (4K UHD HDR)
Automation/Control - RTI Advanced XP Central Processor, RTI T4X Remote.
Acoustic Treatment - Vicoustic Super Kit MD55, ViFoam, Wavewood Diffuser
Power Conditioning - IsoTek Evo3 Polaris 6 Way Mains Block
Seating: Fortress Seating 3 x Kensington - Premium Leather in Black/Mclaren Orange