The Chamber of Secrets: Harry Potter Home Cinema
Some customers like to take a neutral approach to the 'look' they want for their cinema, whilst others really like to create some extra movie magic by designing around a special theme.
This owner wanted to go 'full Hogwarts' and create a tribute to the hugely popular Harry Potter franchise with this inventive and high-performance space, design around the Great Hall; the heart of the action at Hogwarts School for Witchcraft and Wizardry.
With skilled designers and technicians, getting the right performance levels as well as the detailing to make a home cinema like this work, is achievable and this room delivers on every level. A wonderful space to enjoy content in its own right, but also a fitting tribute to the power of movies to inspire and excite. This space feels unique and special and steeped in movie magic.
Paradigm and Anthem combine to offer a full Dolby Atmos immersive experience, filling the whole room with the right audio in every seat.
The speakers chosen for this spectacular home cinema include Paradigm Custom Reference LCRs, Ci Elite E7s and Ci Elite E80-R. The subs are Paradigm Defiance X15s.
A Screen Research fixed frame masking screen with Deco mask artwork (160") provides pin sharp and high-impact images, as well as adding aesthetic impact to the room.
The screen is partnered by a high-performance Sim2 Nero 4S Gold Series home cinema projector.
Viewers can enjoy hundreds of hours of content from the Kaleidescape content server in uncompressed 4K high-quality. The IsoTek brand is also in place, offering protection from surges and spikes in the electricity supply, as well as providing clean power so all of the equipment has a stable base from which to deliver its full potential.
This cinema is controlled via the RTI automation brand, delivering one touch control and precise adjustment for all of the features of the cinema.
A complement of home cinema seating from Fortress Seating, designed to fit in around the Harry Potter theme, completes this high-performance tribute to the world of movies and the magic they create.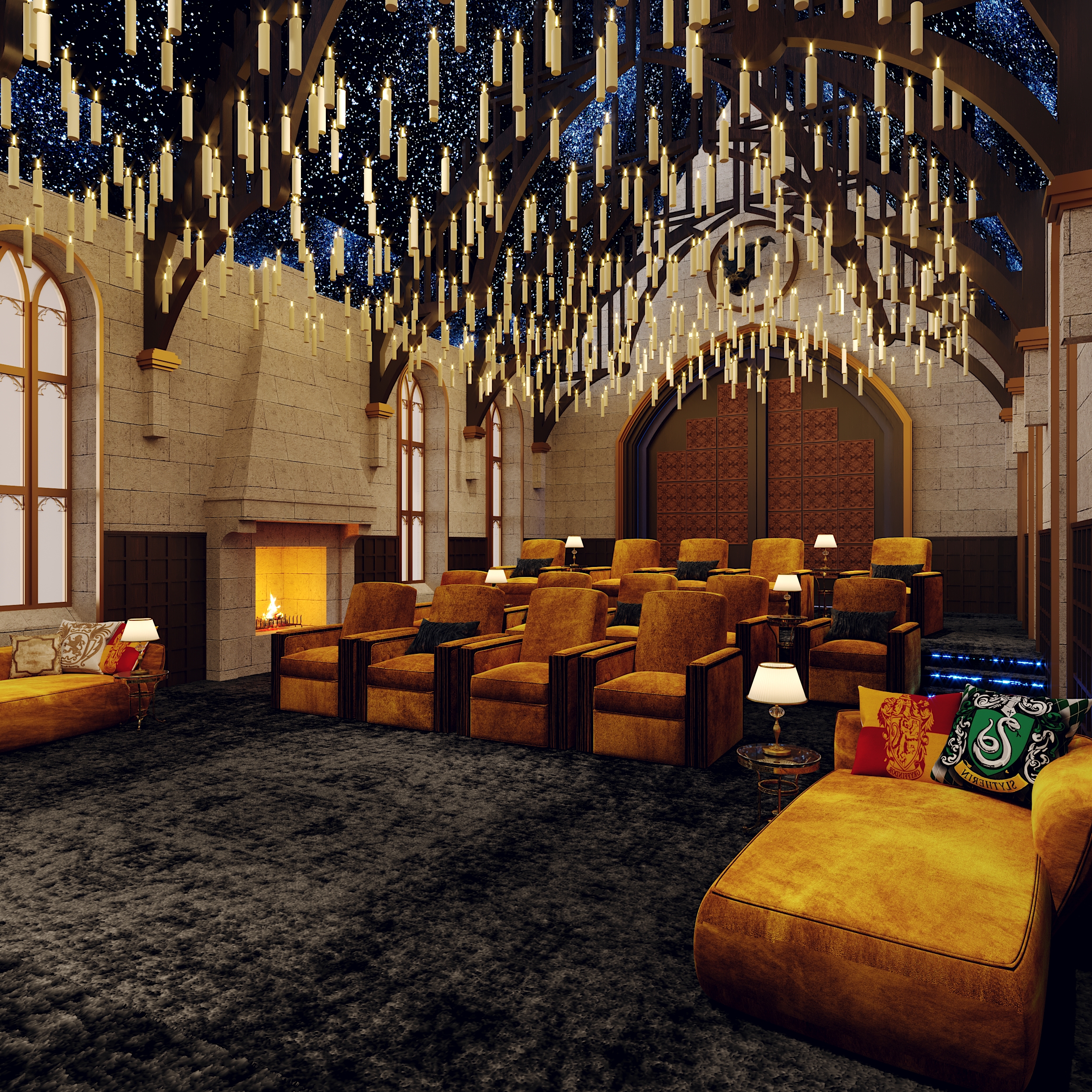 Chamber of Secretes: Suggested Equipment List
Screen – Screen Research fixed frame masking screen with Deco mask artwork (160")
Projector – Sim2 Nero 4S Gold Series
Speakers – LCR's – Paradigm Custom Reference LCR, Front Wides – Paradigm Ci Elite E7, Surround & Surround Backs –, Paradigm Ci Elite E7, Atmos – Paradigm Ci Elite E80-R
Subwoofers – Paradigm Defiance X15's
Processor – Anthem MRX1140
Power conditioning - IsoTek
Acoustic Treatment – Vicoustic Absorption, diffusion and bass management package
Seating – Fortress Seating Velvet Hudson Cinema Seats
Movie Playback – Kaleidescape 4K Encore System
Control System – RTI control system programmed via APEX software
Video Distribution – Pulse-Eight video matrix
Lighting System – Lutron Homeworks QS
COMPLETE COST OF KIT USED IN THIS PROJECT: £242,949.35