Home Cinema Buddha Lounge
This fully loaded high-performance home cinema takes much of its layout inspiration from Pulse Cinemas' own large cinema at company HQ, but with a very distinctive eastern style, accented in the design and cinema seating. Combining Pulse Cinemas' resources with the skill of our install partners across the UK, allows the owner of this cinema to reach true enlightenment.
A home cinema this sleek in its physical presentation obviously needs performance to match, and it achieves the very best results available by combining Anthem processing and power with Paradigm loudspeakers to deliver an awesome and enveloping full Dolby Atmos surround sound experience.
An Anthem AVM70 partnerining Anthem MC525 and MCA325 amplifiers deliver the power and processing needed, so from the front row to the back, the whole cinema gets the benefit of this 21st century technology, which matches how sound works out in the real world taking immersive home cinema to a level never possible before.
Paradigm models used in this instance were Ci Elite E7s, Ci Elite E5s and Ci Elite E80-R. The bass channels were taken care of by RVC12SQs and Defiance X15s.
Naturally a home cinema this high in performance needs clean power and protection from spikes to work at its absolute optimum. IsoTek power conditioning products clean the power and provide protection, long before the electricity ever reaches the cinemas' components.
A dedicated space like this deserves the very best in screens and in this room a top-of-the-range Screen Research fixed frame masking screen with Deco mask artwork (160in) was specified to deliver world class imaging and automatic formatting to match whatever type of content is being watched.
From sport in 16:9 format to super widescreen for movies, the screen does it all at the touch of a button via the RTI control panel.
A screen like this needs a great partner and, in this instance, a marriage made in heaven is delivered with the inclusion of a Sim2 Nero 4S home cinema projector. Clear, lifelike images are assured with this high-performance projector, which brings all the joy of the very latest vibrant and colourful imaging capabilities.
The very latest blockbusters are delivered with the world's leading content delivering system courtesy of a Kaleidescape 4K Encore system partnering a Kaleidescape Terra server (40TB). With these two world-class products in place, the user has access to all the content, whenever they want as well as download fresh, ultra-high definition movies, documentaries and more on-going.
With its distinctive look using areas of darkness and light, the Lutron QS system works overtime to make sure this stylish experience remains constant when the cinema is fired up and when it is at rest.
The RTI system pulls together all the elements of the room, into a seamless flow, giving total control of the entire space and all Pulse ingredients within.
A Pulse-Eight video distribution system forms the signal back-bone of the room, and IsoTek products provide clean and surge free power to all of the equipment.
The room also benefits from a collection of Vicoustic wall panels to concentrate and control the audio, so that the cinema can be enjoyed to the full.
---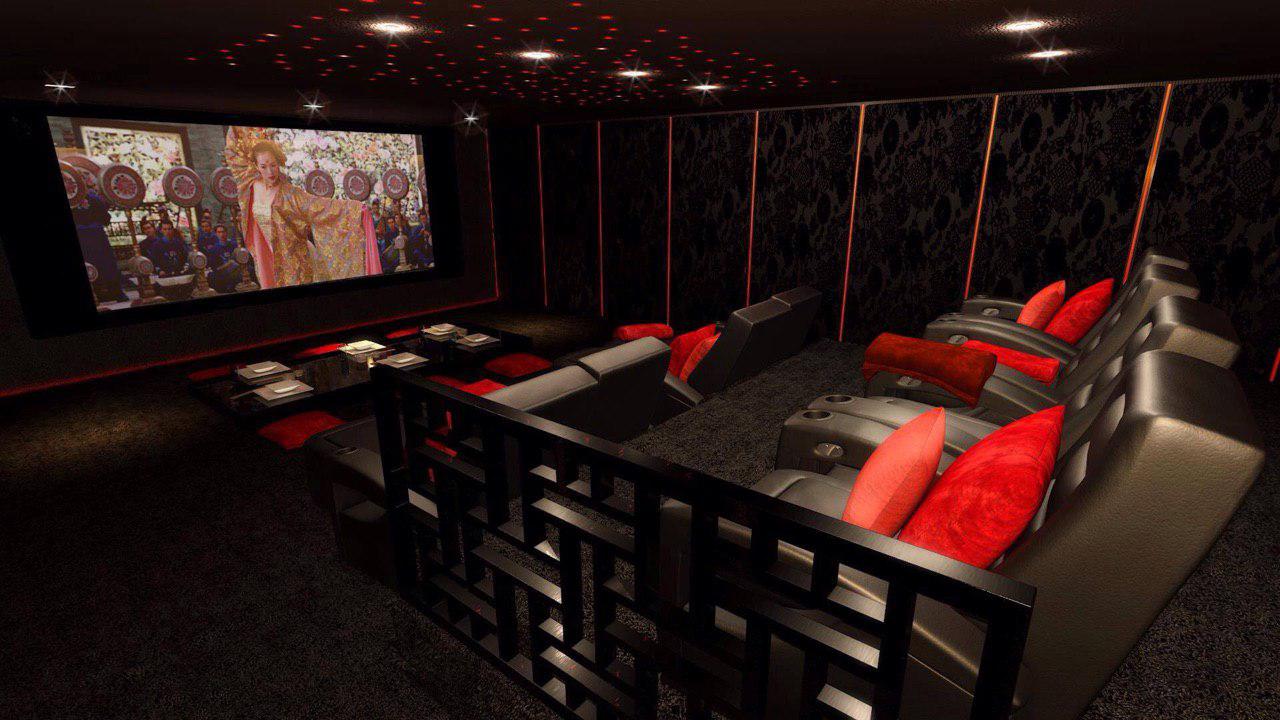 ---
---
Buddha Lounge Suggested Equipment List
Screen – Screen Research fixed frame masking screen with Deco mask artwork (160in)
Projector – Sim2 Nero 4S
Speakers – LCR's – Paradigm Ci Elite E7Surround & Surround Backs – Paradigm Ci Elite E5Atmos – Paradigm Ci Elite E80-R
Subwoofers – Paradigm RVC12SQ's & Defiance X15s
Processor – Anthem AVM70
Amplifiers – Anthem MC525 & MCA325s
Power conditioning - IsoTek
Acoustic Treatment – Vicoustic absorption, diffusion and bass management package
Seating – Fortress Seating Premium leather Kensington Cinema Seats
Movie Playback – Kaleidescape 4K Encore System
Control System – RTI control system programmed via APEX software
Video Distribution – Pulse Eight video matrix
Lighting System – Lutron Homeworks QS
COMPLETE COST OF KIT USED IN THIS PROJECT: £193,473.79
Our supportive cinema installers now have the world's most impressive selection of AV brands available to them
Mike Beatty, Managing Director, Pulse Cinemas