Beautiful Balcony Home Cinema
This beautiful home cinema system shows what can be achieved when scale meets meticulous attention to detail. Housed within this sweeping two-tiered room, which echoes the golden age of cinema and ocean travel, is a high-performance home cinema which matches the plush interior to perfection.
Created by Pulse Cinema's in-house design team, this stunning home cinema space creates a special feel of luxury, timeless design and comfort. Design cues also echo the room's main purpose, as the clever wall designs hint at the action of a camera lens and the whole room just invites those who visit to sit back and enjoy a Dolby Atmos movie experience they will never forget.
Only Pulse Cinemas has the in-house expertise to create complete designs such as these, taking care of every single aspect needed to create the performance, style and comfort needed to deliver this 'Mona Lisa' of cinemas.
This cinema offers the very top end of what can be accomplished with today's immersive audio technologies, being able to deliver all three of the systems in use throughout the world today; Dolby Atmos, Auro 3D and DTS:X. This capability ensures that no matter where you are seated during the performance, the audio envelopes, involves and surrounds you. Delivering all the power needed for the audio playback is a combination of Trinnov processors, and high performance Paradigm home cinema speakers and amplification.
The speaker array is particularly impressive. The LCR channels are delivered by Paradigm Custom Reference LCRs, the front wides are Paradigm Ci Elite E7s, surround & surround back channels are taken care of by Paradigm Ci Elite E7s and finally the Atmos channel is via the Paradigm Ci Elite E80-R. The subs are all Paradigm Persona models.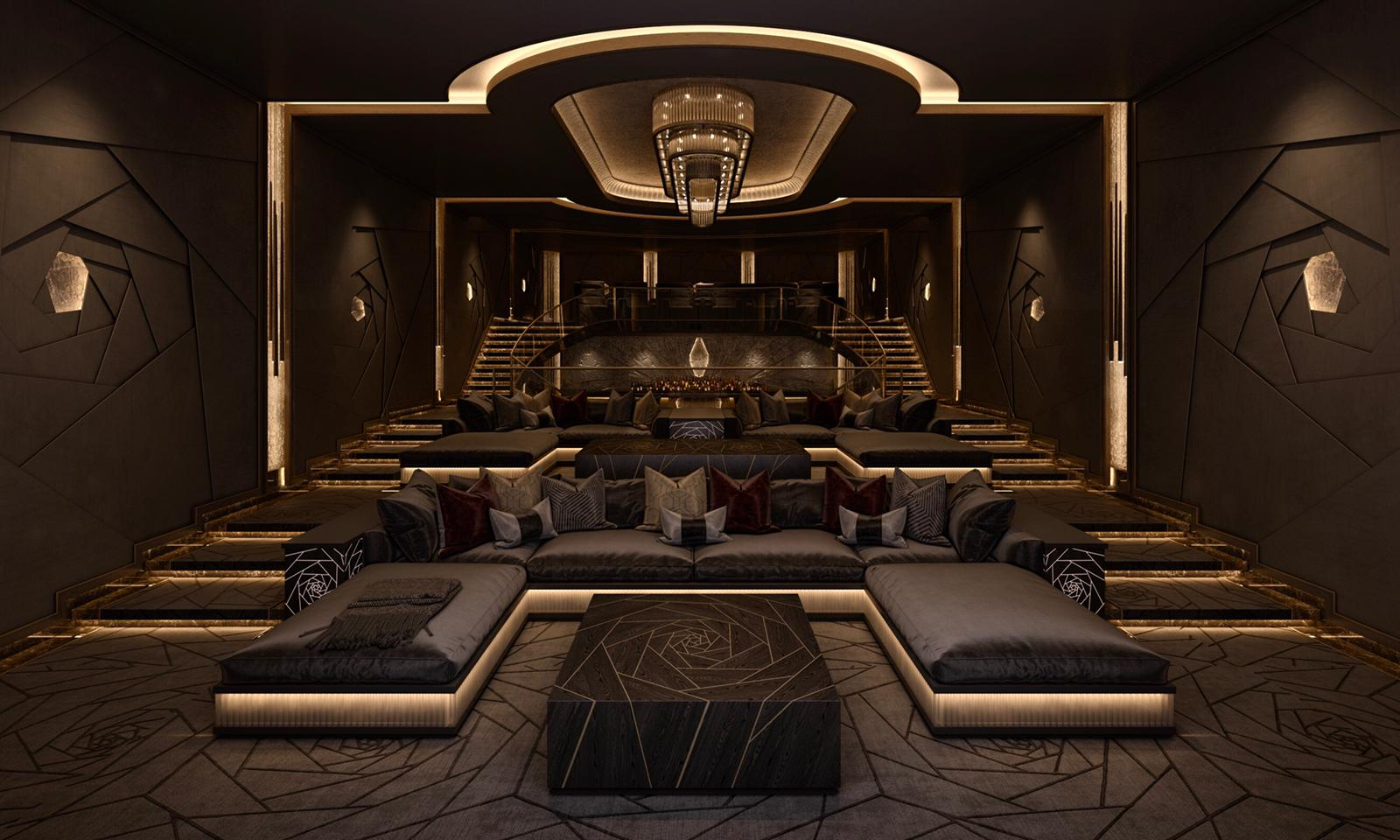 ---
---
Timeless design
Fitting for a room which takes many design cues from timeless design classics, with strong hints of Art Deco and aesthetically pleasing curves, the home cinema set up has a Screen Research fixed frame masking screen with Deco mask artwork (200") which not only delivers the perfect surface to enjoy the content on, but reflects the room's own design cues back into this opulent space.
Fitting for a space of this size, Pulse Cinemas called on the power and precision delivered by Digital Projection, the UK manufacturer of high-end home cinema projectors. Unique as the only manufacturer to have ever won an Emmy Award (two, in fact) for Outstanding Achievement in Engineering, few companies on the planet have a home cinema projector pedigree to match Digital Projection. The company's roots go back to the famous Rank Organization which formed Digital Projection back in the late eighties to explore the projection technologies of the future. All of this know-how can be witnessed in the stunning images created in this home cinema system by the Digital Projection Cerus native 4K DLP laser home cinema projector.
Controlling sounds in a space like this can be a challenge, but Pulse again was able to tame the audio and deliver the experience required with a full acoustic treatment package from Vicoustic.
---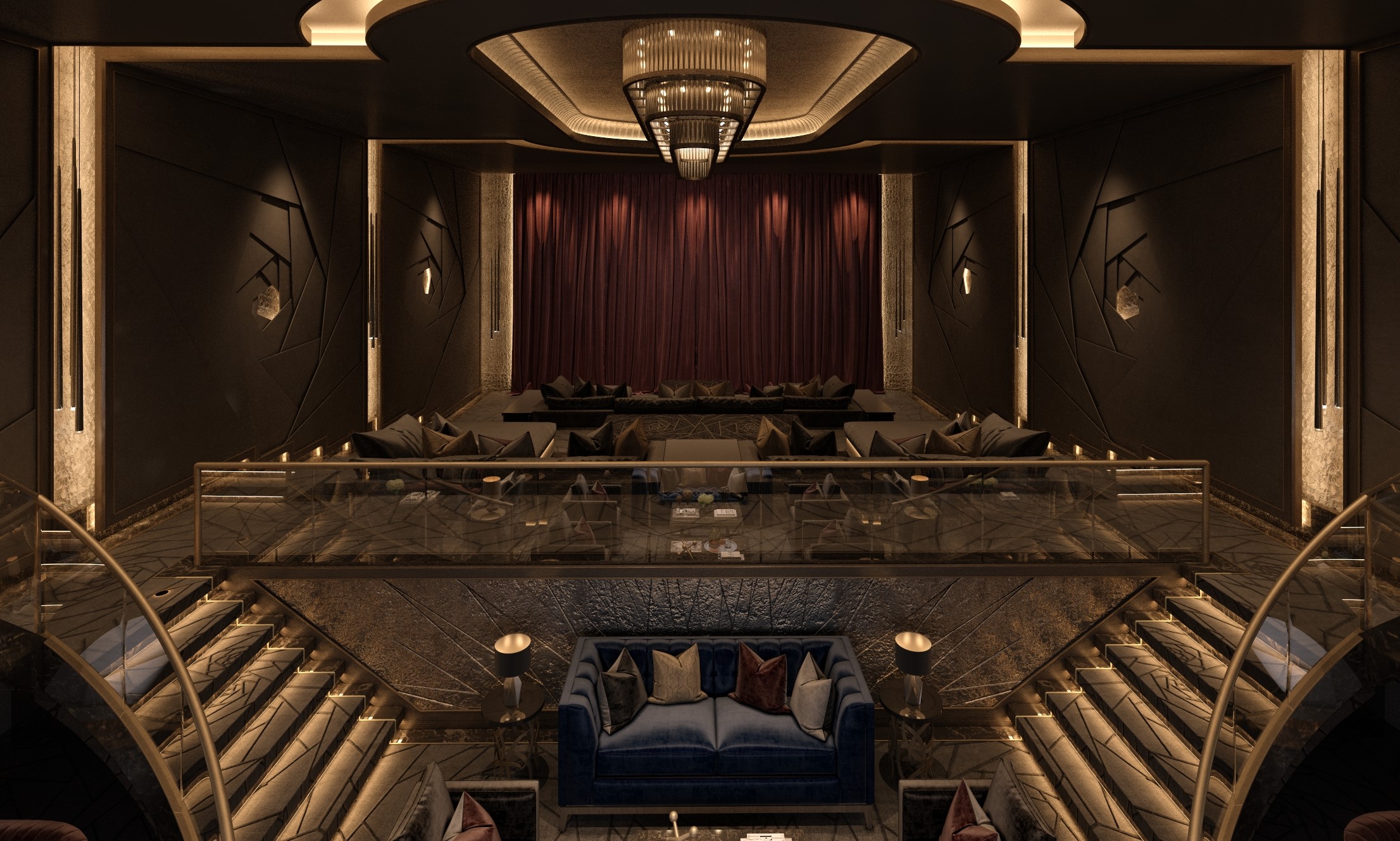 ---
---
All of the home cinema seating was created by Pulse Cinema's go-to partner for all things comfort, Fortress Seating. Another company with huge experience, the mix of traditional home cinema seats (which have a built-in surprise) and loungers make enjoying content in this cinema an experience you won't want to end.
The traditional cinema seating also has the included excitement of D-Box technology which allows the seats to move with the content, adding an extra level of drama and excitement.
Much of the content in this cinema is delivered by Kaleidescape Strato 4K and Premier Line System with Disc Vault system. The last word in content server and online home cinema delivery systems, Kaleidescape matches the luxury experience of the cinema with its beautiful interface and flawless playback of any type of content – be it a movie or concert footage.
Lighting is hugely important in a cinema such as this, as the best cinemas create tension and excitement well before the content starts. The initial impact of the room without content playing screams class and high-quality, and then as the lights slowly dim and bring the audiences' attention to the screen, the magic begins. For this cinema, a full Lutron Homeworks QS Lighting System with DMX Interface was used to provide the power and subtlety needed to present the room in its best possible light.
All of this power needs to be tamed somehow, and in this space it is done to perfection via an RTI Control System with 10in touch panel giving the user access to all the cinema's features.
Control and content delivery is also assisted via a Pulse-Eight video distribution system.
This high-tech home cinema system also benefits from enhanced protection from electrical surges and spikes as well as a boost to performance via IsoTek conditioning and protection products.
---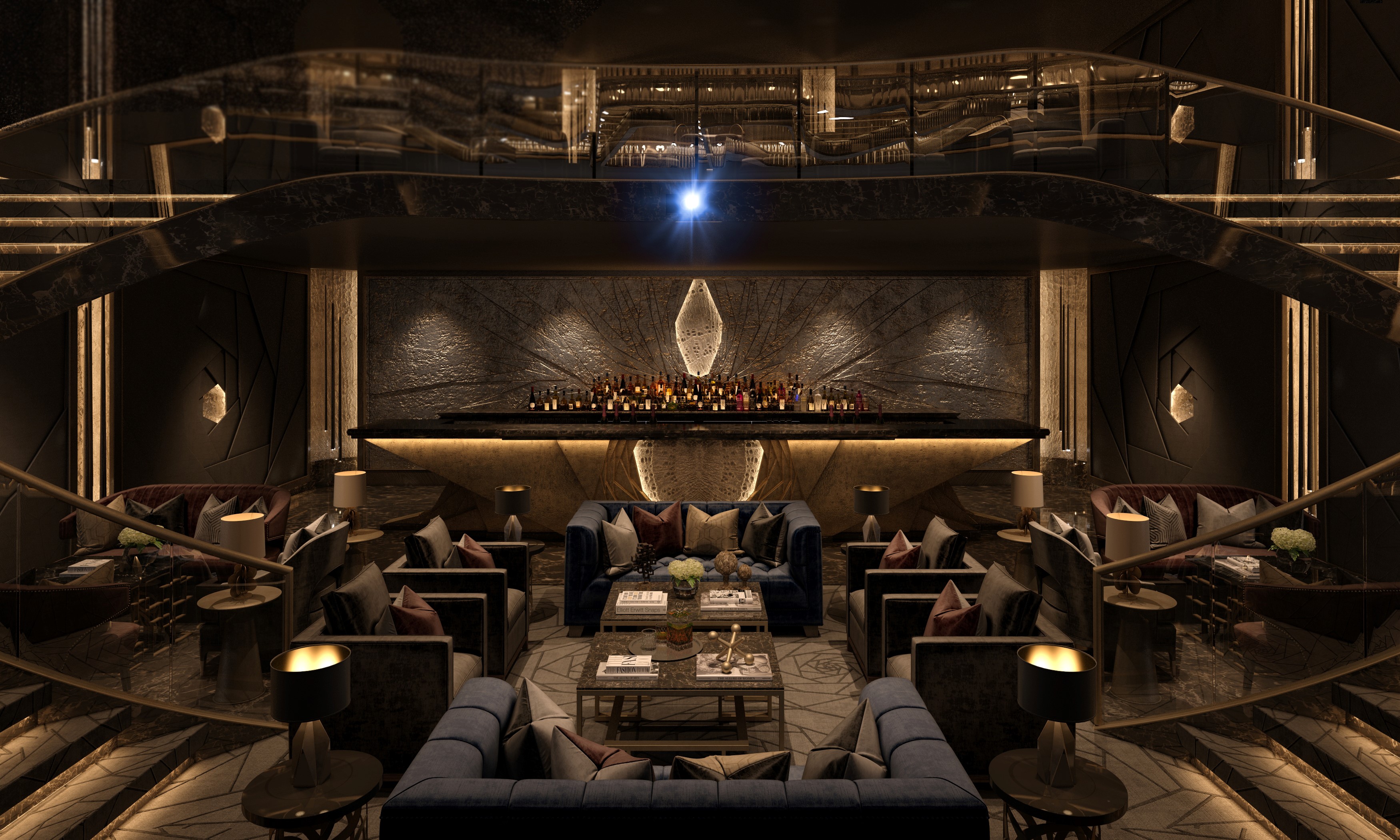 ---
---
Beautiful balcony cinema: Suggested Equipment List
Screen – Screen Research fixed frame masking screen with Deco mask artwork (200")
Projector – Digital Projection Cerus native 4K DLP laser Projector
Speakers - LCR's – Paradigm Custom Reference LCR, Front Wides – Paradigm Ci Elite E7, Surround & Surround Backs – Paradigm Ci Elite E7, Atmos – Paradigm Ci Elite E80-R
Subwoofers – Paradigm Persona Subs
Processor – Trinnov Altitude32
Power conditioning - IsoTek
Acoustic Treatment – Vicoustic absorption, diffusion and bass management package
Seating – Fortress Seating bespoke sofas & chaise lounges
Movie/Content Playback – Kaleidescape 4K Encore System
Control System – RTI control system programmed via APEX software
Video Distribution – Pulse Eight video matrix
Lighting System – Lutron Homeworks QS