Man Cave Home Cinema - Home Entertainment Specialists ltd
This stunning 'mancave' dedicated home cinema created by install company and Pulse Cinemas partner Home Entertainment Specialists (HES), was fashioned as a demo room to show how technical excellence can be married with the best and most attractive room design.
Miles Redbart, director at HES, explains, "We wanted to add extra space to our demo house for our growing teenage children, so we built a mancave at the back of our garden. Once built it became apparent that the room was too big for single use, so I decided to build a demo cinema room to assist with reinforcement of the products we sell."
---
During a visit to Pulse Cinema's HQ, I fell in love with their medium sized cinema room, and I told them I want this experience to demo to my clients, so we set about creating a room of our own. - Miles Redbart, Director, HES
---
Miles adds, "During a visit to Pulse Cinemas HQ, I fell in love with their Small Cinema and I expressed my desire to offer this experience to my clients, so we set about creating a room of our own."
As the home cinema developed, the brief changed a little as the throw distance for the projector was challenging, due to the mancave's slanted roof. The workaround was to mount the projector in the roof and build a peak over it, which naturally had to be mirrored on the opposite side for aesthetic purposes.
Miles explains the kit choices he made for the cinema, "For me it was easy. I had the room and I wanted to duplicate the Pulse Cinemas room, so lots of the equipment picked itself. I learned in detail about each piece of equipment to ensure I was happy with the choices. Pulse Cinemas explained with passion about the Paradigm speakers, and how their unique design makes them 3db's louder than any other speaker, so a less powerful amplifier can be specified. The only change was I opted for visual acoustic panelling as I wanted to show my clients the room had been treated, rather than tell them it had been treated. Clients like to see what they are buying, and it will be their choice if they want the panels to be covert or overt – like mine."
Pulse Cinemas ingredients included a Screen Research MS3 IS screen, which drops into place when needed in front of the Loewe Bild 5.65 OLED Piano Black TV which offers an extra viewing option. When in full cinema mode with the Screen Research screen in place, the BenQ PCX50K projector comes to life, as do the full range of Paradigm speakers in a Dolby Atmos 7.2.4 configuration. Amplification and control is from an Anthem MRX 1120 and content is supplied via a Kaleidescape movie and content server system. IsoTek - Power is in place to deliver clean and surge free power to the equipment and
a collection of Vicoustic acoustic panels finish off the room beautifully.
---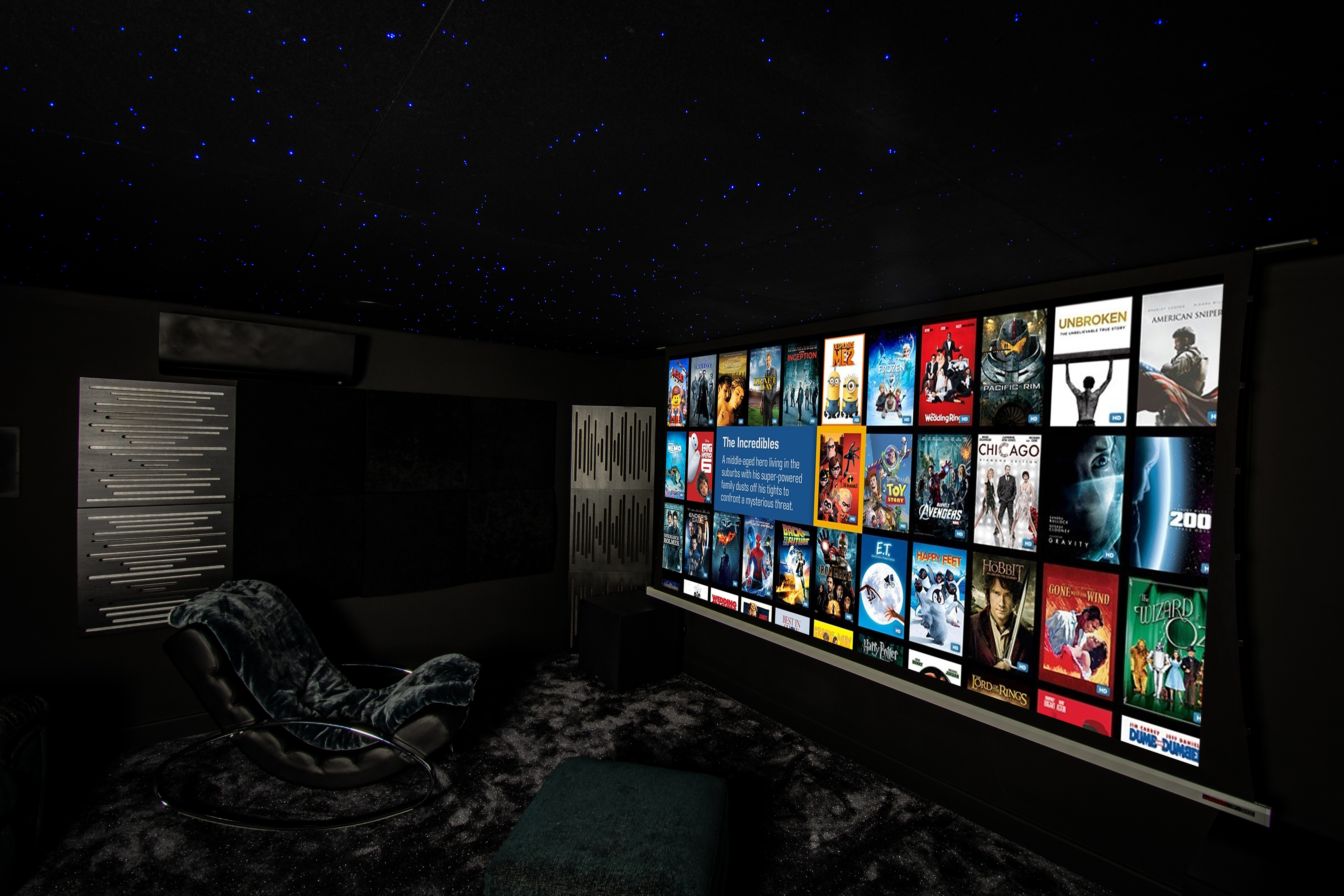 ---
You want bass? We got bass!
Technical challenges here included waterproofing the entire room as it is built of wood. The team also built out the walls with acoustic boards to achieve a little more depth, then more insulation was applied.
So now the home cinema is up and running, what are the most pleasing aspects?
Miles says, "The Bass. Someone once asked me 'what is better than a subwoofer', my answer? 'two Subwoofers!' I have 2 x 12in Paradigm floor mounted subs. If I tell you, they are running at ½ their power and are shaking the floor – it's awesome!"
The new cinema is a big boost to the business, Miles explains, "Rather than telling clients how good their room can sound, they can see, hear and feel it before it is installed. Often, they will say 'I want this' (which is what happened to me at Pulse HQ), but it can provide me an opportunity to up-sell to a larger screen, bigger, more powerful speakers – or even more speakers in case thirteen is not enough in a full Dolby Atmos (7.2.4) configuration."
---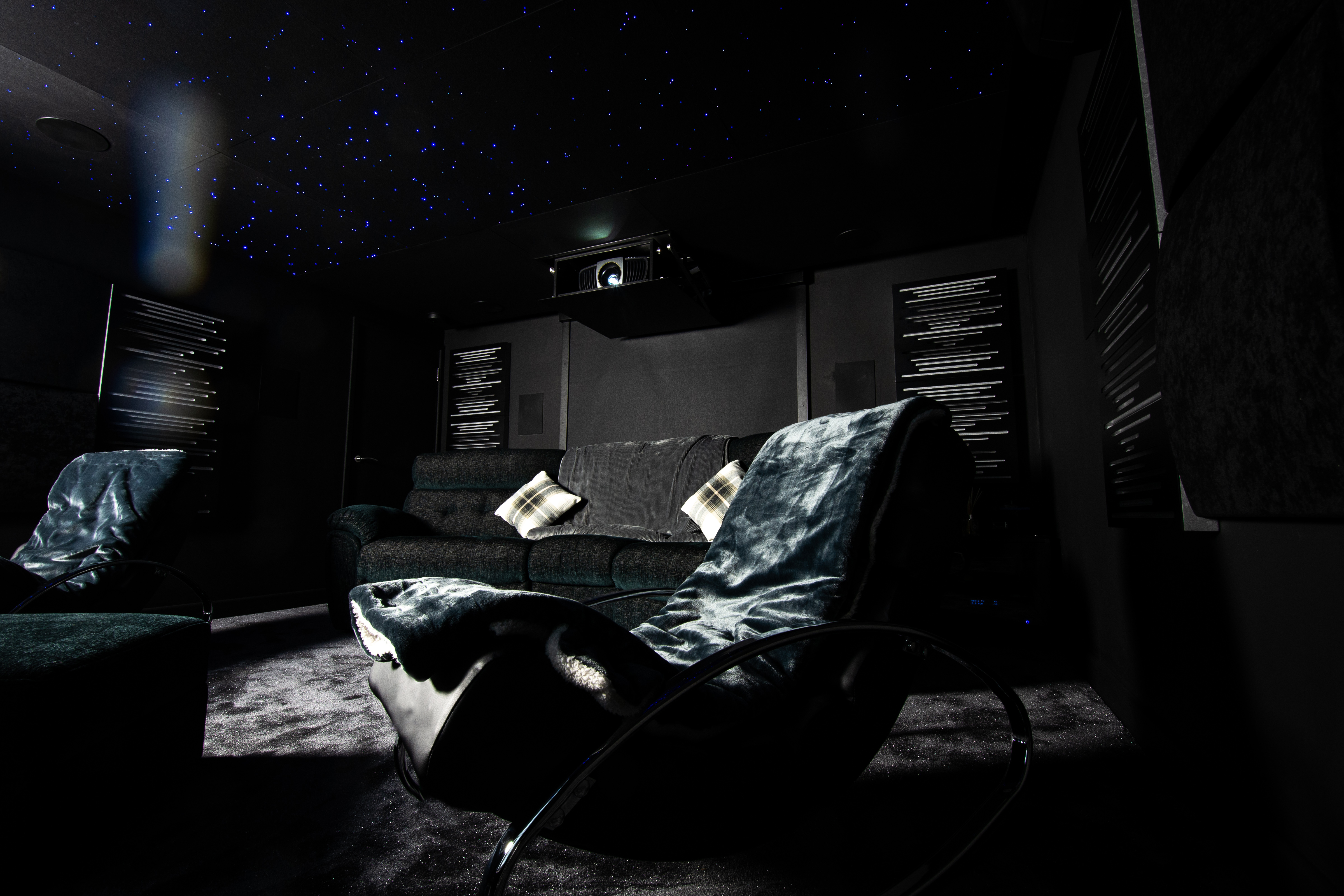 ---
---


Man Cave Equipment List
High Quality Immersive Audio
Paradigm - CI Elite E3 (White/Paintable) (x3)
Paradigm - CI Elite E80-IW (White/Paintable) (x4)
Paradigm - CI Elite E65-R (White/Paintable) (x4)
Paradigm - Defiance X12 Black 230v (x2)
Anthem - MRX 1120 Black
IsoTek - Power Conditioning
World Class Projection & Screen Combination
Screen Research - MS3 IS
Screen Research - RS232 Control Interface
BenQ - PCX50K
Loewe - Loewe Bild 5.65 OLED Piano Black
Loewe - WM 67 (for Connect 40-65) Black
Perfect mix of high performance and high luxury environment
Vicoustics - Cinema Round Premium Box of 8. (x2)
Vicoustics - Wavewood Diffuser Premium Box of 8 (Cherry, Light Brown, Nordik, Wenge, White)
Vicoustics - Super Bass Extreme Premium Box of 2 (x4)
---
Contact Information:
Miles Redbart
+441923549500