When Luxury Meets Performance, By Alcons Audio
Powered by the most recent addition to the Pulse Cinemas line up Alcons Audio, this home cinema mixes high-performance and effortless style in one superb package.
This cinema takes the best of the pro cinema world in terms of appearance and performance and successfully translates that to the home.
Alcons Audio has been on Pulse Cinemas' radar for a long time and we are delighted to have recently added the brand to our portfolio of world-class products. Alcons built an enviable global reputation in the pro cinema world before entering the domestic market and the company uses the same technologies in its home cinema solutions as it does in its highly successful commercial cinema installations.
Perhaps the most famous of Alcons internal creations is the Pro-Ribbon transducer technology that delivers the audio from its speaker products. This approach to audio reproduction is not just incredibly robust and reliable, but delivers on the maker's promise of 1:1 reproduction. By this Alcons means that 'what you put in is what you get out', uncoloured, unchanged audio in extremely high clarity. The speakers achieve this by offering extremely fast transient response delivered by the low-weight pro ribbon diaphragm, which also deliver very extremely low distortion. Alcon's ribbon drivers do not have a 'compression threshold', meaning they offer the same tonal balance at all pressure levels. For great audio right across any cinema, pro ribbon technology also offers 90° horizontal coverage. The speakers from Alcon Audios CRMS home cinema focused range used here, are driven by Alcons Audio Sentinel amplified loudspeaker controllers. More than just an amp, these sophisticated units are made specifically to power the maker's speakers to deliver exactly what is needed for optimum performance. The Sentinels also offer unique technologies such as SIS, which compensates for the impact that long speaker cables can have on sound quality. The upgradable DSP engine at the heart of the Sentinel products also delivers a range of functions including equalising, delay, user-pre-sets and full system feedback.
Partnering this high-quality collection of speakers is processing power from an Anthem MRX1140, a strong nerve centre of any great home cinema.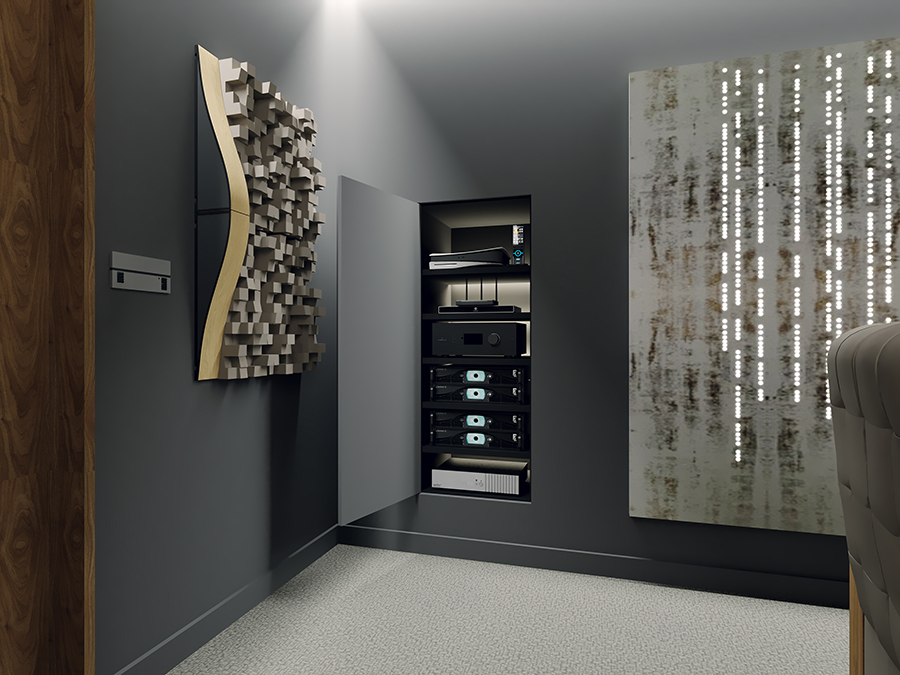 Visual virtuoso
Providing the projection surface on this installation is a Screen Research acoustically transparent screen, which as well as providing a world-class platform for the images, also offers the user the option of adding Décor Mask technology, which means the screen can be covered with artwork when the screen is at rest. Providing the images here is the Sim2 Crystal SH, released last year and offering a serious statement as the best projector available at its price point. Using a specially created laser light source, and many other high-performance components, this machine's ability to do justice to HDR content is of particular note.
In today's world users have the option of many different types of sources from which to enjoy content, some way better in terms of quality than others. This cinema leaves nothing to chance and delivers the best home cinema video source on the planet with a Kaleidescape Strato 12TB storage and playback system. The Kaleidescape Strato offers true 4K UHD & HDR playback with stunning sound and the convenience of internet delivery. Playback is at 100 Mbps and 60 frames per second, without any start-up delay after each movie is downloaded and stored on the internal hard drive. Strato can also enhance downloaded Blu-ray and DVD quality movies in 4K using advanced upscaling algorithms.
Having all this high-performance equipment and not protecting it, would not make sense, so this home cinema benefits from the capabilities of IsoTek Theta from the company's Smart Power range. Not only does Theta protect from power surges and spikes, but it also cleans the power that all the components receive, allowing them to reach their full potential free from interference found in most modern homes. IsoTek is often the first name to be added to the product plan when we begin the creation of a new cinema, its protection and performance enhancing abilities are just that good.
Readers will have noticed the sophisticated and easy style of this room which takes cues from the pro cinema world but re-adapts them for a comfortable and domestically focused look via vertical lines in the LED wall panels and mirrored aesthetics between the screen surround and seats. Making their contribution to this look, and of course to the quality of the sound in the room, are a full complement of Vicoustic acoustic panels in the ceiling and on the walls. Allowing visitors to enjoy all of the performance curves of this home cinema are two rows of three Odeon home cinema seats from Fortress Seating. With their clean lines and high-level of comfort, these seats offer classic style, but also have a hidden trick up their sleeve as all of the units are equipped with D-Box functionality which adds an extra level of physical interaction with what is happening on screen.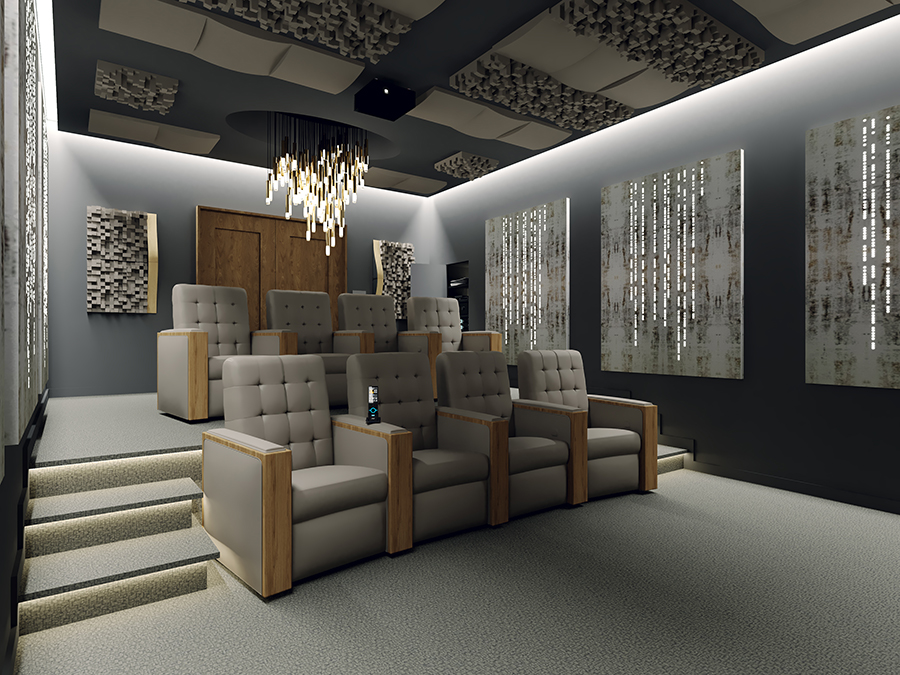 A Lutron lighting system provides dramatic, automated and highly attractive lighting control to this room, including the signature cinema chandelier which takes inspiration from the golden age of cinema. The RTI system means that all the lights in the space react automatically to playback or any other scenarios programmed into the RTI automation platform which has overall control of everything in the cinema. Placing complete control of the home cinema in the palm of the users' hand, operating the system can be as easy as hitting one button, or for the more adventurous user, detailed control of every aspect of the cinema's abilities can be made available.
Expert aesthetics
Home cinemas are not just about great performance of course, but also about presenting a fully evolved design aesthetic that closely matches the priorities and tastes of the customer. This home cinema was designed in conjunction with Rebecca Edmunds, Director at RK Signature Interiors, an interior design expert who works with Pulse Cinemas to achieve fully integrated and fantastic looking rooms such as this. Since the Summer of 2020, Rebecca has been working with Pulse providing her clients with the technical expertise they need when embarking on their home cinema journey. Working directly with us to deliver a fully evolved home cinema service, customers get the best of both worlds, an expertly designed interior that is created in partnership with Pulse to make sure the room delivers on a technical level too.
Rebecca explains, "As an interior designer I get involved in projects very early having contact with architects and builders, so if an AV space of home cinema is planned, I can make sure any structural advantages such as positioning of doors, provision for equipment space, are included as soon as possible.
"Our approach is very collaborative, we work with experts of all types to achieve the results the client wants, so it's a fantastic relationship to have with Pulse Cinemas where we can bring clients to the demonstration space at company HQ. Here customers can fully understand what is possible, it fires their imagination and is a wonderful asset to have in achieving the dream cinema everyone wants."
Rebecca adds, "Most often I am delivering a design concept for a whole home, so any cinema needs to match that overall vision, but cinemas are also great spaces for including extra touches of glamour and expressing a particular look. That was certainly the case with this space."
Rebecca says that perhaps in the past when the design community was less involved, home cinema aesthetics could be a little flat and functional, but as demand rises (Rebecca reports clients increasingly ask for a home cinema in their renovation or new build plans) opportunities to provide exciting design concepts that lift the whole experience have increased.
"This design is definitely aiming to adding glamour and luxury to the space," says Rebecca. "The wall panels include LEDs and Swarovski crystals creating a beautiful waterfall effect which complements the soft lighting installed in the room. The vertical lines of the wall panels are matched by the chandelier with its long glass cylinders creating a harmonious and glamorous feel to the space."
Other designs cues that lift the experience of the room include the imposing double doors that create a feeling of importance and the matching wood which is reflected in the seats, the doors and the panels surrounding the screen, again underlining harmony and luxury.
Pulse Cinema's relationship with Rebecca means that clients do not just get a high-performance cinema, they get a complete concept that means each project offers high-quality aesthetics, excitement and luxury even before the equipment springs to life.
If the result of any project is to have the client spend as much time as possible in their cinema, having an expertly design space such as this is a huge plus all round.
Rebecca concludes, "For me home cinema is all about escapism, the goal is to make sure the customer gets to feel transported to another world where they can relax and enjoy their favourite content with family and friends."
Bringing together design and an expert technical offering,
means every aspect of this room reaches the apex of where home cinema should be. Equipment woven expertly into the fabric of this attractive and comfortable space, creates an experience customers will never want to be without again.
Every aspect of this room reaches the apex of where home cinema should be, equipment woven expertly into the fabric of this attractive and comfortable space creating an experience users will quickly never want to be without.
Equipment List
Screen - FDM-150-178-UWB
Projector - Sim2 Crystal SH
Processor - Anthem MRX1140
Amplification - Alcons Sentinel Amps
Speakers: LCR: CRMS MK2, Surrounds & Front wides: CRMSC-SRIW, Atmos Speakers: CRMSC-SRIW/120 (in-wall), Subs: CRMS-LFE18
Acoustic Treatment - Vicoustic VMT Package
Seating: Fortress Odeon Seating including D-BOX motion control
Power Conditioning - Isotek Theta
Control - RTI control system
Lighting - Lutron Homeworks QS system
Video Source - Kaleidescape Strato 12TB