Hidden Home Cinema
Bentley Home Cinema
Having a network of carefully selected Pulse Cinemas approved home cinema installers from across the UK, integrating the audio visual ingredients from our carefully selected portfolio of brands, means our install partners can put a high-performance cinema into any room. In this cunningly crafted, fully integrated cinema, woven into the fabric of this attractive living space, performance was key. The cinema remains completely hidden until it is called upon, so the home owners are delivered the breathtaking performance their installers will have promised; without compromising their interior space.
Not all customers want or need a dedicated cinema space; often owners want all the advantages of a modern cinema, but they want it in their regular living space, to be called upon when the mood takes.
This cinema sums up this approach perfectly, offering a high quality experience via products that are specifically made to melt into the background.
An Anthem MRX 740 delivers the power and control this beautiful cinema requires. This incredibly capable amplifier is hidden away in a purpose-built equipment rack, along with the other hardware, which in this case includes a Kaleidescape – Strato movie and content player, delivering all the movies to the cinema.
This beautiful room actually has two AV modes, one which exploits a luxury Loewe - bild 5.65 OLED television, put simply, one of the best TVs on the planet right now and another mode when things need to go up a notch. When full cinema mode is needed the Sim2 Domino projector lowers from the Future Automation projector drop and the Screen Research - MS3-IS in-celing motorised screen drops effortlessly into place, turning this luxurious living space into a full-on cinema all at a touch of a button.
An array of speakers from Paradigm are integrated into the walls and a sound-bar is located just below the TV and where the cinema screen comes to rest to offer fully integrated audio.
Intelligent Lutron lighting springs to life to change the mood in the room for movie time and sets the scene for the home owners to enjoy their fully integrated world-class cinema.
A Pulse-Eight video distribution system is in place to provide stability and IsoTek power conditioning delivers clean power and protects from surges and spikes.
An RTI control system via a T2x remote control delivers all the features of the cinema into the palm of the hand.
---
---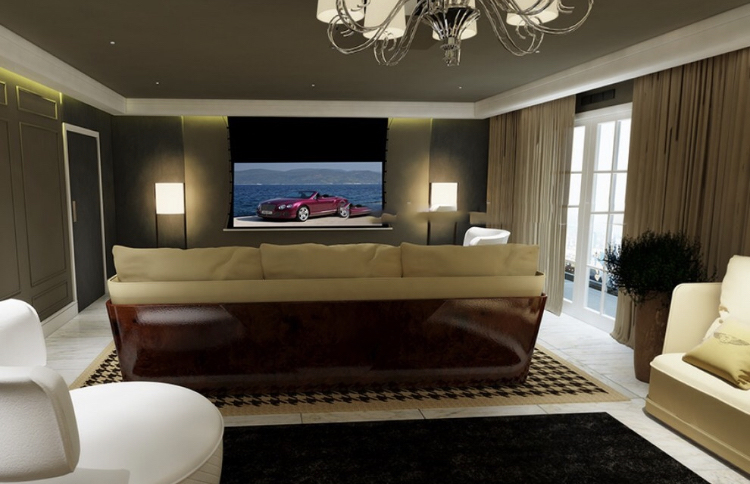 ---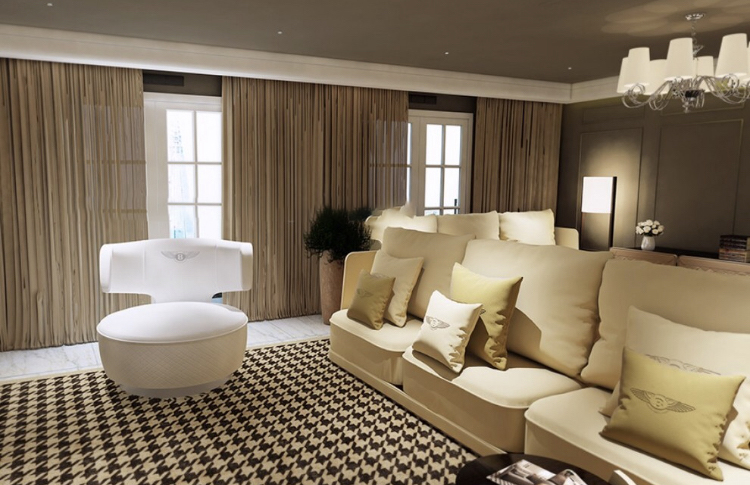 ---
Bentley Home Cinema Suggested Equipment List:
Processor - Anthem - MRX 740
Speakers - LCR - Paradigm - Decor 1SC LCR Sound bar, Surrounds - Paradigm - P65-IW
Subwoofers - Paradigm - Defiance X12
Power Conditioning - IsoTek
TV - Loewe - bild 5.65 OLED Television
Screen - Screen Research - MS3-IS In ceiling motorised screen
Projector - Sim2 Domino
Movie Playback/Source - Kaleidescape Strato
Control System - RTI with T2x Remote Control
Video Distribution - Pulse Eight
Lighting/Blinds - Lutron QS System
COMPLETE COST OF KIT USED IN THIS PROJECT: £56,854.67