Living Room Luxury Home Cinema
This inventive and highly integrated design underlines the reality that Pulse Cinemas and its installation partners can create cinemas to suit all environments.
Whilst some clients want a dedicated cinema area created to deliver high-end cinema performance away from the main living zones of the home, some want to have that same level of performance woven into a more conventional living room space.
This is just the case here as this stylish design matches its surroundings perfectly, offering multiple options of large screen TV viewing, along with a full Dolby Atmos cinema with drop down screen for when it's full-on movie time.
The Paradigm brand is employed to deliver the audio, completely hidden from view woven into the fabric of this attractive living space. An Anthem MRX1140 processor delivers the power and control for the cinema and completing the line-up are a Screen Research FSD Screen and Sim2 - xTV 4K projector (in-ceiling version).
These last two products are cleverly hidden from view and only drop into the room when called into action. This way the client gets to keep the exact look they want for the room, but also enjoys the full power of high-end home cinema when they require it.
A Kaleidescape movie and content server delivers all the entertainment the family could ever want in completely non-compressed 4K quality. All of the equipment in the cinema benefits from IsoTek products, which protect from power surges or spikes, but also promotes even higher performance by cleaning the mains power before it ever reaches the components.
A complement of bespoke made Fortress Seating means the family can sit in total comfort whilst enjoying the cinema and an array of Vicoustic wall treatments not only look great and match the decor of the room, but help focus and tune the sound.
Creating a cinema in a contemporary living space such as this carries with it many challenges, however with Pulse Cinemas and its integration partners on-board, this can be achieved with the style of the room and the high-performance fully intact.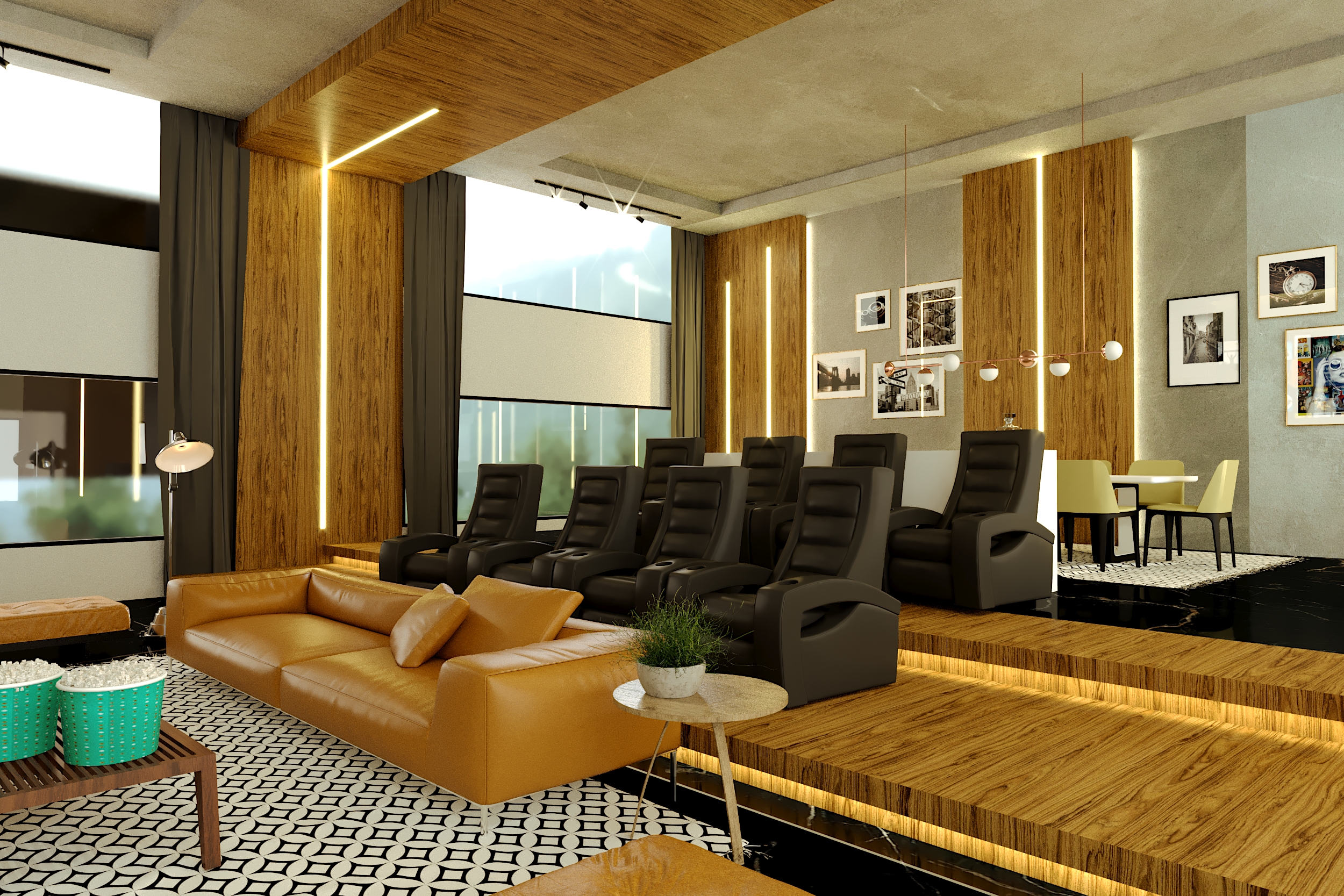 Living Room Luxury Home Cinema: Suggested Equipment List
Screen – Screen Research fixed frame screen (130in)
Projector – Sim2 xTV (in-ceiling)
Speakers – LCRs Paradigm Ci Pro P5, Surround & Surround Backs – Paradigm Ci Pro P3, Atmos – Paradigm Ci Pro P80-R
Subwoofers – Paradigm Defiance X12's
AVR – Anthem MRX1140
Power conditioning - IsoTek
Acoustic Treatment – Vicoustic absorption, diffusion and bass management package
Seating – Fortress Seating Premium leather Kensington Cinema Seats
Movie Playback – Kaleidescape 4K Encore System
Control System – RTI control system programmed via APEX software
Video Distribution – Pulse-Eight video matrix
Lighting System – Lutron RA2 Select
COMPLETE COST OF KIT USED IN THIS PROJECT: £68,294.44