Pool Room Home Cinema Shoots For The Moon
This most stylish of home cinema rooms underlines that including a high-functioning home cinema system does not restrict the aesthetics of the space it occupies, but rather enhances them. In this cleverly designed example, the home cinema system works in tandem with a cunningly hidden pool table.
Here at Pulse Cinemas our internal team and our installation partners have access to the complete package; not just the best home cinema systems around, but a total design resource that enables the most contemporary interiors to have woven into them the 21st century entertainment experiences customers deserve.
For this design, Pulse Cinemas, along with the incredibly talented Sheba Kwan, Principal Designer at Red Theory (www.red-theory.com), mixed a dark and moody colour scheme accented with stylish touches such as black and white marble tops to the cabinetry, with dramatic lighting fixtures that don't just add to the experience of the room when in rest mode, but automatically react when the home cinema system swings into action. The automated lighting scheme is from the world's most successful intelligent lighting brand, Lutron with its Homeworks QS system able to react to whatever mood or state the room needs to be in.
The space also has its own fully stocked bar so the whole family and their guests can enjoy a drink when it's movie time or when they are enjoying a game of pool on the fantastic and stylish table, which recedes into the floor when not in use!
Incredibly, a disappearing pool table is not this room's most impressive party piece, it is of course the Dolby Atmos home cinema system that is integrated into the fabric of the room.
This space is a dedicated entertainment room, which means there is no need to hide the screen away when not in use, so a high-quality Screen Research fixed frame Decor Mask screen is employed here. At a full 140in, the screen offers impressive and immersive experiences no matter what the type of content to be enjoyed.
Partnering the screen is the Sim2 Nero 4S home cinema projector, offering lifelike 4K capable performance for movies, sport, or concert footage. Working in tandem with the projector is the best content delivery platform on the planet, a Kaleidescape 4K Encore system. The Kaleidescape offers access to 4K movies and other types of content at the touch of a button, all delivered via its attractive and easy to use interface. The user interface is a work of art in its own right presenting a vibrant, colourful and easy to navigate pathway into movie magic.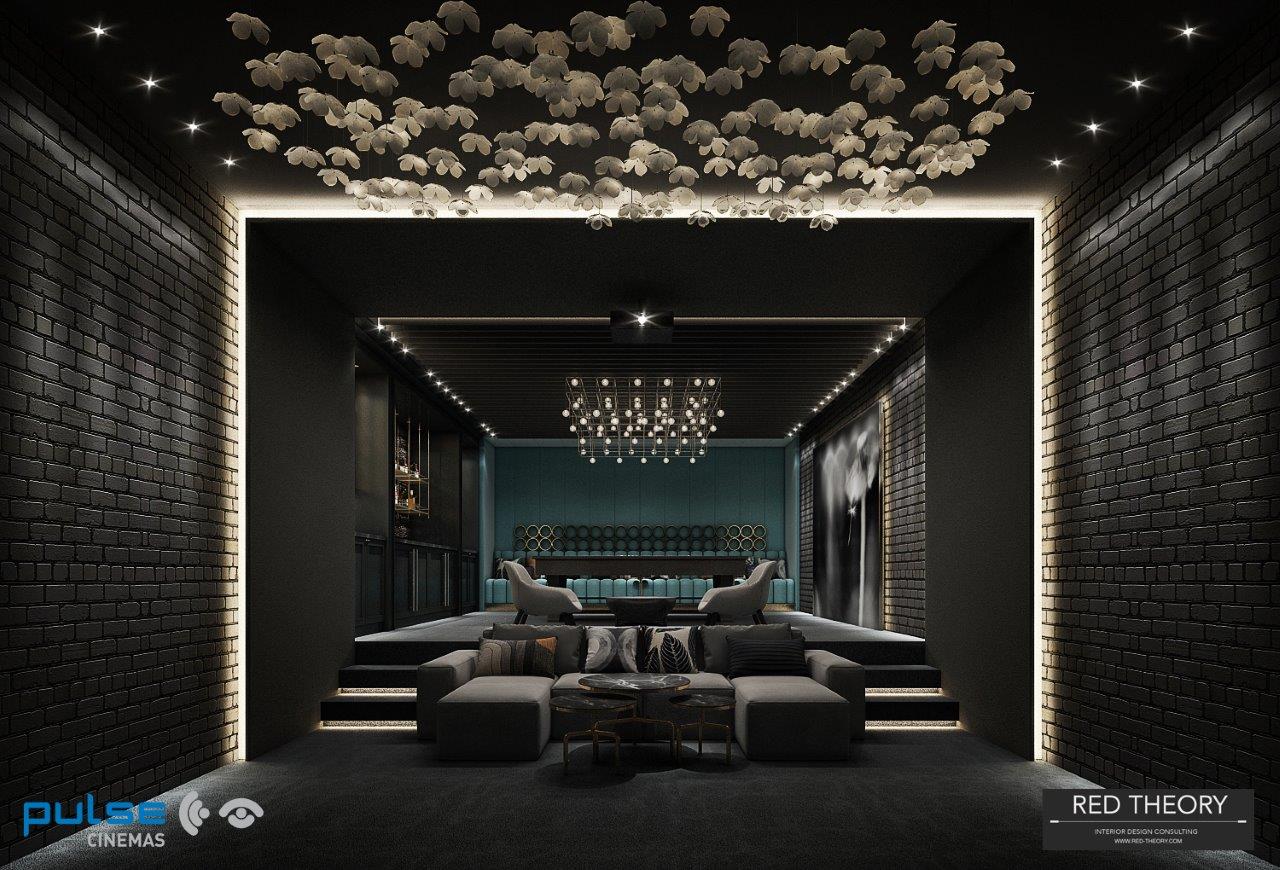 The speakers for this amazing home cinema system are all supplied by high-performance brand Paradigm. The LCRs are the Ci Elite E5s, the surrounds and surround backs are Ci Elite E3s, the Atmos channel above the audience is delivered by the Ci Elite E80-R and the subwoofers are Paradigm RVC-12SQ's.
In addition, Paradigm Ci Elite E80-Rs are installed in the pool area so that the owners can enjoy music only playback when enjoying a game in this multi-faceted space.
Processing and amplification are taken care of in this home cinema system by Anthem, via AVM70 AVR and MC525/MCA325 amplifiers. Making sure the signals get where they need to go fully intact is a Pulse-Eight video matrix.
Proving that acoustic treatment does not have to compromise the look of a living space, Vicoustic is employed here with a full absorption, diffusion and bass management package, which creates a tuned acoustic environment, and happens to look fantastic.
As this home cinema space takes a very contemporary and relaxed approach, classic home cinema seats were never going to be the option to go with here. Fortunately, Pulse Cinemas has access to the compete range of services available from the best entertainment seat manufacturer in the world, Fortress Seating. In a two seat, flanked by two chaise longue arrangement, a set of premium fabric Hudson Cinema Seats are employed for maximum style and comfort.
All of the systems in this home cinema room are pulled together and controlled via an RTI automation system programmed via APEX software. Using the latest variant of this capable platform, the install team created bespoke interfaces to control every aspect of the room, putting the owners in complete control.
This home cinema room delivers fun, luxury and contemporary style all in equal measure, offering anyone who enters an effortless route to relaxation.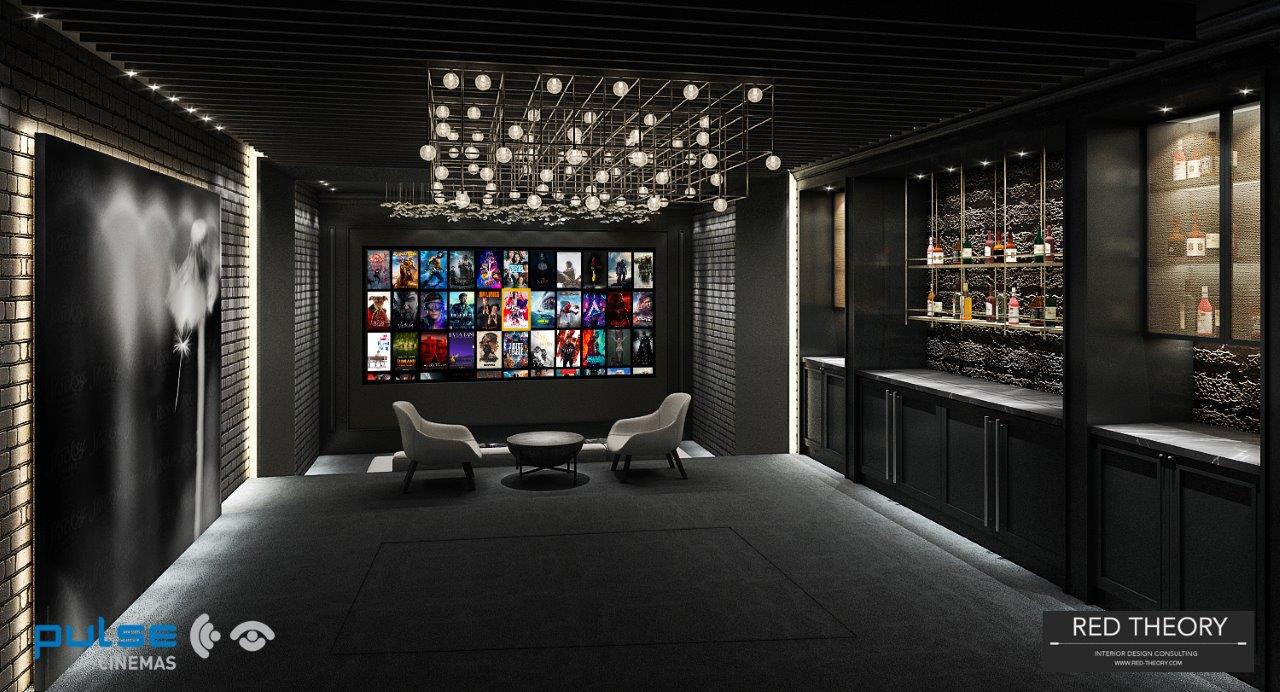 Pool Room Home Cinema Shoots For The Moon: Suggested Kit List
Screen – Screen Research fixed frame screen (140in)
Projector – Sim2 Nero 4S
Speakers – LCR's – Paradigm Ci Elite E5, Surround & Surround Backs – Paradigm Ci Elite E3, Atmos – Paradigm Ci Elite E80-R, Pool Room Speakers - Ci Elite E80-R
Subwoofers – Paradigm RVC-12SQ's
Processor – Anthem AVM70
Amplifiers – Anthem MC525 & MCA325's
Acoustic Treatment – Vicoustic absorption, diffusion and bass management package
Seating – Fortress Seating Premium Fabric Hudson Cinema Seats
Movie/Content Playback – Kaleidescape 4K Encore System
Control System – RTI control system programmed via APEX software
Video Distribution – Pulse Eight video matrix
Lighting System – Lutron Homeworks QS