Home Cinema Poise and Performance
This attractive home cinema room is a joint creation between RK Signature Interiors and Pulse Cinemas underlining how home cinema is making its impact across the UK interior design community.
We have documented many times the ability Pulse Cinemas has to deliver our own in-house home cinema designs offering a complete package to the end user from design content, through to build and commissioning. We do of course however have many fantastic relationships with the UK's vibrant and innovative interior design community and just such a relationship is highlighted here as technology from Pulse Cinemas meets the design flare and expertise of Rebecca Edmunds, Director at London based interiors company RK Signature Interiors.
RK Signature Interiors provide comprehensive, bespoke interior design services, creating a long list of satisfied customers who rely on the company's understanding of design and in this case how technology can be part of the picture too.
With a reputation for strong project management as well as innovative and beautiful designs, RK Signature Interiors has also embraced the opportunity to create wonderful experiences that offer them cutting edge entertainment as well as sumptuous surroundings.
This development has been born out of the company's commitment to gain a thorough understanding of clients' lifestyles and as the concept of home cinema has become more widespread, Rebecca has gained a thorough understanding of what is required when designing a home cinema space, enabling clients to enjoy the very best home cinema experience possible.
Rebecca comments, "With COVID restrictions set to be in place for some time to come, staying in is the new going out and what better way to enjoy a night in than watching a great movie in the comfort of your own home. Dedicated cinema rooms are the ultimate in luxury interiors combined with entertainment."
Rebecca explains her design approach when creating a cinema, "Cinema rooms should provide an opulent yet comfortable space, delivering the very best entertainment experience. The trick is to create designs that include all the best features and technology without it feeling like a commercial cinema. Working with Pulse Cinemas and their experienced network of dealer/installers throughout the UK is critical to a well thought out room that looks fantastic, but also delivers the very best viewing and listening experience. A home cinema should feel intimate, inviting and comfortable. Where you might not be contented with darker tones in the rest of your home, this is the perfect space to indulge in rich deep colours."
Rebecca adds, "More than any other room, designs need to work both aesthetically and practically. Soft furnishings, carpet and wall coverings will add texture in addition to absorbing sound and therefore provide better acoustics. Upholstered wall coverings such as Arte's Eclipse collection are a fantastic way to make a style statement and deliver high-performance. Include soft, low level lighting that provides just the right amount of illumination without distracting from the screen. Lighting is not only functional; statement lamps or wall lights add style and warmth."
Rebecca continues, "Seating is another important element to get right. Deep seats that you can stretch out on are a must. Adding side tables or modular sofas with integrated tables means you never have to leave your seat to reach for a drink. Creating a room that feels like it is cohesive with the rest of your home is key. Although you might be a little bolder with some of the choices it should still reflect your personality."
Pouring all that appreciation of how to make a home cinema room work, this elegant creation combines perfectly with the technical side of the equation delivered by Pulse Cinemas.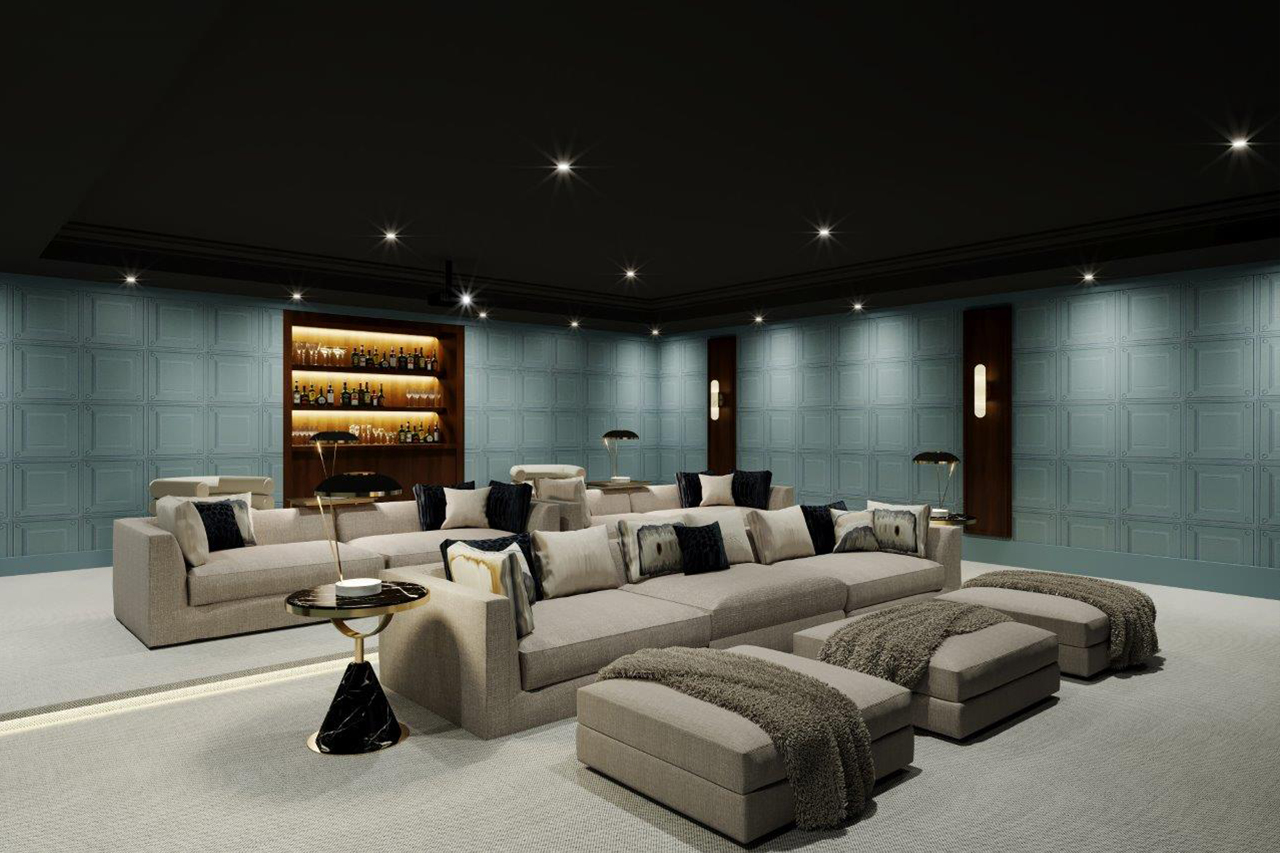 The equipment
A Décor mask screen from Screen Research combines with the SIM2 Crystal 4K projector to offer the performance required, but also help with the design too as the screen offers the chance to place an image that matches the customer's taste and lifestyle displayed when the screen is not in use.
A Prismasonic anamorphic lens used with the Sim2 also means the home cinema system can deliver cinemascope viewing for a true movie experience.
The audio in the cinema receives no less attention with a complete set of Paradigm speakers delivering a full Dolby Atmos experience to enjoy in conjunction with the stunning 4K images.
Driving and controlling the cinema is an Anthem MRX1120 AV processor, simply put one of the best on the market, a reliable friend that just delivers what is needed for a modern home cinema, time after time.
A home cinema is not going to create the right impact without a top-quality source for content and this cinema benefits from a Kaleidescape Strato system offering the very best in 4K movies and music too. The system's on-line store is simply the best way to deliver the very best quality content into the home.
Delivering the type of sophisticated lighting opportunities demanded by a designer like Rebecca, a Lutron HomeWorks system is woven into the fabric of the room offering practical assistance of course, but also the chance to create atmosphere and more movie magic.
Lastly this room is served by an RTI automation and control system which pulls all of the systems together, making them simple and intuitive to control for the whole family.
A real triumph of comfort, style and performance, this room really underlines where home cinema is today, a desirable concept of the most sophisticated homes created via companies working together both expert in their field.
Equipment List
Screen – Screen Research FDM-150-240-UWB
Projector – Sim2 CRYSTAL 4K
Lens - 1X Prismasonic Cylindrical Lens
Speakers– Paradigm P5 - LCR; 4X Paradigm P1 – Surround/Surround Backs; 4X Paradigm P80-R – Atmos Speakers
Subwoofers – Paradigm Defiance X12 – Subs
Processor/Amplifiers – Anthem MRX1140
Movie Content/Playback – Kaleidescape Strato 6TB
Acoustic Treatment – Vicoustic Acoustic Treatment Package
Control System – RTI
Video Distribution – Pulse Eight video matrix
Lighting System – Lutron Homeworks QS