True Blue Home Cinema
The truth is that homeowners buy the experiences we sell just as much based on the looks of a given product or room, as on the performance, in many cases more so. And why not, it's their home, they want it to look and feel special, unique to them and their personality. This home cinema matches aesthetics and powerful performance in a perfect package.
Sometimes customers want things to be tucked away, other times they want to make a design statement. This sophisticated looking and high-performance home cinema was just such a case, where the team matched the livery of the Fortress Seating with beautiful powder blue Paradigm Persona speakers, which deliver the necessary high-performance audio. The whole Paradigm Persona range is available in a wide variety of colours, making it easier to create a unique coordinated impact to give the customer something even more special in their home cinema.
Joining the Paradigm speakers on this journey into home cinema perfection is a Screen Research fixed frame deco mask screen (150in) which automatically adjusts its size to suit the format of the content being watched. Delivering the images onto this world-class screen is a Sim2 Nero 4S, one of the best home cinema projectors available offering vibrant life like colours that fully exploits the high-quality 4K content available today. But how to get that content, easily and in the best quality? a Kaleidescape 4K Encore system of course, which adds its high-performance content delivery platform into the mix. Handling all this power might be a challenge if the home cinema did not have an Anthem AVM70/MC525 processor and MCA325 amps to control and create the perfect symphony between the imaging and audio.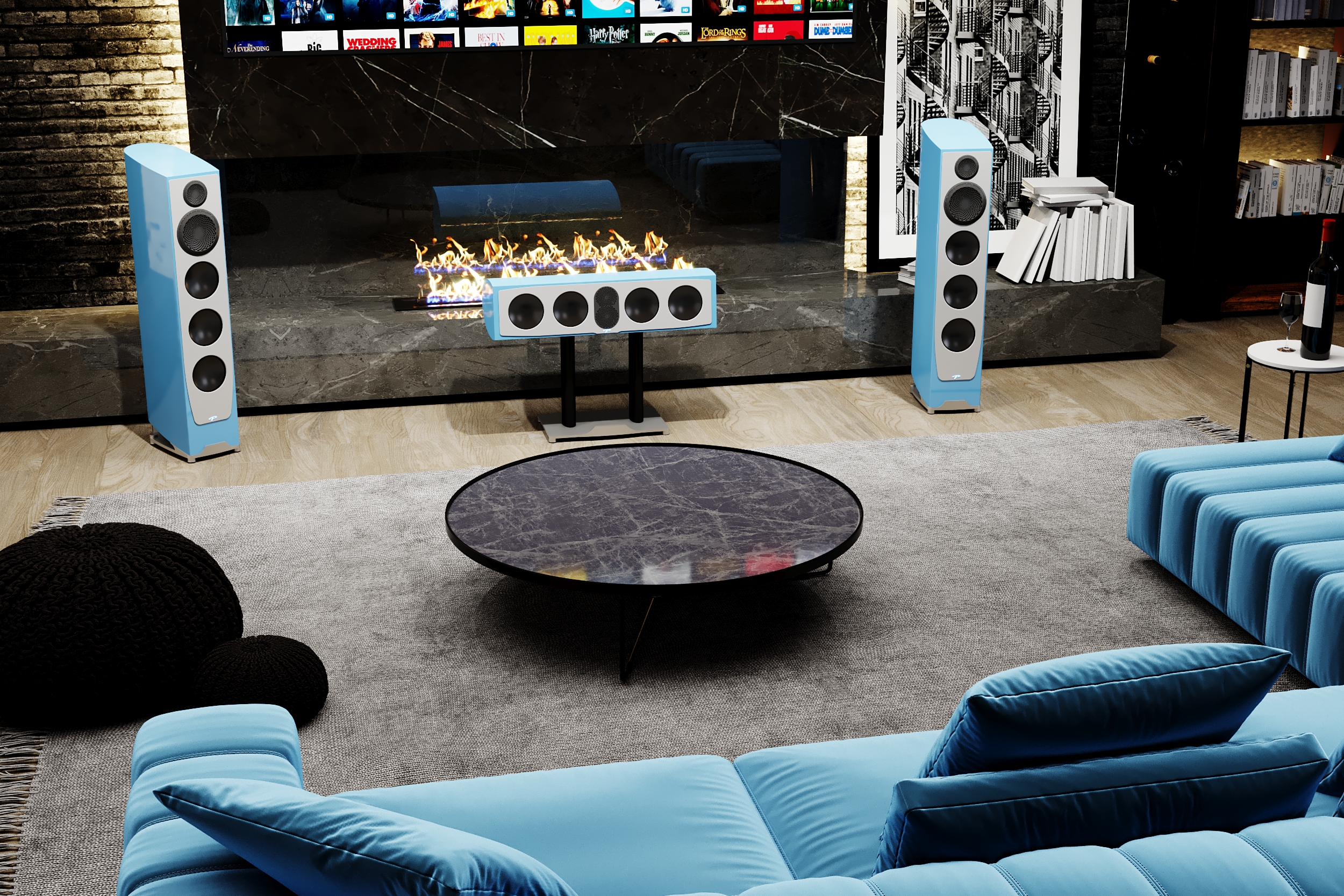 Creating the right look for this room, coupled to the performance needed, is a complement of Vicoustic acoustic panels delivering absorption, diffusion and bass management all in one attractive package. Getting all the signals needed to keep this high-functioning home cinema system in business is a Pulse Eight video matrix. The room also benefits from a full Lutron lighting system which not only creates wonderful atmosphere when the cinema is off, or the family is just listening to music, but automatically melts into the background when it's movie time.
All of this cinema's abilities are controlled with ease via an RTI automation system which can be programmed to exactly match the owners tastes via bespoke interfaces.
One thing is for sure, with the high-performance equipment matching the look of this room perfectly, the owners certainly won't have the blues; well they will, but only in the form of the powerful, aesthetically pleasing Paradigm Persona speakers.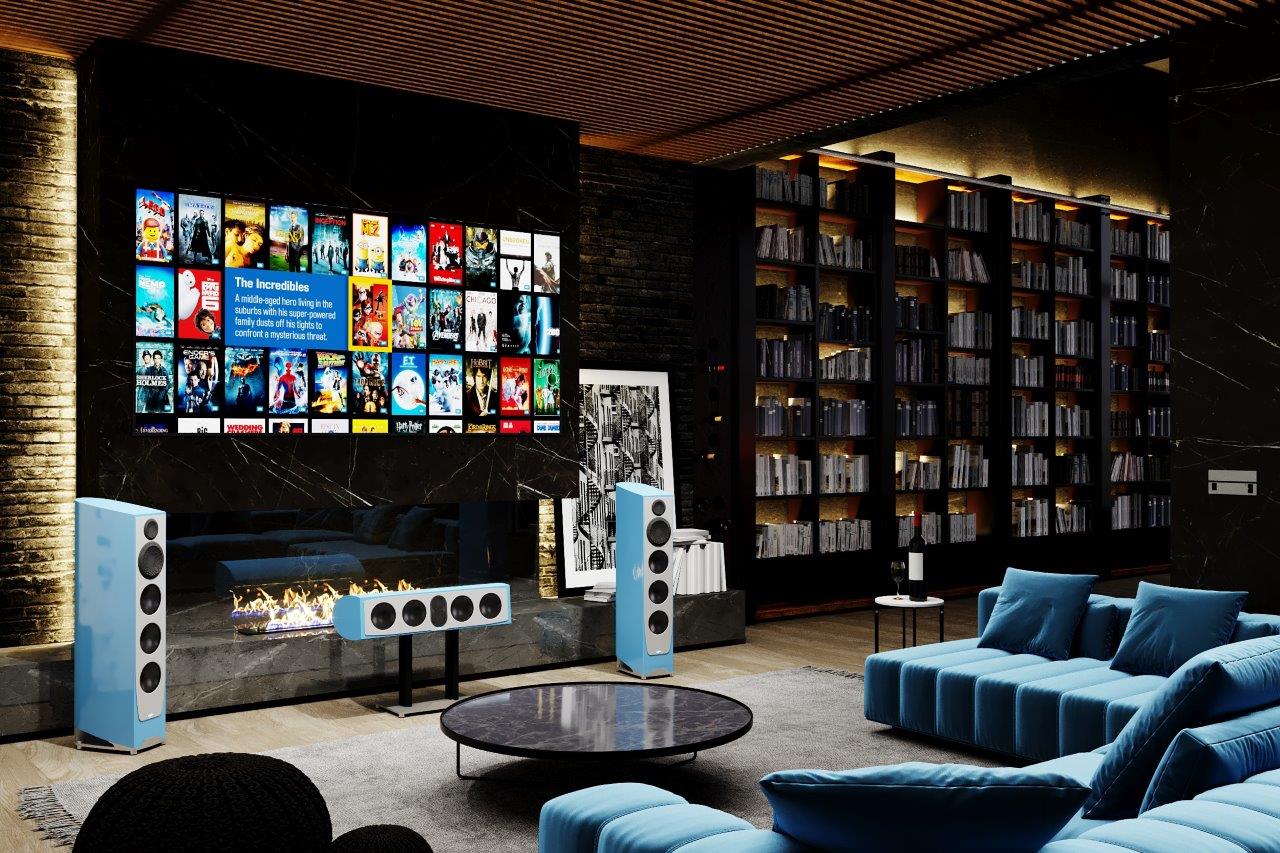 Suggest Kit List: True Blue Home Cinema
Screen – Screen Research fixed frame deco mask screen (150in)
Projector – Sim2 Nero 4S
Speakers – LCR's – Paradigm Persona 9H & Persona C,
Surround & Surround Backs – Paradigm Ci Elite E7, Atmos Channel – Paradigm Ci Elite E3
Subwoofers – Paradigm Persona Sub's
Processor/Amplifiers – Anthem AVM70/MC525 & MCA325's
Acoustic Treatment – Vicoustic absorption, diffusion and bass management package
Seating – Fortress Seating Premium leather Odeon Cinema Seats
Movie/Content Playback – Kaleidescape 4K Encore System
Control System – RTI control system programmed via APEX software
Video Distribution – Pulse Eight video matrix
Lighting System – Lutron Homeworks QS