The most recent addition to the Pulse Cinemas' family is world renown audio manufacturer Alcons Audio. Joining our portfolio in the Spring of 2021, Alcons Audio is known for its high-performance speaker and audio systems, established first in the commercial sector, but now also offering a comprehensive line up for the home cinema and AV markets too.
Since its foundation in the Netherlands in 2002 by experienced audio expert Tom Back, Alcons Audio built a reputation as one of the leaders in permanent and touring audio for the commercial and residential markets.
A reference portfolio of customers that includes Alan Parsons, Alison Krauss, Google/YouTube, Red Bull Hangar 7 in Austria, VUE cinemas, Hamilton the musical (Broadway), Elbphilharmonie symphonic hall Hamburg, Tina, The Tina Turner Musical (West-End), Levels Audio studios (Hollywood), Walt Disney and Martin Garrix's STMPD recording studio in Amsterdam, underline the level of respect and achievement the brand has established.
Gathering a team of audio experts, the maker has expanded consistently over its 17 years of existence with bases now in its home country of the Netherlands, as well as Germany and the USA, besides the ever-expanding global dealer networks (Pro-Ribbon Partners).
The company's philosophy has always been to deliver audio evolution, not revolution. Bringing the market ideas that build on proven concepts and performance, the products offer world-class levels of sound reproduction and build quality. There is also a focus on reliable, flexible and 'smart' solutions.
Building its reputation in the pro audio world, Alcons Audio noticed that some of its smaller pro-cinema products were beginning to be used in the residential market, so decided it should make a dedicated range for precisely that purpose. The CRMS-series or Cinema Reference Monitor Systems form the heart of our offering from Alcons Audio and indeed can be experienced in our own main home cinema demonstration area here at Pulse Cinemas HQ. The residential products enjoy the same advanced technology that has made the company such a big noise in the commercial space.
All Alcons Audio speakers and amplifiers/processors are developed and manufactured in house, the approach combines traditional craftsmanship with the latest technologies, materials and production processes. Great products do not create themselves of course and Alcons Audio has one of the best R&D departments to leverage a unique combination of extensive knowledge in the design of transducers, acoustics and systems, as well as unsurpassed skills in DSP and amplifier technologies.
This enviable powerhouse of development means the company has redefined what is possible in the world of audio. The aim is always to deliver the most accurate audio reproduction available, with no colouration or distortion to the input, for any size audience, in any application. If the Alcons Audio philosophy could be boiled down to one statement it would be, 'What comes out must be exactly the same as what goes in', but when the company started, existing technologies were not sufficient, so new ones were created.
Of the key technologies the company is know for, its perhaps the development of the multiple-patented pro-ribbon transducer technology for high output mid and high frequencies that stands out. Based on Philips' Isophase Hi-Fi tweeter technology from the mid-eighties, Philip 'Dr. Phil' de Haan, sr, R&D engineer and 30+ year veteran in pro-ribbon technology, researched and designed a new generation of mid-high frequency transducers, combining the accuracy of ribbon technology with the dynamic output capabilities of pro-audio transducers. Philip is the initiator of a range of significant patents and to many can be regarded as the father of modern high-output pro-ribbon transducer technology. This is the technology that takes Alcons Audio to the next level. Besides a 1:15 dynamic power handling ratio, the Alcons pro-ribbon drivers also feature extremely low distortion, only 1/10th of the Total Harmonic Distortion (THD) of compression or dome drivers.
The Alcons drivers also do not demonstrate a 'compression threshold', they maintain the same tonal balance at all pressure levels, particularly suited for ultimate intelligibility even in low level scenes and passages. Another unique advantage of Alcons pro ribbon technology is the patented constant horizontal coverage and the patent-pending vertical coverage, up to and beyond 20 kHz. which is essential for perfect holographic imaging with a seamless blending in stereo or multi-channel audio. The pro ribbon technology is also extremely durable with an incredible record of zero failures in the field. Using Alcons Audio means that for the first time ever, the exact same high-definition reference transducer technology can be used from a two-seat studio or home-theatre, a 20-seat screening room, to a 200 seat cinema, 2000 seat Broadway show up to a 20.000 seat and beyond stadium hard-rock concert.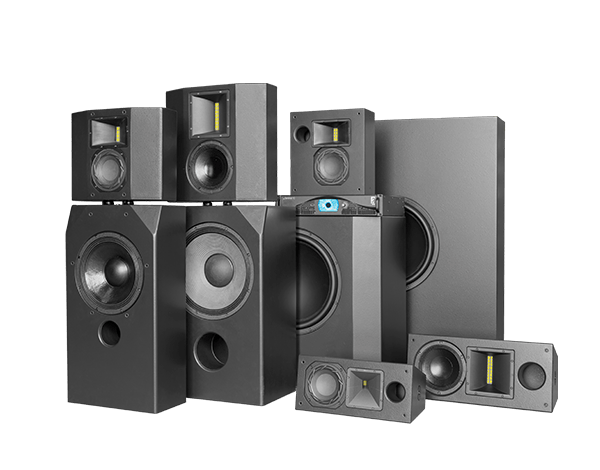 Alcons Audio CRMS-Series
The range is of course designed to deliver the famous Alcons Audio performance for residential cinemas. The CRMS-series (Cinema Reference Monitor Systems) deliver uncoloured, ultra-low distortion 1:1 reproduction of any high-quality media, intuitive linear response with unparalleled definition and dynamics, a flat frequency response up to/beyond 20kHz with optimised phase response. The CRMS-series delivers a fully integrated eco-system with transducers, processing and amplification and control all in one convenient package. A key Alcons Audio ability is having the headroom to provide the 'space' for all of the audio to shine without pushing the system or trying to manipulate and colour the sound.
The fully matched screen and surround systems in the Alcons range have identical mid/high frequency transducers which results in a very uniform sound stage.
The CRMS-series features the company's multiple-patented RBN pro-ribbon transducer technology which delivers on the company's promise of 'what goes in, comes right out', only louder.
The impressive low distortion capabilities here offer two other key Alcons characteristics, excellent speech intelligibility, and no listening fatigue. The Alcons pro-ribbon drivers also deliver precise horizontal and vertical projection control, for a perfect holographic imaging with an exceptionally wide 'sweet-spot', Essential in the (relative) near-field listening position in residential applications.
CRMS-Series: Product Details
CRMSC
The CRMS-series includes the CRMSC family designed for small to medium sized rooms. A three-way system, the CRMSC line consists of a separate mid-high frequency section, featuring the RBN202 2in pro-ribbon driver with non-vented 6.5in midrange and a low frequency section with a vented 12in with low power-compression 4in voice-coil design.
The CRMSC is driven by ALC controller-amplifier, delivering maximum sound quality and utmost operation reliability, through features like Signal Integrity Sensing (SIS) cable compensation.
The SIS circuit dynamically compensates the effects of long speaker cables resulting in a tight sub and bass response regardless of cable length or impedance. CRMSC-matching on-wall, in-wall and ceiling surround solutions with identical MF/HF components are available, for perfect screen/surround blending.
CRMS MKII: Cinema Reference Monitor System
This part of the Alcons family delivers reference-quality sound reproduction for medium-to-larger rooms. Also a three-way approach, the mk11consists of a separate mid-high frequency section, featuring the RBN401 4in pro-ribbon driver with non-vented 8in midrange and a low frequency section with a vented 15in with low power-compression 4in voice-coil design. The mk11 offers all of the same technology as its smaller cousin and of course is also driven by the ALC controller-amplifier, but with the extra power its larger drivers provide. This part of the range also has matching on-wall, in-wall and ceiling surround solutions with identical MF/HF components.
CRMS LFE18: Large Format Reference Subwoofers
A reference-quality LFE subwoofer system, these products offer extended in-room frequency response down to below 10 Hz and offer superb impulse response for the most realistic sound experience.
The range delivers a single 18in extreme-excursion woofer with dual 3in voice-coils and also offers SIS cable compensation technology which adjusts to compensate for the impact long cable runs can have on performance. The products also come in a space saving design, with 27,5cm/10.8in depth. The super-fast impulse response from the range is a perfect match for the ultra-fast transient response of the Alcons pro-ribbon drivers.
Sentinel Amplified Loudspeaker Controllers
As part of the Alcons synergetic system approach, the in-house created Sentinel amplified loudspeaker controllers are the driving force behind Alcons sound systems. The Sentinels combine a powerful four-channel DSP-based controller with audiophile-grade high-headroom ClassD amplifier stages and are designed to get the maximum performance out of the pro-ribbon systems. The upgradable DSP engine enables a range of functions, such as equalising, delay, user-pre-sets and system feedback, while the dedicated factory speaker pre-sets feature Alcons' VHIR processing, for an optimised phase response.
The192kHz-capable AES3 digital inputs offer the most direct 'lossless' signal path from source to speakers. The Sentinels are also the home of SIS technology which uniquely compensates for the effects of long speaker cables, resulting in a fast and tight sub and bass response regardless of cable length or impedance. SIS also delivers even further reduced distortion (due to optimised cross-over drive). The essence of the Sentinels are the speaker-dedicated pre-sets, including system optimisation for highest headroom with maximum obtainable performance and reliability, including the latest VHIR processing for a flat phase response.
Learn More