The very best immersive cinematic motion that money can buy can now be integrated into any home cinema. D-Box uses its cutting-edge D-BOX HEMC (Home Entertainment Motion Controller) and D-Box motion enabled chairs to deliver the most amazing, life-like cinematic motion for any content that has D-Box motion codes designed for it, and there are hundreds of titles to choose from.
A growing library of content has the codes directly embedded, so when the audience sits back and relaxes to enjoy the content, the action all begins automatically. Equally, if a more chilled-out experience is required, D-Box can be switched off.
Regardless of the content source (DVD, Blu-ray or streaming sources such as Netflix, Hulu and Apple TV) the HEMC code recognises the movie from the soundtrack, downloads the motion codes from the D-Box servers, and transmits the motion codes to the chairs. Let the action begin!
Getting ready for action
To get the astounding D-Box movement system, it begins with the seating. The D-Box system exerts significant forces on the home cinema seat, so cannot be used with all seating. Pulse Cinemas supplies officially D-Box-ready seating via its exclusive supply into the UK of high-quality US manufacturer, Fortress Seating.
D-Box systems are available to drive single seats, love-seats and three-seater sofas, either via D-Box ready seats with in-built hard mounting points for the actuators, or via a motion platform that the seat sits on. Whatever your seating arrangement needs, D-Box and Pulse Cinemas has it covered. D-Box is available only from Pulse Cinemas' nationwide network of professional installers and retailers. Get in touch to find out more.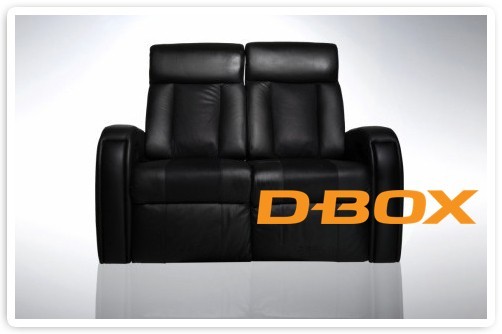 Available for demonstration at Pulse Cinemas HQ in Stansted and at a number of dealer showrooms in the UK, The Home Cinema range of motion controllers from D-box are compatible with most cinema specific seating brands including Fortress Seating, also distributed by Pulse Cinemas.
For more information about the technology that goes into making D-box please visit the link. Head over to the dealer finder page to see who is demonstrating this incredible technology in your area.
Learn More