'NEAR' stands for 'New England Audio Resource', a company that has a particularly innovative take on the audio-visual world, delivering its unique products to a global audience since 1988.
The company was founded by highly respected audio engineer Bill Kieltyka, who was a key player in the development of the legendary high-end speaker company Bozak – a maker recognised for its innovative curvilinear aluminium speaker cones as well as the world's first high-quality, full range, residential outdoor loudspeaker, the Bard.
After leaving Bozak, Bill founded NEAR in 1988 and created the company's first product – the outdoor AEL (All Environment Loudspeaker), featuring, of course, aluminium cone woofers. The AEL series was a huge success, not just in gardens and other residential exterior spaces, but also in the commercial world – being included at Universal Studio's Jurassic Park and Islands of Adventure theme parks, as well as at the top of New Hampshire's Mt. Washington, a place that enjoys the reputation of experiencing the worst weather in North America.
In 1997, the audio quality and weather resistance of NEAR speakers caught the attention of Bogen Communications, Inc. Bogen recognised the advantages of the NEAR technology for their commercial applications, and acquired the company with Bill continuing as the lead designer for NEAR-branded products.
---
Let's go outside
Enjoying high-quality music outside is a phenomenon that has been growing in recent years. As dedicated products come onto the market, modest gardens, large landscaped grounds, patios, pool-sides, and other exterior spaces can now have the same high-quality audio as inside the home. This is precisely the reason Pulse Cinemas wanted to provide access to NEAR for its family of installers, retailers and end-users.
Today, the NEAR designs take advantage of over 28 years of single-minded dedicated development of outdoor loudspeakers. From frigid mountain-tops, to high-humidity Central America, NEAR speakers have seen it all, so coping with anything the UK can throw at it is a breeze. The speakers have been exposed to (and survived) indoor pools with high chlorine content, fertiliser spray, as well as bug and animal infestations.
All were learning experiences that advanced the state of outdoor sound art. Bill and the team analysed every challenge over the decades and always concluded, "We can do better" – and they did! Today's NEAR products are the beneficiaries of decades of past successes and lessons learnt. Bill and his team never stop striving to make NEAR speakers even better sounding and more rugged.
It only takes one listen and you'll hear why music lovers agree that NEAR speakers offer an ideal combination of performance, durability and value.
Enjoying the NEAR brand experience in the UK is only possible through Pulse Cinemas' national network of retail and custom install partners.
To hear more from this impressive range of out-door speakers click HERE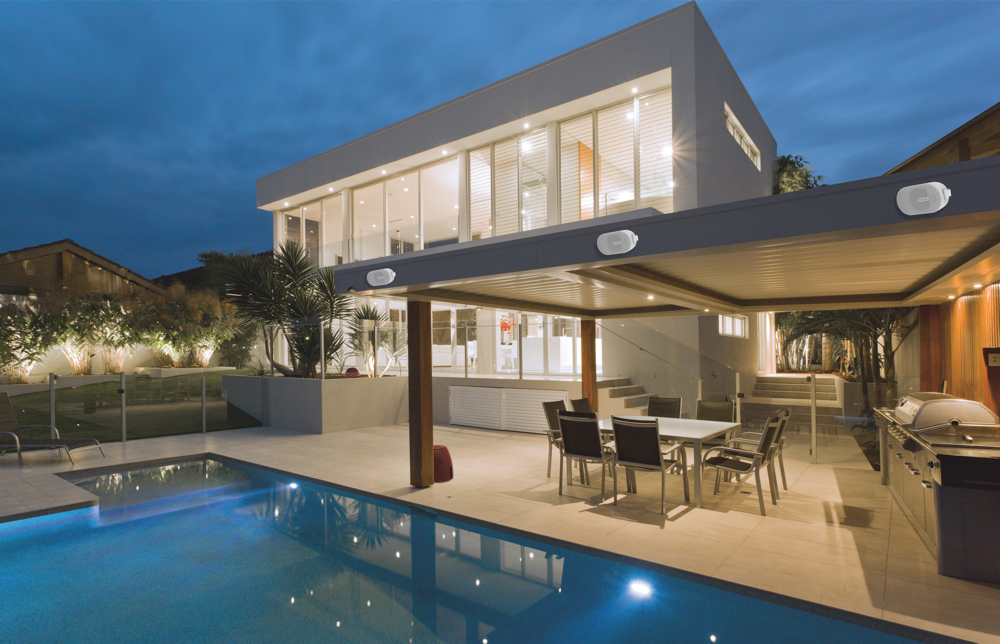 NEAR's LB series models deliver high fidelity performance in even the most extreme environments. Superior materials such as rust proof hardware and UV resistant enclosures make them ultra-durable. Advanced NEAR audio technologies such as Magnetic Liquid Suspension drivers and metal alloy MDT cones imbue LB speakers with the smooth, highly detailed and lifelike sonic performance of fine indoor speakers.
You can count on NEAR® outdoor speakers to look good and sound great for years to come, whether they're baking under the desert sun or repelling sleet on the deck of your ski chalet.
LB and LBT models come in white and black (LB4T also available in mulch brown)
LB and LBT models can be painted
LB models are 8 Ohms only
LBT models have built-in multi-wattage 70 Volt transformers with low impedance bypass
Unique bracket design reduces install time and makes wiring easy
All NEAR LB and LBT models are covered by a 12-year warranty
In Ground Speakers / Subwoofers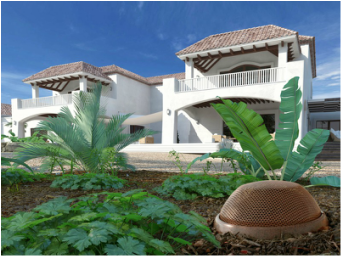 The NEAR® IG series look and sound great when used as free-standing on-ground speakers that can be camouflaged among planters and pots. But we primarily designed them to be partially buried in the ground, affording superior sound performance, lower visibility and ultimate security.
When installed in-ground the earth itself now becomes a half-space domain for low frequency reinforcement and an infinite baffle extension for the midrange frequencies (Fig A). Beyond flatter response and increased output under 30Hz, subjectively the bass of an in-ground speaker is dramatically "tighter" and better defined compared to free-standing speakers.
Many conscientious loudspeaker designers measure loudspeakers by placing the baffle (front face) flush with the ground to minimize reflections. By eliminating the effects of the enclosure and adjacent surfaces, in-ground measurement provides the most revealing view of the true performance of the speaker. Well, now we have a full range outdoor system installed in the ground that mimics this very ideal.

Make Your Outdoor System Really Sing
The NEAR® 7XL was specifically designed to power outdoor loudspeaker systems. It belts out 700 watts per channel efficiently and reliably - more than enough to power any outdoor speaker to concert-level volumes. The 7XL brings the power, sophistication and cool-running durability of pro/commercial amplifiers to the residential market.
With its onboard pro-level digital signal processing (DSP) integrators can optimize the performance of any system with independent channel control of frequency response, crossovers, phase/arrival time and dynamic range.
The 7XL's dual mono design allows each channel to simultaneously drive any speaker load from low impedance (4/8-Ohm) to 70/100V.